Choices are limited for thrill-seeking bungee jumpers in British Columbia. But we have to say, these two scenic spots make for mighty fine adrenaline-packed moments.
Whistler Bungee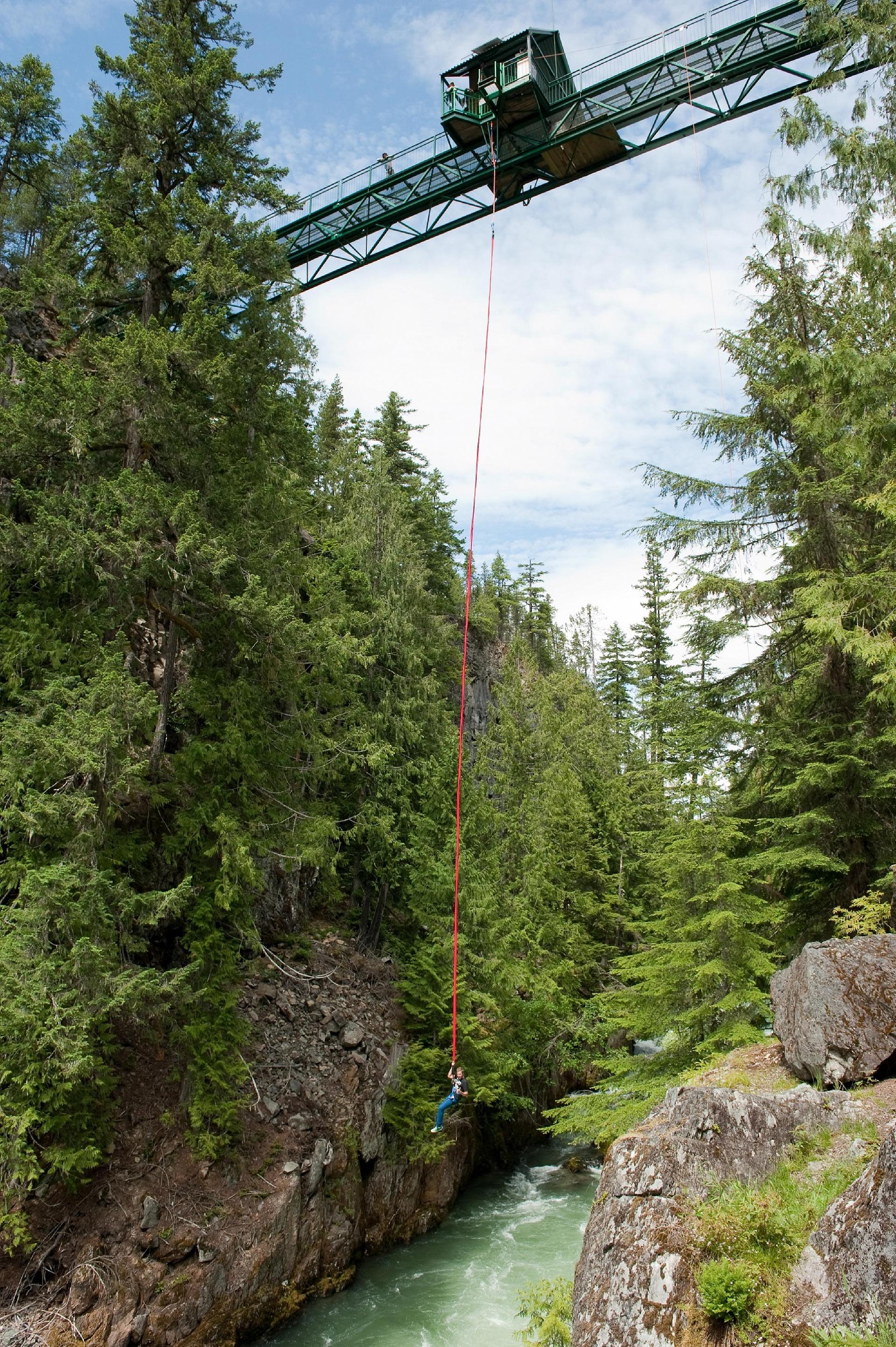 Address: Whistler Bungee Bridge, Calcheak Forest Service Rd
Website: whistlerbungee.com
Telephone: 1-877-938-9333
Price: $80-$130
Reservations: required in advance
Whistler Bungee is often described as 'the most extreme activity in Whistler'; a reputation made all the more impressive in a town known for extreme sports and activities.
Adrenaline junkies can drive themselves to the Whistler Bungee Bridge to meet up with their Jump Master, while those without wheels can conveniently catch the shuttle. Whistler Bungee is open year-round and they jump in all weather except lightning.
Once at the bridge, it's time to gather your courage and take the 50-metre (160-foot) plunge. Pre-jump nerves make cause some tunnel vision but don't forget to admire the surrounding river valley. After all, the scenic view from the platform is what makes this experience as awe-inspiring as it is. Take a moment before free falling face-first towards the pristine, glacial-fed waters of the Cheakamus River.
There is no age restriction to jump at Whistler Bungee, however those under 19 years old are required to have a parent or guardian present. Solo jumpers will need to weigh between 45 lbs and 350 lbs. Tandem jumps max out at a combined weight of 350 lbs. To commemorate your adventurous spirit (or flaunt your bravery) every bungee comes with a free t-shirt.
WildPlay Element Parks Nanaimo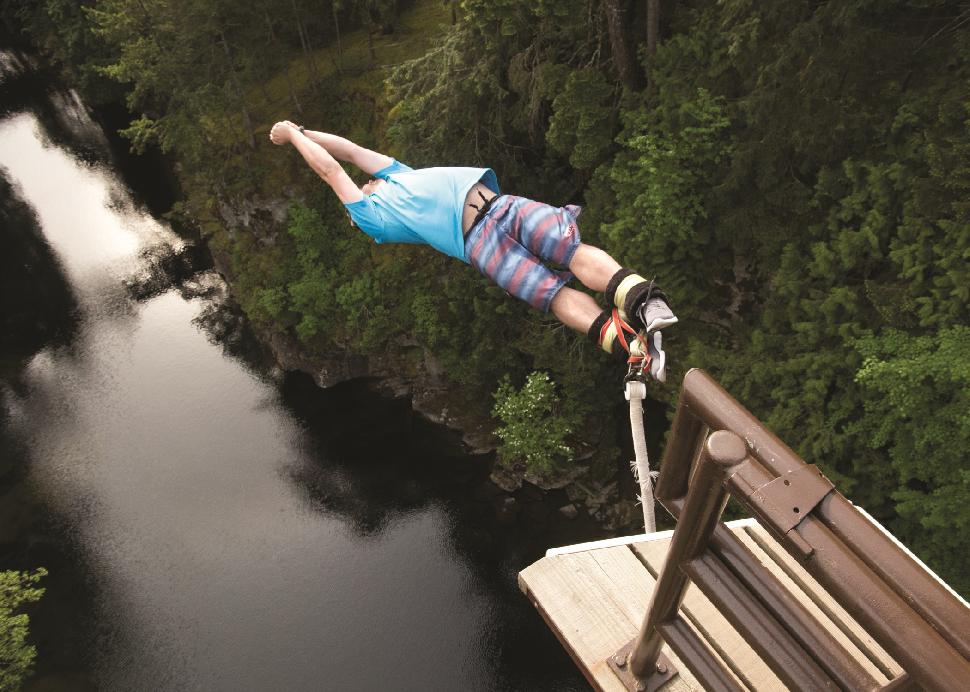 Address: 35 Nanaimo River Road, Vancouver Island
Website: wildplay.com/nanaimo
Telephone: 1-855-595-2251
Price: $129.99 (first jump); $64.99 (returning WildPlay jumpers)
Reservations: Pre-booking available (online, phone, in person). Walk-ins welcome.
WildPlay has adventure parks throughout British Columbia, Alberta and Ontario, but only the Nanaimo location offers the adrenaline rush of bungee jumping. From their trestle bridge, visitors take a 45-metre (150 foot) plunge over the Nanaimo River.
Jumpers can engage in six increasingly exciting levels of bungee jumps, in over a dozen styles. Stick with a classic swan dive or tempt your nerves with the JumpMaster-selected 'Big Bobowski' jump.
Budget-minded prospective jumpers visiting Nanaimo on in February will want to know that each year WildPlay Nanaimo hosts a mental health fundraising event to benefit the British Columbia Schizophrenia Society. During the event, visitors can take the plunge for a steeply discounted price of only $55. The catch? You have to do it naked.
Thrill seekers must be at least 12 years old and weigh between 95 lbs and 400 lbs. The maximum weight limit also applies to tandem jumps. Those under 19 of age must have a parent or guardian complete a waiver before they can jump.
Have you ever bungee jumped in Whistler or Nanaimo?
Have you ever done it naked?
Let us know – comment below or fire us a tweet (oh – and no nudes, thanks!)