One writer pays homage to a key figure in Lions Gate Bridge's history.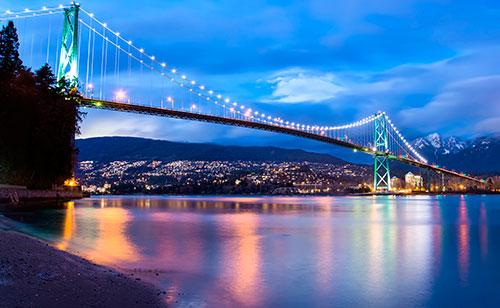 Vancouver-based writer Cynthia Heinrichs researched and wrote about Alfred Taylor and his beloved Lions Gate Bridge project for "Bridge game," appearing in the Spring 2014 issue of British Columbia Magazine. In this guest blog entry, she shares some personal thoughts on the topic. 
I'm standing on the overpass at the south end of the Lions Gate Bridge reading the recently installed Vancouver Heritage Foundation plaque designating the bridge #63 on the list of Places that Matter. It reads:
"The Guinness brewing family built the Lions Gate Bridge which opened in 1938 to provide access to its British Properties lands in West Vancouver. Ownership was transferred to the Province in 1955. Tolls were removed in 1963 and the bridge was restored in 1998 after a long debate about its heritage value and capacity. Funding for the decorative lighting to celebrate Expo 86 was provided by the Guinness family."
As is often the case with these things—there is, of course, a limited amount of space on a plaque—important details are absent, like the fact that local entrepreneur Alfred James Towle Taylor (AJT, or just plain Fred) was the driving force behind getting the bridge built. The convoluted, often murky, series of political hurdles that stood between Taylor and his bridge spanned more than a decade and would have defeated a less resolute man.
Next to nothing has been written about Taylor and his accomplishments, and I suspect that's the way he would have liked it. He was a behind-the-scenes kind of guy whose satisfaction lay in getting the job done, rather than in being praised for it. Nor was he one to complain. In his speech at the official opening of the bridge on May 26, 1939, he, too, left out a few details when he told the crowd at the Capilano Golf Club: "In a lifetime of contracting experience, I have never known a major enterprise like the Lions Gate Bridge that was so free from natural and human problems during construction." He never spoke publicly of the great many difficulties he had, in fact, surmounted.
Taylor was very proud of his bridge. It seems to me that he had a right to be and that he deserves some credit for giving Vancouver such a beautiful span. I believe the Lions Gate Bridge is a testament to Taylor's tenacity. The story "Bridge game" in the Spring 2014 issue of British Columbia Magazine is my plaque to Fred Taylor.