My bike brakes squeal in protest as I reluctantly tip downhill toward Naramata, British Columbia.
After a day's climb through lush vineyards along the Kettle Valley Rail Trail, with our one-year-old and four days' camping gear in tow, rather than pitch our tent trailside, my husband and I are about to sacrifice 300 metres elevation and descend to a lakeside heritage inn, where crisp sheets and a clawfoot tub await. Dreading tomorrow morning's gruelling climb, I swerve into a small winery.
"I have a really lame question," I begin as the owner pours my first glass. A half-hour later I'm on my way with a bottle of red and the number for a local taxi company to help ease the burden of the climb.
The KVR opened in 1915 as a rail route from the southern interior to Vancouver and was in operation for more than 50 years, despite sections of rugged terrain and inclement weather. Today, what remains of those historic rail beds provides a safe and gentle bike route that weaves for more than 600 kilometres throughout southern BC.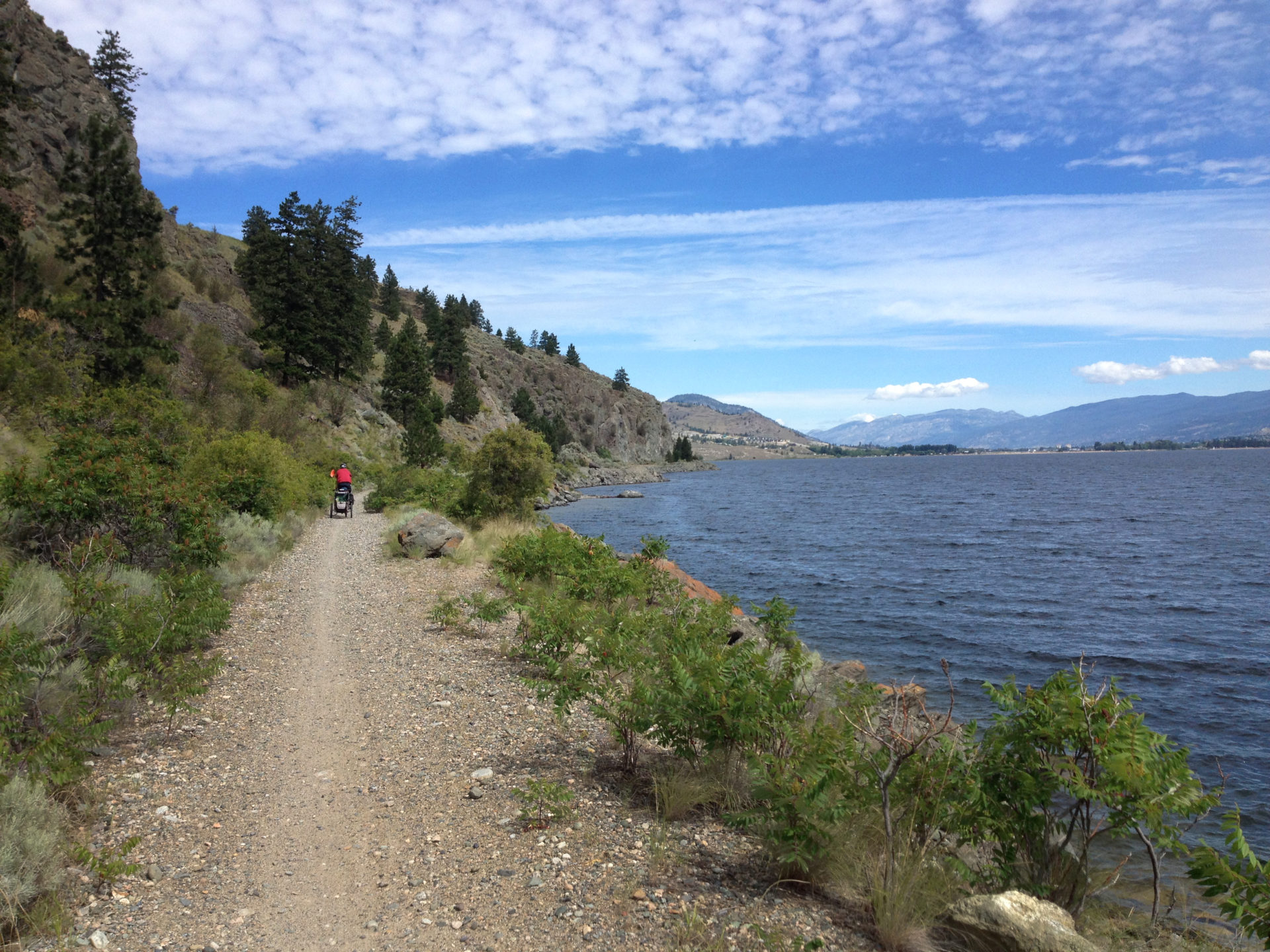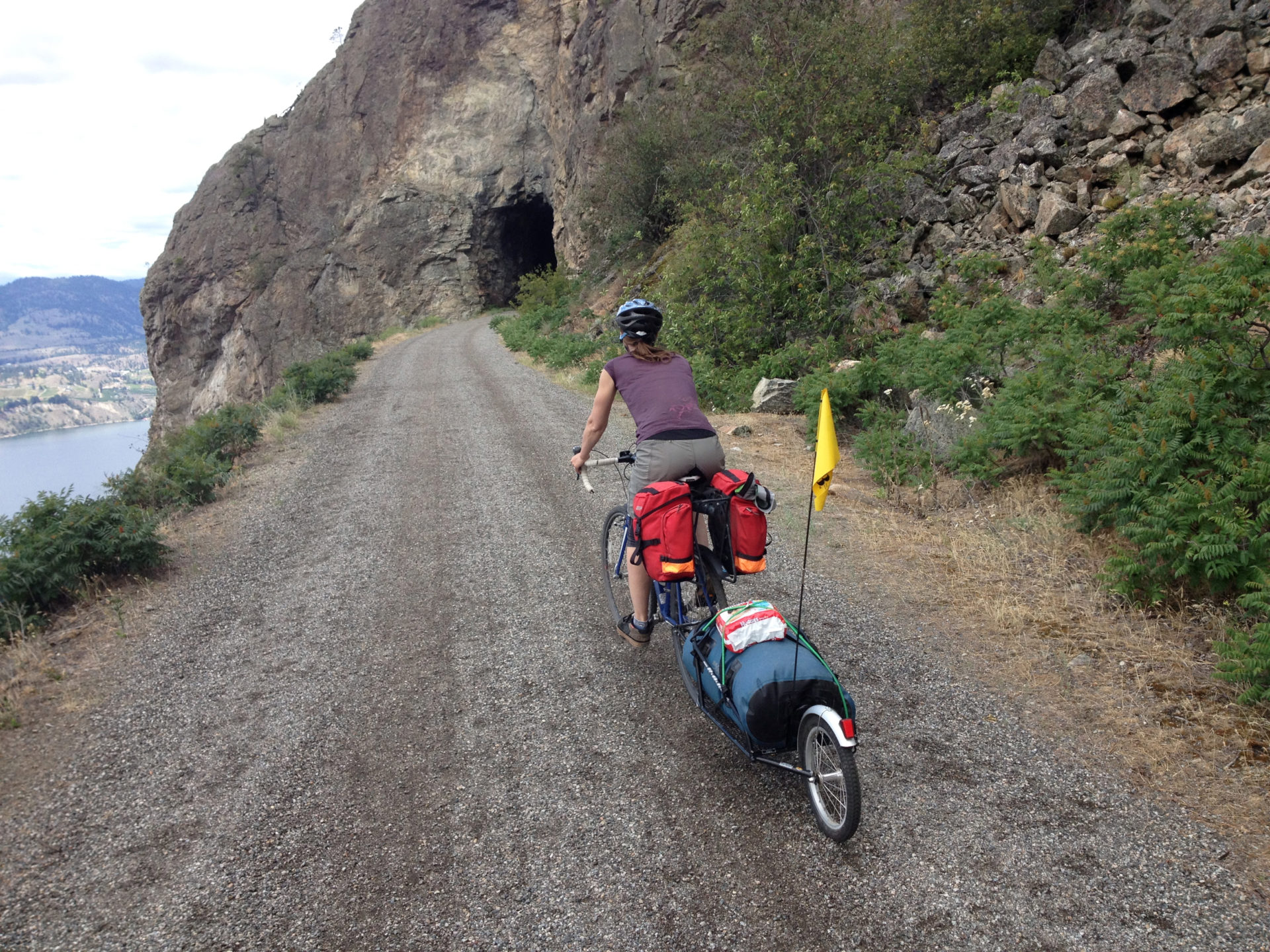 We set out from Okanagan Falls, 35 kilometres to the south, as the June morning's sun tips over the valley's granite ridges. Picking up the trail where it skirts the west side of Skaha Lake, our plan is to spend four days biking the 100 kilometres to Myra Canyon and back. Despite pushing through the odd sandy patch, the first rugged, lakeside stretch of trail offers a peaceful alternative to the four-lane highway above.
Arriving in Penticton midday, we quickly lose the trail in this metropolis bookended by Skaha and Okanagan lakes, but follow the Penticton River Chanel—where sunbathers bob on brightly coloured pool toys—through the city to the parks that line its northern beaches.
After a picnic lunch, a quiet cul-de-sac leads us back to the trail, which begins to ascend as it gains the Naramata Bench. Here, the KVR is wide and smooth; it is part of The Great Trail (Trans Canada Trail) and maintained by Rec Sites and Trails BC. Designed for locomotives, its grade never exceeds 2.2 percent—a steady uphill chug perfect for taking in the views across Okanagan Lake.
Along this 15-kilometre stretch, pop into The Trail Store, which sells ambrosia apple smoothies and seasonal fruit, or enjoy a meal at Hillside Winery and take in views from its 20-metre tower. You'll pass the OK Whistle Stop B&B, which offers trailside accommodation—something I remember wistfully as we roll into Naramata late afternoon.
As we approach, I'm alarmed to realize our climb has put us well above the community's lakeside downtown. The lack of camping facilities also catches me off guard. Naramata does, however, have an assortment of B&Bs, wineries and guesthouses that extend up the slope toward our lofty perch.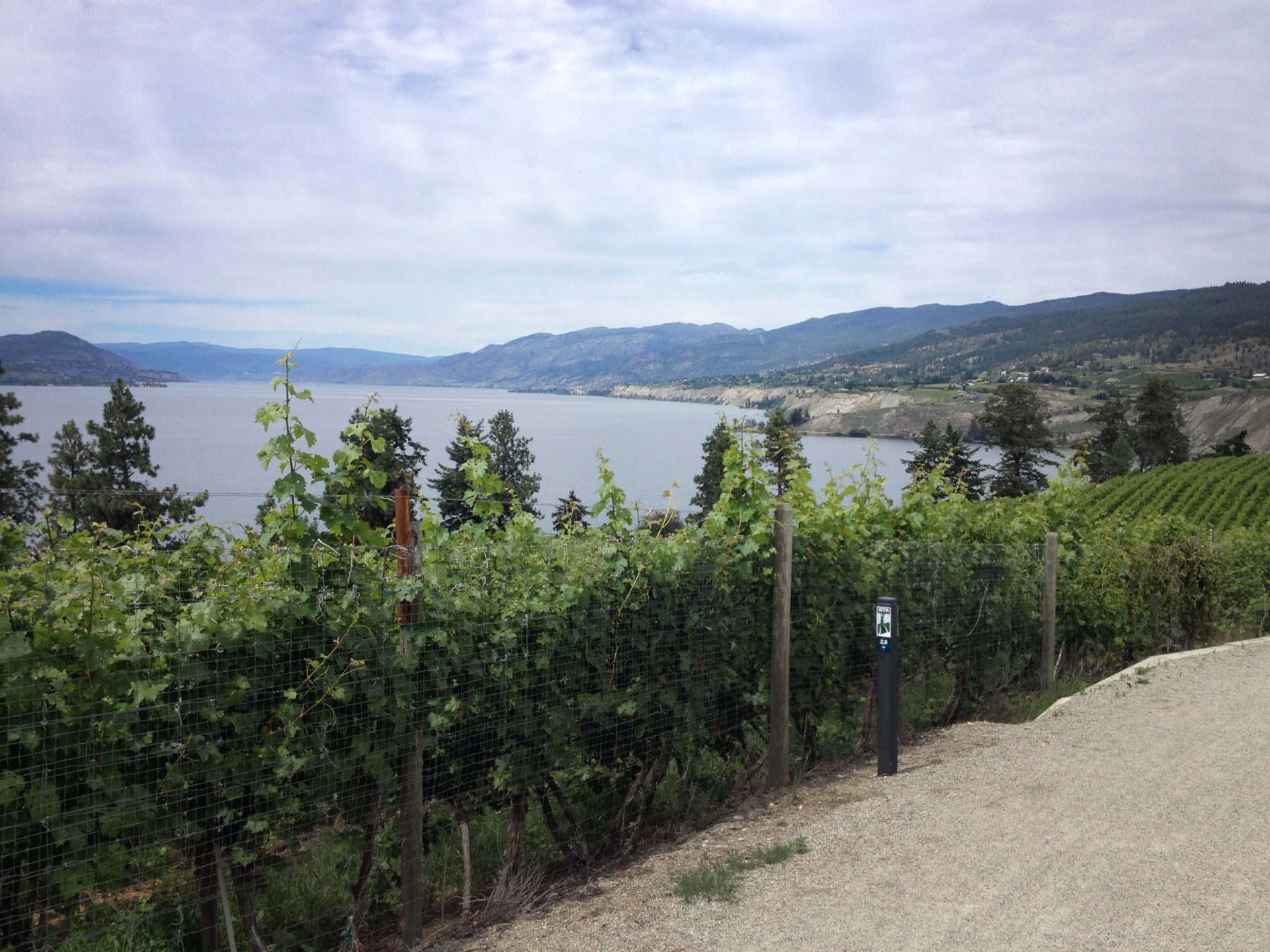 I start calling around, each inquiry dropping in elevation and sinking my heart a little further. Finally, the Naramata Heritage Inn—a well-appointed, craftsman-style guesthouse by the lake—agrees to take us in, despite its no-kids policy.
Thank goodness this is wine country. The folks at Daydreamer Wines, a small family-run winery we pass on our descent into town, hear my woes, suggest a nice vintage and recommend the local takeout pizza joint.
By morning, I'm ready to tackle the four-kilometre uphill climb back to the trail without vehicular assistance (and with only one meltdown). But my best advice is to arrange a shuttle in advance: catching a ride to Myra Canyon would have allowed us to cover more ground in a single, downhill day.
If You Go
HooDoo Adventures in Penticton offers guided tours, bike rentals and shuttles.
KVR Cycle Tours, also in Penticton, offers self-guided tours and bike rentals.