The air was icy and the morning sun was just brightening the sky when fishing guide Campbell Bryk, owner of Elevated Fishing Adventures, pulled up outside my hotel in Sun Peaks, British Columbia. A friend and I had signed up for a four-hour ice fishing adventure—something I'd dreamed of trying ever seeing my first ice fishing hut on a frozen lake.
A quick drive down the hill brought us to Heffley Lake. Stepping out onto the ice, I warned Bryk I had an abysmal record when it comes to catching fish. I told him that no one in my family will even fish with me anymore because my bad luck seems to be contagious. I asked his professional opinion on whether it's possible that some people just repel fish.
Bryk seemed to take my concerns seriously. Then he explained that as a guide he had a catch rate of over 90 percent, so he was pretty confident I'd hook a fish. He also said that even if I didn't reel in a rainbow trout—I'd probably find the entire ice fishing experience so unique and fun, that I'd be happy with any outcome.
Trudging behind him, across the thick ice, I had my doubts. Not only did it seem rather chilly to be spending hours on a frozen lake (as a Vancouverite I don't really do ice), I definitely wanted to catch a fish.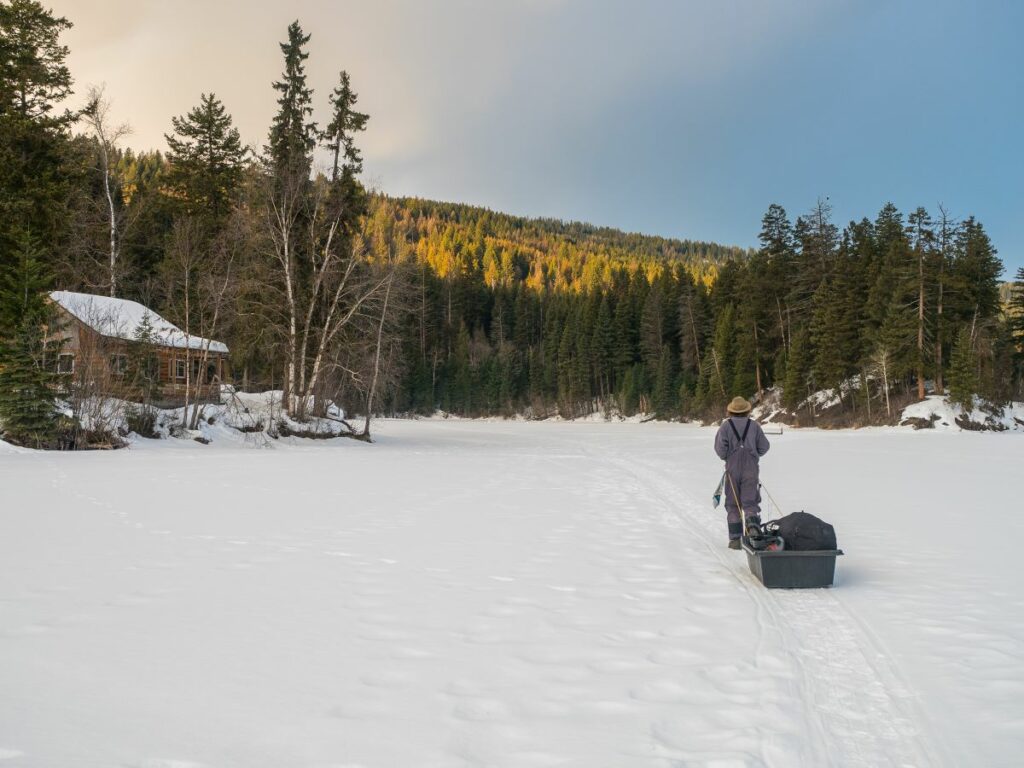 As we walked across the lake, Bryk explained he was looking for a spot where the fish were most likely to congregate. For rainbow trout, this means water less than five metres deep. Selecting a place in a curving cove not too far from shore, he used an auger to drill a hole for each person fishing. A short while later we had assembled our portable fishing hut, set up our chairs and turned on the heater.
As we settled into the cozy hut, Bryk closed the doors and windows and plunged us into a magical darkness. The space was dimly lit by the luminous pale green of the lake, which shone through the six-inch fishing holes.
Sitting above the holes, Bryk started to tell us about our tiny little ice fishing rods and the bait we were using. Then a fish suddenly appeared in my hole. Bryk had explained the lake would be bright enough to see the fish—but I hadn't expected the water to be so clear, or the trout to be so visible. It looked like I could reach into the hole and grab myself a fish dinner—if I didn't mind getting my hand wet. But then I shifted and the trout darted away, disappearing as quickly as it had come.
Bryk set up our rods with bait and showed us how to jig. Jigging means slowly moving the rod up-and-down; so the bait looks like an enticing meal to a fish. Taking the rod, I lowered the bait to the right level (it was bright orange and easy to see) and began the rhythmic motion.
While our fishing efforts were carefully supervised—Bryk explained that guided trips like his can suit anyone. For total beginners, like us, he assisted with just about everything. Had we been more skilled, he would have tailored the trip and probably not bait the hooks. His role likely would have come down to getting us to the correct place to catch fish while offering up a bit of local insight and expertise.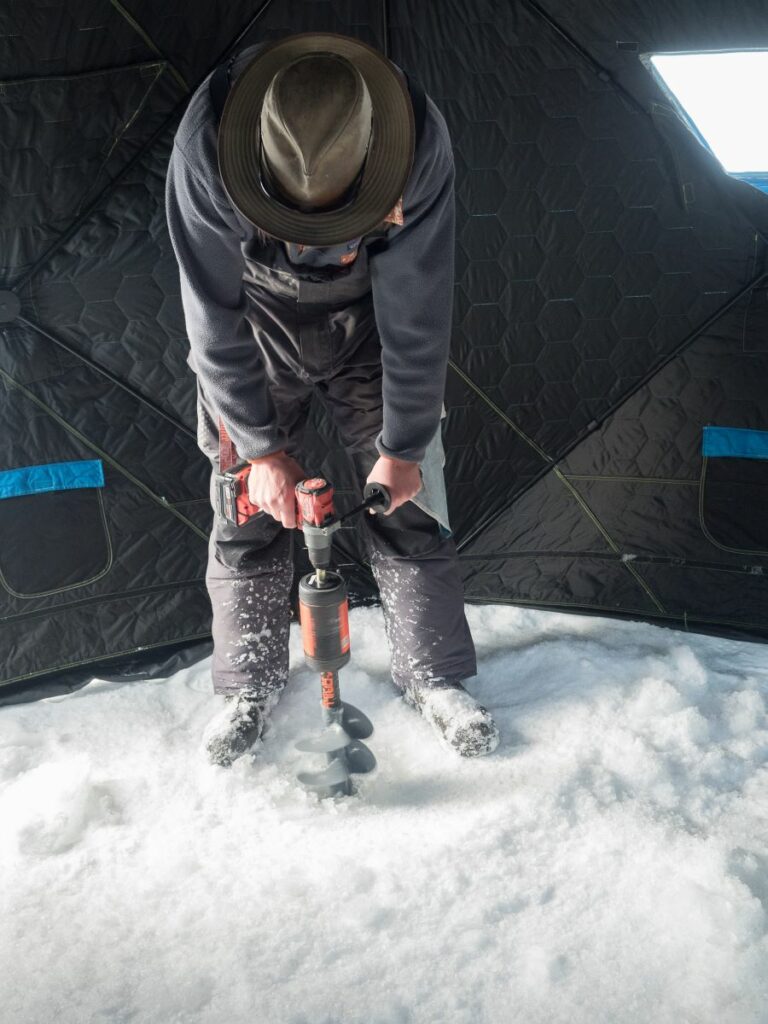 Our time in the hut went remarkably fast. Bryk is personable and fun and regaled us with hilarious fishing stories gone wrong. Occasionally a fish would dart into view and I'd try to entice it by bobbing my bait near its mouth. But then it would dart out of view without a nibble. It was difficult not to take the rejection personally.
Occasionally, I'd stomp my feet to warm them up or wander out of the hut to admire the frozen view. At one point we took a short break when conservation officers showed up on a couple of snow machines and checked we had our fishing licenses.
No one was more surprised than me when I felt an unfamiliar tug on my line. Bryk told me to give my rod a quick jerk to set the hook, should I get a nibble, so I did. But when I reeled in my line, both my bait and the fish were gone.
By this point I was determined to get a fish. Even though our time on the ice was winding down I wasn't ready to give up. Suddenly another fish flashed past and I felt it grab my lure. This time I successfully set it and reeled in, right up to the lower lip of my fishing hole. Then Bryk reach in and grabbed it—and after confirming it was one of the rainbow trout the lake had been stocked with (versus the wild, breeding population) he dispatched it and laid it out on the ice.
At this point I could have happily kept fishing all day. I had visions of surprising my family by bringing home my limit in fish—feeding all my naysaying relatives a bounty of fillets. Sadly—the trip had to come to a close. But between the beauty of the setting and the teasing challenge of being able to see the fish I was trying to catch, I was hooked.
Bryk says this is often the case—that people who don't expect to enjoy themselves come away from a morning on the ice feeling energized and relaxed. I also came away with a few recipes and a nicely dressed and vacuumed-packed fish which travelled home in my luggage and was consumed the very next night.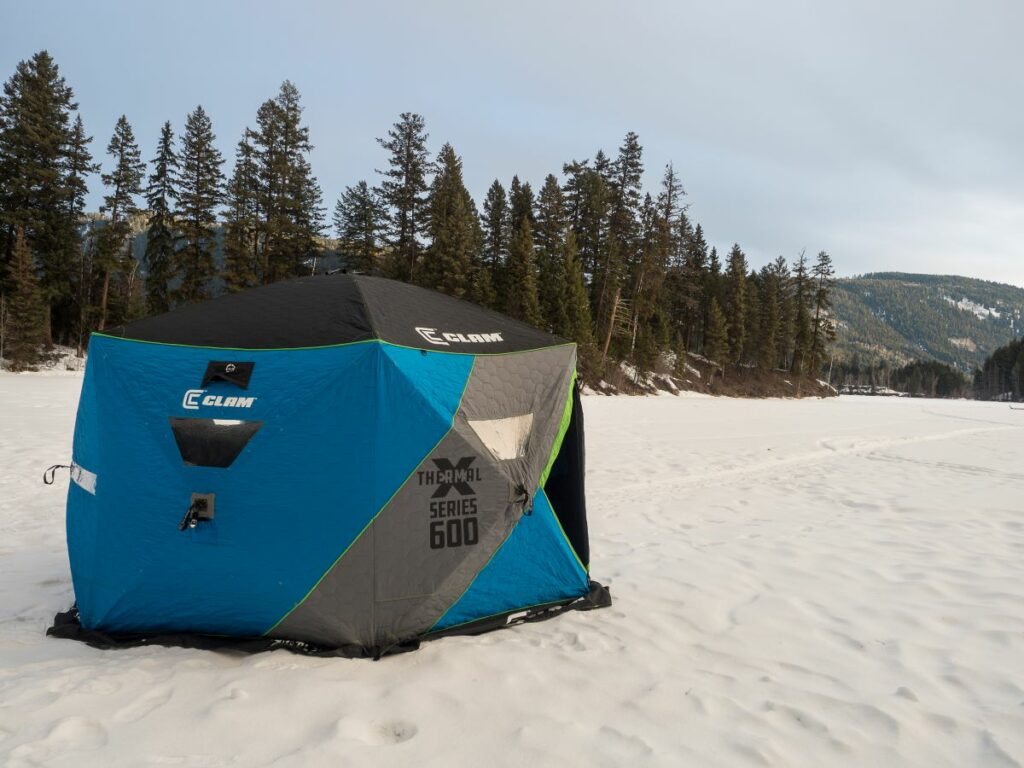 Want to give it a try? BC has just two certified ice fishing guides: Located in Sun Peaks BC, Elevated Fishing Adventures offers sunrise and sunset trips for groups up to five and custom trips for groups up to 10 people. elevatedfishing.ca
Pemberton Fish Finder offers an intro to ice fishing trip as well as half-day and full-day trips. pembertonfishfinder.com