With each step, the air becomes crisper and cooler—almost lighter. I hoist myself to the summit of Battle Bluff, a cliff-face of damp grey rock smothered in crimson moss 700 metres above the world.
From up here, trains look like tiny snakes, wriggling through tunnels on either side of Kamloops Lake. The sun strikes the hills and embosses them in golden light. I catch my breath and smile.
I'm a slow hiker, but I love to be outside. Luckily for me, I live in nature's playground. The Thompson-Okanagan is filled with day hikes that range from 1 (so easy your grandmother could do it) to 2 (bring your water bottle) to 3 (if you want to break a sweat) on my scale of best beginner hikes.
If you've only got an hour, are just passing through, or are eager to find the best views without too much exertion and expertise, then these seven hikes will suit you perfectly. Each will take you an hour or two to complete, depending on how far you decide to go and how fast your legs can move you. Click on "How to Get There" for the best trail map of the area.
Good luck. No more excuses. Get outside!
Best beginner day hikes in Kelowna
Let's be honest: Kelowna is stunning. The downtown strip is wide and welcoming. Endless vineyards cascade down to Okanagan Lake. The twisting highway makes for incredible road trips, but you're missing out if you never step off the streets. There are plenty of opportunities to rise above the city and find a new perspective.
Mission Creek Greenway
This 16.5 km path runs alongside a small creek and is the perfect afternoon amble (you certainly don't need to do it all!). The dirt road is wide and flat, making it ideal ground for a scenic walk, a light jog or a slightly bumpy bicycle ride.
Difficulty rating: 1
How to Get There: The Greenway begins just off Lakeshore Road behind Creekside Pub. There's also a parking lot and basic facilities at Ziprick Road.
Don't Miss: A cold pint on the patio of the pub afterwards. You deserve it!
Knox Mountain Park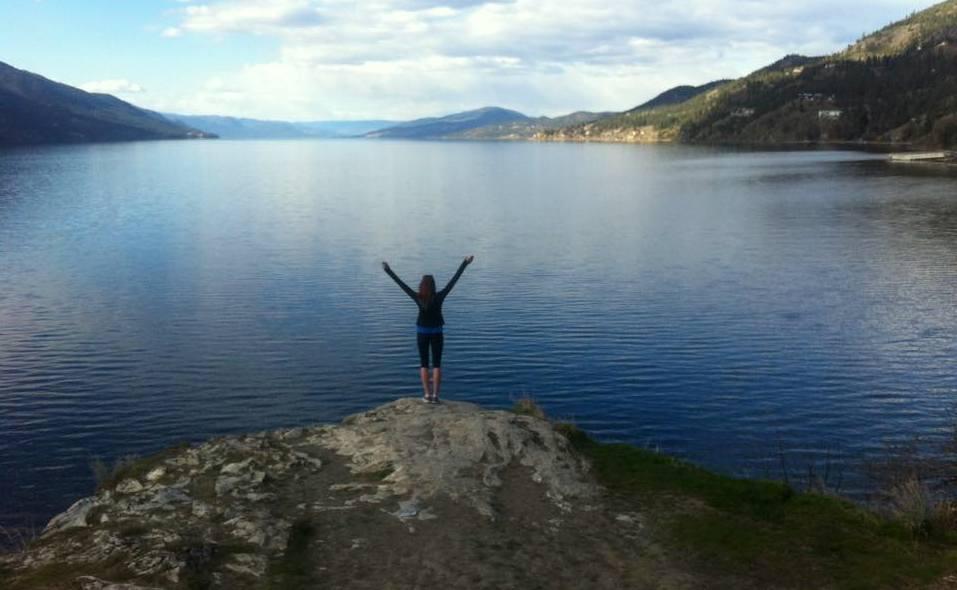 Easily the most well-known and well-trekked path in Kelowna, Knox has wooden rails, staircases and covered viewpoints. You also have the option to drive up halfway, and then hike down to Paul's Tomb or to the upper viewpoint.
Difficulty rating: 2
How to Get There: Drive as far north as you can along Ellis Street. There's parking at the entrance to the park next to the tennis courts.
Don't Miss: The disc golf course at the base of the mountain.
Mount Boucherie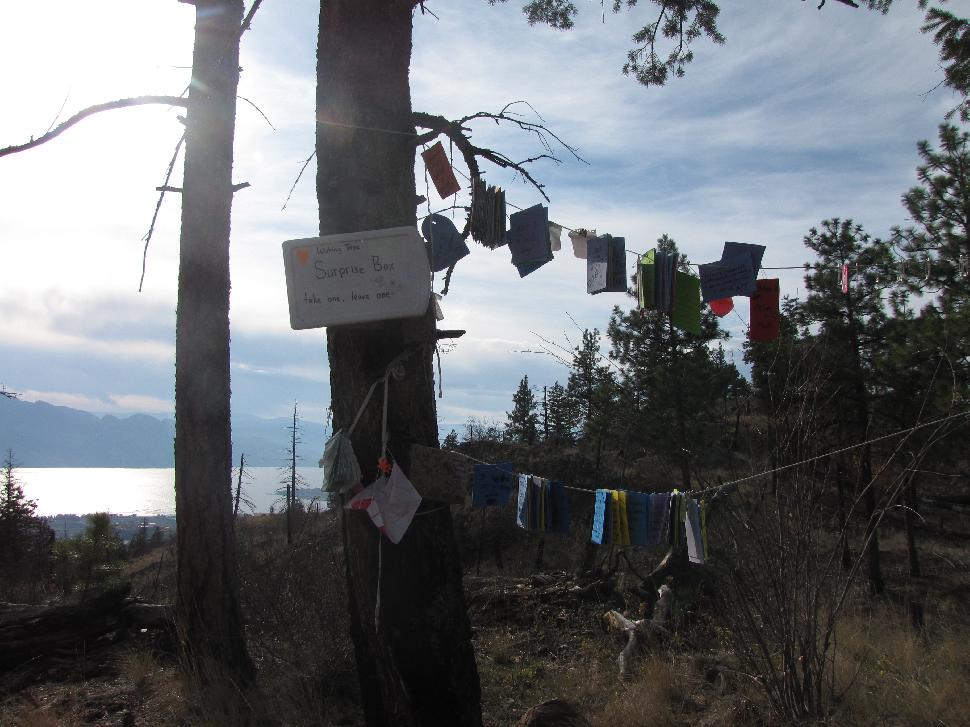 Located in West Kelowna, this hike will be a serious challenge for beginners—but ultimately rewarding at the summit, where the horizon is filled with the blue hues of Okanagan Lake.
Difficulty rating: 3
How to Get There: Park at Mount Boucherie High School and choose the flattest way up. The hill is covered in trails. Be mindful which you choose, or you may end up on a vertical slope of loose gravel.
Don't Miss: The Wishing Tree is armed with pens, paper and notes on a string. Mark your presence or leave a message for the next group of hikers!
Best beginner day hike in Lake Country
The 40 minute drive along Highway 97 from Kelowna to Vernon is full of lake views and hiking opportunities, particularly the Spion Kop Hiking Trails. Take the time to get off the highway and get into the wilderness.
Raptor Loop
This wide, dirt path near Oyama offers views of Wood Lake and Kalamalka Lake, which glows turquoise green in the sun.
Difficulty rating: 2
How to Get There: Pull off Highway 97 at the Old Mission Road Trail Head. Park at Pelmewash Parkway Trail Head.
Don't Miss: Here, you have a choice: tackle the Summit, or stay below the highway. You can do the loop in a couple hours, or cut back whenever you've had enough.
Best beginner day hikes in Kamloops
As you make your way to Kamloops, B.C., the landscape noticeably changes from lush vineyards to rugged desert. The entire city is built on a wave of hills, making it next to impossible to find a bad view—and incredibly easy to find a great hike.
Rivers Trail
This 40km path stretches all the way out to Kamloops Lake, with long sections of a cement surface. The downtown section (Riverside Park) includes a rose garden, oriental garden, tennis courts, basketball courts and a large field that fills with music in the summer. There is beach access and a panoramic view of the river from the pier.
Difficulty rating: 1
How to Get There: Walk straight down 1st Street towards the river. If you're driving, free parking is available at Pioneer Park.
Don't Miss: The concrete fountain that has been converted into a flowerbed.
Peterson Creek Park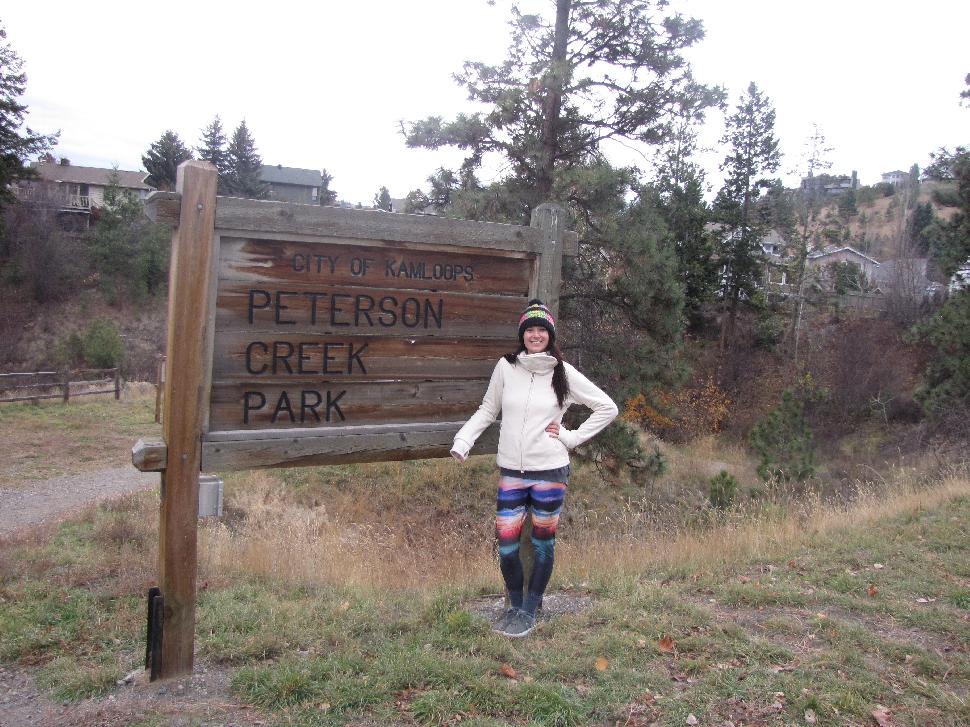 Well-marked, single-file trails lead from Summit Drive all the way to a large waterfall downtown. The only reminder that civilization is nearby is the gorgeous cliff-top houses and view of the red-lined bridge from one of many resting benches along the way.
Difficulty rating: 2
How to Get There: There are plenty of entrances to the park. One of the easiest to spot is a large wooden sign right on Summit Drive.
Don't Miss: Keep your eyes peeled for mountain bikers, joggers with dogs and the occasional black bear.
Battle Bluff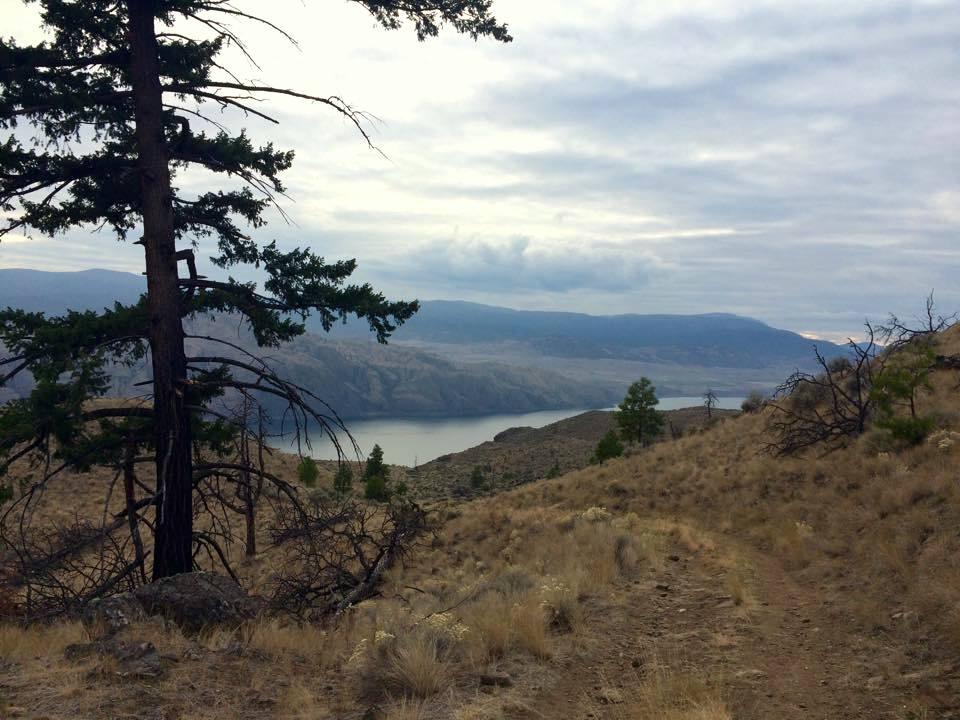 Located in Lac Du Bois Protected Grasslands, this 2 hour trek ends with a stunning view across Kamloops Lake. Trails lead through a diverse ecosystem, where three types of grasslands thrive. Keep an eye out for abandoned vehicles and melodious birds.
Difficulty rating: 3
How to Get There: Aim for Lac du Bois Conservation Area. Look for the small dirt parking lot and a hiking sign to ensure you're headed in the right direction.
Don't Miss: A small pile of rocks at the top, holding a memorial plaque with an unparalleled view.
Credit: Alison Karlene Hodgins
I've walked all of these trails myself—most of them multiple times. No hike is the same twice. I've run into wildlife, trekked across snow, admired rainbow-coloured leaves and melted in the summer sun. The one constant is that I have never regretted taking the time to get outside and fall more in love with where my feet can take me.
Whether you're pressed for time or intimidated by kilometre markings, the Thompson-Okanagan has a hike for you. Hiking is a free, healthy way to appreciate and enjoy the distinctive topography of B.C.  Always remember to stop, breathe and enjoy the view.
Have you ever hiked any of these trails?
Drop us a line – comment below!