When I was a young lass, I was lucky enough to have friends with a cabin in Tulameen on Otter Lake, near Princeton, British Columbia. I spent many summers and winters there swimming and building snowmen, respectively. I have fond memories of riding up at the top of my friend's truck camper as we drove along the Crowsnest Highway.
So, you can image my excitement when my parents announced that we were going to spend Christmas at someone else's cabin on a new lake, which was also north of Princeton. Off we went, with my Grandmother and I sitting in the back seat of the car.
Part of the excitement was the process of cutting down our own Christmas tree. Of course, we had to have the best tree, so my dad would stop if I hollered, "There's the perfect tree!" Usually, it was nowhere near the road—all the best trees are furthest away—but we would get out of the car and I would give it an inspection. We did this several times before we found the perfect huge tree.
It was getting dark and my questions kept on coming. Who were the friends who let us use this place? Would my Otter Lake friends be there? What's at the end of this dirt road, and did my Dad really know where he was going?
There were no streets lights, but the moon was full and clear lighting up snow diamonds all around us. Eventually, after forever, we arrived at Missezula Lake (they had to say it a few times before I knew how to pronounce it).
We had our proud tree attached to the car roof as we entered the sleepy, snowy, hollow wonderland of quiet. It was truly magical, just like the old cartoon film of Frosty the Snowman. I thought I had been transported to another land. It was love at first sight and I wished we could stay here forever.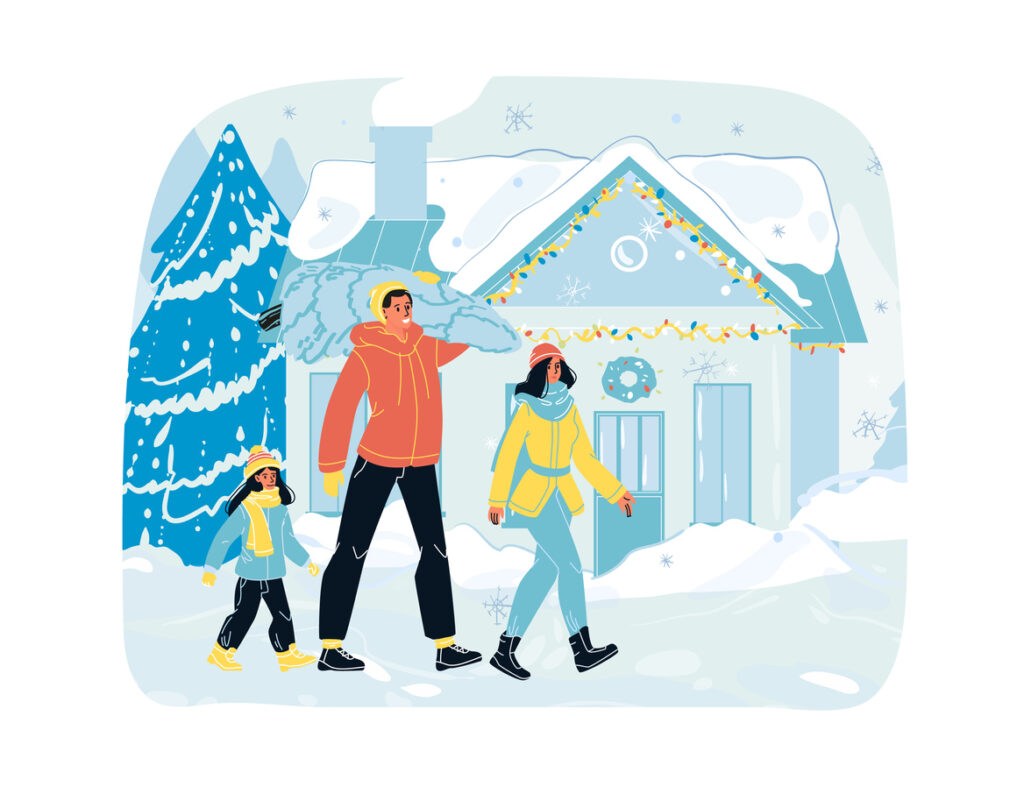 We drove up a little hill while my parents had a small argument about which driveway to head down. They'd never been here before either, so it was not surprising.
Finally, we pulled in and the adventure continued. I saw this gorgeous red-roofed acorn shaped cabin—my favourite, as I love the little rooms you get at the top which overlook the lounge —and my joy just glistened. It was like a winter dream come true.
We'd arrived, but it was cold and late, and I couldn't wait to see which room was mine.
Snag! My Dad had forgot to get the key from his "friend," so he had to break the kitchen window and pay them back. He managed to crawl in through the window and open the door.
Then it happened, the most amazing part. As I walked into that cabin, it hit me, this wasn't a friend's cabin, this was ours! We finally got our own place to go to like our friends at Tulameen.
By the way, the tree we had cut reached the ceiling of the upper floor where those little rooms were, but Mom had forgotten all the Christmas decorations, except for the lights and some candies that needed to have their wrappers put on. So, I went to work and managed to make paper rings, popcorn strings, paper snowflakes and little decorations from what I could find. I eventually managed to fill that goliath.
Guess what? One of those little rooms upstairs? One was mine and I loved it. It was my favourite Christmas ever.