It was home to one of the largest illicit prohibition distilleries to ever operate in British Columbia. It was also the birthplace of Texada Gold, a high-grade cannabis with a faithful following as far south as Mexico who also called it Texada Time Warp due to the strange things it could do to a user's sense of time.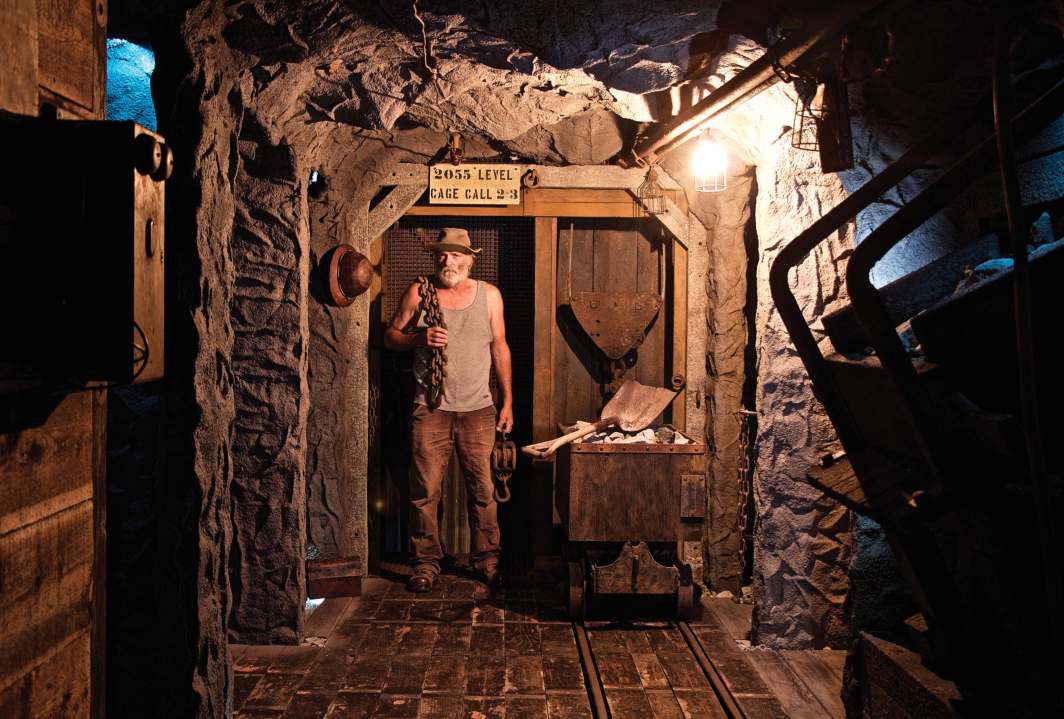 But real gold was found on Texada Island as well, along with copper, iron and copious amounts of limestone. By the end of the 19th century, more than 20 large mines were in operation on the island, and the first production of lime had begun at Blubber Bay. Yet with over a century of intense resource extraction, Texada still reflects a sense of wilderness, with so much undeveloped land that hunters are still welcomed in season. It's also an island of "flower rocks,"glomeroporphyritic rocks created by underground volcanoes and containing radial clusters of carbonate crystals in flower-like patterns that can be found blooming on the beach, but are found only in a few places in Japan and on Vancouver Island. History, of course, happens everywhere, but Texada's story is as multifaceted and colourful as a kaleidoscope.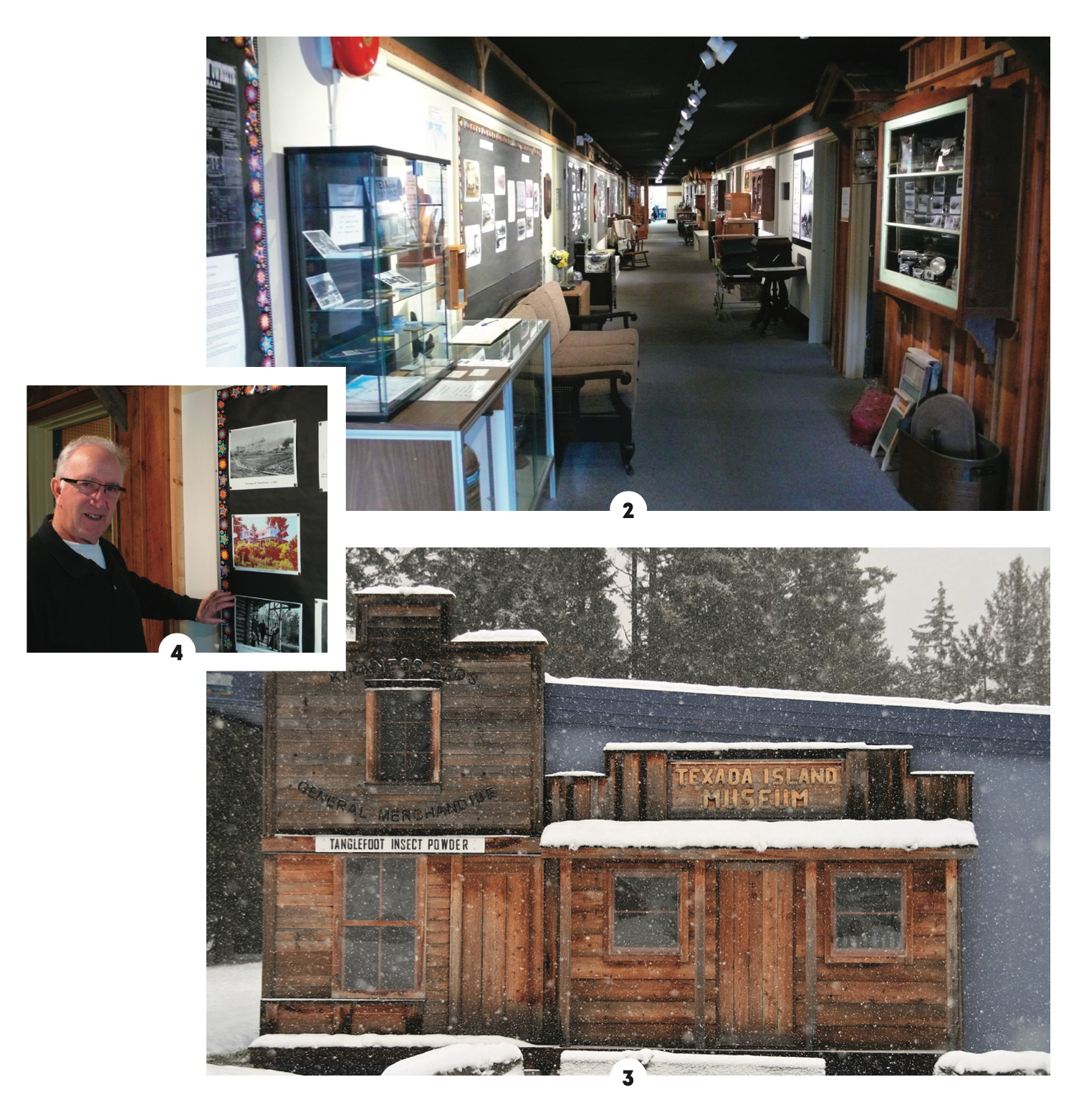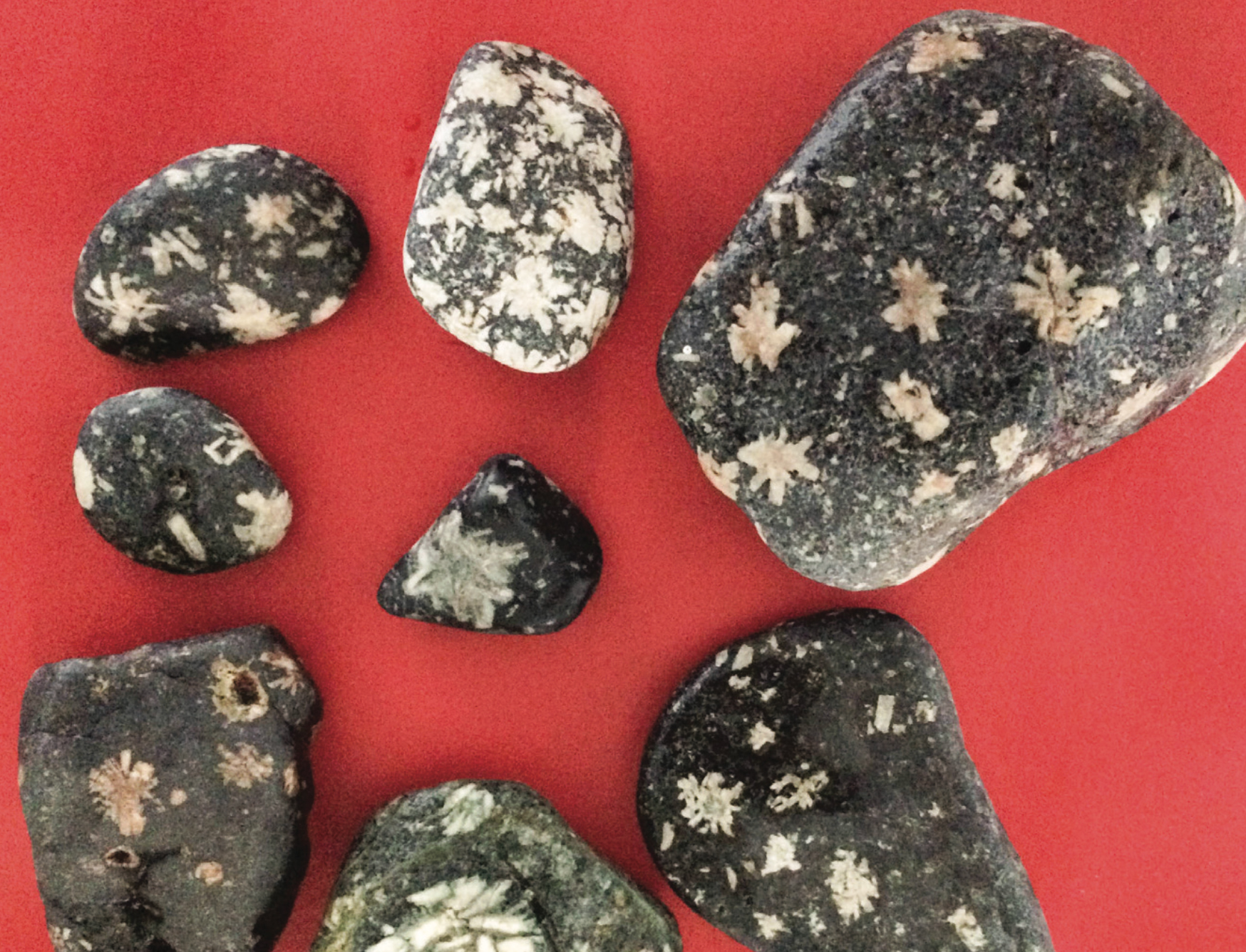 And today we're finding out more about its history. Described as a long strip of granite and limestone, Texada is the largest island in the northern Strait of Georgia on BC's west coast. Fifty kilometres long and 10 kilometres across at its widest point, it's also the tallest, with Mount Shepherd the highest peak at 891 metres. It also claims to have the mildest weather in Canada and an annual rainfall of only 990 millimetres, so dry that prickly pear cactus can be found growing on the west side.
Named in 1791 by Spanish explorers, the island was originally called Si'yi yen by the Tla'amin Nation, whose middens and weirs can still be found on the west shore. Arrowheads, spearheads and honed pieces of slate have also been uncovered, dating occupation of the land back at least three thousand years. After the flurry of exploration by the Spanish and then the British, the island was largely undisturbed until 1871. Doug Paton, the curator of the Texada Island Museum & Archives is now explaining what happened after that.
He begins by sharing some of the industrial history and a subsequent political scandal. "Prior to 1871, a fellow named Harry Trim was working out of Blubber Bay and he noticed as he was going by the island's left side that his compass would always go a little wonky. So he came ashore and took samples of the iron ore he found and eventually took it down to Sewell Moody of North Vancouver's Moodyville Sawmill Company, who had a small assay office there. It turned out to be good quality iron ore. Moody had connections in Victoria with the second Premier, Amor de Cosmos, and Cosmos saw an opportunity and jointly purchased 20,234 hectares on Texada in 1875. When people found out what the premier was doing, they called him on it. It became known as the Texada Land Grab scandal and even though de Cosmos was found not guilty he was still booted out of office."
We can see that in a world dependent on steel and cement, an island loaded with precious metals, iron and limestone would be irresistible and the limestone deposit on Texada was the largest on the western seaboard of North America. Ergo, in the 1890s the island became widely known as Canada's most precious rock and its northern end as the richest 25 square-miles in the province. Today Texada's limestone industry is the oldest in the province. Eventually Trim's discovery was seriously mined, and the Sunshine Coast's first two towns sprang up as a result.
"The first settlement on the island was Texada City, established in 1897, with the settlement of Van Anda following in 1898. Lots were for sale for $70 to $100 but only about 10 to 12 were ever sold." Paton points to a very old set of plans on the wall."Both villages were associated with a mining venture. Texada City was founded by J.J. Palmer, the owner of the Marble Bay Mine and Van Anda by Ed Blewett, who controlled the Little Billie and the Copper Queen Mines." Mining is something Paton knows well and our introduction to this part of the history is extensive. Interestingly the island was flourishing before even Powell River was formed in 1910, with Texada City and Van Anda self-sustaining communities consisting of four hotels, Union Steamship service, doctor, newspaper office, general merchants, laundry, bakery, church and even the first opera house north of San Francisco. Around 600 people lived in each area, very much the population of today. In 1940, Texada City was amalgamated into Van Anda.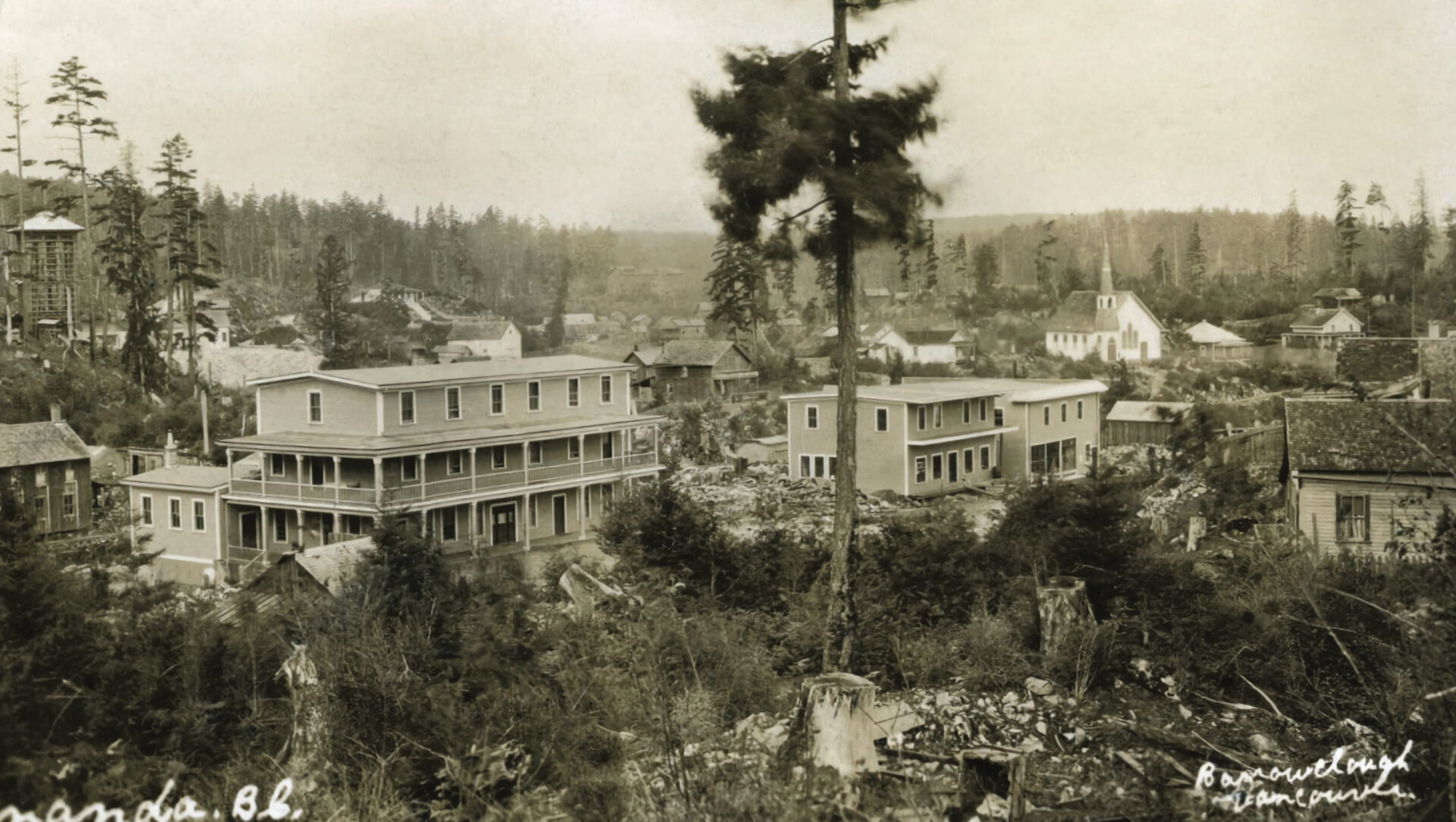 We take a minute to appreciate the wonderful, spacious venue that the heritage society was able obtain in 2008.
"This was an elementary school, built in 1949," Paton explains, telling us that in 1958, the school next door was built." They were going to tear this one down but we approached them and asked if we could have it for a museum and the authorities were anxious to get as much interaction as they could with the island people so they agreed. We've got four large rooms along here and the archives room at the back. It's sponsored by our school district (#47). Incidentally, it's the oldest continually operating public school district in the whole province."
Now the curator returns to those plans, his pointer indicating the tidy lots and well laid out streets. "You can see that on the plans Texada City looks very pretty and orderly, but in reality, as I am sure you noticed coming down here, it doesn't look anything like that." He's right. Homes in all sizes and styles appear to have been dropped on to roadside verges in all positions and the streets would be a city planner's nightmare. We love it.
A lifetime resident of Texada, Paton came from a logging family. His parents came to the island in 1942 and the island's mines kept him employed during his career as warehouseman, first-aid attendant, heavy equipment operator and shift boss, alongside volunteering in the Gillies Bay Fire Department and spending 28 years as fire chief. We snake back-and-forth across the long corridor and into the individual rooms as our knowledgeable guide smoothly continues his museum tour for my partner, David Dossor, and myself. The extensive logging and mining displays and exhibits of pioneer everyday life keep us enthralled. We peer into the island's first classroom and check out a one-room schoolhouse. At age 20, Emily Raper had been the first teacher. She must have been good: how many teachers get a local lake named after them?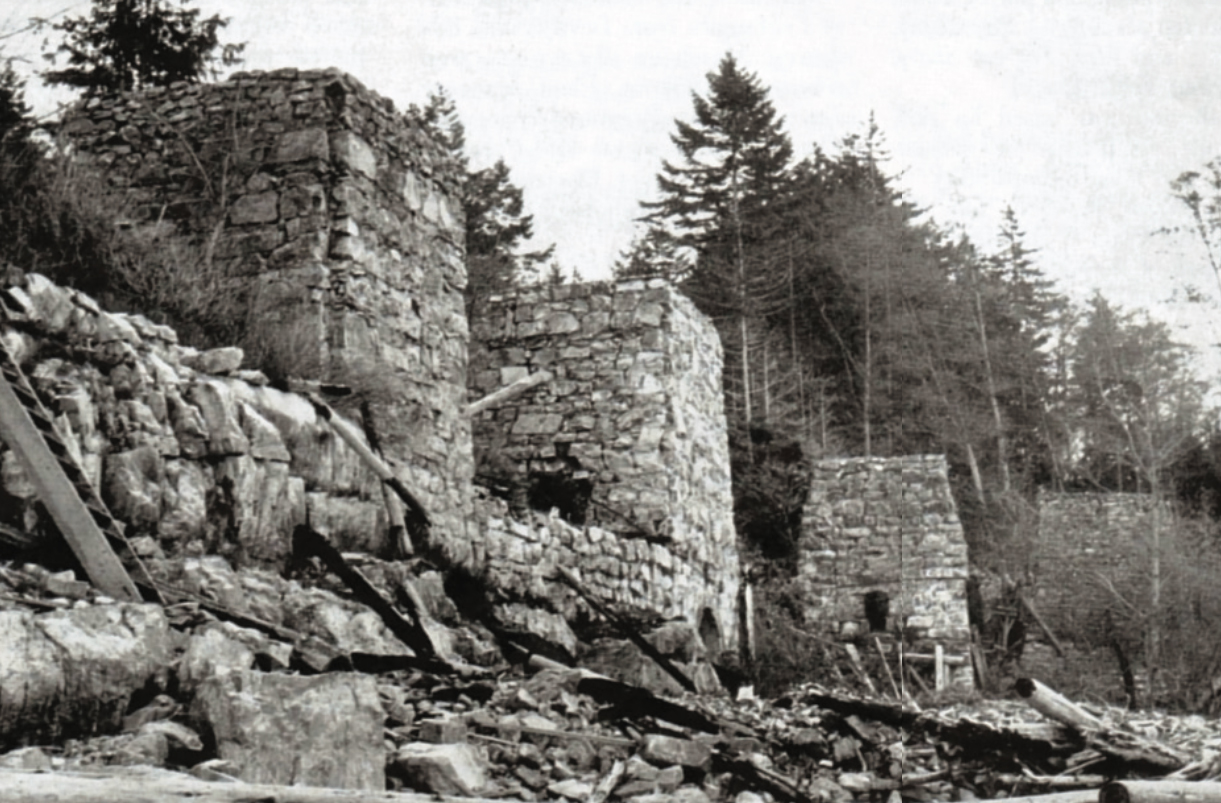 After checking out the postcard-sized teacherage alongside, it's time to go into the mine offices for a virtual trip down into the Little Billie Mine. It operated from 1880 to 1919, producing gold and copper. We hear it before we enter the dark space and I begin to feel claustrophobic. It really feels as if we are 560 feet below the surface. Our guide points to a map on the wall. "Each one of these squares is a mining claim from Gillies Bay up and around to Blubber Bay. You can see the amount of activity going on at that time. This is actually larger than a mine would be."
I don't want to be a miner when I grow up.
The museum really is an historical treasure trove, as authentic and researched as these dedicated historians can make it. We planned a lunch at nearby Mary Mary Café but our tour is too interesting to be shortened, so ever-prepared, Paton pulls a package of biscuits out of his desk and armed with that, along with a copy of the Texada Heritage Walking Tour, we're off in his car for a tour of the nearby sites around Van Anda.
"Many businesses were located along Copper Queen Street. Between 1910 and 1917 the commercial area has burnt down three times. See the playing field on the left? It's made from Marble Bay Mine pilings. The people and the company got together to create a sports field from the waste rock pile. It was a real community endeavour."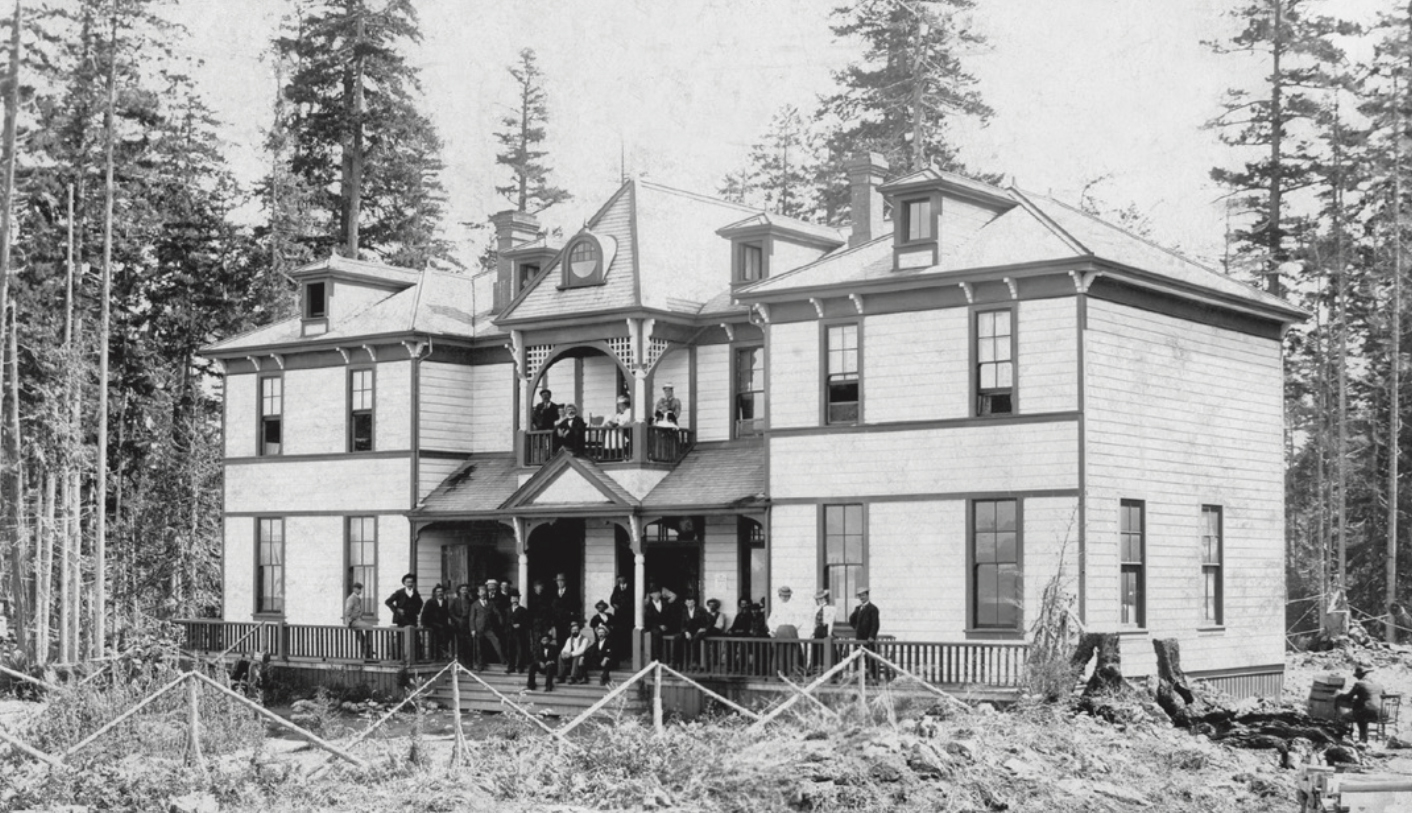 On a windy cliff above the community we check out some of the remains of the once mighty Little Billie Mine on a deserted site. "These are the footings/floor for the Little Billie Mine power/compressor plant," he tells us, and shows us other properties now lying dormant, some of them up for sale or sold.
Now we're off to do some exploring on our own, but after thanking our guide, I still have a question: What's happening with Texada Gold? Has it gone legal? Can I get some?
"I'll have to see if there are any active grow ops," he tells me. "There's nothing commercial that I know of. But I do plan on recognizing that period of our history in our new museum display room." I'll have to settle for that.
Off to check out nearby Turtle (Emily) Lake, where the painted turtles have their own crossing sign, and then on to the nearby Woodland Cemetery where many of the island's pioneers are buried. High on the list to see are also the weirs built by the island's first occupants, the Tla'amin (formerly known as the Sliammon First Nation) who were present on Texada so long ago. We're also told we can see depressions from the longhouse at Shelter Beach, where many of the artifacts were found.
But first we head southeast from Van Anda on a 16-kilometre paved road and pass through the more rural Gillies Bay. The sleepy community was never established as anything other than a residential area and is currently home to about 450 permanent residents, twice that in summer. This is where the community hall, RCMP detachment, library, medical clinic and general store are located as well as the volunteer fire department and other amenities. We pick up a coffee from the Gillies Bay Store and sit on the beach access near a bright red canoe, sipping and savouring views of the strait before carrying on a short distance to Shelter Point Regional Park, and the Dr. Kay Garner Nature Trail (2.6 kilometres). It's the perfect antidote after spending several hours in the museum and driving. We stretch our legs along the path in the icy chill, reminding ourselves we are in the mildest climate in BC, and follow it past old-growth fringed by the strait. There, clearly from the bench, we can see one of several weirs, a traditional Indigenous method of trapping salmon until the practice was banned by the government during colonization. It's now being revitalized.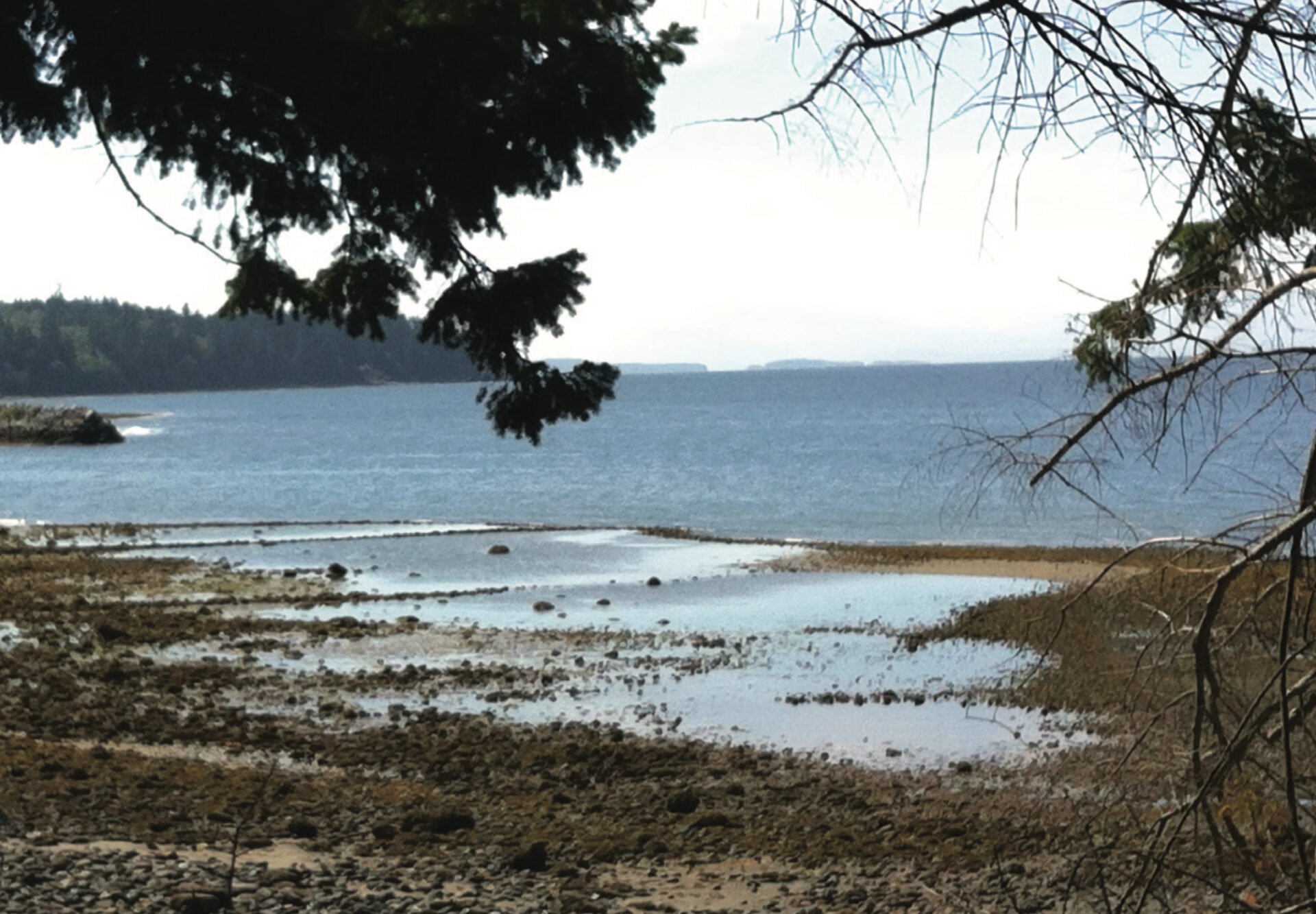 Then just a little further down to the campsite to look for those flower rocks found on the beach. We spend as much time admiring the view over the strait over as we do searching the shingle, but nevertheless we do find a perfect specimen that would make a lovely pendant, admire it, and then put it back, imagining what it would be like if every visitor started scooping up the beautiful stones.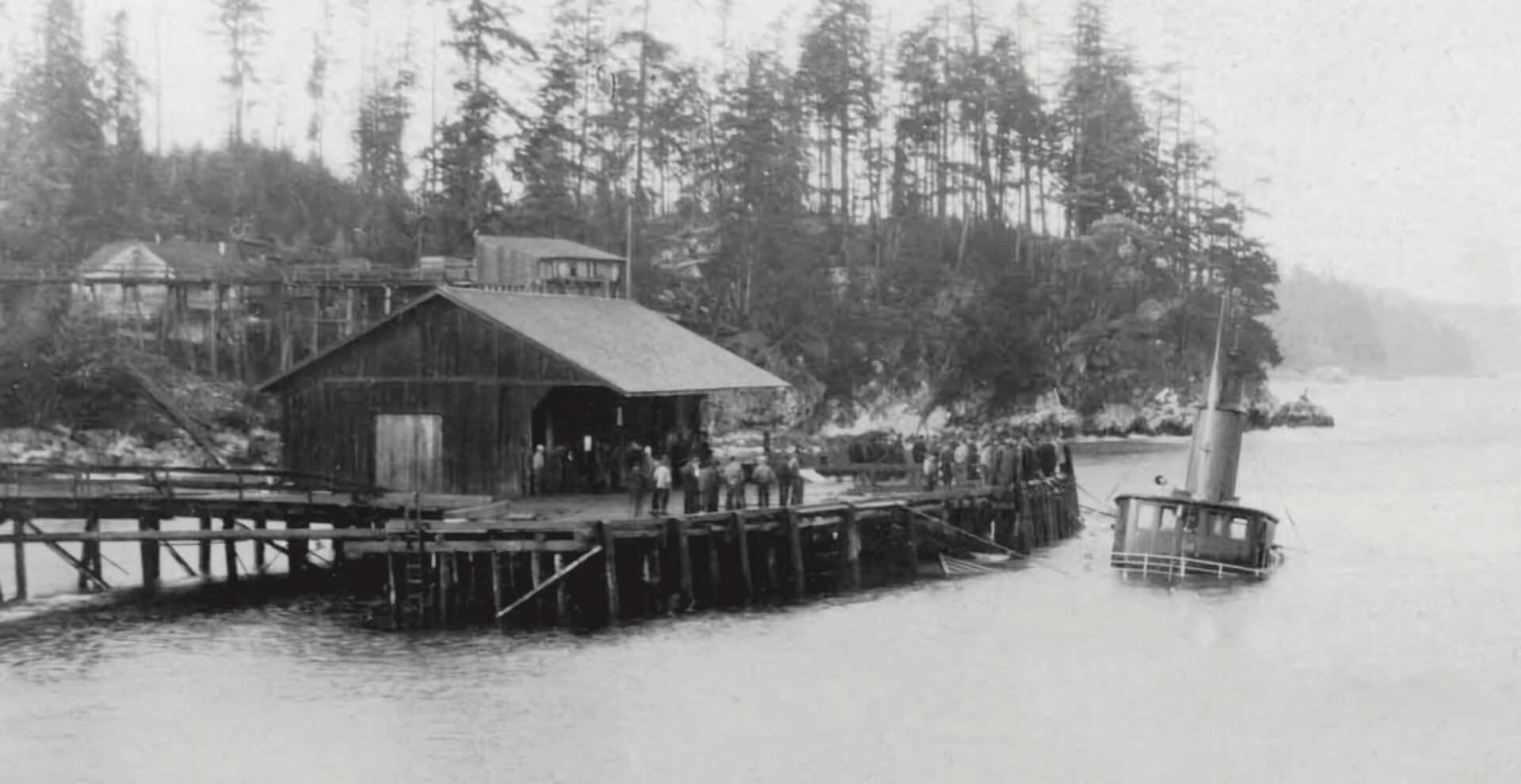 Now we need to backtrack to Blubber Bay, because before the ferry arrives there are things to see there too. We want to read the commemorative signs and check out some of the old vehicles and equipment that serve as a kind of outdoor museum. I'm also hoping that That Place Café will be open and serving some of its fresh coffee and goodies. Half an hour later we're reading the plaque about the sinking of the Union Steamship, the Cheslakee. On January 7, 1913, at 3:45 a.m., it ran into trouble under fierce south-east winds, which caused her to list, her cargo to shift and water to pour into open mid-ship ports. The captain managed to return to the wharf and save most passengers but seven people lost their lives including two schoolteachers who refused to leave the boat until they were properly dressed. It was eventually refloated, taken to Vancouver and stretched to make it more stable, going back into service as the Cheakamus.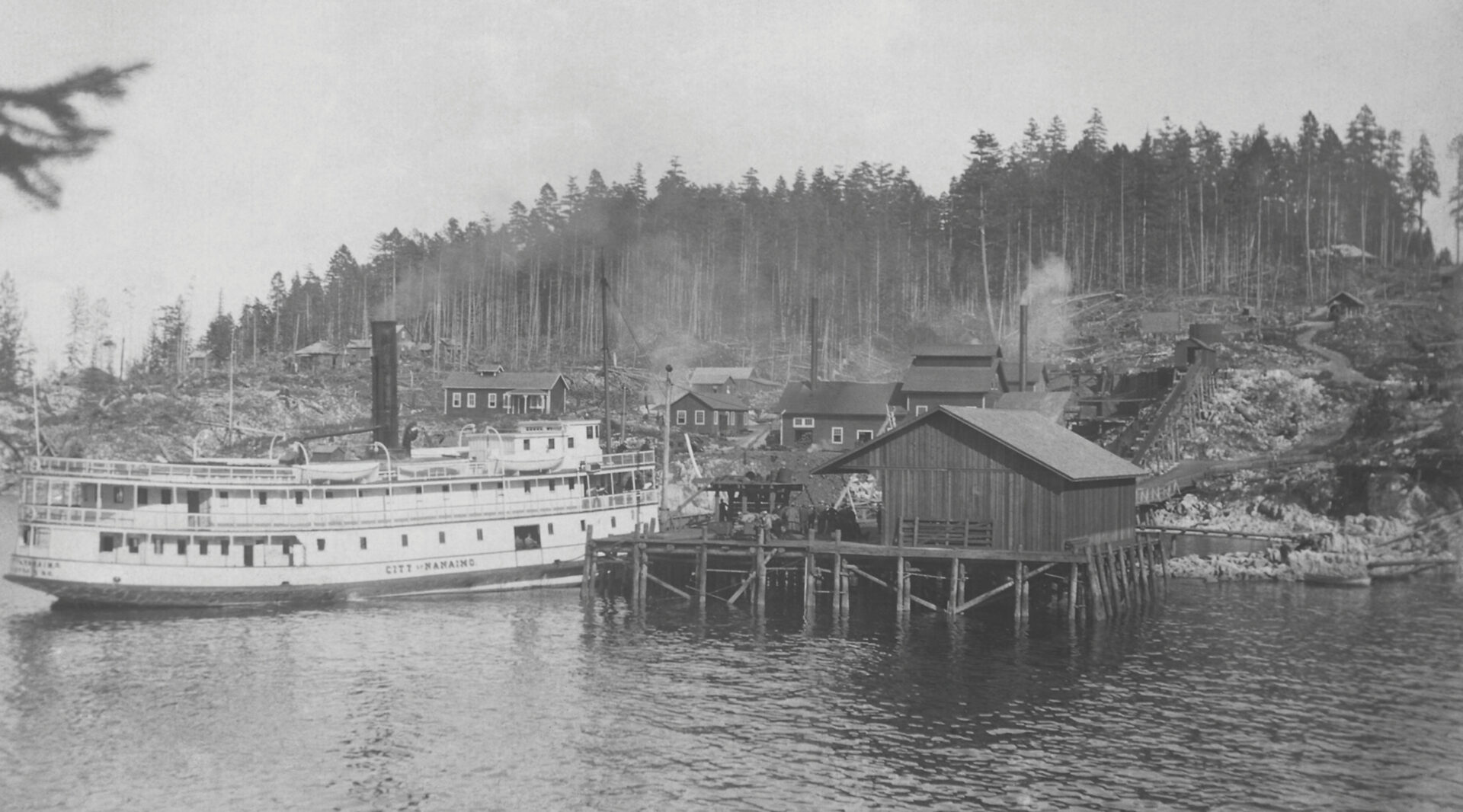 Too bad we won't have time to track down where that infamous moonshine was made. When BC repealed its liquor prohibition law in 1920, the US enacted its own, so temptation to profit was just too much. Luckily for the distillery owner, most of the rumrunners operated further south so the customs officers did not look north for 10 profitable years. The RCMP finally shut down the booming enterprise in 1928, discovering six 22-gallon vats. Would they really just have poured it all out?
The BC Ferries' hybrid-electric Island K'ulut'a has just quietly pulled into the dock, so it's home for us sans any of Texada's gold or hooch, but lots of memories. Kaleidoscopes are intriguing things, a twist of the tube and the pattern changes. What will we see next time we come?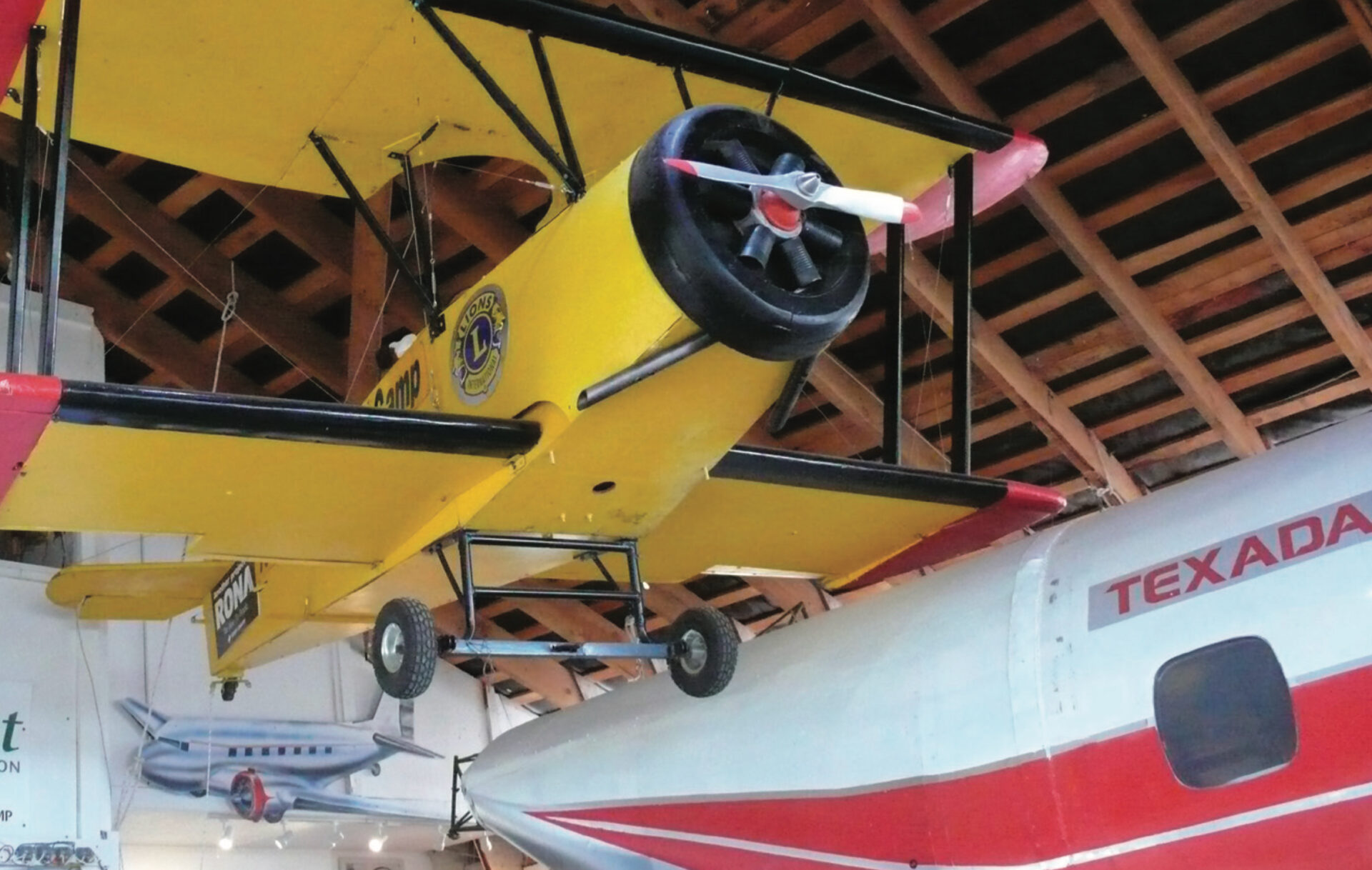 Texada Aviation Museum & Library
A fascinating hangar at the airport and the site of the popular Aerospace Camp where students can learn the responsibilities and importance of flying.
Tools include a wind tunnel, a computerized rocket stand, and the AirBuzzMkll flight simulator. Group and school bookings are available and it's open on summer weekends or by appointment. Call 604-223-2588 or email Doby Dobrostanski at dgart@telus.net. Believing that having fun is essential for learning, Doby says students come here to learn the responsibilities and importance of flying.
If You Go
Accommodation:
Bob and Maggie Timms offer the top two floors of their historic three-bedroom, two-bathroom home in Van Anda. The property is well equipped and clean with welcoming hosts, texadavacationrental.com.
More accommodations can be found at texada.org. Shelter Point Regional Park is open for camping year-round. sunshinecoastcanada.com
Where To Eat?
The Texada Inn is no longer an inn since its fire in 2016 but it still serves as the local hangout and pub and we had a good meal there. Mary Mary Café in Van Anda serves great breakfasts, lunches and home baking. That Place Café & Curiosities at Blubber Bay near the ferry is good for browsing, baking and snacks. There's also the Legion, and The Flower and the Bee Coffee House, which looked intriguing but was closed when we visited.
Events:
Covid had pushed the pause button on many of Texada's fun annual events, like the annual Jazz on the Rocks, Diversity Music Festival and the Sandcastle Weekend, but upcoming events can be checked on Texada Arts, Culture & Tourism Society's site: texada.org.
Island Info:
A wealth of information about the island and an excellent tour map and guide of Van Anda can be downloaded by going to texadaheritagesociety.com.
Getting There:
For ferry travel from the mainland, Sunshine Coast or Vancouver Island go to bcferries.com. From Vancouver Island there are two ferries to catch at Comox and Powell River. From the mainland, depending on route chosen, it will be three to four hours. Although a pilot project for a direct ferry from Comox to Texada was instigated a few years ago, it is not currently operating so every visitor needs to take the 35-minute ferry from Powell River.
For general information on Texada, accommodations, events, attractions, etc. go to sunshinecoastcanada.com and HelloBC.com.