No gloves, no toque, no jacket. If I didn't have skis attached to my boots, I might not remember what I'm doing.
It's late April and I'm perched above the Carey Lakes Plateau on Vancouver Island. Below me is 300 metres of perfect corn snow, a consistency that's almost as rare as weightless powder and nearly as fun to ski.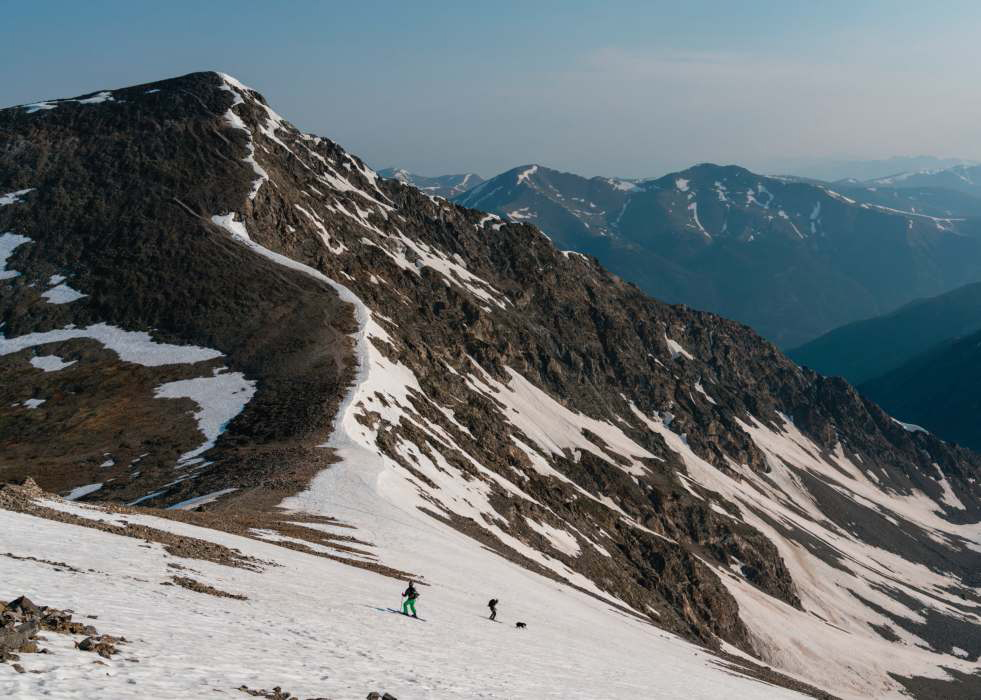 In a moment, I'll start swinging turns down the wide-open slope. My edges will effortlessly dig into the just-softening snow, spraying gentle arcs of slush behind me. I'll pick up speed and pop off a small cliff with the kind of relaxed abandon I usually reserve for the ski resort. At the bottom I'll high five my friend, Alex, admire our tracks and then hike back up to do it again.
First, though, I'm going to soak in the moment: the sun's rays warming my face, endless peaks and snow-covered ridges in every direction, not another soul around, and best of all, our day is only a couple hours old. This is why I ski tour in the spring.
Backcountry skiing, ski touring, randonnée or ski mountaineering, it all refers to the act of using skis to explore snowy mountains. For most, it is in pursuit of the floating bliss of untracked powder. In other words, a winter pursuit of getting up in the dark, cold fingers, trail breaking through knee-deep snow and the near constant threat of avalanche danger.
These days it's also competitive. More dependable, comfortable and intuitive equipment, combined with busier ski hills and the Covid-fuelled rush outdoors, have made backcountry skiing one of the fastest growing winter sports. Sales of ski-touring related boots, bindings and skis outpace the resort focused stuff and continues to grow. Finding solitude, let alone untracked snow, is increasingly challenging.
That is until April. That's when the weather pattern typically shifts from regular storms to fairer, more predictable weather. The snowpack begins to melt and coalesce, making avalanche conditions more predictable. And the days are longer than the nights.
"Spring is the best time for more involved ski trips," says John Baldwin, the author of several ski touring related books, including a guide to backcountry turns in the Coast Range. "The weather and snow conditions tend to be more stable and conducive to getting into the alpine and travelling quickly."
The irony is that just as the mountains become more welcoming, most people are turning their backs on snow. Seduced by greening valleys, open water, snowless trails and empty fairways, skiers hang up their sticks for the year. Fair enough, winters are long.
But as someone who can never get enough of this sport, I've always continued skiing well into spring. Sometimes it feels ridiculous, like the time I waded through shin deep slush, hiked on dirt for four hours and wished I'd brought my ice skates. The rewards are worth the odd bad day: powder runs in May, lonely summits far from crowds, wolverine and bear encounters and more than a few perfect corn snow runs.
Corn comes from the ideal mix of a freezing night, followed by just the right amount of sun and warmth. The snow surface melts into little nuggets, the size of corn kernels, while the base remains supportive. It's hero snow: fast, predictable and easy to carve.
"What makes it really special, though, is it's fleeting nature," says Alex, my ski buddy on the Carey Lakes Plateau. We're tanning at the bottom, pontificating on what makes spring skiing so special. "Corn exists in such a narrow window. Too warm and it turns to slush. Too cold and it's ice. I think I like searching for those ideal conditions, almost as much as skiing corn."
His wise words make me smile. And with a blue sky overhead and the day only getting warmer, we slap on our skins and start hiking for one more run.
After all, why waste a perfect spring ski day.
Four To Try
Sea To Sky
Black Tusk
The open slopes beneath the landmark mountain above Garibaldi Lake face due south, perfect for early morning corn snow laps. Camp at the base or make a day trip up the summer hiking trail.
Vancouver Island
Mount Apps
Skiing to the summit of this peak south of Courtenay, on Vancouver Island, is relatively quick and safe, with many options for a descent back down. The only catch, you'll need four-wheel-drive to navigate the logging roads.
Rogers Pass
Tupper Traverse
Early spring is prime time for this classic point to point, 13.5-kilometre day trip in Glacier National Park. It involves 1,700 metres of climbing, but the reward is nearly 2,000 metres of skiing among glaciers and big mountains.
Kootenay Pass
Roadside Runs
Snow lingers into July along this high elevation road through the Selkirk Mountains, making it one of the easiest places in the province to sneak in some late season skiing. But don't underestimate the risk: bring avalanche gear.