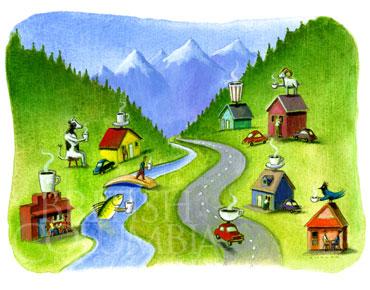 The Spring 2010 issue of British Columbia Magazine includes "Slocan coffeehouses," a feature profile of eclectic cafés and java huts along Highway 6 between Crescent Valley and New Denver. Try a taste of Slocan Valley café culture with these two popular recipes, courtesy of Nuru Design & Coffee Bar in New Denver and FullaBeans in Slocan.
Cheddar Scones
From Tamara Barkowsky, Nuru Design & Coffee Bar, New Denver, B.C.
"This is the most popular recipe at Nuru."
Ingredients
2 cups flour
1/4 cup sugar
1 tbsp baking powder
Pinch of salt
Instructions
Mix these four ingredients in a food processer, then add: 1/4 cup cold, cubed butter.
Pulse until butter is incorporated and mixture is crumbly, then add: 1 cup buttermilk.
Pulse again until the mixture comes together. Do not overmix. Then add: 1 cup of aged cheddar, shredded.
Pulse again until the cheese is incorporated. Do not overmix.
Roll dough out onto a floured surface, shape into a 10″ x 4″ rectangle, cut into 4 equal pieces, then cut the 4 pieces on a diagonal to make 8 pieces.
Place the 8 scones on a cookie sheet lined with parchment paper. Whisk 1 egg yolk and 1/4 cup of cream, then brush the tops of the scones with this egg mixture.
Bake in a 400 F (200 C) oven for 20 minutes. Makes eight scones.
Enjoy!
Rhubarb Coffee Cake
From Kathy Pryor, FullaBeans café in Slocan, B.C.
"We go through about 45 kilograms of rhubarb a year and almost all of it goes into this cake. Rhubarb comes from all over the neighbourhood, and I am grateful for all the contributions."
Ingredients
1 1/2 cups brown sugar
2/3 cup vegetable oil
1 egg
1 tsp vanilla
1 cup milk
2 1/2 cups whole-wheat flour
1 tsp salt
1 tsp baking soda
1 1/2 cups chopped rhubarb from Vera's or Carla's garden.
Topping
1/2 cup sugar
1 tbsp butter
1 tbsp cinnamon
Instructions
Mix and pour into greased 9" x 13″ pan and cook at 350 F (175 C) for about 35 minutes. You can also add your favourite nuts to batter and topping.