There has been a lot of buzz this summer about giant slip-and-slides. Kamloops will host one on July 18th, and thousands are expected to turn out. North Vancouver's will stretch 1,000 feet down Lonsdale Avenue on August 22nd. It's undeniable – kids and adults love to slide! If you are unable to attend one of these pop up events, don't worry, there are more than a few thrilling permanent water slides across southern British Columbia.
Splashdown Park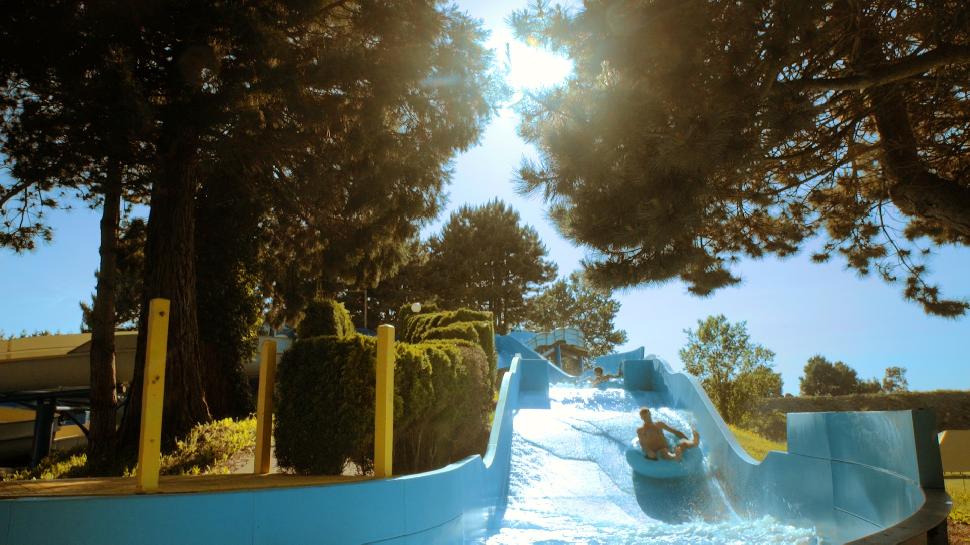 Address: 4775 Nulelum Way, Tsawwassen
Telephone: 604-943-2251
Website: splashdownpark.ca
Description: Splashdown Park caters to families of all ages.
Price range: Day rates range from $17.99 for a full day for a child under 48 inches in height, up to $83.99 for a family of four for the whole day. Discounted twilight rates start four hours prior to the park closing, and season passes are available for purchase.
Total slides: The park boasts 13 water slides, and they cater to riders of all levels.
Main attractions: In addition to numerous water slides, there is also a river run, a main pool, an area for small children and basketball and volleyball courts.
Additional information: There is a concession and ice cream parlour for hungry swimmers, as well as an arcade.
Cultus Lake Water Park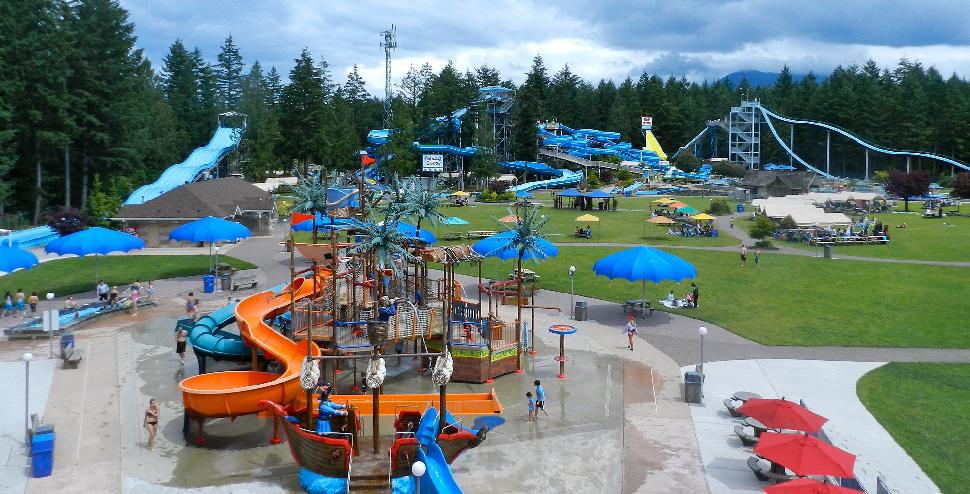 Address: 4150 Columbia Valley Highway, Cultus Lake
Telephone: 604-858-7241
Website: cultus.com
Description: Cultus Lake is fun for the whole family and Cultus Lake Water Park is just steps away.
Price range: Prices range from $19.05 for children under 48 inches and seniors. Over 48 inches tall is $28.57 for the day. Discounted twilight rates available.
Total slides: The park offers 15 slides, as well as five hot tubs, two kiddie play areas, and a pool specifically for small children.
Main attractions: After hurling yourself through the numerous water slides, you can take in the lazy river, splash about in the wading pool or explore the Pirates' Cove splash pad area.
Additional information: Hungry adventurers can find lots to eat within the park. After you're done cooling off in the water, head over to the Cultus Lake Adventure Park, a theme park for the whole family.
Bridal Falls Waterpark

Address: 53790 Popkum Rd. S., Rosedal
Telephone: 604-794-7455
Website: bridalfallswaterpark.com
Description: Formerly known as the Trans-Canada WaterSlides, the Bridal Falls Waterpark is a family-oriented park and offers fun for all ages.
Price range: Children under two years of age are free. All others will pay $21 for the day or $15.23 for evening sliding (starting at 3 p.m.) There's also a Dry Day Pass for those that won't be using the slides or hot tubs, and that's priced at $12.38 for the day.
Total slides: The park offers four advanced slides, for those over 42 inches in height; two intermediate slides; one tube slide, for riders over 48 inches tall; and three kiddie slides.
Main attractions: In addition to all of the awesome slides, you can also soak in the giant hot tub.
Additional information: The park is open June 27 to Sept. 7, weather permitting. There is camping available next door, at the Bridal Falls Camperland RV Resort.
Atlantis Waterslides

Address: 7921 Greenhow Rd., Vernon
Telephone: 250-549-4121
Website: atlantiswaterslides.ca
Description: Fun for the whole family, the Atlantis Waterslides park is located just a few kilometres outside Vernon. Come to play or come to relax!
Price range: Full-day admission for an adult (anyone over the age of 13) will be $25. For children ages four to 12, it'll be $17 for the whole day. Seniors are $10 for the day and a family pack (two adults and two children) will be $70. There are also half-day tickets available.
Total slides: There are 10 slides for all ages, including intermediate and kiddie slides.
Main attractions: In addition to several waterslides, there's also the River Riot, a tube slide that features several drops.
Additional information: Atlantis Waterslides offers several additional amenities, such as a hot tub, gift shop, cabanas (reservation required), an ice cream parlour and a concession. New this year is the Kidz Zone. Highlights include a high tech playground and 7 metre interactive climbing structure (kids aged 5-12.)
Salmon Arm Waterslides & RV Park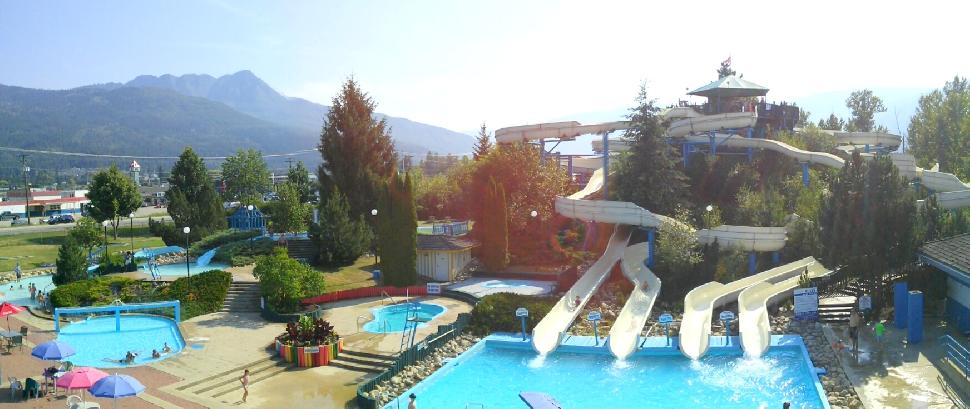 Address: 1155 Lakeshore Dr. SW, Salmon Arm
Telephone: 250-832-4386
Website: salmonarmwaterslides.com
Description: With a water park suitable for the whole family, as well as a gorgeous campground, this park is the perfect getaway.
Price range: The park offers general admission sliding passes, non-sliding passes, twilight passes and family passes. Prices range from $2 for children under three to slide all day, $21 for sliders 13 and up, up to $60 for a full-day family pass.
Total slides: The park boasts seven waterslides.
Main attractions: In addition to the slides, the park also has two hot tubs and a toddler pool with a fountain.
Additional information: Once you're done splashing around, you and your family can enjoy mini-golf and the RC Car track, the arcade, the gift shop and lots of hot and cold food at the concession. An $8 combo will get you in to mini golf and RC racing (a savings of $7) or $20 for a family pass.
Does your family have a favourite water park?
Let us know – comment below!