"Bread is the staff of life." 
"Let us break bread together." 
"Give us today our daily bread."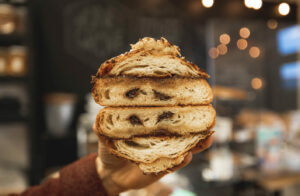 These are only three of the numerous sayings about bread, a fundamental staple food that provides 20 percent of calories consumed by humans. All the world's countries produce some kind of bread, ranging from fluffy loaves to baguettes to bagels to flatbreads of every kind. Bread permeates history and cultures—even revolutions. The phrase "Let them eat cake," attributed to Marie Antoinette, refers to peasant-led bread riots which helped launch the 1789 French Revolution. 
A recent archeological find in Jordan revealed that hunter-gatherers made bread from wild wheat, wild barley and plant roots around 14,000 years ago. Bread became widely available when various grains were domesticated, millstones ground grain into flour, and settled agriculture spread around the globe. And since man cannot live by bread alone, pastries became common after world exploration made sugarcane sugar more available after 1500. 
In the last decades, bread and pastries have seen a renewal in North America, changing from mass-produced, generic, soft bread to many varieties of artisanal loaves. Vancouver Island's bakeries have some of the most original specialties whose descriptions make our mouths water—a caramel macchiato bun, a chocolate cake with peanut butter mousse and a French buttercream and ganache top, or a Belgian chocolate berry torte. So for us breadwinners, here are six south Vancouver Island bakeries that bring joy.  
Patisserie Daniel 
This bakery has operated in downtown Victoria for 31 years and its breads, pastries and pies—both sweet and savoury—trigger line-ups outside its unpretentious premises every weekend. Operated by the gregarious Daniel Vokey, it's an institution where several generations have ordered cakes to celebrate births, baptisms, birthdays and weddings. "When people order for a special event, you're part of the celebration," Daniel said. He wears a smile as he works from a table near the cash register and greets his customers, old and new. He chats with people ranging from artist Robert Bateman to those down-on-their-luck who hang out in the neighbourhood. "Some people come in every day," he said. 
His bakery is festooned with two kinds of kitchen tools: cutting boards and rolling pins. A thousand wooden boards form an odd kind of wallpaper—their many shapes and colours cover the walls; the rolling pins hang in rows in the shop's front windows forming unusual curtains. "One customer gave us a cutting board, then another brought a rolling pin and these started both traditions," said Daniel. "Each item has a story."  
Daniel hails from Montreal and started baking with his uncle at a St. Rémy hotel. During a Victoria holiday, he noted a scarcity of bakeries, presenting a business opportunity. After arriving in BC's capital, he began making pastry in Murchie's venerable tearoom, but in 1992 he launched his own bakery. The mostly sourdough breads he and his crew of 22 bake every day are sought after, brioche and croissants are favourites, and I swooned over florentines made of honey, almonds and chocolate. The website description and photo of the Pamona—"light vanilla sponge cake perfumed with orange brandy, orange zest, sliced pears with a delicate pastry cream, decorated with marzipan fruits" makes me salivate. His cakes can be prepared to be gluten-free, vegetarian or vegan. His savoury lamb pie takes four days to make.  
"What's your favourite bakery item?" I asked Daniel. "Happy customers," he said, smiling.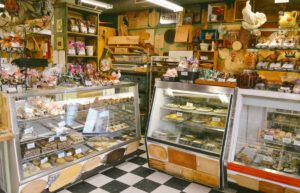 Origins 
Tara Black, who owns Origins in Victoria, grew up in Sparwood, BC, and took cooking classes in high school. She moved to Courtenay at 19, apprenticing in several restaurants. "It turned out I just didn't like line cooking," she said. "Too repetitive, but I loved the pace of pastry making. It's a special kind of chaos, never boring. 
"At home my mum, grandmother and aunt savoured healthy, slow food," she said. "They gave me the foundation for making and sharing food." After relocating to Victoria, she trained with Patisserie Daniel. Then she saw an opportunity: baking gluten-free products for an underserved group—those with celiac disease and those who're gluten-sensitive.  
Before opening a formal bakery, Tara and a then-partner tested the market for gluten-free baked goods with a stall at the historic Bastion Square Market. Would customers buy their wheat-free items? Indeed, so many people bought their GF products they were able to open a storefront called Origins within six months. Tara says her premises are absolutely gluten-free, even the cutting boards, mixers and knives that cut dough. "I sell doubt-free safety," she says. 
To achieve a pristine environment, Origins uses a variety of globally sourced gluten-free grains including sorghum, amaranth, millet, buckwheat and tef. Traditional sourdough bread, vegan chocolate cake and carrot cake are the most popular fare, but seasonal specials such as an Easter nest cake with lemon curd and buttercream, topped with toasted coconut and meringue eggs fly off the shelves. 
Origins has opened another bakery in Langford and now ships products across Canada. Tara prizes her team of bakers, which includes two daughters. "Running bakeries is hard work," she says. "We begin at 5:00 a.m., but it's worth it. It's so good to see people, even those who cannot digest gluten, enjoy breads and pastries."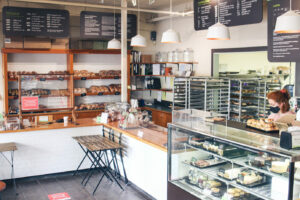 Wildfire 
To ensure her breads and pastries use the right organic grains, Wildfire Bakery owner Erika Heyrman opened the Nootka Rose Milling Company in Metchosin BC. The mill stone-grinds fresh BC-grown grains such as barley, spelt, einkorn and other forms of ancient wheat. Other local bakers buy their organic flours from Nootka. 
Erika has run her bakery for 25 years, starting with a brick oven on her driveway and selling her products at the weekly Moss Street Market. "We had a very reliable demand," she says, "there weren't many artisan bakers around then. We then moved to our permanent location, once a 1950s small grocery, where we produce everything by hand and from scratch." A variety of regional supermarkets also carry her breads.  
"Baking is a demanding profession," she tells me. "Our staff ranges from 15 to 24 and work on rotating shifts. Prep takes place during the day and evening, and then at 4:00 a.m. we fire up the ovens. Bread is our top seller with rustic white sourdough being the most popular." She notes that vegan chocolate cake is in demand, and the bakery also makes cakes to order. Her own favourites are a hazelnut-pear tart and three-seed sourdough that includes sesame, sunflower- and flax seed.  
Asked what advice she has for aspiring bakers, she mentions that they should be transparent about the ingredients used, but also have a business sense. "Profit is low," she said. "And the work can be physically taxing, with lots of lifting and repetitive motions. But I'm proud of literally feeding my community with genuine products. It's super valuable."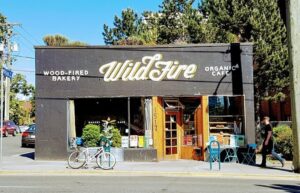 Stark Raving Bread 
Josh Houston is surrounded by black plastic boxes in which he transports his breads and pastries to a Victoria institution—the Saturday Moss Street Market—where he sells his baked goods each week. When I arrive at his stall at noon, he's nearly sold out. (Fortunately, he still had a maple-pecan-butterscotch cookie I demolished.) His unique products include herb-and-sea-salt focaccia, smoked sprouted-rye sourdough and, just to make it really sour, sauerkraut rye sourdough. His loaves bake in cast-iron Dutch ovens on Friday night.  
He differs from other bakers in that he's home-based—his converted garage in Sooke is a full-fledged bakery, where he feeds his sourdough and bakes while listening to podcasts and music.  
He spends his week getting ready for the market—his only outlet except for special orders. The slim 42-year-old once worked as a chef but when he and wife Christine started their family, Josh realized a chef's life was incompatible with family life. He then taught culinary arts—especially baking—at Esquimalt High School. In 2018, he began home baking as a hobby. Then Covid-19 shut the schools and the demand for his baked goods exploded. "Many older people didn't go out shopping and I delivered," he said. "I'd bake between 150 and 200 loaves a week."  
Today, he continues to bake solo to a schedule he keeps in his head, although his daughter (five) pitches in and son (nine) has his own business taking care of the chickens and eggs. His organic, locally grown grains—rye, red fife wheat, oats, barley, einkorn, emmer and spelt—are milled at Metchosin's Nootka Rose Mill while his white flour originates in Saskatchewan. Asked what he'd like to be doing in five years, he answered, "exactly what I'm doing today."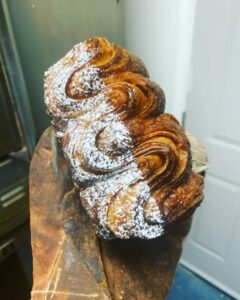 True Grain 
When I enter True Grain in Cowichan Bay, the heady scent of baking bread and pastries is pervasive. I inhale deeply; it smells like home and comfort. Racks laden with loaves of all kinds, including organic red fife cracked grain, khorasan and others encrusted with seeds line up behind the counter. Trays with scones, croissants, thickly frosted cinnamon buns and butterfly pastries entice the constant flow of customers. Baguettes and German pretzels are also on the menu. 
True Grain co-owner and president Bruce Stewart fuses his baking philosophy with environmental practices. The multiple grains used at the bakery are organic and stone ground at the bakery. No additives, sugar or oil. "Our bakers are craftsmen," he said. "We mix everything by hand. The baker has a relationship handling the dough that can't be replicated by a machine. Our dough is allowed to rest so the flavours can develop. We have 12 to 15 bakers depending on the season and they're cross-trained on bread and pastries." Bruce's wife Leslie co-owns the business and their two young daughters, Monica and Fiona, "help dad stack stuff and see how hard everyone works."  
Bruce heads the Italian-founded movement "Cittaslow," an organization inspired by the slow food movement. Its goals focus on high-quality local food and drink, while opposing "fast food anywhere North America." 
 Bruce previously bought Saskatchewan grain, but judged the diesel used to deliver it too polluting. His biodegradable bread bags cost five times plastic ones. Today all grain comes from BC's organic farmers, which includes khorasan, spelt, emmer, einkorn and rye. Those who wish to bake their own bread can purchase ingredients in berry or milled form, as well as pasta, nuts and seeds.   
Covid shut down in-store tables, but True Grain opened a café next door. Bruce shares his business savvy with other small businesses. "We support bread entrepreneurs with our products, knowledge and solutions," he said. "We are mentors and our partnerships with younger people help support BC farmers." 
The Cowichan area has adopted the slogan, "Slow Down, Savour Life." The True Grain bakery is an example of that philosophy.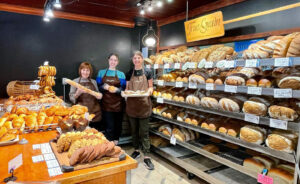 Old Town Bakery 
Whenever we travel "up Island" past Ladysmith, stopping by the Old Town Bakery is a requirement. Located in the heart of the historic downtown, their multiple varieties of cinnamon buns require early attendance, especially after Times Colonist readers voted their buns to be the best on Vancouver Island. As a result, they've expanded their gourmet bun varieties to include cream cheese and sliced almond, blueberry almond, blackberry apricot ginger, even peanut butter cream cheese.  
In 1999, Kate Cram launched the Old Town Bakery with her parents, then moved to its present location in 2002 where a bakery had existed since 1932. Husband Geoff Cram joined in 2005. Kate had always felt passionate about cooking and baking, so her dad arranged for her to attend the New York-based Culinary Institute of America, where she spent two-and-a-half years perfecting her gastronomic art. Geoff came from a graphic design background and learned baking by doing.  
The bakery's philosophy is straightforward: to create delicious items from scratch using traditional wheat. Kate adds that their secret ingredient is "love." Some breads use sourdough starter, others are yeast-based. "We don't follow trends," Geoff told me, "just old-fashioned baking, with special cakes for baby showers and weddings." That said, the pair did expand down the street with a gluten-free restaurant, closed by Covid-19, but reopened as a grocery with GF products. They added the space next door and scoop tasty gelato there. A total staff of 68 are employed by the three stores—significant for a town the size of Ladysmith.    
The bakery itself has a public section with display cases and tables, but its other side, recently renovated by son Seth, shows the long table where dough is prepared. It's visible to the public. Like the other bakeries, crew arrive between 2:00 and 5:00 a.m. The most popular breads? Plain or seeded sourdough.  
I asked Geoff for his favourite confection. "It's an old prairie mainstay," he said. "It's a confetti square with marshmallow, peanut butter, butterscotch chips and cornflakes. It's ridiculously sweet."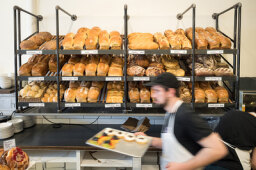 Selecting special bakeries on south Vancouver Island was a difficult task. I chose a diversity of artisan bakeries, but space limitations forced me to skip many worthy candidates. I would've liked to cover such bakeries as the iconic, third-generation Dutch Bakery with its exquisite pastries, as well as Fry's, Fol Epi, Crust, Cakes Etc., Pure Vanilla and a host of others. Perhaps next time?