Nothing makes a person forget winter quicker than a walk through Vancouver's delicate pink-and-white canopy of cherry blossoms, exploring colourful vistas of tulips, sunflowers and daffodils or hiking to alpine meadows painted with wildflowers.
Below we've listed just a few places to witness Mother Nature in all her glory and shake off the winter blues:
City of Gardens
Victoria; February through Summer
Victoria is the perfect end-of-winter destination for those itching to get a head start on spring. While many communities in BC are still under a blanket of snow, BC's capital enjoys the mildest median climate in Canada. And by February, gardens all over Victoria are beginning to bloom. Last year 44 billion blooms (seriously) were counted in Victoria and the surrounding area during the annual Flower Count. The Flower Count was created by local florist Norma Fitzsimmons to draw visitors and celebrate the early arrival of spring. Volunteers will scour the Greater Victoria Area this year in hopes of beating the record.
Follow the count here: flowercount.com.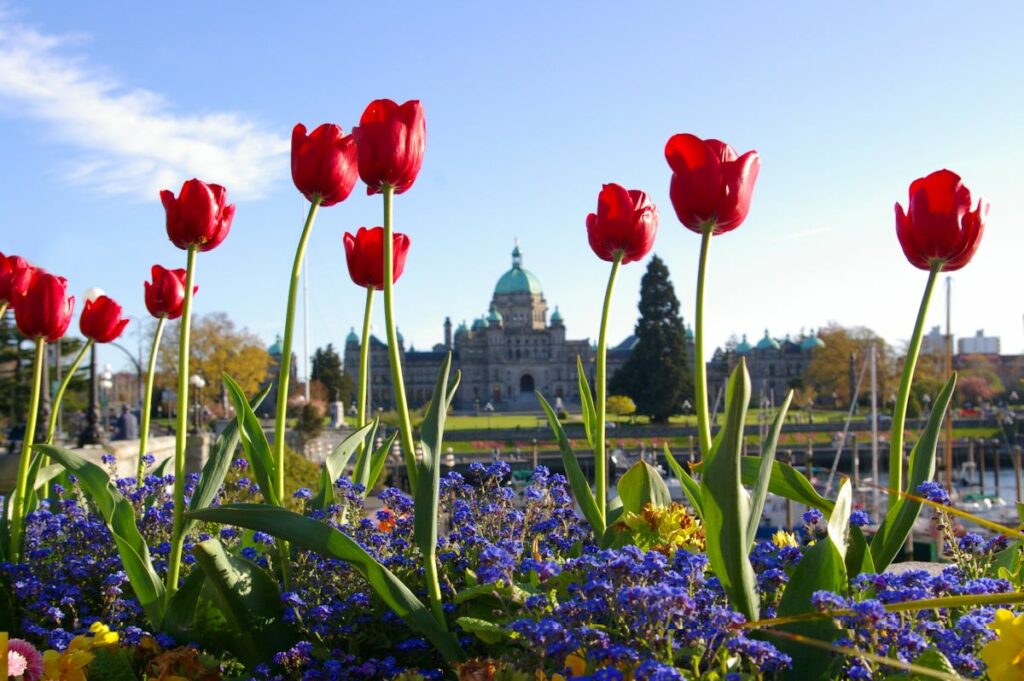 The Butchart Gardens
Victoria; Year-round
Spring has already sprung at the famous Butchart Gardens, with sightings of early cherry blossoms and daffodils joining the seasonal snowdrops, white forsythia and countless more varieties as the 55 acres come alive. By March, nearly 300,000 spring bulbs will be blooming with favourites including rhododendron, tulips, peonies and magnolias. Gardens enter full-bloom in the summer, with 900 plant varieties on show as well as Saturday fireworks and evening light displays. Plan to visit in the morning or evening to skip summer crowds.
For hours, admission and a list of what's currently in bloom, visit: butchartgardens.com.
Vancouver Cherry Blossom Festival
Vancouver; April
The Vancouver Cherry Blossom Festival began in 2006, using the bloom of 43,000 cherry trees as an opportunity to celebrate art, cultural diversity and community every April. The festival features an increasing number of events, many of which are free, including walking tours, guided cycling, music and multicultural performances
Check out all the events and the up-to-date Cherry Blossom Viewing Map to see where blossoms are blooming in more than 20 Vancouver neighbourhoods: vcbf.ca.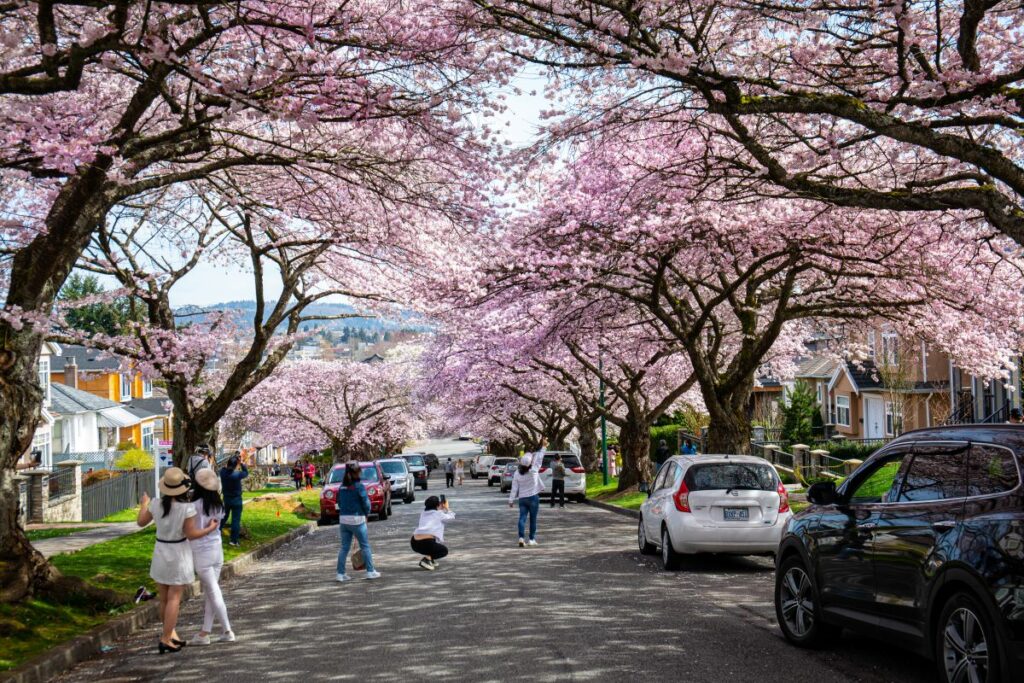 Abbotsford Bloom Tulip Festival
Abbotsford; April
Join the Warmerdam family in April as they share their love of flowers that has spanned generations—from Peter, a Dutch immigrant who started growing flowers in the '50s, to his granddaughter Alexis who came up with the idea for the festival. At Bloom, flowers are strategically planted so the festival can last up to five weeks. This festival has become a major spectacle, drawing everyone and their dog (which, are also welcome) so consider going early in the season or during the week to skip the crowds and save on ticket prices. Exact dates have not yet been announced, but up-to-date information can be found at abbotsfordtulipfestival.ca.
Chilliwack Tulip Festival/Tulips of the Valley
Chilliwack; April
The Chilliwack Tulip Festival showcases nearly 6.5 million flowers, including three acres of daffodils and hyacinths. A day at the festival includes food trucks, a Rotary Club Train Tour of the fields, photo opportunities with Dutch props and lots of fun for the kids.
Before the festival began, these bulbs were used to supply the owners' greenhouse operation, selling more than eight million cut flowers as cash crop each spring. In 2013, operations expanded so that flower-lovers could witness the 20 acres of blooms straight from the fields.
The festival is open seven days a week throughout the season. Exact festival dates will be announced at chilliwacktulipfest.com.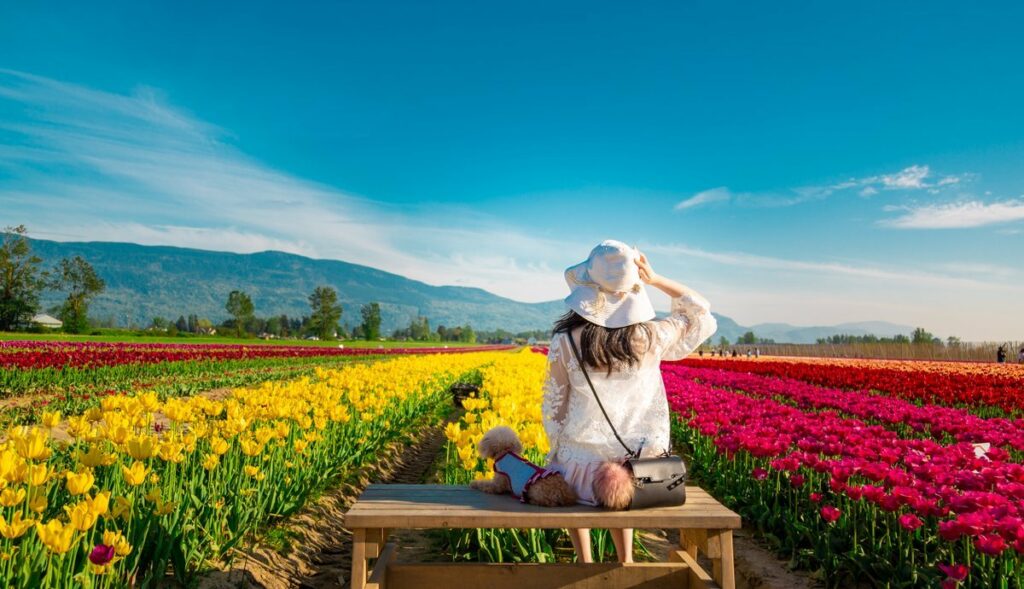 Chilliwack Sunflower Festival
Chilliwack; August
From the makers of the Chilliwack Tulip Festival comes this spectacular sunflower festival. Entering its third year, the Sunflower Festival showcases 35 different varieties of sunflowers, some taller than four metres, plus more than 50 dahlia varieties throughout the month of August and into September. The festival will also feature food trucks, a train tour of the fields, plenty of photo props and an opportunity to pick your own!
Festival is open daily with varying hours throughout the season (listed online). Exact festival dates will be announced at chilliwacksunflowerfest.com.
Wildflowers
Interior; July & August
Skip the crowds, lace-up your hiking boots and pay a visit to BC's beauties in their natural habitats. Wildflowers start appearing in the spring and take over alpine meadows and trail-sides when they peak in mid-July and August. Find the western pasque flower as soon as the snow melts—a welcome sign of the white and pink mountain heather, tiger lilies, mountain buttercup, Indian paintbrush and many more blossoms soon to come. By the end of June, some of the best landscapes for wildflower viewing can be accessed easily via the gondolas at BC's many ski hills. Try Whistler Blackcomb's Peak 2 Peak 360 Experience, the Sunburst chairlift at Sun Peaks Resort or the scenic tour on the Bullet Chair at Big White Ski Resort.
For a more interactive experience, purchase a guidebook or visit Whistler and Big White's websites for a wildflower field guide to take along with you: whistlerblackcomb.com; bigwhite.com.
Sunpeaks also hosts the Alpine Blossom Festival, which in the past has featured group hikes, a climbing wall, alpine yoga, live music and entertainers, a drum circle and lots of fun activities and picture opportunities for the kids. Dates for 2020 have not been announced but the festival is expected to take place at the end of July.
For more information and to download Sun Peaks' Flora & Fauna Guide visit sunpeaksresort.com.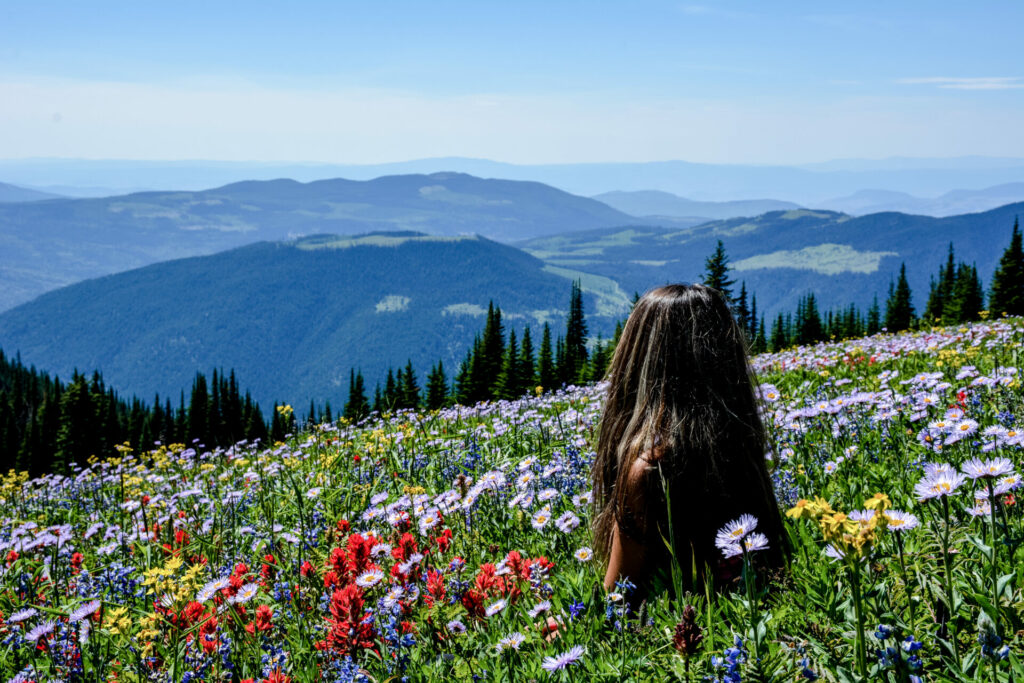 ETIQUITTE
-Put the screens down and take it in—even if just for a moment.
-Stay on the paths and keep pets leashed, let's keep the fields and meadows nice for everyone to enjoy!
-Bringing the drone? Check festival or Transport Canada policies first as they are likely not permitted.
-Even though you're in the great outdoors, many of the places listed are private or public property and smoking or vaping is still considered a no-no.
-Look, don't pick!