Not only do we love Jane Mundy's The Ocean Wise Cookbook II for featuring fare and ingredients from close to home, but her collection pulls together recipes crafted by some of Canada's best chefs. If some of the dishes look familiar, you're spot on. The 150 new recipes that decorate the pages of this handsome cookbook are pulled fresh from the menus of local restaurants. British Columbians will no doubt recognize plates from Chambar, Joe Fortes, Blue Water Cafe, Tofino's Wickaninnish Inn, and many more.
And what does it mean to be Ocean Wise? The symbol is used to indicate where seafood was purposely selected for 'being the best choice for the health of the oceans'. You'll find it on B.C. menus and also awarded to local seafood suppliers. Picking sustainably harvested seafood is the easy part; deciding which recipe to start with is tougher, so we asked the author herself. Her suggestion? "Tacos are the new sushi! These little wonton tacos make for elegant appetizers and are a staple on Yew's bar menu."
Bon appetit!

Dungeness Crab Tacos with Radish Sprouts Recipe
Chef: Ned Bell
Restaurant: Yew Seafood + Bar, Four Seasons Hotel
Location: Vancouver
Ingredients
Juice and zest of 1 lemon, divided
2 Tbsp (30 ml) miso paste
2 Tbsp (30 ml) Dijon mustard
2 Tbsp (30 ml) honey (or maple syrup)
1 cup (250 mL) canola oil
1 ripe avocado
Sea Salt
Black pepper
3/4 cup (180 ml) fresh cooked Dungeness crab
6 crispy wonton shells
2 radishes, thinly shaved
1/2 cup (125mL) radish sprouts
Tacos
Set aside 1 tsp (5mL) of lemon juice for the avocado. Mix remaining lemon juice with lemon zest, miso paste, mustard, honey, and canola oil in a blender to make the dressing. Mash avocado with a fork. Season with 1 tsp (5mL) lemon juice, salt and pepper.
Mix about 1/4 cup (60mL) dressing into the crab meat and taste, adjusting as needed. Refrigerate the remaining dressing for up to two weeks–it is great on salads.
To Serve
Put crab-meat mixture into the wonton shells so they are bursting with crab meat. Spoon the avocado mixture onto a plate and place assembled tacos on top. Garnish with radish slices and sprouts.
Wine pairing suggestion by Tom Firth, cowtownwine.com: Tantalus Old Vine Riesling
Where to buy the Ocean Wise Cookbook II
Chapters, Amazon or the Gift Shop at the Vancouver Aquarium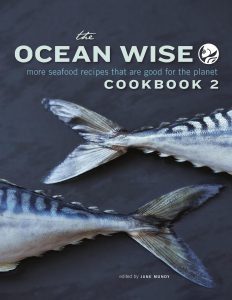 Did you make this recipe?
Snap a picture and share with us on Instagram or Twitter using the hashtag #ILoveBC