Did you know that British Columbia is home to the oldest cattle industry in Canada?
British Columbia's wild west days began just south of the border during the Hudson's Bay Company's fur trading days, and rapidly expanded during the Fraser River and Cariboo gold rushes of the mid-1800s. Soon after gold was struck in the area, it is estimated that 22,000 cattle were herded from the southern border of BC to Barkerville mines in the span of a decade (BC Cattlemen's Association). That's a long journey, a lot of cattle and some serious cowboy skills.
Cattle drives continue to be an important part of ranching in the interior of BC, and today you can experience this important piece of West Coast history for yourself. Whether you're an experienced rider, a history buff or simply looking to escape the city and explore wide-open spaces on horseback, you can rediscover BC, and maybe your wild side, at one of these 10 Gold Rush Trail guest ranches.
1. Sundance Guest Ranch, Ashcroft
Sundance Guest Ranch ranch sits above the village of Ashcroft in BC's historic Gold Country, just four hours drive from Vancouver. You'll be treated to surroundings of unique Thompson River Valley terrain as far as the eye can see, and some of the warmest and sunniest weather in Canada. What better way to enjoy this beautiful region than by exploring on horseback? After a morning on the trails, unwind in the heated swimming pool before heading to the dining room for the "evening jingle," when the ranch's 100 horses gallop free together on their way to the sprawling pastures for the night.
2. Chilcotin Holidays, Gold Bridge
Experience a transformational wilderness adventure at Chilcotin Holidays Guest Ranch. As authentic as it gets, Chilcotin Holidays' horses come from the Cariboo-Chilcotin Mountain Cayuse herds that once ran wild on this terrain. As a guest, choose from wilderness riding; wildlife viewing; or various outdoor training programs offered for future outdoor guides, leaders and entrepreneurs. If you're looking to just kick back, then opt to do nothing at all and just take in the beauty and wildlife of the South Chilcotin Mountains and neighbouring Big Creek Provincial Park. At the end of the day, curl up in the Chilcotin Holidays lodge and private cabins.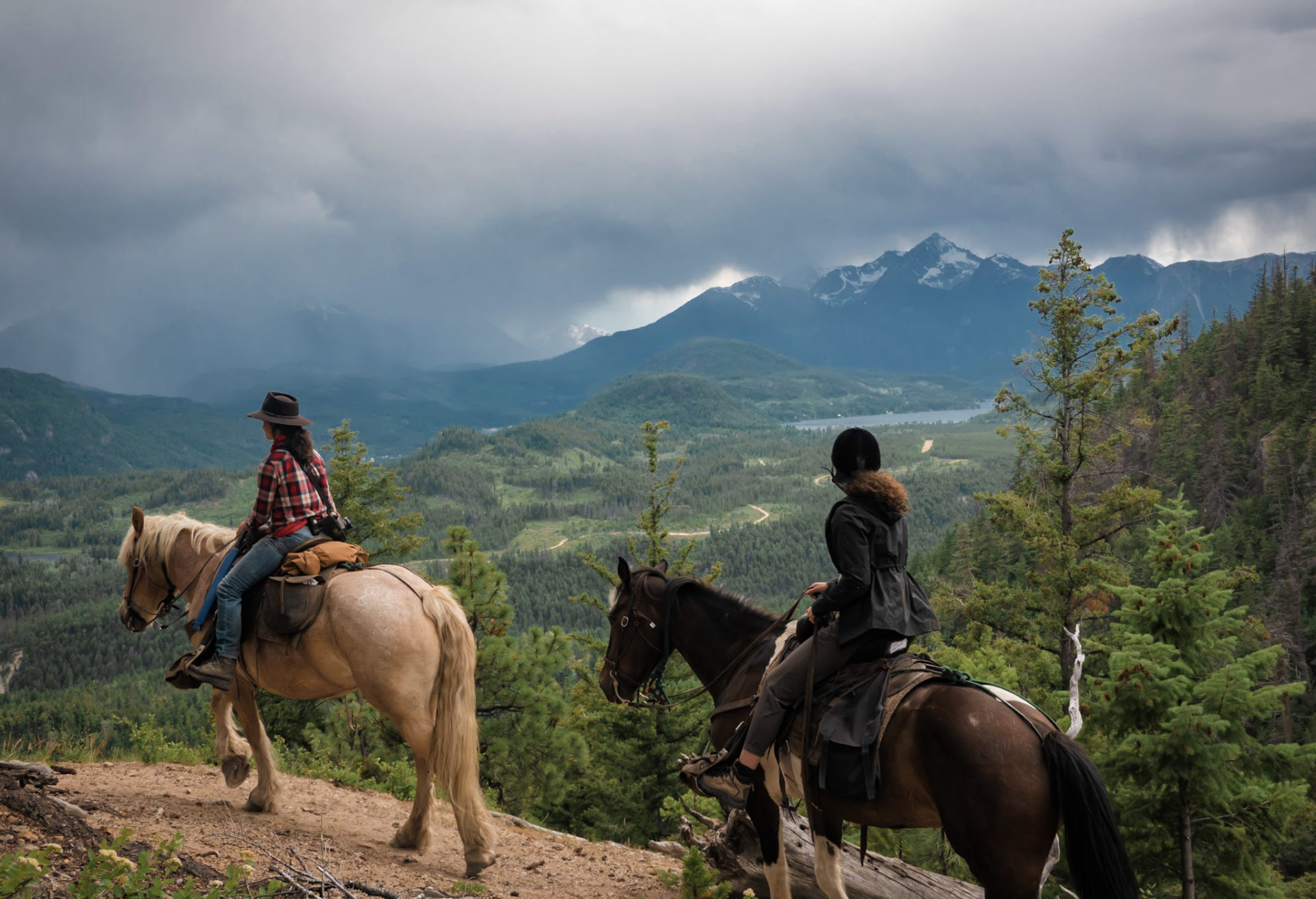 3. Siwash Lake Wilderness Resort, Thompson-Nicola
Siwash Lake Wilderness Resort specializes in private, tailor-made holidays for families and couples in the remote and rugged wilderness of British Columbia's heartland. This five-star lodge and guest ranch was named by National Geographic as a "Unique Lodge of the World" offering a small, luxury wilderness resort experience where horses, adventure and ecology meet.
With an award-winning horse program, a gold-certified sustainability designation and numerous other awards and affiliations, Siwash lake is an impressive destination—especially considering that it survived the 2017 forest fires that devastated the area. Today, guests can witness a thriving post-fire ecosystem while exploring the 10,000 acres of land on horseback, angling or splurging on a backcountry helicopter adventure. At the end of the day, enjoy farm-to-table cuisine paired with local wines, slip into the wood burning hot tub and sleep under the stars in a canvas tent.
4. Big Bar Ranch, Clinton
Travel back in time at remote Big Bar Ranch, where the whole family is welcome (pet included!) to enjoy the countless activities on its doorstep. Fish, swim and canoe in the private lake, visit the farm animals, try horseback riding and bird watching, and get the family together for lawn games and delicious farm-style meals. What you won't find at Big Bar Ranch are TV's, internet or cell phone reception—so enjoy this rare chance to escape the commotion of the city, and truly unplug and connect with the people around you.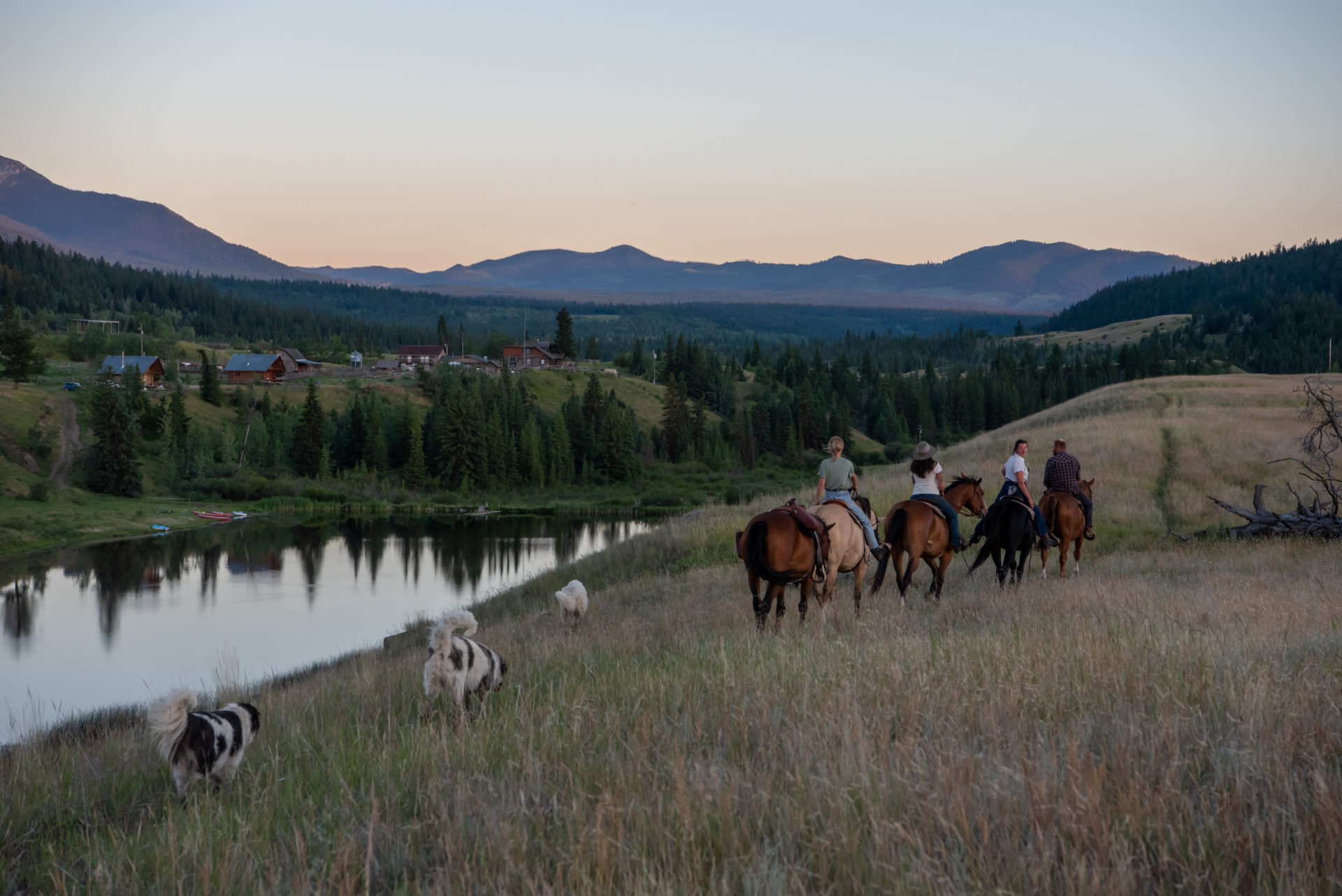 5. Graham Dunden Guest Ranch, 70 Mile House
The Graham Dunden Guest Ranch is an authentic pioneer-style ranch with a German-Bavarian twist. The ranch offers horseback riding in the morning and afternoon, or full-day tours including lunch. Nestled in a forest of spruce, poplar and pine with two lakes on the property, its guest houses are at the foot of the Cariboo Mountains, just 1.5 kilometres north of Green Lake's crystal clear waters. Hop in the saddle, on a bike or rent an ATV to explore, raft the nearby rivers, drop in a line for the daily catch or take a dip in Green Lake. Graham Dunden Guest Ranch's quaint, rustic rooms and friendly staff are the just topping on the cake for this authentic Wild West getaway.
6. Free Rein Guest Ranch, Bridge Lake
Celebrated for its exceptional scenery and hospitality, the Free Rein Guest Ranch is a fully licenced and commercially registered Guest Ranch. Located in the Land of Hidden Waters area of the South Cariboo region, a destination along the famous BC Fishing Highway 24, the authentic "working ranch" and its luxury-suite lodge and lakeside log cabins are nestled among seemingly endless evergreens. Saddle up and explore the 285-acre property, relax lakeside or in the on-site sauna or join an intimate horsemanship clinic or riding lesson, all included in your stay.
Proudly offering intimate experiences, Free Rein Guest Ranch promises no long lineups or nose-to-tail trail rides, and only hosts a maximum of 12 guests. Looking for an authentic cowpoke experience? Upon arrival you will be paired with a horse to suit your riding level, and you are expected to catch, groom, saddle and feed your "buddy" for the duration of your stay. Looking for something a little more relaxing? You can do that too, horseback riding as much or as little as you like. Spend your days mountain biking, canoeing, swimming or hiking, and take in all the sights and sounds of the South Cariboo region.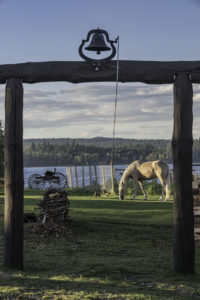 7. The Flying U Ranch, 70 Mile House
Cosied up to the north side of Green Lake's turquoise waters, the Flying U Ranch is home to the largest herd of riding horses in Canada and allows guests to ride completely unguided and unscheduled. Flying U is also believed to be the oldest continually operating guest ranch in the country, and was built in 1849. Long ago, fur trappers and traders used the vast expanse of property as they travelled to and from the Yukon and Alaska. As a guest, you can experience this history first-hand, riding the same 60,000 acres of trails, unwinding in the same saloon and sleeping in some of the same log cabins as those early pioneers. You can alternatively opt for one of four safari-style canvas tents made to look like explorers' prospector tents—the ultimate way to unwind under the starry Cariboo sky after a day or horseback riding, swimming or canoeing and kayaking out on the lake. Throughout the summer months, nightly activities also include square dancing lessons, story swaps and gooey marshmallows fireside, hayrides and sometimes yoga!
8. Wettstone Guest Ranch, Bridge Lake
The family-owned and operated Wettstone Guest Ranch is another lakeside ranch in the Interlakes district and BC's Land of Hidden Waters  in the South Cariboo. Here you'll be treated to views of the forest-lined Henley Lake, with activities around the ranch include ATV rentals, mountain biking, fishing, canoeing and kayaking. Of course, expertly guided rides and horseback riding lessons are the main event at Wettstone Guest Ranch, but you're not the only one in the family that can learn a thing or two. If your dog or horse need some training, bring them too and let the Wettstone staff do the work!
9. Spring Lake Ranch, 100 Mile House
Spring Lake Ranch is a peaceful lakeside retreat surrounded by 10,000 acres of rolling hills and meadows. Have your hand at horseback riding, hiking, fishing for whitefish, exploring the two-mile lake by canoe, pedal boat or rowboat or just taking it easy in the outdoor wooden hot tub. Keep your eyes peeled for beavers, otters and loons, and take a walk through the pasture to see eagles nesting. Rest easy at night in the ranch's newly constructed log cabins, with room to accommodate couples and up to groups of eight.
10. KAYANARA Guest Ranch & Resort, Eagle Creek
KAYANARA guest ranch and resort sits beside Canim Lake, 45 minutes east of 100 Mile House, enveloped in expansive meadows, impressive mountains and West Coast forests of pine, spruce and Douglas-fir. Built by a Swiss couple seeking a slower pace of life in Canada, the ranch offers self-built log cabins, cosy B&B's and an on-site campground. (Note: during the COVID-19 pandemic, the campground is only available for self-contained RV's as the restrooms are closed.)
Travellers passing through are welcome to stop at KAYANARA for horseback riding (booked two days in advance), to kayak the beautiful "Kayanara Run" from Eagle Creek to Canim Lake (all gear and transportation included) or to spend a few hours on a guided catamaran tour where guests explore deserted beaches, see a large bald eagle's nest and enjoy a swim in Eagle Lake. Guests staying at the ranch can enjoy all of this, and can choose to rent aluminum boats for fishing or cruising, take a guided wilderness tour, hike the surrounding trails or book ATV's with local suppliers.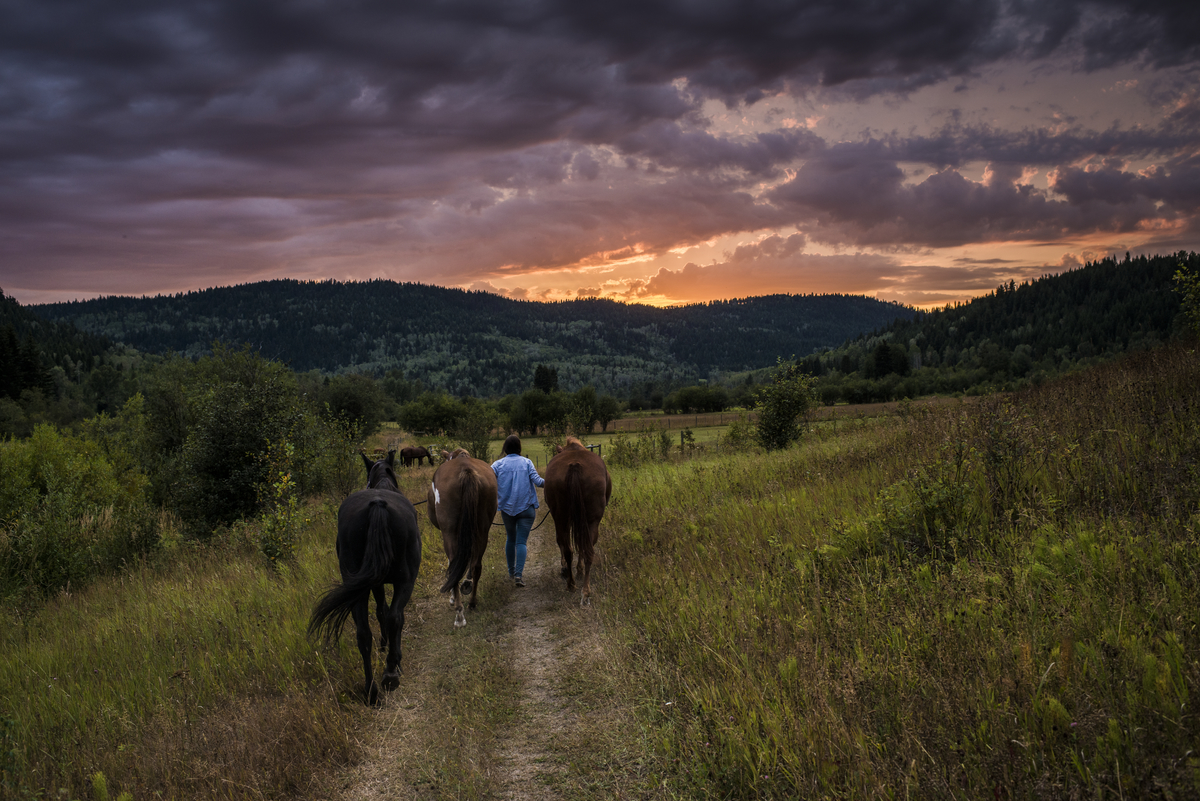 Please be sure to always practice safe, respectful, and responsible travel on the Gold Rush Trail. Visit the Gold Rush Trail's responsible travel page for more info.