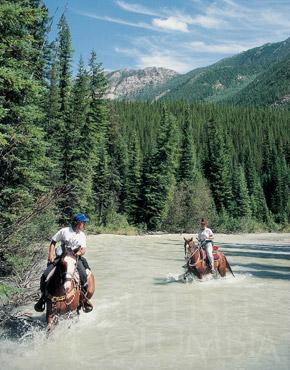 Just an hour into my Rocky Mountain trail ride, I've learned two important things about mountain horseback riding. One: when climbing a steep incline, lean forward in the saddle and hold the reins slack to help your horse power up the slope. Two: when your mount passes between two trees, press your knees to the saddle if you don't want your legs suddenly going in the opposite direction of the horse.
A wrangler from Beaverfoot Lodge is leading our small posse of experienced riders into Moose Creek basin, a peak-ringed pocket of Crown land adjacent to Yoho National Park. The Rockies' Beaverfoot and Ottertail ranges flank the lodge to the west and east, and there is no better way to explore the mountain terrain than on horseback.
From spring to the first snowfall, typically mid-October, visitors can choose horseback adventures from a one-hour saunter to a popular 4.5-hour trek to Wapta Falls. Today's eight-hour return trip holds the promise of a spectacular mountain cirque, but so far, dense forest—watch those low-hanging branches—and the ever-climbing, root-riddled trail have dominated the view.
I welcome the sun as we break into a subalpine meadow. In summer, cow parsnip here grows higher than a horse's belly and columbine, arnica, fireweed, and other wildflowers mottle the slopes. Now, the low brush and deciduous trees amongst the evergreens flaunt their autumn reds and golds.
The horses splash across a shallow stream and we ride up alongside a beaver pond. The residents remain hidden in their dam, but my disappointment is short-lived. As our horse train crests the final rise into Moose Creek basin, a grizzly bear cub pokes his nose from the tall grass perhaps 10 metres ahead.
Our guide raises one hand, signalling us to pull up behind him, and directs our gaze across the basin. There at the edge of the treeline is Mama griz. She rises on her hind legs to sniff the wind and squint near-sightedly at our group. At her insistent bellow, her cub high-tails it to her side.
My heart pounds. Long moments pass before I remember to breathe. At last, I raise my eyes from the spot where the bears have vanished into the woods and I take in the astonishing view.
We're inside the promised mountain cirque, an impressive hollow gouged out by glacial erosion. The land cants upward from the basin floor to an amphitheatre of toothy, snowcapped peaks. I could absorb this view for days, but we have time only to eat our packed lunches before starting our return journey.
By day's end, I acquire two more nuggets of wisdom about mountain horseback riding. One: when riding down an incline, lean as far back in the saddle as possible to keep from pitching forward over the horse's neck. Two: nothing revives a saddle-weary body quite so well as a steamy soak in a woodfired sauna followed by a dip in a natural alpine stream.
Info: Beaverfoot Lodge (604-629-5741; beaverfootlodge.com), 39 km southeast of Golden. Call or e-mail in advance for prices and to book your trail ride.