Vastness. At Prince George, the gateway to British Columbia's north, an almost inconceivable vastness will open up before you.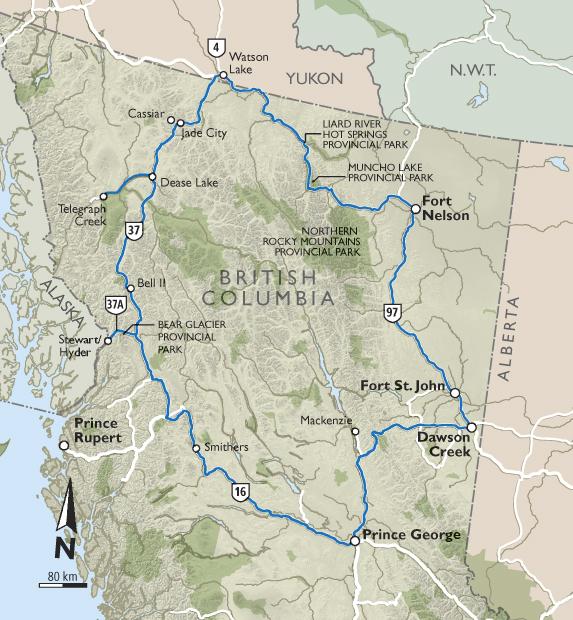 The trip
Northern B.C. comprises 53 percent of the province, yet is home to only six percent of the population. It is an area larger than Spain, yet with only three major arteries on which to travel: the Yellowhead (16), Stewart-Cassiar (37) and Alaska (97) highways. Welcome to B.C.'s grandest road trip. You'll need at least a week.
With a regional population approaching six digits, Prince George is a bustling full-service industry city. In short: if you've forgotten it, buy or rent it here. And this is last stopover where such an overarching statement will be made. As you head northwest on Highway 16, there is a palpable metamorphosis. Rambling RVs, 18-wheelers and adventure-riding motorcyclists replace the day-trippers and commuters of the south. Distances are greater; nature consumes humanity. Towns make oddball efforts to define themselves against the enormity—you'll pass Vanderhoof, the "Geographic Centre of B.C.," and Houston, home to the "World's Largest Fly Fishing Rod."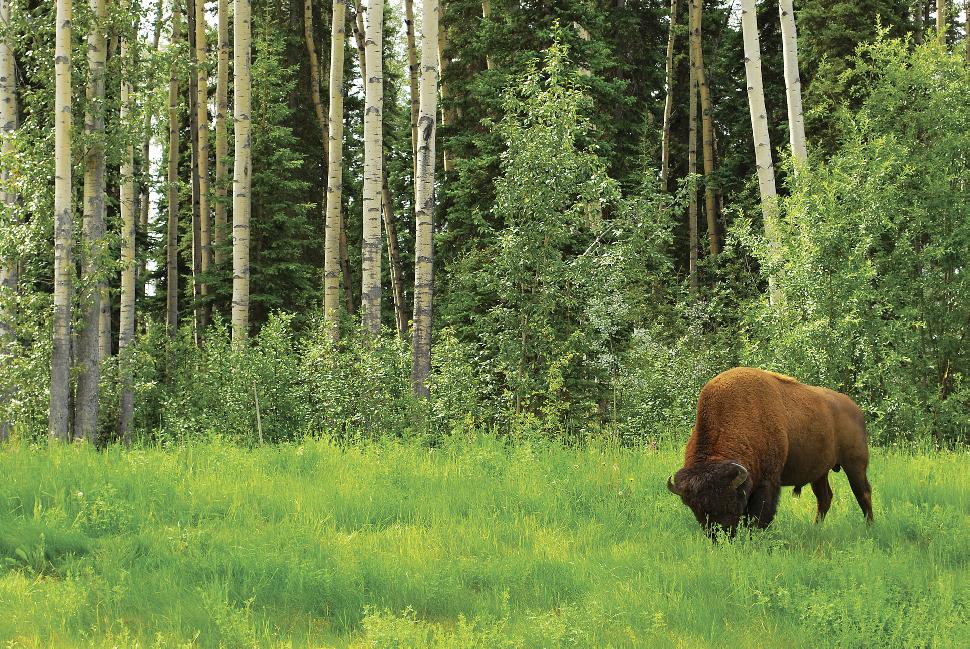 Smithers, 370 kilometres from Prince George, is a fine lunch stop—if time permits, the Smithers Community Forest Trail network provides a pleasant leg-stretch. It's also the last place to sip a quality cup of coffee for a long while. Try local roaster Bugwood Bean—or there is a Starbucks, if you must.
At Kitwanga, 115 km from Smithers, the North truly begins. Make a sharp right at the Petro-Canada—the last gas station for 237 km—onto the Stewart-Cassiar Highway, B.C.'s loneliest road. By the time you pass Cranberry Junction, 75 km further on, there will be as many black bears as road-trippers.
Turn west toward Stewart, at Meziadin Junction, and challenge yourself to keep eyes on the road through one of the most scenic drives in the country. Winding between ice-crusted mountains, encased in evergreen and broadleaf trees and flanked by the productive Bear River—as well as the roadside and receding (but still impressive) Bear Glacier—65-km-long Highway 37A is a destination in itself. The town of Stewart marks the terminus, picturesquely placed against the Portland Canal, a tentacle of ocean tracing the border between B.C. and Alaska.
Stewart is the only access point to the odd-duck hamlet of Hyder, Alaska. With just 87 people, Hyder dubs itself "the friendliest ghost town in Alaska." Stewart tourists pop over to photograph grizzlies from Fish Creek Wildlife Observation Platform and get Hyderized, a ritual involving a shot-glass of 150-proof grain alcohol. If you have a four-wheel-drive, the 37-km haul-road to an epic viewpoint atop Salmon Glacier beckons—it's the largest road-accessed glacier in the world. Overnight in Stewart; Hyder has too many bears and not enough services to warrant more than an afternoon walkabout.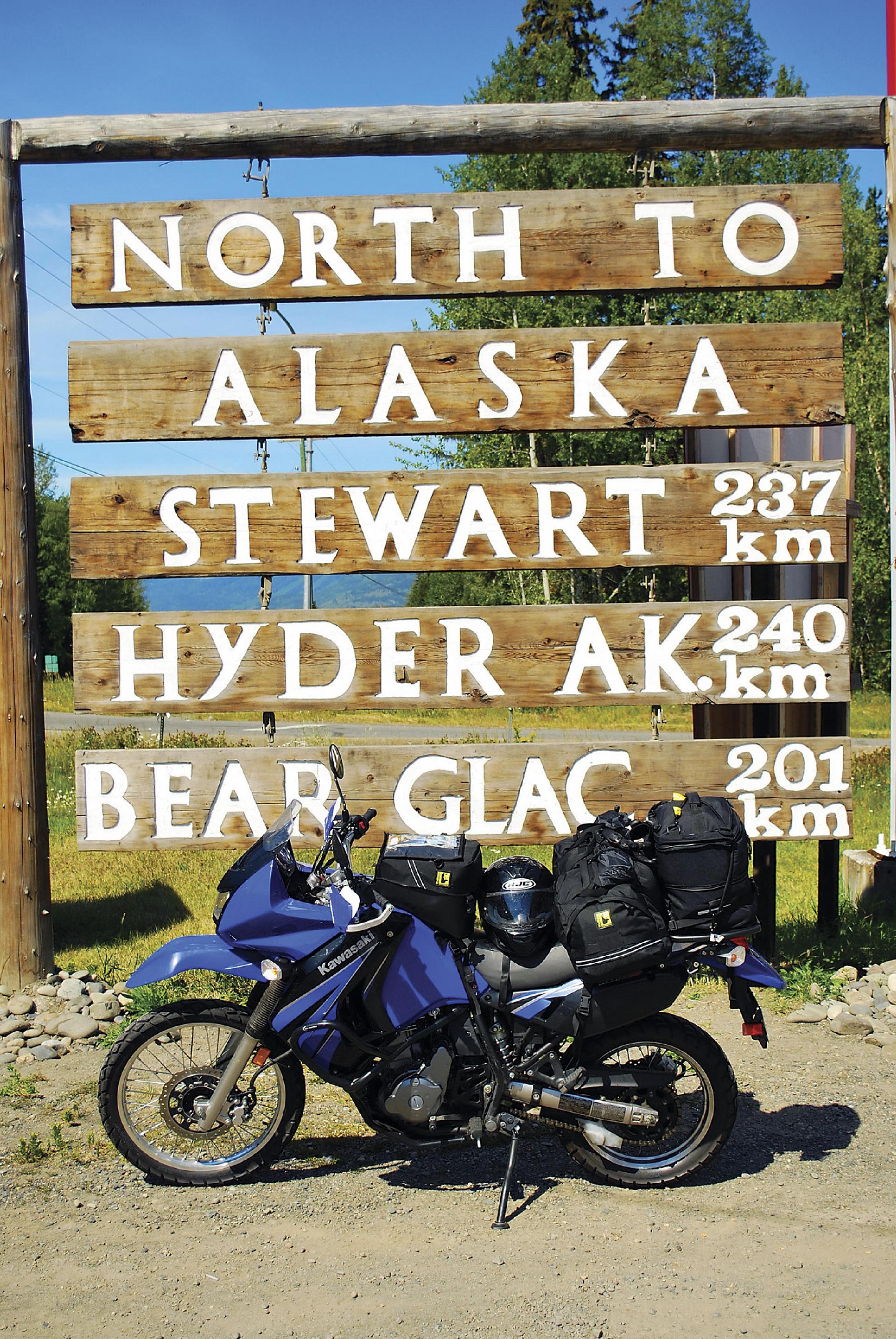 Ramble back to the increasingly rustic Highway 37. Bell II, named for a helicopter, is your next fuel-station, and, following a stretch of maintained gravel, the First Nations community of Iskut offers another service stop. At Dease Lake, make a left on Telegraph Creek Road for a hardy, 108-km dirt route that skims past the Talhtan, Stikine and Tanzilla rivers on its way to Telegraph Creek (population 250). All-wheel-drive is your friend; a massive RV is not. One can easily while away a couple days here in the traditional lands of the Talhtan First Nations. Rent a cabin at Up the Creek B&B (from $85; reservations recommended). Peruse Gold Rush-era buildings, view bears and sheep near the Grand Canyon of the Stikine, hire a flightseeing tour from Telegraph Creek Airport and witness traditional lifestyles on the confluence of the Stikine River. Lose yourself to the vastness to which you've now become accustomed.
Head back to Highway 37 at a slow-and-easy pace. It's a long one today. Buy a carving from the Bunce family in Jade City (population 35); producer of more than three-quarters of the world's nephrite jade. Peek into the ghost town of Centreville. Pose for a photo at the "Yukon: Larger Than Life" sign, then later at the Signpost Forest on Watson Lake—following fuel-up and lunch at Junction 37 (Sally's Café is best), just a short skip past the 60th parallel. You'll be back in B.C. before you know it, cruising the Alaska Highway as it leads south. Safety note: bison roam the road in this area. They will not get out of your way, nor do they appreciate your presence. Photograph these 900-kilogram brutes at a distance or at your peril.
Your reward for today's 10-hour drive? Liard River Hot Springs Provincial Park, home of an au natural hot springs to ease your road-weariness. Shrouded by boreal spruce, 52-degree volcanically-heated water seeps from the Earth and cools by 10 degrees or so as it runs atop riverstones. Camp on-site ($26) or stay at Liard Hot Springs Lodge (rooms from $130; campsites from $20) and rejuvenate.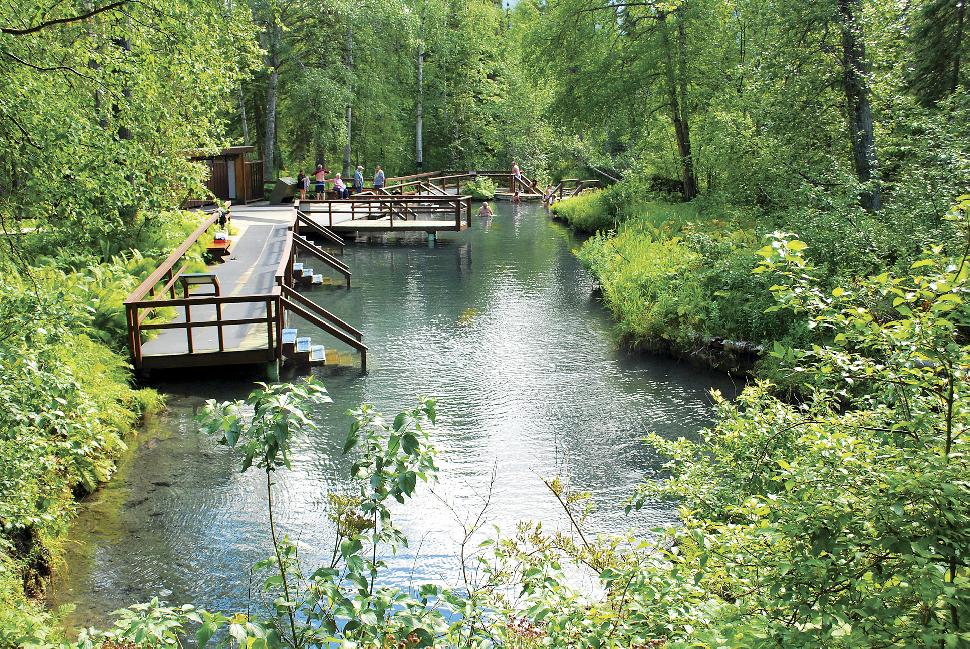 Southward, Muncho Lake Provincial Park flaunts an emerald waterbody backed by the broken-glass peaks of the Rocky Mountains in their northernmost range. Further, through Northern Rocky Mountains Provincial Park, the highway gets downright treacherous, with loose gravel peppering hairpin turns and scenery that aims to distract. You'll arrive in Fort Nelson after dark—book a room at the Fort Nelson Hotel ($99) or pull into Triple G Hideaway Campground & Family Restaurant (from $20).
From Fort Nelson, it's a straightforward 800-km cruise through the Peace River Valley to Prince George. Fort St. John, northern B.C.'s second-largest community, and Mile 0 of the Alaska Highway at Dawson Creek (via short detour) dot the route.
Quell your hunger back in Prince George with a steak dinner at North 54—routinely rated the best restaurant in the city. If your appetite for adventure remains unsatiated, however, there is 47 percent of the province yet to explore.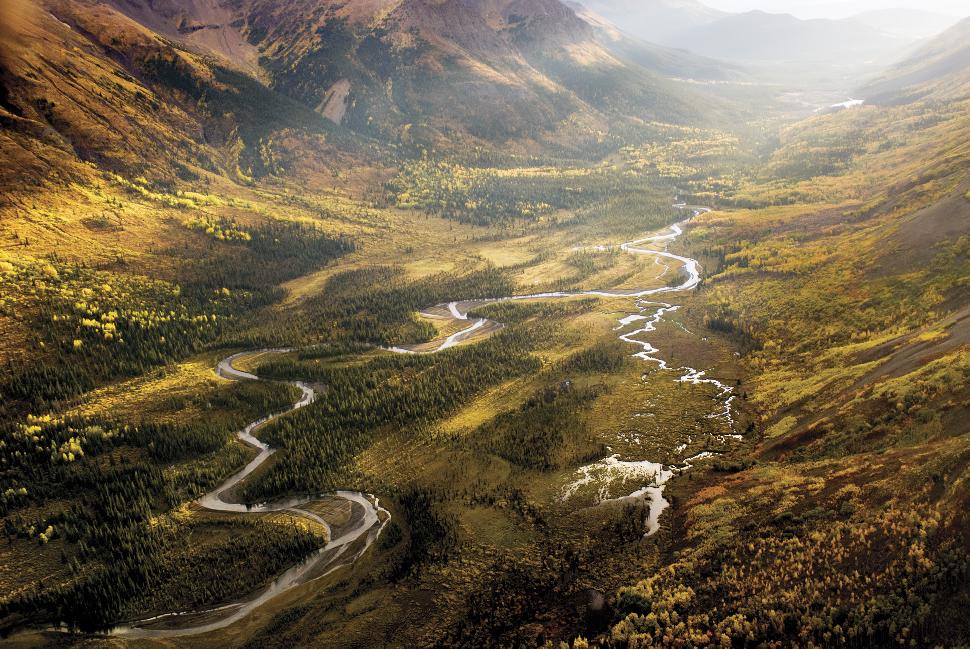 Travel information
Distance: 2,900 km (from Prince George)
Duration: Seven to 10 days
Resources: tourismpg.com; tourismsmithers.com; districtofstewart.com; telegraphcreek.com; bcparks.ca; tourismnorthernrockies.ca; acrossandabroad.com
Weather: Temperate days and cool nights—expect changing conditions throughout autumn: summer heat, frosty mornings, occasional downpours.
Need to know: Pack your passport—you'll need it for the worthy side-trip into Hyder, Alaska.