Every trip has a moment. The one event that becomes the cover image. From an eight-day mountain biking road trip across northern British Columbia, it's chasing Heiko Krause down a trail called Pump Daddy.
At home on Vancouver Island, I don't jump much. But after warming up on perfect trails, littered with well-built, easy jumps, for six days in a row, in seven different communities along BC's Yellowhead Highway, I'm finally getting the hang of it. I'm feeling as dialled on a bike as I've ever felt when photographer Ryan Creary and I roll into the town of Smithers and hook up with Krause. The 16-year-old skips school to show us around, while another local, Brian Shorter, who's definitely old enough to have a driver's licence, shuttles us up and down the hill. They're just two more super friendly, passionate and energized mountain bikers on a road trip full of them.
Pump Daddy is our first trail on our first morning in Smithers. I'm riding as hard as I can, chasing Krause down the wide trail, swinging back and forth across the fall line, popping off small jumps on every straight away, carving high around the banked corners. When I play the trail back in my mind the highlight is one jump in particular: a natural hump with a drop-away landing. I can see myself pop into the air, floating among the poplars showy in their autumn yellows, bike tweaked just a little, Earth falling away. Whatever it looked like, it felt effortless and perfect.
Thinking back on it now, there were more dramatic moments that could define the road trip—a Whistler-like bike park all to ourselves, urban mountain biking in Prince George, tight switchbacks in the snow, huge rock slabs, a gap jump over a crashed plane, expansive views over wild northern topography—but for me it's that simple air that I'll remember. Probably forever. I think it stands out because its simple joy meshes with the growing passion for the mountain biking along the Yellowhead Highway.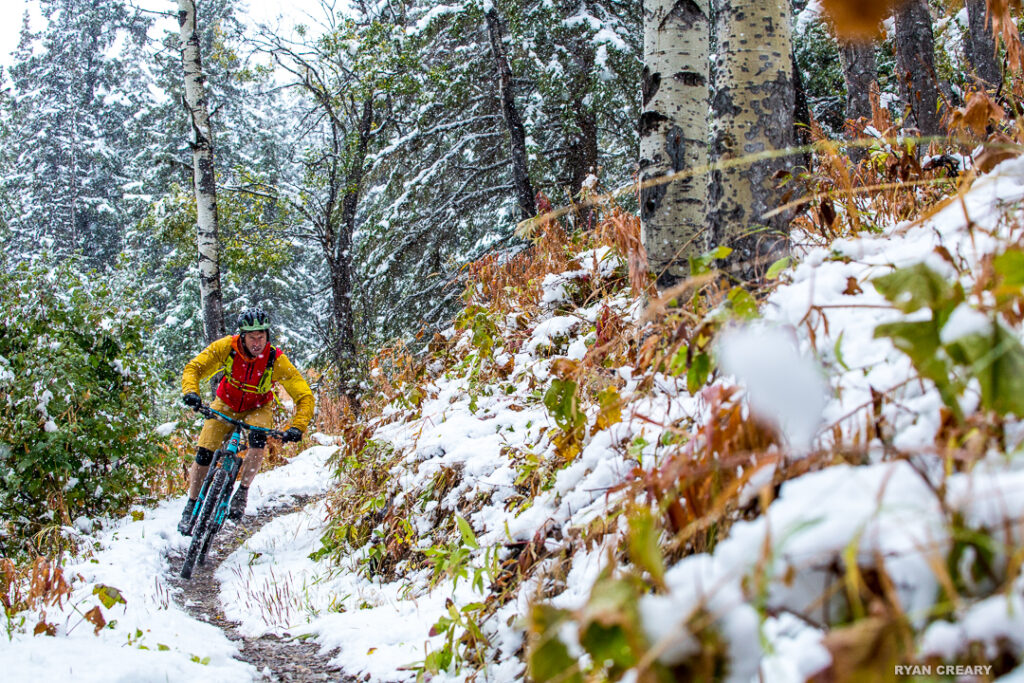 The Yellowhead, aka Highway 16, is the often-forgotten route belting the centre of the province, from Valemount near the Alberta border to Prince Rupert on the Pacific. Along its length there's an infectious enthusiasm and optimism for mountain biking. In the last five years just about every town along the highway invested in a mountain bike trail network to the tune of millions of dollars total. The reasons for embracing the knobby tires vary: love of the sport, to save a dying town, attract tourists, to connect to the land. But as we travel for eight days along the highway, riding in almost every community, I realize, more than anything, mountain biking symbolizes a transition.
"The societies that build the trails are not just creating a tourism asset," says Joel McKay, the CEO of Northern Development Initiative Trust, one of the major funders of trail building in the north. "Building trails is changing the reputation of the north."
Our first stop is a perfect example. Creary and I meet in Kamloops and then drive north on Highway 5 to Valemount. The small town, dusty town sits an hour west of the BC-Alberta border, nestled in a valley with 3,500-metre mountains on all sides. It's spectacular, but a long way from anywhere—at least three hours to the nearest airport and five hours from Edmonton, Alberta, the closest big city. For more than a century, the roughly 1,000 people that live in Valemount thrived on the back of the railway and then logging. But in 2006 the lumber mill closed, taking 120 jobs and dozens more related ones. The school shrank in half as young families moved away. Shops closed.
Several proposals promised salvation for the depressed town—a jail, mushroom farm, spas and ski hills. None materialized. Residents grew wary and frustrated. Valemount seemed set to fade into a backwater. Not everyone was OK with that.
The local hiking group promised little when in 2012 they teamed up with the International Mountain Bike Association's Canadian chapter to create a mountain biking master plan for 5-Mile Hill, an access road to a radio tower high on the mountain above town. They saw potential in mountain biking as a way of drawing tourists west from busy Jasper National Park. To get it built, they hired Curtis Pawliuk, a local who spent his winters running the very successful local snowmobile club. Five years of building and more than $500,000 invested, the bike park now extends from town to summit.
"The advantage of starting from scratch is that you can build it right from the beginning," Pawliuk says. "Our idea is that from any staging area, there will be a green, blue and black trail. We're trying to make it fun for everyone."
The riding is mostly gravity focused and the highlight is High Roller, one of the newest trails right at the top of the bike park. To get to it we could pedal the perfectly graded, machine built climbing trail, but instead we do as most do and hop on the Peak Shuttle, a van and trailer that hauls riders up the 1,000 metres of vertical for a small fee.
At the top we step out into a dusting of snow and fog. No one lingers in the cold and we're soon testing out tire grip swinging our bikes through a waterslide-like run of banked corners, twisting and turning through the forest. The sun comes out about the same time we pop into a logging clear cut full of big tabletops, massive berms and views across the valley to the craggy Cariboo Mountains. Still getting a feel for the bike park style I mostly roll over the features, taking it easy. There's a lot of riding left to do, I tell myself, as I watch the locals fly for Creary's camera.
High Roller ends on the access road at the next junction. True to Pawliuck's word, a green, blue and black split off into the forest. Through the rest of the day we'll try them all. Each is interesting and fast. Little airs are everywhere. And the dirt is tacky and smooth. Best of all, we've got the place to ourselves. On busy weekends up to 200 people are on the trails, but mid-week in September it's empty.
"It's like someone dropped Whistler's bike park in the middle of nowhere," says Creary. He's not alone in his love affair with Valemount. Everywhere we stop along our mountain biking road trip someone inevitably mentions Valemount along with a long stream of compliments.
The investment gamble is paying off. "The trails have made a huge difference to my business," says David Grant, the owner of Funky Goat, a food truck on Valemount's main street. Bikers have to drive right past on their way out of town. Right next door, at the Three Ranges Brewery, an uptick in bike traffic precipitated an expansion. "The more bikers we see in town, the more beer we sell," says Michael Lewis, the owner of the brewery.
"Biking has changed Valemount," says Pawliuk. "I don't want to say it saved the town, but it has made a big difference. People are energized for the first time in a long time."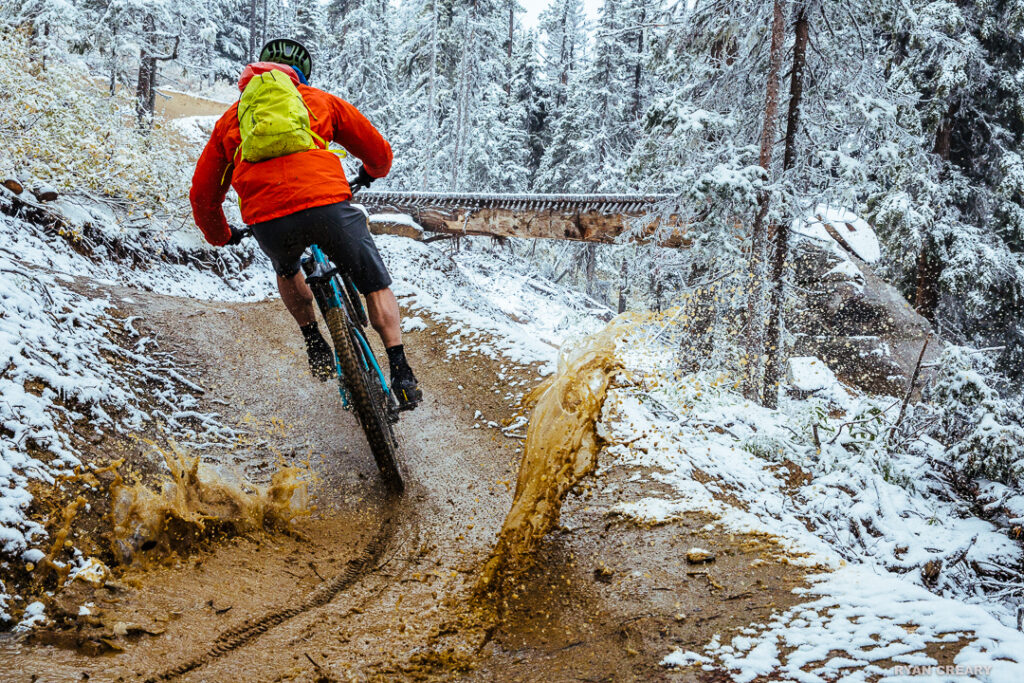 McBride's inspiration to build trails was even more desperate. In the last decade or two, consolidation, downsizing and full-on shutdowns in the logging industry sucked jobs out of  small towns like McBride, taking a big chunk of the population with it. Most professionals don't want to live in a place without a grocery store or community centre, so towns like McBride struggle to attract teachers, doctors and pharmacists. Without them even more people move away.
"Across the north, smaller towns especially are struggling to remain vibrant as the industries that built them recede or consolidate," says McKay. "One of the biggest challenges is attracting and retaining professions. We're competing with other towns in the north but even more with southern BC. Mountain bike trails are an amenity that helps us compete for a relatively small investment."
McBride's town council invested in dirt because they believed with a few trails they could go from depressed town to an affordable outdoor Mecca. They convinced Ingrid Stengler to spearhead a trail building project in the community forest on the mountainside above town. So far, the teacher turned fundraiser and organizer extraordinaire has secured more than $300,000 in grants that the local society has invested into 25 kilometres of trails.
Later in the trip we ride in Houston. Before they started building trail in 2014 most of the town's doctors, nurses, pharmacists and teachers commuted from bigger, busier Smithers, an hour west. There wasn't even a grocery store in town. Now, with several trails near town, the grocery store has reopened and a couple of teachers and a doctor moved in. No one is sure what role the trails played, but they didn't hurt.
McBride and Houston look at the trails like an upgrade to the community skating rink, playground or pool. "Everyone loves pools," says McKay. "But pools have to pay taxes. There's lots of maintenance and other costs. Mountain bike trails are cheaper to build and free to run. The mountain bike society typically maintains them, there are no taxes, and little impact on the landscape. They're more sustainable and attractive for many small communities."
And a lot more fun, I think, as I plunge down the trails in McBride. Cut into the side of the hill above town, the network is a mix of new machine-built climbs and descents and rougher hand-dug single track. It all has an amateurish charm. Like they were learning as they built. Which they were, admits Stengler. "We made a lot of mistakes," she laughs. Regardless, we're smiling, flying through the forest, racing the last of the day's rays on Ragged, an old school trail that is rub your butt on your back tire steep. It's rough and wild, swooping and hopping around stumps and over creeks.
Then we hit All In and the character changes completely. It's the perfect machine-built, blue flow trail, easy enough for anyone to ride with enough progression that anyone can push themselves. Stengler hangs at the back as the rest of us take our turns dropping in, hitting the jumps, berms, step ups, drops and rock shelves. One by one we roll into the parking lot glad McBride chose trails over a swimming pool.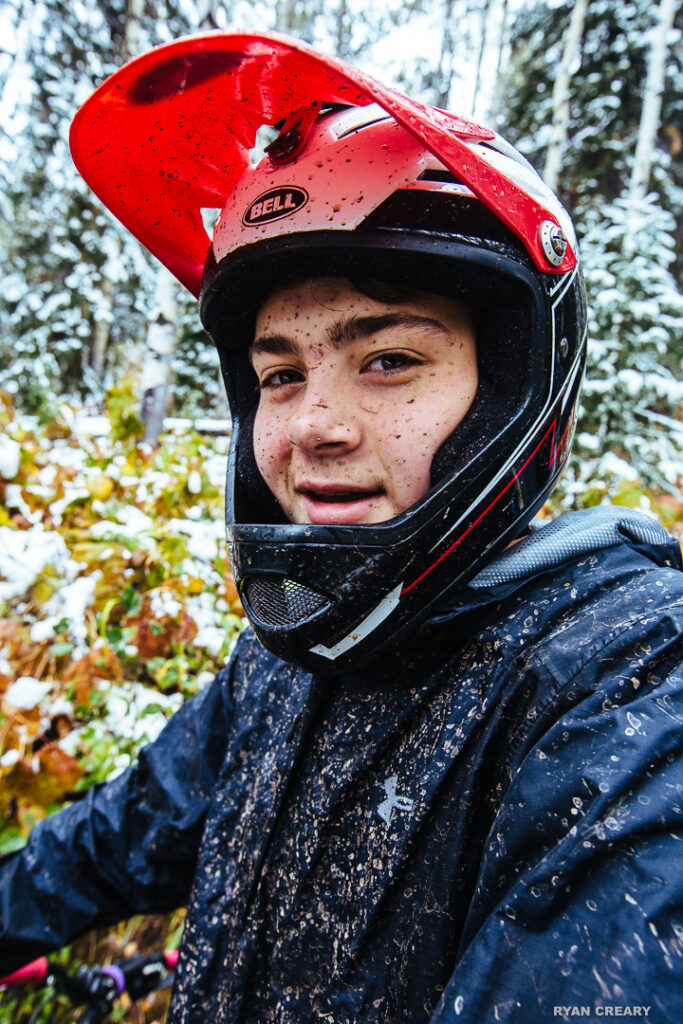 From McBride to Terrace, wherever we stop to ride along the Yellowhead I ask the locals about the impetus for building trails. The answer is always roughly the same: "If Burns Lake can do it…" On paper the skeptical attitude is understandable. Burns Lake is not a mountain town or river town. Surrounded by rolling, forested hills and small lakes it's not the obvious place for a mountain biking inspiration.
I'm excited to hear how they did it. But first we spend a day sampling Prince George's three trail networks, including an urban trail right through the heart of the university campus. And then we stop in Vanderhoof to check out the little-known network of cross-country trails right in the heart of town. As we cross the province we never drive more than three hours without going for a ride.
When we arrive in Burns Lake there's snow on the ground and sleet in the air. In the morning, the weather is no better and our motivation is low. Until we pull into the parking lot at Boer Mountain, just outside of town. At least 15 people are waiting for us. There's a kid on 20-inch mountain bike. A few couples. A dad and his daughter. A family of five. A bunch of kids from the local First Nation bike club. Everyone is smiling and laughing. It's the grossest day of the year but the riders of Burns Lake don't care. And that says a lot about this town.
In 2003, Pat Dube and Kevin Derksen, both employed by the local school district, decided they were going to turn Burns Lake into a world-class mountain bike destination and community. "It was a grandiose plan," admits Pat, from the driver seat of the mountain bike club's shuttle van. "I didn't think we'd get to where we are now."
From a $10,000 grant to get them started they've now invested $2 million into the trail network. It was Canada's first International Mountain Bike Association ride centre, a recognition of quality. More than 100 kilometres of trails spill off Boer Mountain and wind around nearby ridges. In a town of 5,000 people, the mountain bike club has 200 members and a high school mountain bike club
"It rivals hockey in popularity," says Cam Stewart, a 16-year-old and member of the club. "Where else in Canada can you say that?"
More recently, the local Indigenous people have adopted the sport, a trend taking place across the north. In Burns Lake, mountain biking gives kids something to do with their free time rather than get in trouble, says Murphy Abraham, the former recreation coordinator for the nearby Lake Babine Nation. It's healthy, sure, but it's more than that, says Patrick Lucas, a non-native who works with bands across the province, and especially, in the north, to build trails.
"Mountain biking reconnects them with their land," says Lucas. "In a lot of cases they've lost that and mountain biking helps them rediscover the connection."
Abraham bought the Lake Babine band a fleet of bikes and for the last two years he's organized two rides per week for kids. "The guys are hooked," he says. "Some of them bought their own bikes."
Three Babine youth are part of our posse exploring the Boer Mountain trail network. With the snow on the trails we start easy, cruising When Pigs Fly (hogs inspire the names of everything). The trail accommodates the whole range of interests and abilities: when we come to a well-made table top the teenagers jump, the old and young roll over it, and the ones in between do something in between.
On lap two we ignore the snow and ride Pigasus, a black diamond that switchbacks off the summit. We inch our way down, carefully navigating the hairpin turns, always conscious that a mistake could mean landing on the guy one switchback below. A few turns in Dube points out a corner that looks like masons laboured for days, carefully stacking rock nearly two metres high. A little later it's the telephone pole he and other club members manhandled into position to bridge a vertical rock slab. Every section of trail seems to have a story. Every feature an anecdote. There's pride in the hard work they've invested in making something ridiculous—a world class trail network in the middle of nowhere BC—a reality.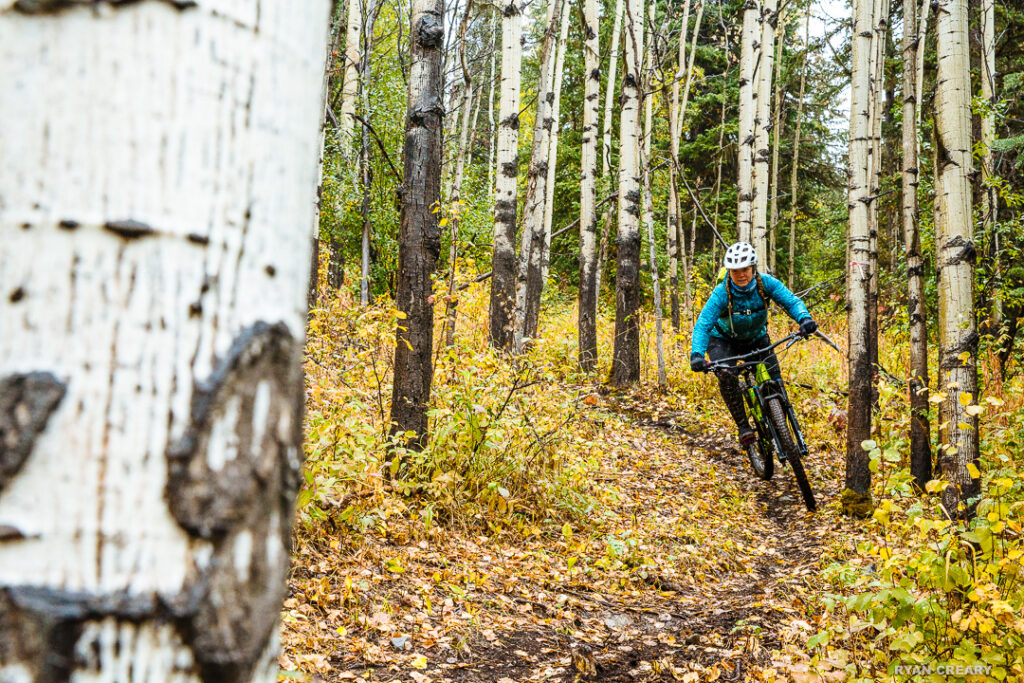 We leave the unseasonably cold weather behind when we enter the Coast Range, the blockade of mountains between the BC interior and the Pacific Ocean. The riding is more familiar here: big trees and bigger mountains, like what's made southern BC destinations like Whistler, Revelstoke or North Vancouver justifiably famous. It's just wilder and quieter.
In Smithers, mountain biking is more established than the other towns along the highway. The original trails date back to the mid-1990s. But here too a building boom took off in the 2010s. There's now a bit of everything. The main network is a collection of stacked loops with a more technical feel. Off the ski hill access road are freeride shuttle trails, including Pump Daddy and one with a gap jump over the hulk of a crashed Piper airplane, cleverly named Piper Down. The highlight, though, is a 1,500-metre descent from the ski hill right to the edge of town.
In Terrace, our last stop, we find the same mix of old and new. To complement the rooty and rocky trails, built nearly 20 years ago, the bike club is shovel deep in a trail development plan that will mean more easier trails, opening the sport to the masses. Well, a couple hundred people anyway.
Most of the new stuff is still under construction when we visit, so we ride on Terrace Mountain, right in the middle of the town of 11,000. From the parking lot the access is straight up a tough, technical climb that punishes my road wary legs. No gentle progression here. At the top we turn onto Downtube, my favourite trail from our entire trip. It follows a ridge of granite rock slabs through the forest, mixing steep rolls and tacky dirt. It's a perfect combo of interesting climbing, scenery and rollercoaster downs.
At one point another rider catches us. It's only the third time we've seen someone else on the trails in a week of riding. We start chatting and within a minute our new friend Andy is offering to show us Maroon Mountain, a high alpine adventure ride north of town. We don't have time to take him up on the offer. I fly home the next morning and Creary has a long drive back to Revelstoke. Our road trip is almost over.
"Where did you like the most?" Andy asks.
I run through a mental slide show of all the immaculately built trails, the airs, the scenery, the great people that showed us around, the small-town cafes and honky-tonk bars. Everywhere we rode makes an appearance. "It was all good," I conclude.
"Well just make sure you tell everyone the riding sucks," he laughs. "Tell them they shouldn't come."