"Do you know this area well?"
We're dripping with mud in front of a display board near Sombrio Beach on Vancouver Island's west coast, when three passing hikers strike up a conversation.
"Well, we used to," says my partner, David, wiping the muck off his face. Mud is our fashion statement and it's impossible to tell where the hiking boots start and the jeans end. We had been on a mission trying to find the elusive falls that tumble down the rocky cliffs just off the beach, following instructions on Handsome Dan's website. We had found the stream, but Dan's site urged us to carry on. Although we could even hear the falls, bush-whacking the near vertical and virtually inpenetrable muddy terrain had become impossible for even two highly motivated seniors. However, the threesome is impressed by our state. Anyone who looks the way we do just has to be a seasoned vet. They have limited time and are wondering whether to spend it at Sombrio Beach or carry on to Botanical Beach.
Located at kilometre 47 of the Juan de Fuca Trail—the western terminus—Botanical Beach is well known for its rich tidal pools, geological features and its variety of marine flora and fauna, but it's best viewed at low tide and with plenty of time. Given the fact that the tide's coming in and their time is scant, we suggest they stay here and explore the shingle beach. Who knows, maybe they even find the falls.
Since the first marine research station in the Pacific Northwest was installed at Botanical Beach in 1901, the area has been used extensively by several universities, and is now also heavily visited by tourists.
Sombrio Beach, at kilometre 29 along the trail, was brought under the protection of the Juan de Fuca Provincial Park in 1994, and three years later its occupants and local squatters were forced out in a controversial move that was well publicized. On April 4, 1996, the Juan de Fuca Provincial Park was created by combining three former parks: China Beach, Loss Creek and Botanical Beach, into one provincial park, encompassing the Juan de Fuca Trail. David had put his answer to that trio in the past tense, because it had been years since we had lapped up these shores and ancient forests—hiking the West Coast and Juan de Fuca trails, spending hours at China and Botanical Beach, camping at Fairy Creek and sleeping in our van at Jordan River. Returning decades later was fast becoming a nostalgic experience. Things were so different then and yet so much the same.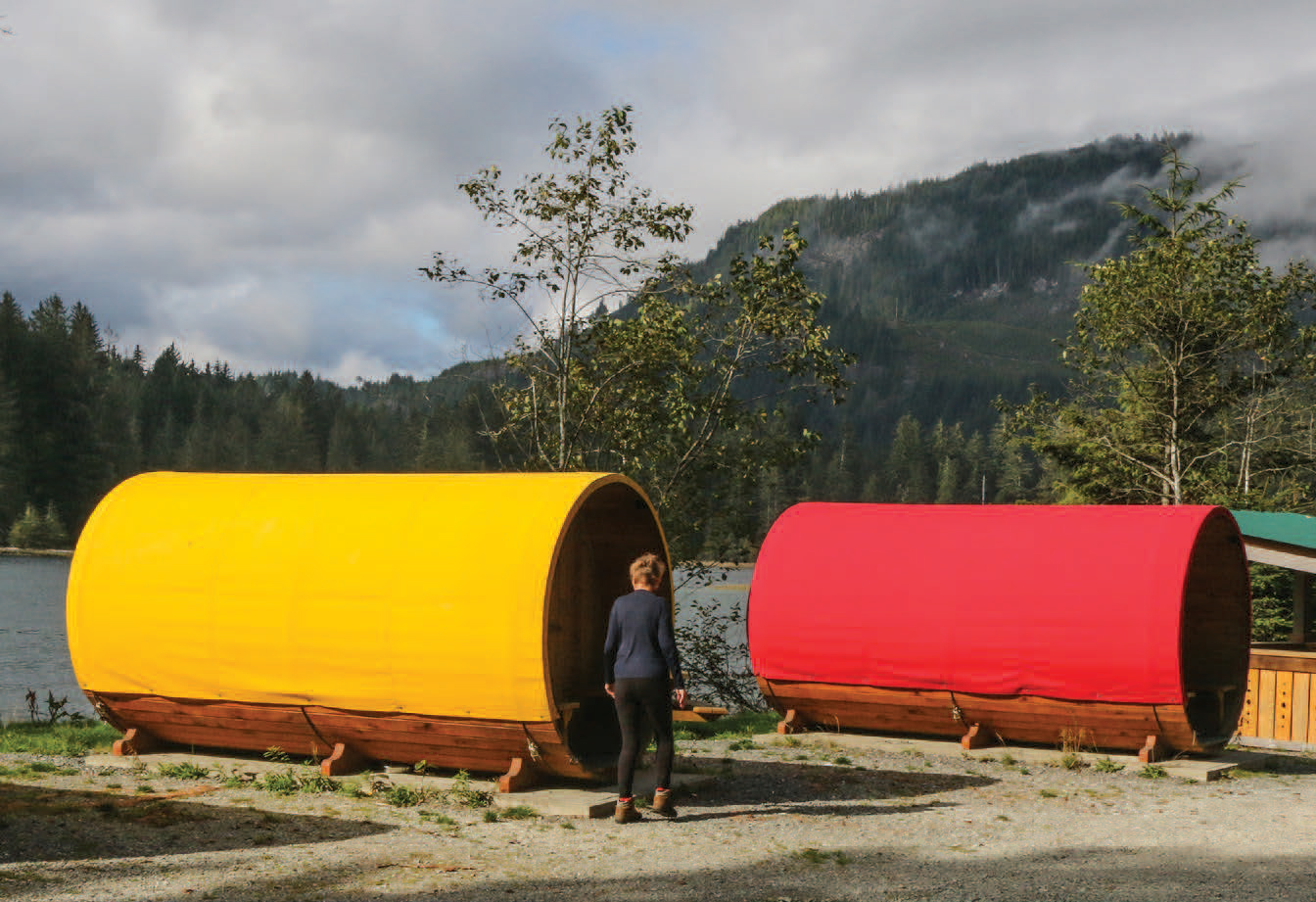 This year, in mid-September, mid-week, during a fourth wave of Covid, there were so many more people than we had ever expected. The twisting, undulating and potholed road from Jordan River to Port Renfrew has been seriously improved in many places, and Port Renfrew itself is all dressed up. Once a small village mostly overlooked by islanders and mainlanders, it now boasts five-star resorts and holiday rentals along with the few original lodges and cabins. (We counted 42 accommodation choices listed in the Chamber of Commerce directory!) And yet, that wonderful briny tang of the sea salt still wafts into our noses. The scent of seaweed and forest and moss, and the excitement of being on the very edge of Canada, with the Juan de Fuca Strait separating us from the US's Olympic Peninsula and the wide-open ocean within view—all this felt the same as those earlier years.
This area is still much beloved by surfers, who are willing to hike impossible trails to get to the best surfing areas, scrambling up slippery banks while balancing their boards over their shoulders. It's also still lauded by recreational fishers as one of the best places to fish for salmon, halibut and crab. The numbers of hikers on both the West Coast and Juan de Fuca trails has also swelled. In the fall months, we can now add the mushroom hunters. And lastly, stir in everyone who has come with only the one goal in mind: to see the incredible behemoths of the forest, 1,000- or even 2,000-year-old sylvan matriarchs like the Sitka Spruce, the Red Creek Fir, Big Lonely Doug, the Harris Creek and the San Juan Spruce, not to mention the giants of Avatar Grove. So how could Port Renfrew not grow? There's just so much to do here and it's all outdoors in surroundings that capture the sense of an earlier BC, when fish, big trees and clean ocean waters were abundant.
With a population of around 300, a frenzy of building and development has enveloped Port Renfrew, as in so much of BC's west coast. The popularity of the hiking, the pristine location, the breakers and the fertility of sea and shore has put this village's name on the map in capitals.
Now we sit on the expansive deck of Handsome Dan's newest development: fully furnished luxury cottages, some of which are holiday rentals like ours. It's happy hour, and now out of muddy clothes, showered and feeling well exercised, we're raising glasses to celebrate the view across Port San Juan, friendship, and our first holiday since Covid.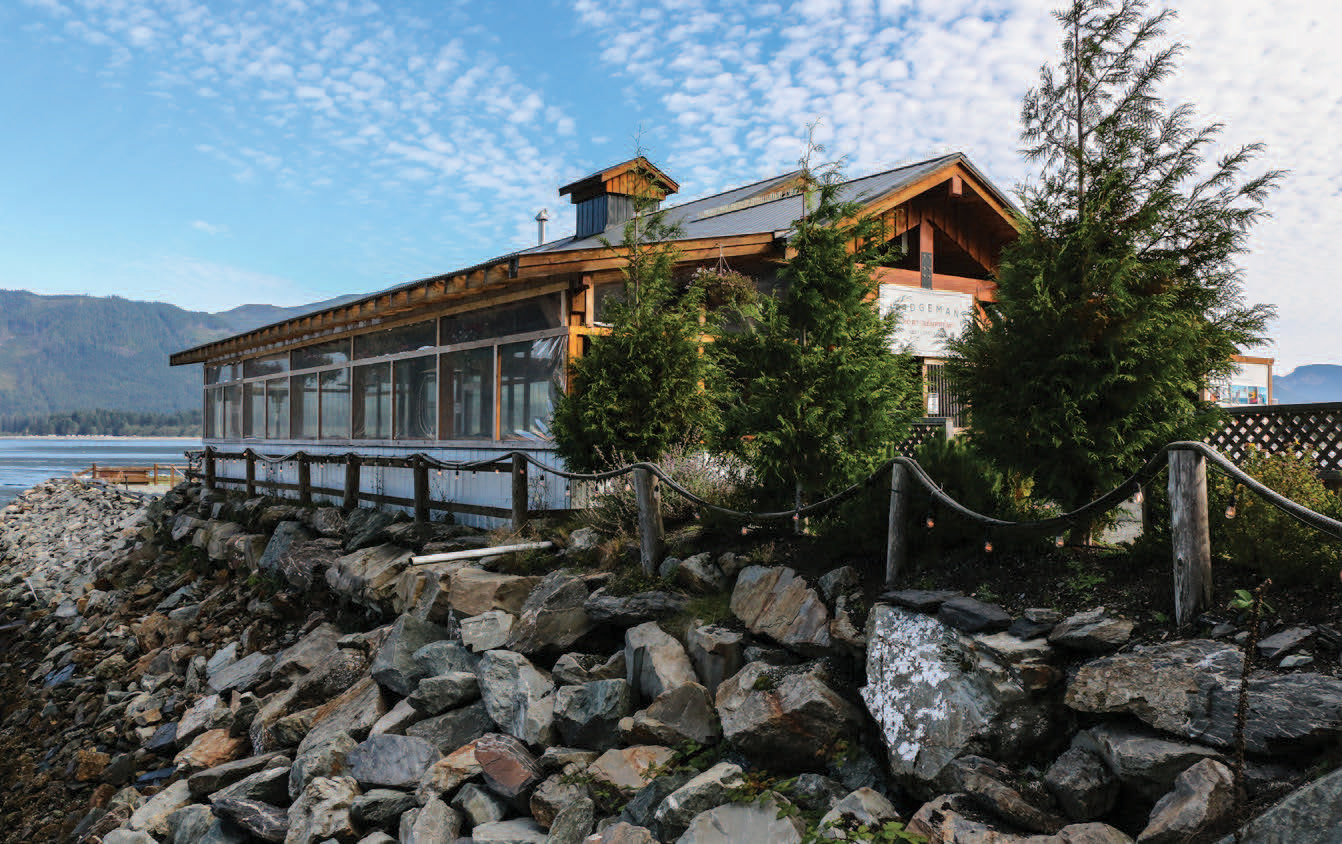 The next day, when our clothes are demudded, we have the Pacific Gateway Marina to check out. With the majority of its phase-one marina development plans completed and its restaurant, Bridgemans, up and running, it has added to the village's growth. We wander down from our Fish Tales cottage to check out the progress. Unfortunately, the restaurant isn't open on the days we're here, so instead we head to the Renfew Pub, a cavernous and lively building whose totem overlooks the community docks. In the meantime, however, we return to our car and cross the scenic one-way bridge to revisit the campsite and the starting point for the West Coast Trail, where we become intrigued by an unusual and colourful take on sleeping cabins introduced into the campsite by the Pacheedaht Nation, the owners and operators. (Pacheedaht translates lyrically into 'children of the sea foam'). Recent funding from treaty negotiation is providing a valuable opportunity involving the Nation in rebuilding a lost forest economy in the Port Renfrew area with a new direction in tourism.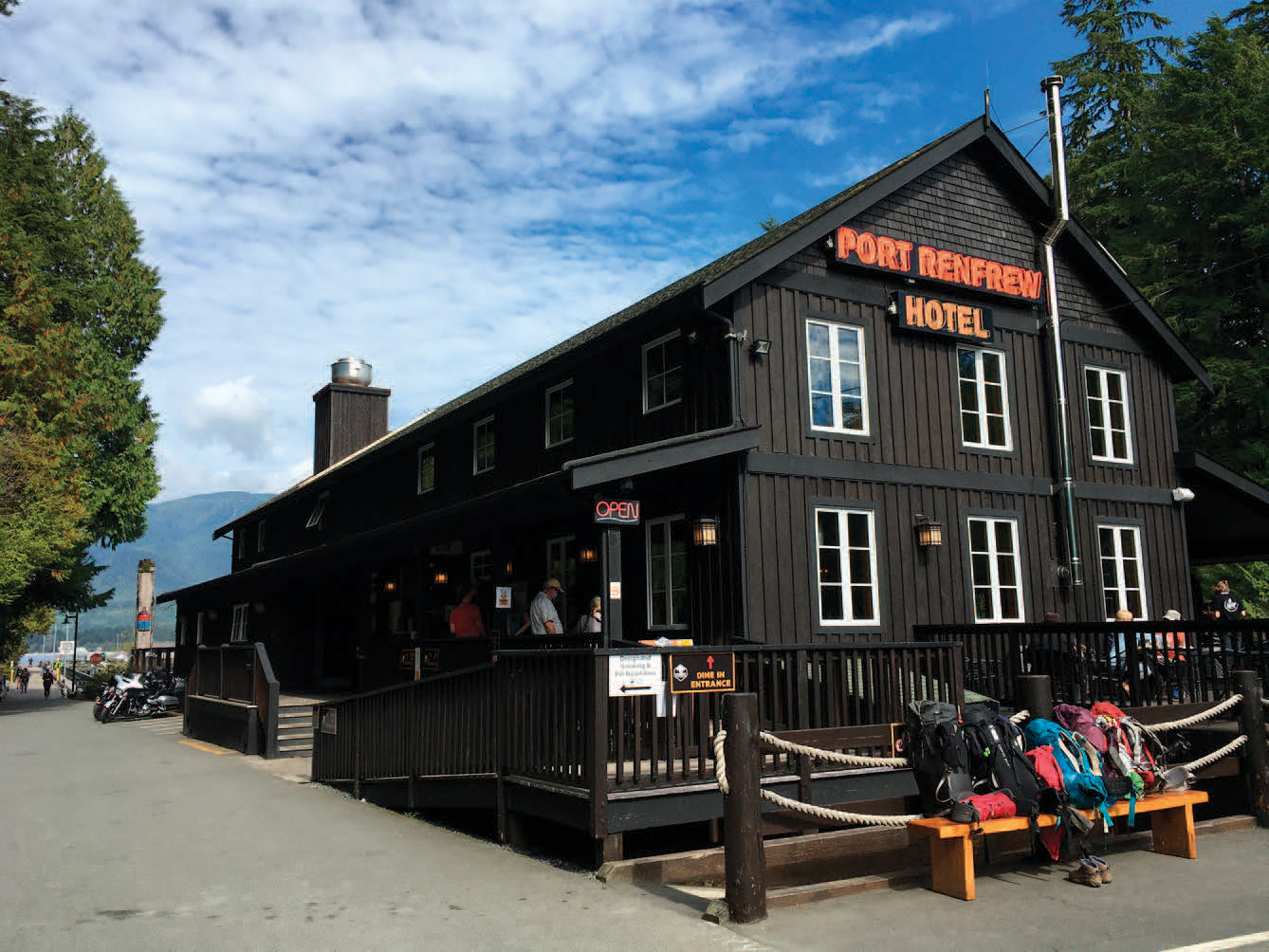 We also roam Port Renfrew's old village centre, with its historic community church, and poke our heads into the Big Fish Lodge, one of the village's original full-service fishing lodges. I'm coming here next time.
It really drips history, and I love the idea of someone else baiting my hook, removing the catch, cleaning it and packing it up all sweet and fresh for me.
It's still only noon, but that's good, because we are now going to exhaust ourselves by climbing up to Avatar Grove and further immerse ourselves in an afternoon of primary joy and discovery. We're all loving this exercise, fresh air and tree hugs.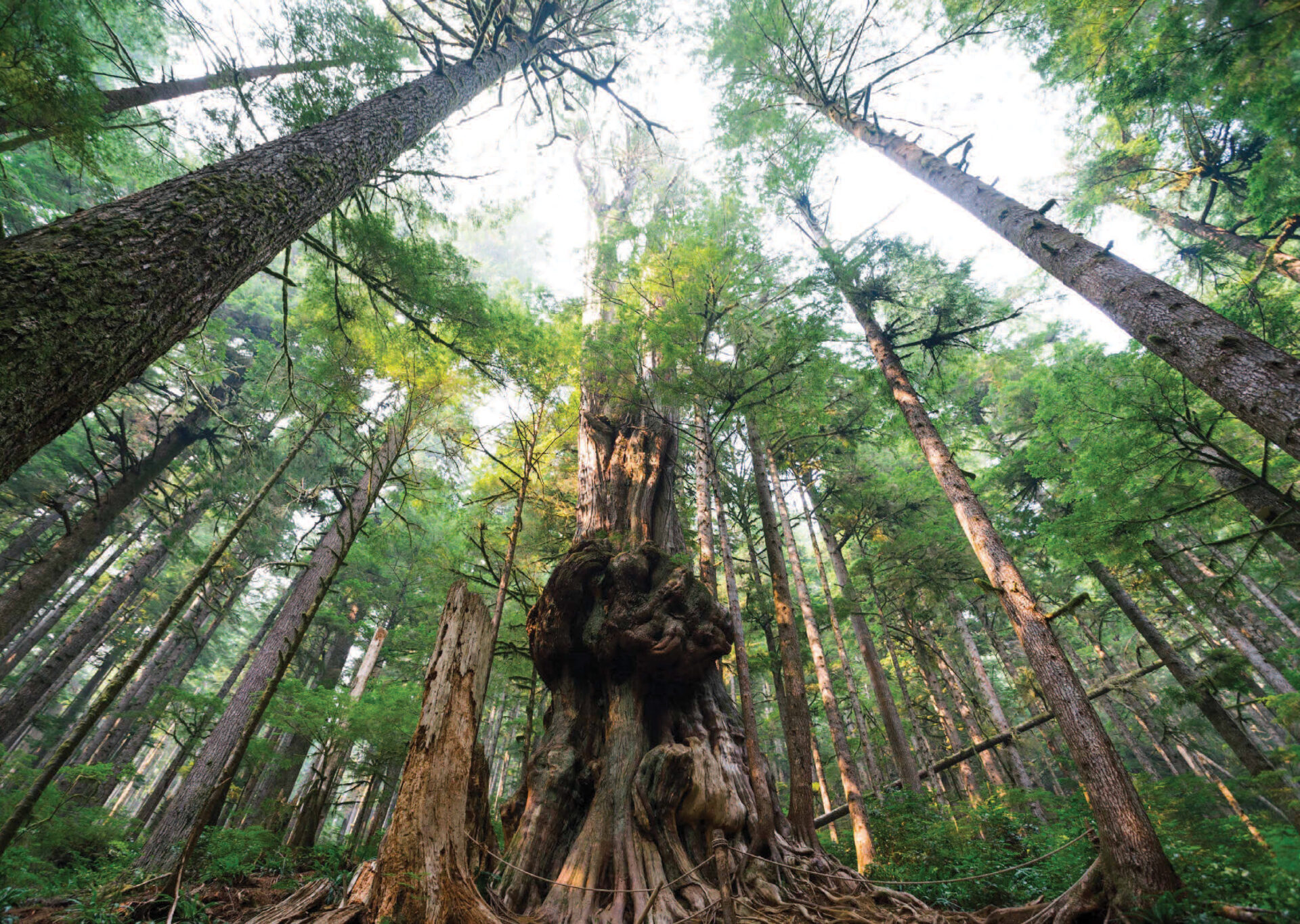 Port Renfrew, Canada's Tall Tree Capital, has grown up—and we hope that its nearby forest neighbours will be allowed to do the same thing.
If You Go
Avatar Grove
An impressive stand of 1,000-year-old redcedar and douglas-fir, it's the site of Canada's gnarliest tree. The grove, protected by the BC government in 2012 after a two-year public awareness campaign led by big tree hunter and founding member TJ Watt, is maintained in partnership with the Port Renfrew Chamber of Commerce. Directions to this grove and other tall tree sites can be found on the Chamber website as well as info on attractions, accommodation and beaches.
Juan de Fuca Provincial Park
bcparks.ca/explore/parkpgs/juan_de_fuca/
Handsome Dan
For accommodation and general information on the area.
Fish Tales Cottage
Old Growth
At the time of writing, protesters continue to blockade and protest the logging of old growth trees in the Fairy Creek watershed and beyond. It could well be the country's largest act of civil disobedience with more than 1,000 protesters already arrested. The Fairy Creek watershed has one of Vancouver Island's last remaining unprotected old-growth stands of coastal temperate rainforest. The area is the traditional territory of the Pacheedaht First Nations, and is located in the federal electoral district of Cowichan-Malahat-Langford. The protest shines a light on a complex set of issues: the role and perimeters of enforcement, economic development, climate change, Indigenous self-determination and the preservation of flora and fauna.
Port Renfrew Salmon Enhancement Society
Set up in 1978 to support Port Renfrew's fish hatchery program, this initiative and its many volunteers and supporters have done a stellar job of maintaining coho stocks. Up to a million fry are released annually. Located above Fairy Lake, the hatchery has been highly successful. The Port Renfrew marina is a major donor. portrenfrewsalmonenhancement.ca