Things heat up at the annual Similkameen pepper festival.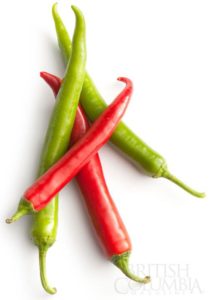 The Similkameen Valley is renowned for heat—in its climate and on the tongue. The region, which extends southwest of the Okanagan Valley through Keremeos to Princeton and beyond, claims to produce more than 200 varieties of organic peppers. They include the blazing hot naga chili and the fiery habanero, along with more mild-tempered cousins.
Each year, locals celebrate their bounty with the day-long Similkameen Sizzle Pepperfest in Keremeos. A hot-pepper eating contest is one of the main events. Fifteen strong-stomached volunteers attempt to consume three chili peppers in record time. Last year's "Sear Factor" winner completed the feat in an indigestion-inducing 39.3 seconds.
"I've seen some very red faces on young guys who thought they were capable of doing this and weren't," laughs long-time festival participant Carroll MacLean of Keremeos.
The annual chili cook-off is another draw. Hundreds sign up to sample and vote on competing dishes. Amateur and local alchemists also have the opportunity to compete for the best hot sauce recipe. The victor may have the option to sell their sauce in a Kelowna grocery store.
Local musicians keep the crowd of roughly 700 entertained as they peruse vendor stalls offering everything from fresh produce to salsas and pepper jellies, as well as the occasional piece of pepper-themed jewellery. Snack options such as enchiladas, tamales, and Jamaican patties keep with the spicy theme.
The 12th Similkameen Sizzle Pepperfest, purportedly Canada's only hot pepper festival, takes place September 21, 2013.
Info: (ttpsoftware.com/sizzlesite).