It's late April; spring in the valley bottoms but still winter in the mountains. The Great West Couloir on Vancouver Island's Mount Colonel Foster sits silent, in deep morning shade. The snow, having gone through a few melt-freeze cycles, is a knife blade away from solid ice. Thankfully, the front points of my crampons sink with a reassuring crunch, the depth of my pinky finger into the snow.
Yesterday, two friends and I hiked with skis strapped to our backpacks through ancient cedars and douglas-firs along the Elk River Trail. We were hoping to climb and ski this rarely visited finger of snow that plunges from Colonel Foster's summit ridge. But I also wanted to visit an endangered species—a Vancouver Island glacier. After reaching the riverside campsite seven kilometres in, we left the trail and struck southwards, climbing steep forest and following elk trails to gain the Butterwort Creek valley. At the snowline transition, the going was tough. The snow was too patchy for skis but also too hollow and rotten for good walking. Instead, we post- holed for a tedious half-hour. But soon we ascended back into winter and deep snow and continued following the freshet of Butterwort Creek. Eight hours after leaving the car park, we pitched our tent next to a small tarn and gathered dead branches for a fire.
Now we are high up in the couloir, reveling in an alpine enclave of island winter. Snow is my happy place, but we are living through the dying days of the last ice age, known in North America as the Wisconsin Glacial Episode. Anthropogenic, or human caused, climate change is hastening the retreat of glaciers, and Vancouver Island's are teetering on the edge of extinction. That's a troubling thought for a Nordic soul like me, who tends to measure the passage of time by the year's first and last snowfalls.
"They're doomed," says Brian Menounos, Canada Research Chair for Glacial Change and a University of Northern BC research scientist, about remnant pockets of Vancouver Island glaciers like the one on Colonel Foster.
Menounos studies the cryosphere; that's academic-speak for the portions of planet Earth where water is in its solid form. He heads up a team of scientists that has been documenting the decline of nearly 500 British Columbia glaciers. In a project partnership with the Hakai Institute, Menounos uses a plane outfitted with a remote sensing LiDAR (light detection and ranging) system that enables them to measure a glacier's elevation change from the air. Knowing that glacial ice has a density of roughly 900 kilograms per cubic metre, scientists are then able to calculate the amount of ice mass lost annually, known in glaciology as mass wastage.
Most of BC's glaciers are in freefall. Every year, they lose enough water to fill BC Place Stadium 8,300 times. Vancouver Island's glaciers are miniscule, compared to say the Klinaklini, a superhighway of ice that's one of the largest in western North America and which snakes deep into the Coast Mountains west of Knight Inlet. In the 1970s, there were an estimated 170 glaciers on the island. Today there are just 65 larger than .05 square kilometres (that's an area equal in size to seven soccer fields), like the one clinging high to Colonel Foster's east face.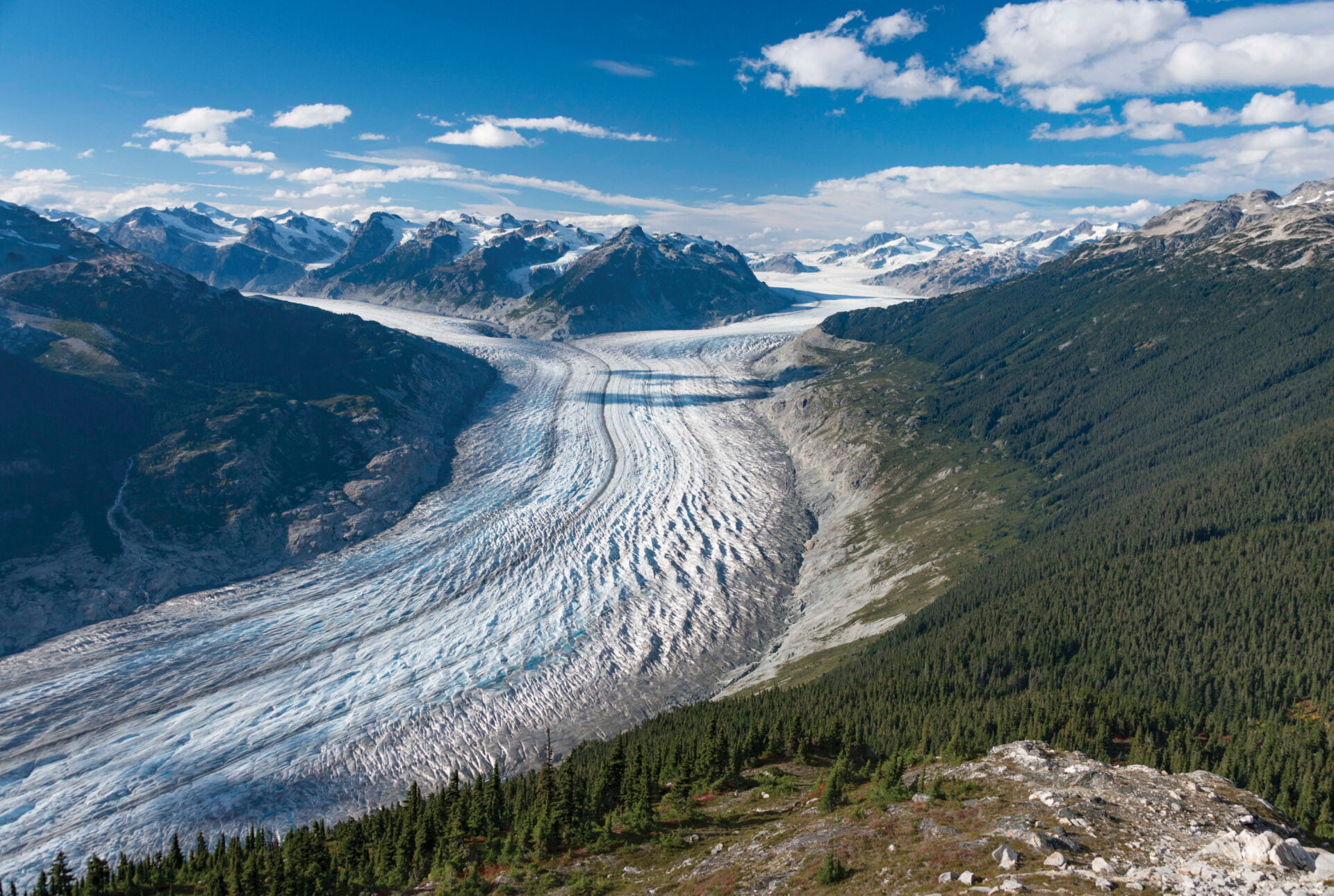 Glaciologists speak in terms of gigatons when it comes to measuring glaciers. Between 2000 and 2020, the island's little glaciers shed an estimated 0.16 gigatons of ice. Let's put this metric into perspective: a cubic kilometre of ice weighs approximately one gigaton, or one billion tonnes. The Antarctic Ice Sheet weighs in at around 26,500,000 gigatons, a number so unfathomably large that it's almost meaningless on a human scale. So, on paper Vancouver Island's glacial wastage seems like a drop in the bucket. But not so, says Menounos; what's important is the role glaciers, however small, play in the health of ecosystems.
"It's all about the timing of cool water that these small glaciers provide to thermally stressed rivers, and that's critical," he says.
Glaciers have been likened to giant water coolers, maintaining lake levels and river flows for spawning salmon and other species, not to mention water for drinking, agriculture and other human purposes.
In a state of glacial equilibrium, the amount of meltwater flowing from the tongue of a glacier is balanced by the nourishment of annual accumulations of winter snow at the head, or top, of a glacier. Neve, or winter snow that remains year around in the upper reaches of a glacier is essential—it's like feedstock for the glacier. Needless to say, the world's glaciers are in a drastic state of disequilibrium. Last summer's notorious heat wave was like climate change in fast forward, when it seemed you could literally watch glaciers melt in real time. Menounos predicts that by 2050, all of Vancouver Island's glaciers will have vanished.
An hour-and-a-half after leaving our campsite, we have climbed into the upper couloir, where the snow is split by a fin of basalt rock. We stay climber's left. It's steep; 50 degrees-plus, I estimate. If I leaned forward slightly on my ice axe, it seems my nose might brush the snow. Calves quiver from the effort. A splash of morning sunlight spills over the ridge above us. Ten strenuous minutes of kicking steps later, and we crest onto a flat col. The sun is suddenly warm and intense. Landslide Lake sparkles deep blue 1,200 vertical metres below, near the base of the mountain's massive east face. We walk 10 paces along level sun-cupped snow, sculpted by wind into a perfect crescent. From the edge of the bergschrund, we gaze down the "snow band," a prominent slash of snow and ancient ice that clings stubbornly to the mountain. If a glacier could be likened to a species, then this one is like the white rhino. In less than three decades it will be gone.
I imagine what Vancouver Island would have looked like 17,000 years ago when the last ice age reached its zenith and most of North America was buried thick with ice. The Wisconsin was the last major advance in a period of Earth's history known as the Pleistocene Epoch. It began roughly 2.6 million years ago. During this vast span of time, four major glaciation age events shaped life and land. They were brought on by the natural wobble in Earth's orbit that causes variations in the amount of the sun's energy reaching the planet. The Younger Dryas (a period of cold climate named after the alpine tundra wildflower Dryas octopetala) saw a surge of glaciation between 12900 and 11700 BP (before present). Scientists believe it was caused by a sudden and major drop in the amount of warm equatorial water in the Atlantic Ocean circulating toward the North Pole. But it was just a blip of cooling in the dying days of the Pleistocene.
"This is the last gasp of the ice age, and it is being compounded in a big way by greenhouse gasses and climate change," Menounos says.
We linger at this magical place in the alpine, watching low cloud drift up and down the valleys of Butterwort Creek and the Elk River. It's part delay tactic, putting off the moment when we have to ski down what we climbed up. But it's also an impulse to cling to what used to be—a continental glacier that covered Vancouver Island.
You'd think glaciology would be a depressing field of study, sort of like palliative care for the cryosphere. Menounos admits he gets asked that question a lot, as he returns year after year to gather data form some 500 dying BC glaciers. But he says the work is about more than just chronicling decline. It's equally important for improving future forecasts and predictions for glacier nourishment and melt. But even more important Menounos says is using his data to hopefully inform and inspire change at a time when the 11th hour for being able to do anything to address climate change has nearly come and gone.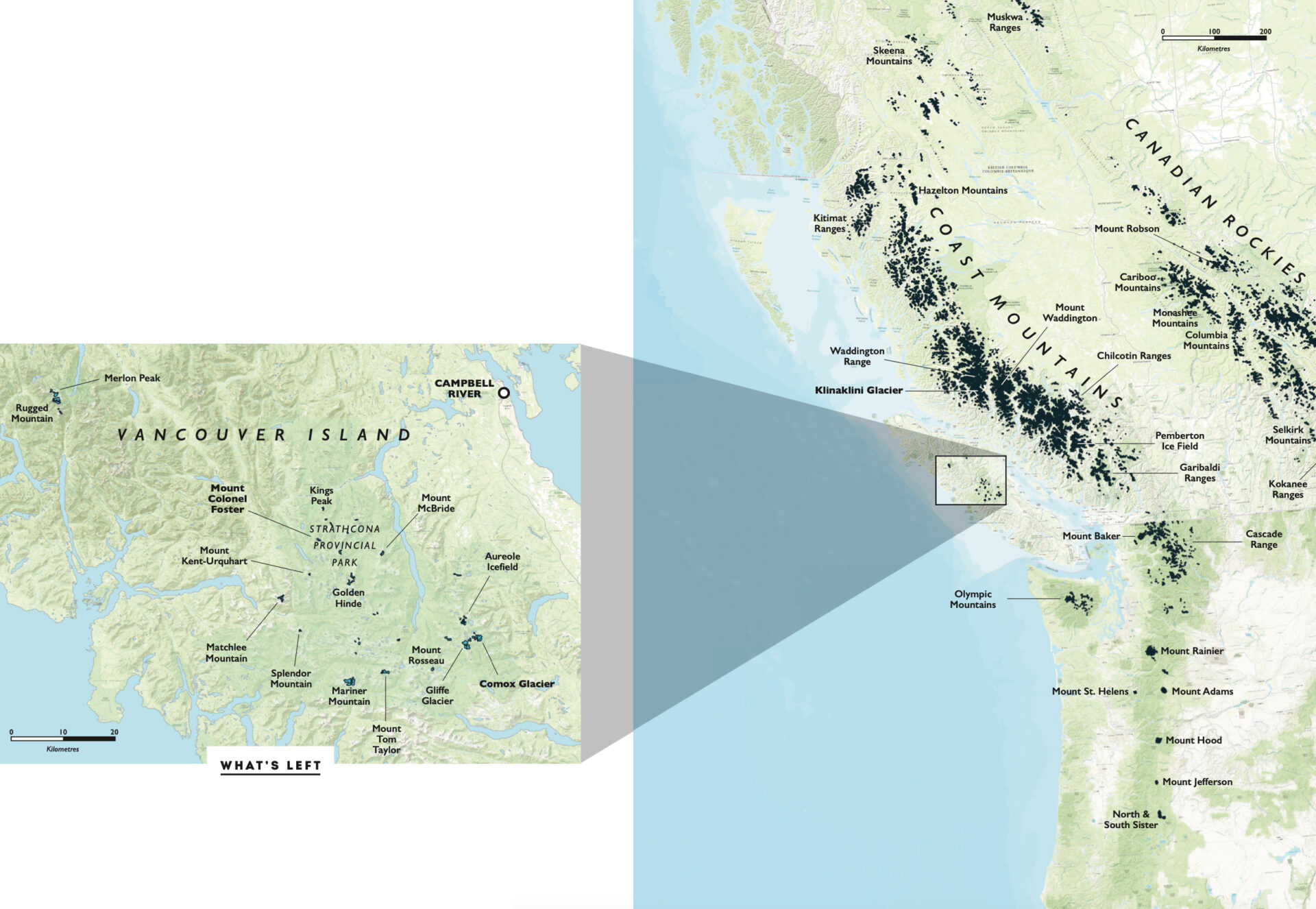 "As people, we have to realize the result of our actions and we need concrete actions by people and politicians," he says. "The cryosphere is changing, not just in Canada, but worldwide."
Every little action matters, he says. Actions, no doubt, like burning fossil fuel to drive a few hours for something so frivolous as climbing and skiing a couloir on a remote Vancouver Island peak. At least we were three people in one car, I say to myself, rationalizing my choices the way humans tend to do.
It's time. I pick up my skis and inspect the tech binding for ice and snow blockages. A pre-release here could be, well, fatal. Satisfied that all is good, I click into my bindings. I summon a deep breath then make a single tentative turn, ice axe in one hand, to arrest a fall if necessary. A long slide slip is followed by another jump turn. Steel edges bite into hard snow that feels immovable and resolute on this late winter day. But it's an illusion. Even the most conservative climate models see average winter freezing levels rising above the mountain tops of Vancouver Island. And that realization tugs on my winter soul.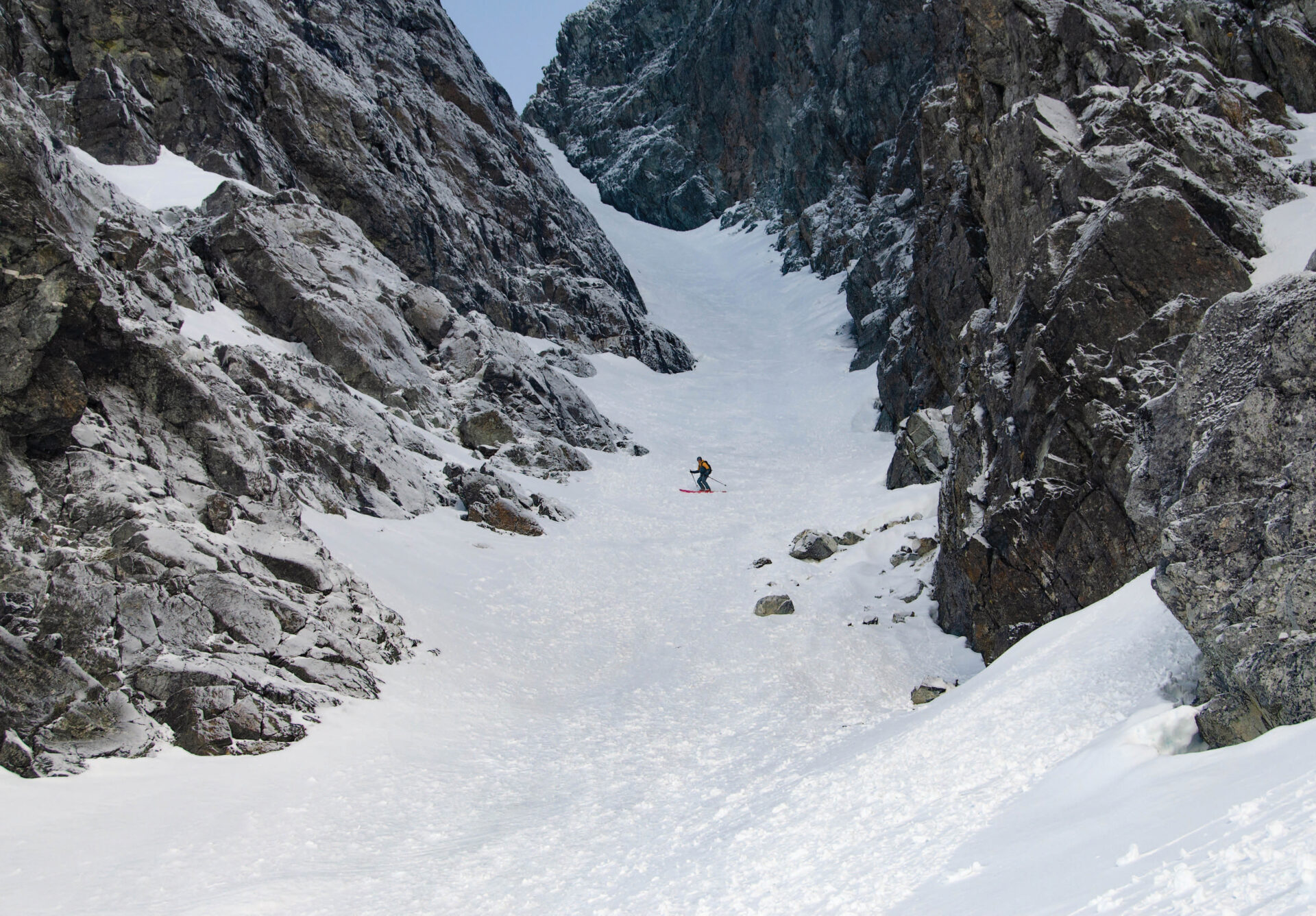 Queneesh
The first aerial photographs of the Comox Glacier were taken in 1931. Since then, its ice has thinned by more the 60 metres and the glacier's surface area has shrunk dramatically. Still, at roughly one square-kilometre in size, Vancouver Island's largest glacier is an iconic landmark that defines the geography of the Comox Valley. It's also culturally significant for Vancouver Island's Indigenous people.
The K'omoks people know Comox Glacier as Queneesh. According to legend, a pending great flood prompted them to load their canoes with provisions and tether the boats to the glacier with a cedar rope. The rains fell and the waters rose. Soon just a tiny patch of ice remained above the surface. Suddenly it began to move, taking the form of Queneesh, "white whale," and saving the K'omoks people from the flood. Since then, Queneesh has stood guard over the Comox Valley.