Whether you're new to Nordic (cross-country) skiing, or it's been a lifelong passion, you'll want to check out the trails available around Nelson and Kootenay Lake.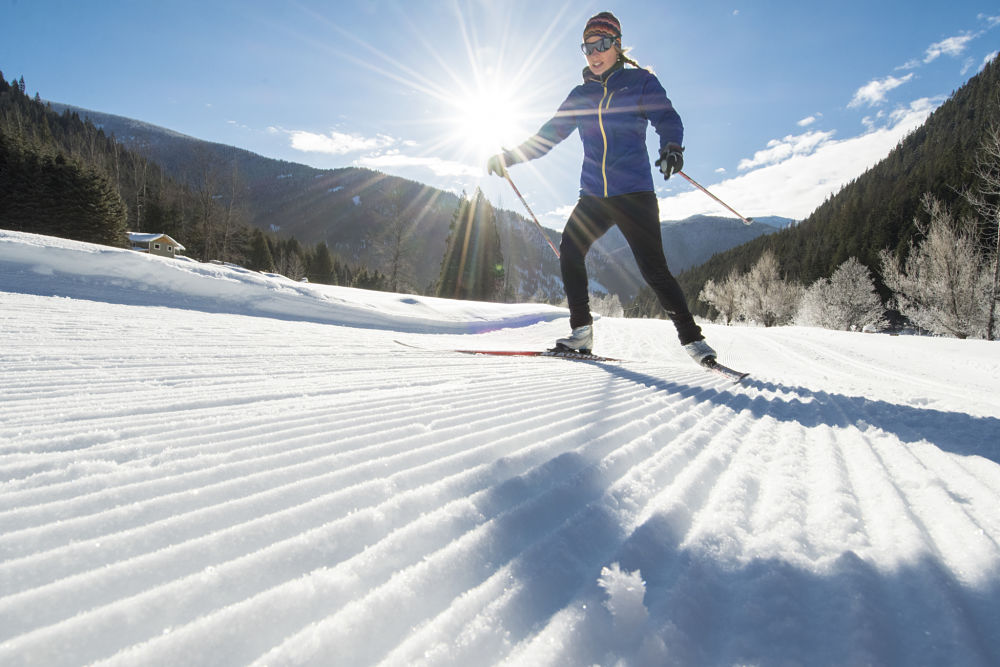 Here, Nordic skiers can find groomed or ungroomed trails, with a variety of options when it comes to surroundings: wilderness or resort skiing, backcountry loops that pass over forestry roads and abandoned railroad passes, or skiers can traverse golf course trails that offer beautiful mountain views. See below for more in-depth information about where you can ski in this area, or visit www.nelsonkootenaylake.com/explore/recreation/skiing/nordic-skiing.
Nordic Ski Club
The Nelson Nordic Ski Club is the place to go for Nordic skiers in the area. The club offers more than 25 kilometres of groomed trails, ranging in level from beginner to expert. Along these trails you'll also find warming huts and washrooms, and a lit loop for night skiing.
Rails-To-Trails Path
This skiing path is a former Canadian Pacific Railway line and a beautiful section of the Trans Canada Trail. This is a dog-friendly trail, and every year several kilometres between Cottonwood Lake and Nelson are groomed for skiing.
Whitewater Ski Resort
This resort sits 10 minutes east of the Nelson Nordic Ski Club. Traditionally known as a place for downhill skiers, the resort also offers 16 kilometres of groomed trails for Nordic ski enthusiasts. These trails offer stunning views of Ymir peak.
Balfour Golf Course
Golf in the summer and ski in the winter at Balfour. This golf course offers gently rolling hills and is dog friendly.
If you want to extend your ski trip beyond Nelson, the Kootenay region offers KootenayXC – eight towns and more than 300 kilometres of groomed trails to explore. Visit kootenayxc.com for more information.