Come January 2009, it will be "Auf Wiedersehen, Germany" and "Hello, British Columbia!" for BC Ferries' new northern vessel, the Northern Expedition.
The 150-metre ferry was launched September 25 in Flensburg, Germany. She'll replace the aging Queen of Prince Rupert in time for the 2009 summer season, providing service between Port Hardy and Prince Rupert on the Inside Passage route. The new ship will accommodate 130 vehicles and 600 passengers, and offer 55 modern staterooms, expanded food services and amenities for travellers.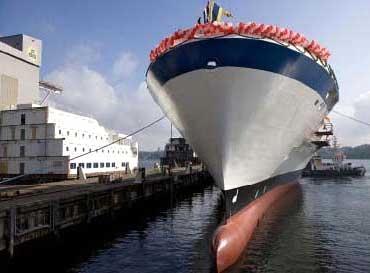 Northern Expedition is the seventh ship to join the BC Ferries fleet since the spring of 2007. Other vessels include the 160-metre, Olympic-themed Coastal Celebration (currently parked at Swartz Bay and slated for to go into service in the near future) and its sister ships, the Coastal Renaissance and Coastal Inspiration.
I doubt BC Ferries will be putting any of these new ferries onto my daily route from Saltspring Island to Swartz Bay, but that's just fine.  The Skeena Queen may not have all the bells and whistles of the newest BC Ferries vessels, but she's still a great old gal, and she gets me where I need to go.
For more information, visit the BC Ferries website.