Find out more about this eclectic neighbourhood in Prince George.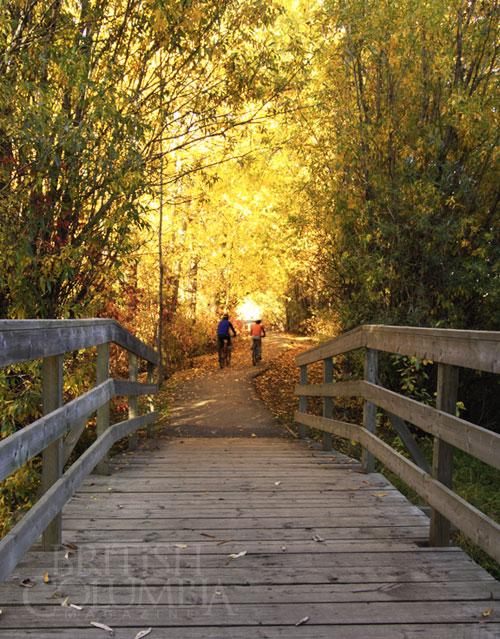 Where: The Crescents, Prince George. Edged by the confluence of the Nechako and Fraser rivers, two of the province's largest watersheds, by railway tracks and sawmills, and by Highway 97.
What: A few blocks from the city's humble and often dusty downtown core, and home to outdoor gear stores and the North's newest/only Iranian restaurant, lies one of Prince George's oldest residential neighbourhoods. The Crescents is a rapidly gentrifying and eclectic mix of dilapidated heritage homes with muddy 4x4s parked out front; modern "character" houses with bright flowerpots; and lots of people out walking and cycling.
Who: University professors, doctors and health care workers who want to live within walking distance of the many medical facilities, retired Prince George old timers, young families.
Telling sign: The one saying "Farmers' Market." Wander there on Saturday mornings to pick up local bison, organic veggies, and a warm piece of bannock with fresh jam.
Two things I love: Going for a run to Cottonwood Island Nature Park and seeing a moose, a black bear, or the island's resident bald eagle. Heading to an opening and artist's talk at Two Rivers Gallery, one of Canada's most northerly "Class A" Art Galleries.
One thing I could do without: People who disdainfully ask about Prince George: "Why would you live there?" Oh, and the poor air quality.
Claim to fame: The Caledonia Writers' Series, which hosted notables from George Bowering to Margaret Atwood, began in Prince George.
Great places to eat: Try the handmade pasta at Cimo Mediterranean Grill.
Best place for a hot or cold brew: Hot: Books & Company, the locally owned bookstore/café, on a Sunday morning to read the paper and browse book bins. Cold: After a trail run, Shooters Bar & Grill downtown or the BX Neighbourhood Pub—remember to order a pint from Prince George's own Pacific Western Brewing Co.
Best way to spend a weekend afternoon: After a session at Chinook Yoga, meeting friends for a latté and a homemade cinnamon bun at Zoe's Java House, finding a great (and cheap!) vintage dress at Chances Are Consignment Boutique, going for a walk in Fort George Park, and planning for a Cinema CNC repertory movie (if the season's right), or a glass of wine with one of Prince George's many writers.
Watch for: The Prince George Native Friendship Centre. Per capita, Northern British Columbia has the province's greatest percentage of indigenous peoples. Located in the transformed old provincial courthouse, this spacious centre trains culinary staff in kitchens that were once holding cells!