Nelson's northeast end has plenty of appeal, including fancy lunches, a clothing-optional beach, and the eye-catching "BOB."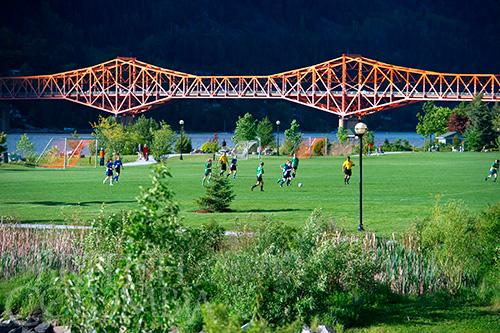 Where: Fairview. While Nelson is famous for its heritage core, the northeast end has hidden gems. Fairview includes the main artery Nelson Avenue and is bounded by Rotary Lakeside Park to the west, and waterfront to the north, extending east towards Svoboda Road, south to Anderson Street and the Gyro neighbourhood.
What: Heritage homes, 1950s-style ranchers, Art Deco structures, and even an old stone outbuilding from when the area was farmland. Home to Selkirk College's Tenth Street campus, and their noteworthy music school.
Who: Urban refugees, ski bums, beach bums, young families, grandparents, techies, tree huggers, truck drivers—you name it, we got it.
Telling Sign: The absence of signs. Ask a friendly local about the trestle bridges on the decommissioned rail line above town, or follow the scent of patchouli and sunscreen to the clothing-optional beach.
Two Things I Love: Proximity and proximity. In two minutes you can be hiking or biking deep in the woods above town, or paddleboarding beneath the bridge.
One Thing I Could Do Without: Goose droppings. The soccer fields are a great place to kick a ball around or join a game of Ultimate—unless the geese have been grazing.
Claim To Fame: The iconic Big Orange Bridge, officially known as West Arm Bridge, was built in 1957 to connect the city to the north shore. A brilliantly coloured community-led mural has only added to the structure's charms.
Great Places To Eat: The seasonal Rose Garden Café in Lakeside Park serves up all-organic beef and salmon burgers with a side of to-die-for yam fries. Also, LOCALS' SECRET: the Selkirk College Professional Cooking Program at the Tenth Street campus serves up a fancy $7 lunch and decadent, inexpensive desserts.
Best Place For A Hot Or Cold Brew: The Bent Fork, on the verge of Fairview, is one of the city's premier coffee and breakfasting spots, and was a favourite of actress Jessica Biel when she was in town filming The Tall Man. Check out the uniquely stencilled plates she gifted to the resto.
Best Way To Spend A Weekend Afternoon: Head up Svoboda Road and hit the trails carved out of the mountainside by the Nelson Cycling Club, then grab a Dairy Queen cone and relax on the public beach beside the bridge or beneath the huge trees that dot Lakeside Park. Listen for the bell to take a trip back in time on the 1906 trolley car that runs along Nelson's waterfront.
Watch For: Gorgeous French Canadian neo hippies offering to let you try their slackline (like a tightrope); square-lensed, iPhone slinging hipsters; nuclear families with alternative lifestyles; an abundance of Subarus; the John's Walk area where ultra-modern houses rub shoulders with straw-bale structures.