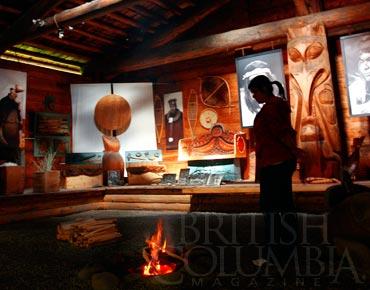 My unaccustomed eye overlooks the empty space from where village chief Gyetdimguldo recently borrowed his amhalayt, until curator Laurel Smith Wilson points out the missing traditional chiefly headdress.
She admits this is not the conventional way of managing artifacts. Then again, 'Ksan Historical Village and Museum is not your average museum. Its cedar walls act more as a community closet than as a vault for untouchable antiquities. Ceremonial dress pieces on display are still owned and used by the local Gitxsan First Nation. "A chief will arrive and say, 'I need to use my regalia for a big feast coming up,'" Wilson says. "I don't know of any other museum in Canada that does that. This is still really a living, breathing culture."
I arrived at 'Ksan in the northern Village of Hazelton after a one-hour drive from Smithers along the Bulkley River, where a fall breeze rustled golden aspen. Here, the tour guides are locals—people whose ancestors called this place home for millennia. A typical 20-year-old in a trendy Bench hoodie and jeans, Bryana Jack is as much a part of the culture as the masks and button blankets. I have the fast-talking tour guide all to myself.
"Some people ask me how it is to be Gitxsan. I just tell them, 'Gitxsan are people who have learned to adapt,'" she says as we stroll the grounds. "I have an iPhone and an iPod. We're Gitxsan—that's how I grew up knowing myself—but I'm Canadian, too."
'Ksan is housed in seven traditional longhouses overlooking grassy lawns that sprawl toward where the Bulkley flows into the Skeena River. The first is home to a museum and gift shop, followed by a carving workshop, silk-screen studio, and Eagle, Fireweed, Wolf, and Frog houses. For $5 visitors can walk the grounds, but a guided tour is well worth the $10 admission.
We enter the Frog House; it takes a moment for my eyes to adjust. Smoke spirals upward from a crackling fire and blue daylight streams down from an opening in the ceiling. An imposing house pole, carved from a huge cedar log, greets visitors from across the room. The energy from these objects is powerful. I have the sense of stepping back in time.
An audio recording fills the building with drumming and singing. A disembodied voice describes the artifacts—fish traps, bear skins, woven cedar baskets—as Jack points them out in perfect synchronicity. 'Ksan isn't just preserving aboriginal culture, it's perpetuating it: "Teaching people about your culture is a good way to learn about it," she says.
After the one-hour tour, Jack shares a traditional Gitxsan story on the sunny steps of the Eagle House. Then I follow a trail, blazed by ancient footsteps of those who fished and gathered here, to the confluence of the Bulkley and Skeena. Leaves fall around me. I think about renewal and how Gitxsan culture faced adversity and survived.
"Some people might view this as the last vestige of life as it was," Wilson says with a warm smile before I leave. "That's not true. The Gitxsan have survived what seemed to be insurmountable events and loss, but they still tell their stories."
Getting there
'Ksan is located in Hazelton, an hour's drive northwest of Smithers on Highway 16. The museum is open year-round; longhouse tours run from May through September.
Info: