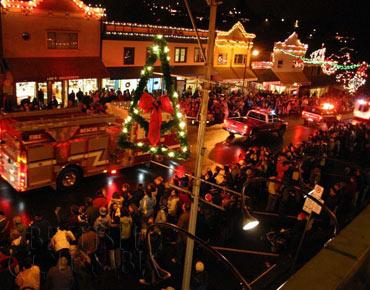 I had been feeling rather grinchy about the coming holiday season. Making faces behind the backs of shopping-mall Santas, grumbling about festive Muzak leaching into public elevators. But suddenly, standing on Ladysmith's darkened main street among 15,000 Festival of Lights revellers, I'm swept up in the countdown to Light Up. Ten, nine, eight. And as a magical, candy-coloured opalescence illuminates the historic storefronts and smiling faces around me – red lights, green lights, white lights, blue; snowmen, angels, Santa, too – I feel my heart grow about three sizes.
This century-old town of 6,800, overlooking Ladysmith Harbour on Vancouver Island's east coast, really knows how to throw a street party. Volunteers string up more than 100,000 bulbs for the late-November event. As dusk falls, a live band rocks out holiday music and the merry citizens – many sporting Santa toques and reindeer antlers – throng into First Avenue. The aromas of spicy samosas, buttered popcorn, hot apple cider, and sugary cotton candy mingle on the breeze as I join the hordes sampling the sidewalk fare.
Post light-up, the sea of celebrants parts for a parade. Four grande dames to my left appear opera-bound in fur-trimmed hats and elegant wool coats; to my right, a young father cradles a baby girl inside his parka for her first glimpse of Santa. The only thing missing from this holiday scene is snow – a long shot in this coastal town where December/January temperatures average 1 to 6 C.
The procession rolls down the twinkling avenue, led by "Lampy," the festival mascot – who, by my best guess, is either some kind of propane camping light or an animated match stick in a conical hat. There are fire trucks new and antique, carollers, marching bands, miniature ponies, semi-trailers bejewelled with tiny lights, and a float-load of Girl Guides with followers dressed as cookies. The crowd responds with ooohs, aaaahs, and, as the hour grows late, a little grousing.
"It didn't last this long last year," says a man behind me, tightening his scarf.
"You weren't as old last year," cracks his companion.
After the parade and fireworks finale, I retire, fittingly, to the Dunsmuir Room at Page Point Inn across the harbour – named for Ladysmith town father James Dunsmuir. In the late 1890s, with resources dwindling at his Wellington mine near Nanaimo, the coal baron began planning a town to house workers near his new Extension mine to the south. Houses, churches, and shops were hauled in pieces by rail or horse and wagon to the new site; the sudden exodus of 5,000 turned Wellington into a ghost town.
As Dunsmuir's town took shape in 1900, the Boer War was much in the news. He named the community for Ladysmith, South Africa, to honour British troops relieved there after a long siege; original streets such as Buller, Kitchener, and Baden-Powell were named for British generals. New Ladysmith sprang to life, with wide boulevards and streets, telephone lines, and electricity for all provided by a coal-fired power plant. Plans called for fine hotels, even an opera hall: though for the many single miners, the dozen or more saloons provided ample entertainment.
Despite creating this relative suburban paradise for his workers, James Dunsmuir (B.C. Premier 1900-1902, Lieutenant Governor 1906-1909) has a coal-smudged reputation. He and his father, immigrant-to-coal king Robert Dunsmuir, employed Island miners to work under perilous conditions – many died in explosions of underground methane gases – and used strike breakers to thwart unions lobbying for better safety regulations. Though James sold off the family's Island mining assets by 1910, the Dunsmuirs had set the stage for the prolonged and violent miners' strikes of 1912-1914 that rocked the Island.
My chief complaint with Dunsmuir's vision is that he failed to provide Ladysmith residents with waterfront access, devoting the harbour to his coal-washing facility and shipping port. When coal died out in the 1930s, logging and milling claimed the industrial waterfront. Today, while the steep hillside town offers attractive ocean views, the E&N Railway and Trans-Canada Highway tend to isolate the neighbourhoods from the shore.
Townsfolk have addressed the problem in part by beautifying Transfer Beach Park, a prettily treed public greens and beachfront across the highway. In summer, families gather to swim in the bay's sun-warmed shallows, to romp around the children's play areas, and to enjoy loggers' sports and outdoor concerts at the 1,000-seat seaside amphitheatre. On a larger scale, the town's Community Plan targets industrial waterfront redevelopment as a key issue for the future: visions include a floating resort hotel, marina, and artists' market amid townhouses and condos.
It's an ambitious but feasible plan. The town has a strong community of artists, and ongoing downtown heritage revitalization is attracting tourism and light-industry entrepreneurs. Seaward Kayaks, a natural fit on the sheltered harbour, recently moved into a huge historic waterfront warehouse once occupied by the Comox Logging & Railway Company.
"We're an attraction for Ladysmith," says Glen Lush as we tour the Seaward factory. "It's a mecca for people with Seawards. They want to come and see where their kayak was made." The company produces "the Rolls-Royce" of kayaks, says Lush, just four a day entirely custom-made by hand and shipped worldwide.
Afterward, I walk the appealing red-bricked sidewalks of Ladysmith's downtown core. Amid the restored 100-year-old storefronts, arcane pieces of multi-levered, cog-wheeled mining and logging equipment, painted black, make for eye-stopping sculptures. Among some 50 heritage buildings, the original 1908 brick-and-stone post office is now a fine antiques emporium. The Black Nugget, a refurbished hotel moved from Wellington in 1900, is a private museum of queer and quirky delights.
As I browse the collection, owner Kurt Guilbride relates a comic tale about Ladysmith's 1908 "gold rush." It seems hotelier Lodwich Jones hired a fellow to re-gild the gold mirror over his bar, sparking a frenzy when locals Walter Miles and John Bickle spied a stray gold fleck outside. Claims were staked and great chunks of Gatacre Street ripped up before the source of the "strike" came to light.
It's hard to tear myself away from the museum and Guilbride's gifted storytelling (ask him about his resident ghost sometime). But I don't want to miss the chance to see some local artisans' work, starting with internationally exhibited potter Mary Fox.
"I'm the unofficial tour guide for Ladysmith," laughs Fox, whose exquisite forms and glazes are coveted by collectors worldwide. Enthusiastic and friendly, she reflects the town's community spirit, directing visitors to the studios of fellow potters, painters, and wood smiths. "I love it here," she says of her adopted hometown. "I'll retire here."
I squeeze in stops at the Good Life custom-furniture shop, Gerry Soroka's "twiggery," where willows are twisted into artful garden structures, and Bayview Framing & Art, the local gallery for painters. And over a fortifying cafe latte at Printingdun Beanery, I fall in love with a stained-glass panel in the window, a Group-of-Seven-inspired creation by Ladysmith artist Harry Reed.
Alas, it's time to go. Charged up with coffee for the drive home to Victoria, I make a last pass of the avenue of lights on my way out of town. Despite rumours that skyrocketing insurance fees could undermine the Light Up, organizers remain confident that the show will go on. Amid the festive glow last night, Duck Paterson, a Festival of Lights director, promised the crowd that the beloved event will continue "as long as there is electricity on Vancouver Island," to resounding cheers – mine among them.
Getting There
Ladysmith is smack on the 49th parallel, overlooking Ladysmith Harbour on Vancouver Island's east coast. It is 85 km north of Victoria on Hwy 1, or, for visitors coming from Vancouver via BC Ferries (www.bcferries.com), 20 km south of Nanaimo. The Malahat passenger train (www.viarail.ca) can also make a Ladysmith stop on its Victoria to Courtenay run.
What To Do
Make merry at the Ladysmith Light Up (www.ladysmithfol.com), last Thursday in November.
Celebrate Ladysmith's 100th year with special events through 2004 (www.ladysmith100.com).
Admire Ladysmith's heritage buildings and artifacts; tour brochures available at the Chamber office.
Don't miss the Black Nugget Museum, 12 Gatacre St., open in winter for Light Up only. Eclectic collection; interior re-creates a cobbled turn-of-the-century street with real historic storefronts.
Score a quart of fresh Japanese oysters at Limberis Seafood Processing (250-245-3021), 5025 Limberis Drive.
Follow the tour of local artists' studios.
Drool over custom kayaks at Seaward Kayaks (800-595-9755; www.seawardkayaks.com), 610 Oyster Bay Drive.
Some Good Eats
Sunflower Cafe (250-245-1331), 626 First Ave. Fine West Coast meals and gorgeous Mary Fox pottery at the most recommended eatery in town.
Printingdun Beanery (250-245-7671), 341 First Ave. Delicious homemade-style soups, scones, and shortbread.
Page Point Inn Restaurant (250-245-2315), 4760 Brenton Page Road. Romantic waterfront dining room; sample wild mushroom tart on mixed greens with truffle oil, local oysters prepared gourmet style.
Some Good Sleeps
While you won't find heritage B&Bs on every corner, Ladysmith has some nice surprises. Check the Chamber's online listings (www.ladysmithcofc.com/accommodations2.asp) and the British Columbia Approved Accommodation Guide (800-435-5622).
Gypsy Wind B&B (250-245-8624; www.gypsywind.bc.ca), 11231 Chemainus Road, 2 km south of Ladysmith. Truly gracious hosts share their restored 1920s Craftsman home by the sea; charming Canadiana and Victorian rooms.
Page Point Inn (250-245-2315; www.pagepointinn.com), 4760 Brenton Page Road. Inn and marina across the harbour from downtown Ladysmith, popular with boaters since 1948.
More information
When Coal Was King by John Hinde (UBC Press, 2003). Ladysmith's Fraser & Naylor Booksellers stock this town history authored by a local academic.
Dunsmuir's Dream: Ladysmith, the First Fifty Years by Richard Goodacre (Town of Ladysmith, 1991).
Ladysmith Chamber of Commerce (250-245-2112; www.ladysmithcofc.com), 132 Roberts St.
Town of Ladysmith (www.town.ladysmith.bc.ca).
Tourism Vancouver Island (250-754-3500; www.islands.bc.ca).