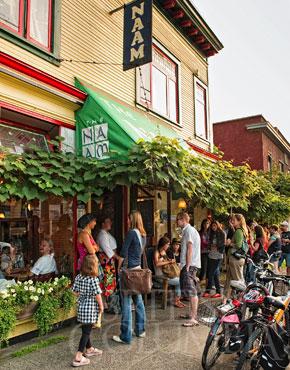 It's a rare trip to Vancouver that does not, for me, include a visit to Kitsilano and a long stroll on 4th Avenue. I lived for two years in Vancouver's South Granville district, just east of Kits, and walked untold kilometres in both neighbourhoods.
Though I moved to Victoria in 2002, I still have cravings that only a visit to Kitsilano can sate. Expanding on Daniel Wood's entertaining profile of "Hippie Kitsilano" in our Spring 2010 issue, I offer up a few shopping and dining spots in the area that are especially dear to my heart—and stomach.
Shopping
Ironhead (www.ironhead.com?), 1952 West 4th Avenue.
I still grieve for the faded, threadbare, black-and-white baby-doll T-shirt I finally had to throw out, after its logo for the fictitious Kitsilano Thunder Kitties sports team was no longer discernable. Manufactured in Canada with high-quality materials and unique graphics, the casual tops and bottoms at Ironhead are treasures you won't find anywhere else.
Second Suit for Men & Women (www.secondsuit.com?), 2036 West 4th Avenue.
Despite the often haughtily indifferent service, my husband and I troll through this secondhand designer-clothing store like Ahab searching for his white whale. And every once in a while, we find it. You'd have thought I'd won the lottery when I found a knee-length, classically tailored black jacket from Vancouver's tony MaxMara shop, in perfect condition and on sale for $35.
Flip Flop Shops (www.flipflopshops.com), 1820 West 4th Avenue.
True specialty stores abound on 4th Avenue. Readerwear (www.readerwear.com), 2149 West 4th, sells nothing but reading glasses. GumDrops (www.gumdropsonline.com), 2029 West 4th, is chock-full of stylish rubber boots, umbrellas, and raincoats. My latest favourite is Flip Flop Shops, its walls covered with Havaianas, Flojos, Tevas, Sole Rebels, and other flip flop footwear. As the store's slogan says, "Live… work… play with your toes exposed!"
Robert Held Art Glass? (604-737-0020; www.robertheld.com), 2130 Pine Street.
Just east of Burrard Street between West 4th and 5th, this hot-glass studio is the source of Robert Held Art Glass pieces sold in galleries and gift shops around North America. Watch artisans heat their glass in fiery industrial kilns and manipulate the glowing, molten blobs into exquisite light-filled vessels. Finished pieces are displayed in the onsite gallery.
Hana Elegant Japanese Porcelain? (604-731-3545), 2039 West 4th Avenue.
It's easy for me to lose an hour in this serene store, admiring rough handmade pottery, elegant silk blouses, and delicate Japanese tea sets and assorted tableware in glazes from matte black to pearly celadon green and iridescent baby blue. Fine quality, great gifts.
Chocolate Arts? (604-739-0475; www.chocolatearts.com?), 2037 West 4th Avenue.
Is this shopping or dining? It's hard to say. The chocolate treats are so beautiful, you may have a hard time eating them—or giving them away. Artist Robert Davidson designed the Frog, Moon, and Killer Whale figures on the dark-chocolate Haida medallions. The pieces come wrapped in cream-coloured tissue and white parchment, tied up with black ribbon and a "legend card" from the artist. Très élégant.
Dining
Jitters Caffe? (604-731-0222), 1966 West 4th Avenue.
This foot-worn shopping soldier has trooped into Jitters many a time for a caffeine pick-me-up. Take a comfy chair in this funky, decidedly un-corporate coffeehouse for truly superb Americano coffee. Baristas top up a shot of lightning-bolt espresso with hot water, creating a dense, golden-brown coffee crèma that lingers on the surface like a wake-me-up kiss.
Sophie's Cosmic Café (www.sophiescosmiccafe.com).
As you peruse the menu here (plenty of big breakfasts and burgers), the surrounding chaos of memorabilia crowds your senses: the diner-style red-vinyl booths, counter stools, vintage Coca-Cola signs, sports jerseys, Marilyn Monroe posters, and—my favourite—the wall-mounted billiards tabletop adorned with a huge trophy fish. In keeping with the cheerful '50s ambience, Sophie's whirls up real ice-cream milkshakes in classic stainless-steel tumblers—vanilla, chocolate, strawberry, coconut, almond, espresso, banana, and fresh orange juice flavours.
Solly's Bagelry Ltd?. (604-738-2121; www.sollysbagels.com)?.
Oh, how I love this crowded little bakery on West Broadway. Solly's serves fresh authentic bagels with a schmear of cream cheese as thick as a doorstop and—yes, I know I'm going out on a limb with this—the world's best cinnamon buns. Just thinking of those warm, soft, aromatic, slightly yeasty, sticky-sweet pull-apart buns makes me happy. (And for those of you who insist on a goopy layer of icing on your cinnies, fuh-getta-bout-it.)
Les amis du FROMAGE? (604-732-4218), www.buycheese.com), 1752 West 2nd Avenue.I blame this specialty cheese shop for my insatiable addiction to St. Agur, an extraordinarily creamy, smooth, delicately pungent French blue cheese. Little did the knowledgeable staff at Les amis du FROMAGE know how hard it would be for me to find this delectable product in Victoria. For those foodies who enjoy cooking as much as they do eating, don't miss Barbara-Jo's Books to Cooks (604-688-6755;www.bookstocooks.com) at 1740 West 2nd, right next door to the cheese shop. Barbara-Jo's stocks hundreds of specialty cookbooks and offers cooking classes in its demonstration kitchen.
The Naam Restaurant (604-738-7151; www.thenaam.com), 2724 West Fourth Avenue.
Incredibly, this casual vegetarian eatery (pictured above) is open 24 hours a day, 7 days a week, with live folk, blues, or jazz music most evenings. On my first visit, I went gaga over the fries with miso gravy—the latter is so good, it's bottled and sold in grocery stores. The Cashew and Avocado Enchilada, Tempeh Reuben Sandwich, and Thai Dragon Bowl (coconut-curry sauce over veggies, tofu, and brown rice) are just a few of the more than two dozen tasty options for lunch or dinner. A vegetarian sanctuary and Kitsilano institution since the '60s.