A vintage silver dollar in the West Kootenay's pocket.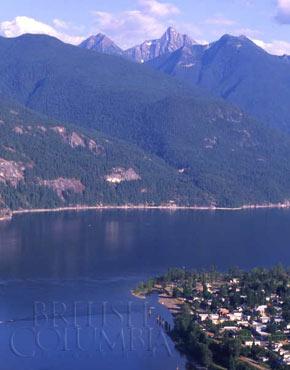 Atop 1,912-metre Mount Buchanan, deliriously high above the little Kootenay town of Kaslo, the musicians are warming up. Literally. As the August sun sets, the alpine temperature plummets, prompting our concert trio—a local harpist, violinist, and cellist—to don parkas, toques, and fingerless gloves. A stiff breeze cuts across their impromptu stage, a wooden hang-gliding launch backed by an astonishing amphitheatre of rosy-tipped Purcell Mountains. Far below, Kootenay Lake turns pewter blue as dusk descends.
I'm one of just 20 in the high-altitude audience, our camp chairs encircling the torch-lit stage. As the trio begins a haunting Celtic melody, the full moon crests—for a moment, it's a molten spot of fire on the mountain horizon before the jolly white man-in-the-moon ascends. Snuggled in sleeping bags, wool blankets, and polar fleece, we are bathed in moonlight and music.
Leni Neumeier organized the first Moonlight Serenade seven years ago when she started her Discovery Canada guiding business in Kaslo. Offered during full moons in July and August ("in September it's just too cold up there, and in June there's still too much snow"), the special event nicely captures the little town's spirited blend of culture and outdoor adventure.
On the culture side, Kaslo (pop. 1,032) has music, art, history, good food, and great coffee. The outdoor Jazz Etc. Festival in early August has been drawing crowds for more than a decade. The historic 1896 Langham Cultural Centre features two art galleries and an 80-seat performance theatre. And beached on the waterfront is the town's star attraction, the 1898 SS Moyie, oldest passenger sternwheeler on the continent.
For outdoor adventure, you can't beat these surroundings. Set between the Selkirk and Purcell mountains, on Kootenay Lake's west shore alongside the Kaslo River, Kaslo vies for top honours in any pageant of British Columbia's beauty spots. On a summer's day, you can hike, golf, fish, swim, paddle, or go houseboating on the 105-kilometre-long lake. Just south of town, there is underground exploration at Cody Caves Provincial Park and alpine exploration in 320-square-kilometre Kokanee Glacier Provincial Park.
Neumeier, who grew up in the Bavarian Alps, says the mountain hiking around Kaslo surpasses even her homeland. "The mountains are bigger here, and there is so much more wilderness."
Former Vancouverites Cathy and Carlos Jordan, who opened their charming Beach Gables inn on the downtown lakefront in 2000, hear a similar refrain from their European guests. "The Germans, they really like it," says Carlos. "They say it's just like The Alps, only without the crowds."
On downtown Front Street, the false wooden fronts and sturdy brick facades of Kaslo's restored Victorian buildings lend a Norman Rockwell quality to the business core (though, on closer inspection, I spot an Internet provider and several purveyors of cappuccino.) There are no malls here, no ubiquitous chain stores, no parking meters: drivers actually pause to chat at the four-way stop.
With a copy of Heritage Homes and Buildings of Kaslo in hand, I stroll the sun-dappled streets, past vintage white churches and the original 1895 brick fire hall. At 4th Street and B Avenue, I stop to admire the grand sweep of a double staircase on the 1898 City Hall; atop the stairs, a civic employee taking her morning coffee gives me a friendly wave.
Kaslo's century-old buildings are a legacy of the early 1890s silver boom at nearby Sandon, now an intriguing ghost town. Incorporated as a city of some 3,000 in 1893, Kaslo evolved (as silver prices slumped) from mining supply centre to orchard community; today, forestry and tourism support the community. Logging trucks occasionally rumble through town on Highway 31; otherwise, there is little evidence of Kaslo's industrial foundations, no obstacles to the scenic lake and mountain views. Outside the local realty office, I join a growing pack of urban coyotes drooling over fresh listings.
Kaslo's living history is a major attraction for visitors. Some 30,000 a year walk the planks of the 49-metre Moyie, a National Historic Site. The "sweetheart of the lake" served Kootenay Lake's shoreline communities from 1898 to 1957, transporting passengers, ore, lumber, and orchard fruit. Since the town bought the Moyie in 1958, volunteers have undertaken a complete restoration.
Once issued my "boarding pass" (adult $5), I roam from the Moyie's apple-box-stacked Freight Deck up through the elegant, parquet-floored Saloon Deck. The re-created hum of engines, click of typewriter keys in the Purser's Office, and recorded sounds of a mother soothing her baby in the Ladies Saloon bring the sternwheeler to life.
In the Men's Smoking Room, I linger over a delightfully odd display. For decades, passengers used whatever was handy to wedge open the windows for fresh air, and restoration workers have rooted out some nifty time-travelling trash from the window casings: classic Neilson's chocolate-bar wrappers, Player's cigarette packs, faded Canadian Pacific travel brochures, comic books, and magazines from the early 1900s.
Up top in the Pilot House, I grin at the ingenuity of the Moyie's restoration fundraisers. Next to the donation box, a prominent sign reads, "Blow the whistle, $5.00." You show me any kid anywhere that could resist that whistle cord.
History hasn't always been so kind to Kaslo: 1894 was the kind of year that can make or break a pioneer community. On February 25, a great fire razed the Front Street business district. On June 3, hurricane winds flattened some 70 houses and hotels. To top it off, the storm cut loose a great logjam on the Kaslo River, which swept through town the next day on a second wave of destruction. Undaunted, residents rebuilt and resumed their traditions. Visit Kaslo on the Victoria Day weekend this year for the 111th May Day celebrations, including the children's ribbon-weaving Maypole Dance.
Kaslo's Langham Hotel played a role in another dark period in history. Built in 1896 to house silver miners—and slake their mighty thirst at its 25-metre bar—the Langham later housed Japanese-Canadians interned in the Interior following the 1942 attack on Pearl Harbor. Of some 22,000 relocated from B.C.'s West Coast, 1,200 came to Kaslo, well outnumbering the town's 500 residents. The Langham held about 80 in 1943, with families of six or eight crowded into tiny rooms. While some chose to build new lives in the Interior, internees were barred from the coast—and denied their voting rights—until 1949. An informative permanent exhibit now lines the Langham's halls.
On my last afternoon in town, I hike the steep, switchbacking Wardner Trail from upper Kaslo. The view from the aerie doesn't disappoint. Kaslo rolls out on the terrain below, neatly bordered by river, lake, and mountains. As I watch the light deepen from flaxen gold to amber across the landscape, I hear the Moyie's basso toot echo faintly over the lake: it's the sound of history being preserved, one whistle pull at a time.
Getting There
Kaslo is 70 kilometres north of the City of Nelson, on Hwy 31 in the West Kootenay. Nelson is about 660 kilometres east of Vancouver, a 10- to 12-hour drive.
What To Do
Admire local art at Kootenay Lake Gallery (250-353-2409), 421A Front Street, upstairs.
Board the historic SS Moyie (250-353-2525), beached on Front Street.
Book an alpine hike or kayak trip with Discovery Canada (250-353-7349; www.discoverycanada.ca); inquire about the Moonlight Serenade.
Float your boat on Kootenay Lake; rentals at Beachcombers Marina (250-353-7777) and Woodbury Resort (250-353-7717); houseboats from Kaslo Shipyard Co. (250-353-2686; www.netidea.com/shipyard).
Follow Hwy 31A, a ghost-town road west of Kaslo: museum and gift shop at old Sandon site (250-358-7920; http://stats.slocanlake.com/sandon); popular trail here to Idaho Peak alpine.
Four-wheel up to 1,912-metre Buchanan Lookout; map available at Info Centre.
Go underground at Cody Caves (250-353-7364), south of Kaslo on Hwy 31.
Groove to tunes at the Kaslo Jazz Etc. Festival (www.kaslojazzfest.com), August 1-3, 2003.
Hoof it up Wardner Trail for a lovely overview of Kaslo; map available at Info Centre.
Play the nine-hole Kaslo Golf Course (250-353-2262).
Shop downtown Kaslo for antiques, art, giftware, hemp clothing, and more.
Soak your bones at Ainsworth Hot Springs (250-229-4212), south of Kaslo ON Hwy 31.
Tour the town with the nicely illustrated Heritage Homes and Buildings of Kaslo: A Walking Tour ($8.95 at the Info Centre).
View exhibits at Langham Cultural Centre (250-353-2661), A Avenue and 5th Street.
Where To Eat
Very good eats, including an organic food market, juice bar, European deli, and espresso bars at every turn.
Crooked Cafe and Meteor Pizza (353-7361), 4th and Front Street. A bean-hound's Nirvana, serves Osso Negro coffee roasted in nearby Nelson. Building is slanty but the food's plumb good: bagels 'n' lox, salmon burgers, gourmet pizza.
Beachcombers Resort (250-353-7777), 551 Rainbow Drive on the marina. Top-notch halibut 'n' chips and frosty cold beer at Fisherman's Tale Pub; finer dining in The Rainbow Room.
Treehouse Restaurant (250-353-2955), 419 Front Street. Primo homemade Hollandaise on the Eggs Benny.
Silver Spoon Bakery/Cafe (250-353-2898), 301 Front Street. Coffee and bakery treats; unbeatable lake view from the patio.
Where To Stay
Good in-town accommodation isn't abundant but lakefront B&Bs abound between Kaslo and Ainsworth Hot Springs. Check North Kootenay Lake B&B Network online (www.kin.bc.ca/BandBNet/BandBhome.HTML) and British Columbia Accommodation Guide (800-435-5622).
Beach Gables (250-353-2111), 243 Front Street. Two guest rooms under the pretty gables; quirky heritage charm, lake views, steps to the Moyie; bed only, no breakfast.
Kaslo Motel (250-353-2431; www.kaslomotel.com), 330 C Avenue. Clean, basic in-town lodgings.
More Information
Kaslo Visitor Info Centre (250-353-2525; www.klhs.bc.ca), 324 Front St, adjacent to the Moyie, May to October.
Kaslo and District Chamber of Commerce (www.kin.bc.ca/chamber/aboutkaslo.html).
Go West Kootenay (www.gowestkootenay.com).
Tourism Rockies (250-427-4838; www.bcrockies.com).