While we often hear of communities raising money to build skateboard parks, longboarders have been left to fend for themselves, often using roadways, parking lots or sharing spaces that aren't really meant for them. But about eight years ago, a dedicated group of longboarders in the Okanagan set out to change that.
The Kamloops Longboard Park started as a dream in 2012, and it became a full-fledged reality in the fall of 2014. The park is maintained by the Kamloops Longboard Club (KLC), a non-profit organization currently headed up by president Patrick Mutrie, and vice-president William Chung.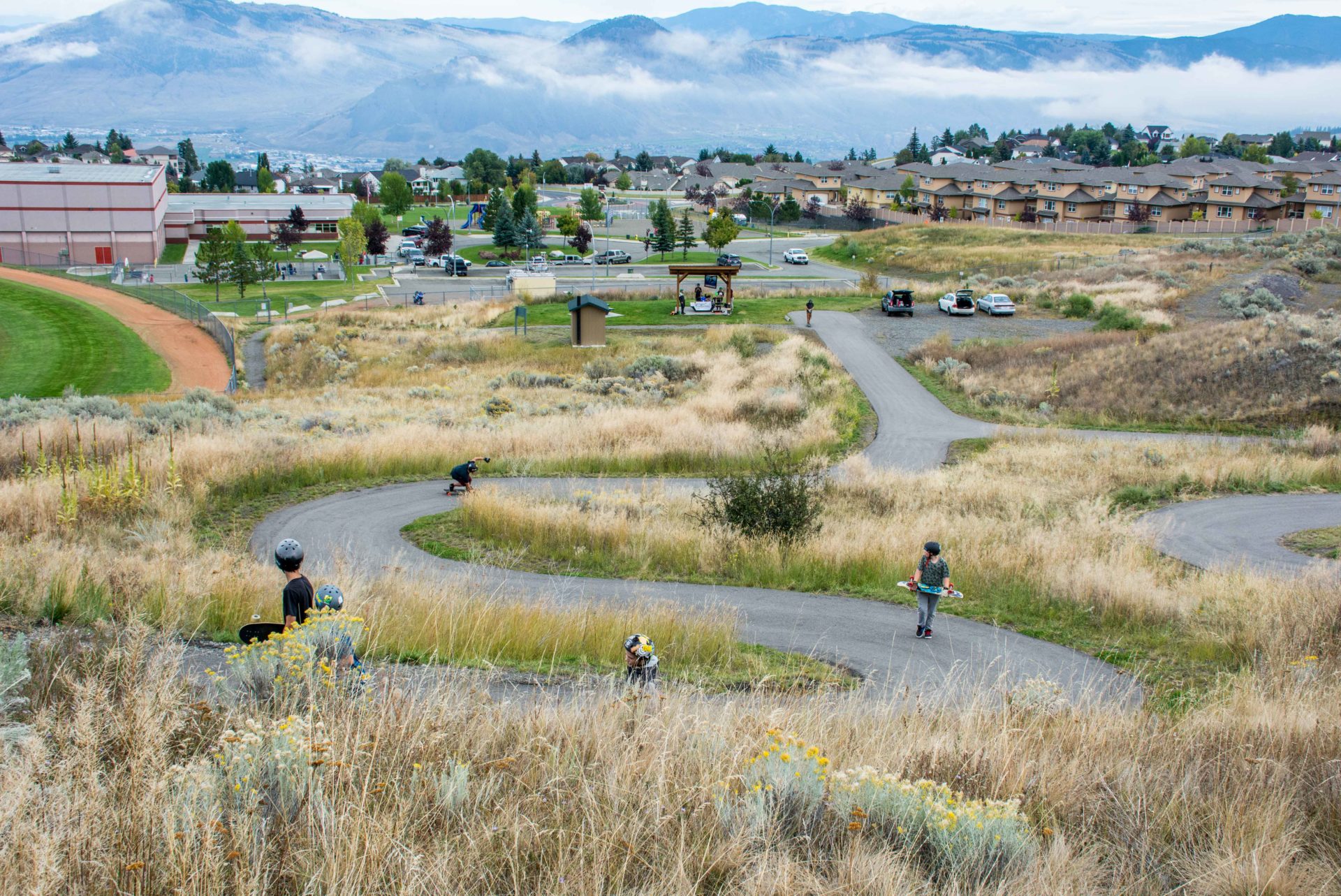 For those that aren't familiar with longboarding, Chung explains: "Unlike traditional skateboarding, where tricks are performed on ramps and rails, longboarding utilizes hills, corners and flat ground. Longboarding is generally split into three categories: freeriding, downhill and dance. Freeriding is a discipline more comparable to drifting cars, where riders bring their board sideways and skid the wheels to slow themselves down. Adding intricate spins and hand grabs increases the difficulty of the trick. The goal of downhill is to take corners with a fast entry and exit, with as much speed as possible, executing clean lines with strong form, like Formula 1 or rally car racing. Sliding is very important but done minimally. Lastly, and the most intricate, is dance. Generally done on flat pavement or a very slight slope, skaters maneuver and carve while doing pirouettes, fancy footwork and flip tricks like in traditional skateboarding. It requires a great amount of balance and coordination."
Currently, the Kamloops Longboard Park is the only park fully dedicated to longboarding in the world. The park is 355 metres long, with two runs: the Blue Run and the Black Run.
"Both are three metres wide," Chung says of the runs, "with six turns each, and a vertical drop of 22 metres, ending in a four-metre-wide straight shutdown/slide area."
Chung goes on to explain that the easier of the two runs is the Blue Run.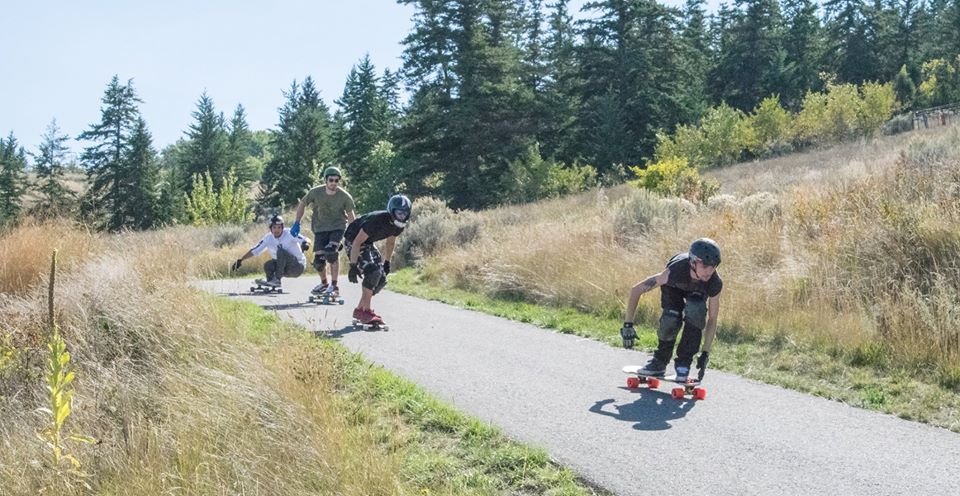 "It features five sweeping corners and one off-camber pinching right with long straights in between. Each of the corners on the Blue Run are uniquely challenging in their own ways. The first three turns can be taken at slow speeds and be very mellow or quite challenging to grip with a fast entry. The fourth turn, a sharply angled right, is a full drift corner with the fastest entry speed of any turn at the Longboard Park. Moving down the track into corners five and six, we come into a rally section of the Blue Run. Choosing to drift or grip, riders can take a sharp left turn uphill onto the Black Run to slow a stop or stay right, moving swiftly into the slide zone." The Blue Run is 235 metres in length.
"The Black Run features six corners in total, the top three being banked off-camber and the fourth being a beautiful waterfall left hairpin," said Chung. "These first four corners are very steep, and it is strongly recommended riders feel comfortable carving and sliding before attempting to ride. Immediately after the waterfall left is a playful, flat right leading into a simple left jog before the path merges with the Blue Run and into the slide zone." The Black Run is 120 metres in length.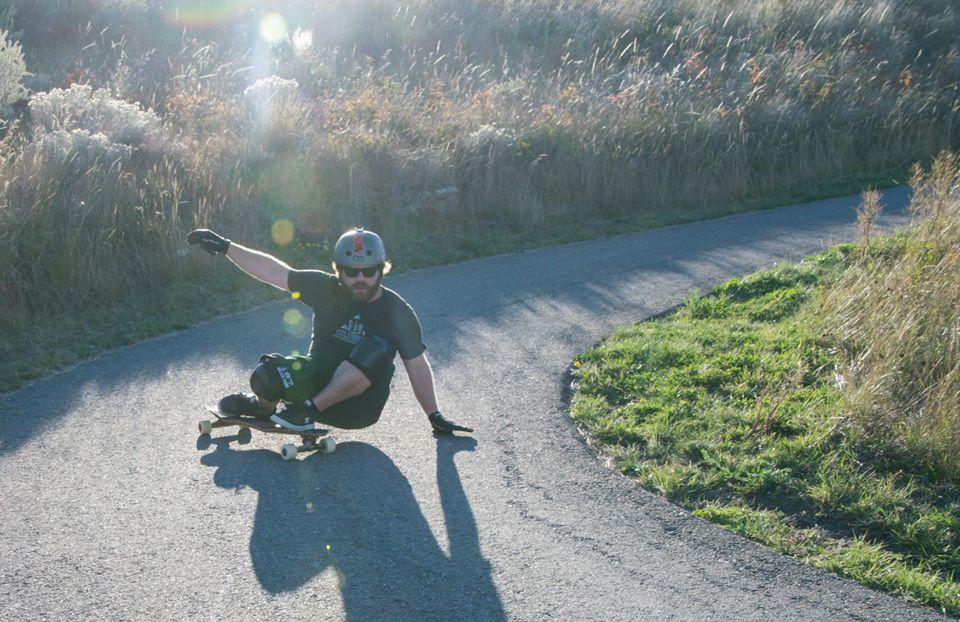 The KLC has hosted 14 events so far, with amenities at the park including two picnic tables, a gazebo and an outhouse.
Going forward, the KLC wants to continue to promote longboarding and safe skating, and they have big goals in mind for the Longboard Park.
"In the near future, we hope to install a few more runs, a pump track, and a larger flat ground area for dance," said Chung. "The one thing our park needs the most is a Green (easy) Run, as the Blue Run can be quite intimidating for someone trying longboarding for the first time. It will be wider, even less sloped, and offer banked corners to practice carving. With this addition, we would then be able to run longboard camps for all skill levels in one location. KLC's biggest goals are to make longboarding accessible to people of all ages, skill levels and abilities, promote longboarding in a safe environment and advocate helmet safety."
NOTE: With COVID-19 still a concern in communities across Canada, the provincial government warns against travel of any kind, and everyone is encouraged to maintain social distancing. Stay safe! The Kamloops Longboard Park will still be there for riders when restrictions are eased.