A weeklong boat trip in Gwaii Haanas reserve highlights a treasure chest of wild wonders and haunting Haida cultural sites.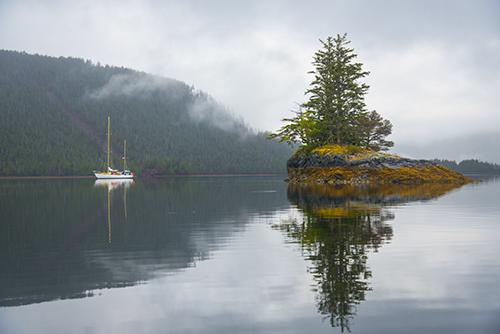 Tap-a-tap-tap. I wake before 6 a.m. to a soft knock at my cabin's door and a muffled voice: "You're going to want to see this."
Within seconds I've yanked on my fleece pants and waterproof jacket and stumbled up to the deck of Ocean Light II. The bay we're anchored in is calm and silent and the sky is a shifting shade of sapphire. I tiptoe over to the starboard side, trying not to wake the others below, then scale the ladder along the side of the sailboat to drop into the rigid-hulled inflatable. Skipper Tom Ellison and another photographer are already aboard, clutching mugs of steaming coffee.
An eagle glares at us from its post on a snag at the edge of the dense coastal rainforest as we hum past the shoreline, seeking the best vantage point to watch the sun emerge over Hecate Strait. As we slept, the tide was peeled back from the rock shore, revealing a fleshy mass of deep green kelp and rockweed punctuated with sea stars and urchins. We pause to watch light filter through a cluster of trees marooned on a tiny islet. Something splashes close to our bow, breaking the silence.
"Look at this place," says Ellison in a whisper. "It's alive."
I arrived in Gwaii Haanas (shorthand for Gwaii Haanas National Park Reserve, National Marine Conservation Area Reserve, and Haida Heritage Site) by floatplane from Sandspit the day before, along with six other guests and a week's worth of supplies. The Ocean Light II, a 20-metre-long ketch-rigged sailboat, was waiting for us in Darwin Sound. After we had squeezed our possessions into our berths we began a day's journey south to Rose Harbour, a former whaling station and hub for kayakers. From there we will slowly return up the eastern coastline exploring cultural and wilderness highlights along the way.
Like many travellers drawn to wild expanses I've dreamed of visiting Gwaii Haanas for years. The park, whose name translates to "Islands of Beauty," encompasses more than 200 islands, spanning 1,500 square-kilometres in the southern portion of Haida Gwaii (once known as the Queen Charlotte Islands), a horn-shaped archipelago perched on the edge of the continental shelf. The Pacific Ocean meets the western shore. To the east the tempestuous Hecate Strait, more than 100 kilometres wide in places, separates the northern mainland coast of British Columbia. "Gwaii Haanas" conjures up images of kaleidoscopic intertidal life; moss-laden rainforest with towering, centuries old trees; leaping dolphins and whales; the world's largest black bears; and weathered, ancient Haida poles and village remains. It's a place, in short, with major mystique.
The main event of our first full day of exploring will be a visit to SGang Gwaay Llnagaay (Ninstints) village site, on Anthony Island (SGang Gwaay). While we wait for the group ahead of us to finish their tour, we clamour into the inflatable to circle a cluster of small islands to the south.
From Rose Harbour we crossed through Houston Stewart Channel and are now on the exposed west side of the archipelago where the waves beat stronger and the view is an unbroken expanse of leaden Pacific waters. Though it feels like we're at Haida Gwaii's most southerly reach, the archipelago stretches another 25 kilometres to the southeast out of view, tapering off from Kunghit Island.
At least 4,000 Steller sea lions live in the waters of Haida Gwaii during the summer (more in winter) and as we round a corner I gasp at the sight of a roiling, growling crowd of them. A dozen dive off the side of their rock bench and then, like a well-practised synchronized swimming team, paddle back and forth in unison while craning their necks, eyes locked on us. Farther along we spot a massive male flattened against a rock, so motionless I'm sure it's dead. But as our boat approaches, the animal rears up, gives the back of its neck a lazy scratch with a flipper, and then puffs out its chest, assuming a regal pose for our cameras.
We carry on to a barren rocky island, white washed with seabird droppings and as jagged as a splintered stump. A pair of glaucous-winged gulls land upon the highest spire and squawk into the wind. Gwaii Haanas is important habitat for seabirds—half of the 1.5 million that breed around Haida Gwaii are found in the reserve. As we putter through a channel, a flock of pigeon guillemots, with their fluorescent red feet, streak past, chasing one of their brethren that has a small silver fish dangling from its beak.
At SGang Gwaay Llnagaay village site, a UNESCO World Heritage Site, we stumble up a pebbled bank and are met with a nod by James Williams of Skidegate, one of three Haida Gwaii Watchmen stationed here for the summer. A dramatic standoff on Lyell Island in 1985 between the Haida and the logging industry eventually led to the creation of Gwaii Haanas in 1993. Today the area is co-managed by the Haida Nation and the Canadian government. Watchmen are tasked with being both guide and guardian at key cultural sites.
"For a lot of people, I'm the only Haida they'll meet," Williams says later when I ask about his job. "Basically their whole impression of the Haida rests with me. I approach that with great pride and dignity."
I trail the guide down a short path and spot the first cluster of poles in a field of waist-high grasses. A fire blazed through here in the early 1900s, smoothing the edges, and visitors aren't allowed to approach these weakened poles. We carry on across a driftwood-strewn beach and suddenly I'm standing in one of Haida Gwaii's most iconic scenes; it's just as haunting and beautiful as I imagined. A collection of mortuary and memorial poles in varying positions— some upright, some leaning—are spread out facing the semi-circular beach. There are cavities at the top of the mortuary poles where boxes containing the remains of chiefs or other high-ranking individuals once rested. Patches of moss and grass are attempting to fill the spaces. The carvings are weathered and split, and anything that once protruded, like an eagle's beak, is long gone, but many of the faces, claws, tongues, and other etchings in these old cedar trunks are still remarkably recognizable.
The magnitude of the history here is palpable. Smallpox ravaged this village, as it did Aboriginal communities all along the coast, starting in the 1860s. Perhaps 30,000 Haida lived on Haida Gwaii and in Alaska at the time of contact; after the disease waned, there were fewer than 1,000. The survivors abandoned this site in the 1880s.
Williams leads us through the clearing, bordered by spruce and salal, pointing out features of some of the 23 poles that still stand. "The poles were not intended to be art," he says, "they were to tell a story, for identification, and to depict status. House poles acted like an address."
Several of SGang Gwaay Llnagaay's poles were removed in the 1930s. And in 1957 the British Columbia Totem Pole Preservation Committee took 16 sections of 11 poles to be preserved in museums. By that time the 16 or 17 longhouses that followed the curve of the bay had largely disintegrated. Today all that remains are pits and some fallen moss-covered beams.
As the others continue down the path, I linger, watching an eerie cloud of fine sea mist blow in. It casts a gauzy net over the poles, with their exaggerated features and expressionless eyes that have stared toward Houston Stewart Channel for more than a century.
Bundled in a wool hat and multiple layers, I settle back on deck and close my eyes against the wind. Our forays onto the islands and out in the kayaks or inflatable are interspersed with long stretches on the sailboat. At times I start to twitch, wondering about all the potential discoveries we're passing by—the black lump in the distance that might be a bear, the dark ripple in the water that could be a fin, the secrets behind the evergreen curtain that abruptly cuts off the jagged shore. But it's also refreshing to relinquish my agenda.
During the stormy season, waves on the Hecate Strait can reach an incredible 15 metres (freak waves as high as 30 metres have been recorded), giving the area the reputation of being the fourth most dangerous waterway in the world. But in the summer the weather is better behaved and it's smooth sailing for us. Most of the time there are no other boats in sight.
As often occurs when strangers converge through happenstance, the group bonds quickly over shared experience. At night we sip wine, play games, and swap stories in the cabin. During the day we pore over books on local sea life and share photos from the day's adventures when not unofficially taking turns scanning for wildlife. More than 3,500 marine species have been recorded here, including 20 species of whales and dolphins. They largely elude us except for one humpback that treats us to a spectacular leap and then disappears.
"I never get tired of Gwaii Haanas," Jenn Broom says as we sit on deck one afternoon staring at the horizon. The industrious 45-year-old owner of Ocean Light II, who doubles as cook and crew and is as comfortable crushing the skull of a fish as she is baking dainty flower-shaped gingerbread cookies, has been sailing here for 30 years. "There's so much to explore. And it's always changing. No one sees it the same. I had one couple who came five years in a row because it was different every time."
Later as we sail off Burnaby Island she shouts, "Look! It's a sunfish!" A large grey fin flops back and forth, breaking the water's surface. Attached, out of view, is a member of the world's heaviest bony fish species. (A 1.8-metre-long ocean sunfish can weigh more than two fat coastal grizzlies combined.)
We hope for a more modest catch when we stop to jig the next day off Ramsay Island. David duChemin of Vancouver pulls up a healthy red snapper and Broom hauls in a prehistoric looking lingcod. Oliver Dack, a young veterinarian from England is equally as proud of his catch—a lumpy sea cucumber that quickly gets tossed back.
I dip my paddle gingerly, trying to avoid the delicate jellyfish appearing at the surface as pale polka dots, and point my kayak south. Our trip, according to Ellison, coincides with one of the best tides of the year and on our fourth morning conditions for exploring Burnaby (Dolomite) Narrows are perfect.
I paddle through the narrow channel between Burnaby and Moresby islands until the water becomes too shallow, then peer, wide-eyed, over the side. It's like a giant treasure chest was cracked open and all the jewels sprouted legs and gills. Amongst thick bushels of bowed eelgrass there are tiptoeing northern kelp crabs and colourful anemones. The sandy bottom and rocky ledges are adorned with a constellation of purple stars, along with bat and leather stars in orange, red, and blue, with the occasional giant sunflower star among them. Lewis's moonsnails creep past clamshells, the occasional delicate nudibranch, and purple and red sea urchins. Red rock crabs lock in an embrace. A black giant sea cucumber with red spikes looks like something out of a Nintendo game. More than 200 species of sea animals have been tallied here, in huge concentrations.
We squeal and gasp at the extraordinary display. "It's like being eight years old again," says Dack.
Despite its vibrancy this is a fragile ecosystem, and, to prevent damage, we're not allowed to walk on the shore. Ellison furrows his brow at the sight of a drop of oil creating a rainbow on the water's surface. It's a reminder of the controversy bubbling over in B.C. about the prospect of supertankers plying the waters of and around Hecate Strait. While 3,400 square kilometres of waters surrounding the park reserve's islands are protected, that invisible barrier would be of little use in an environmental disaster. Many Haida are fiercely concerned about the well-being of their territory.
On our last night out on Hecate Strait we come ashore on a pebbled beach strewn with opalescent abalone shells in the Skedans Islands, just outside of Gwaii Haanas. While Broom bakes salmon and bannock over a fire, the others spread out to snap photos or beachcomb. I wander down the shore, revelling in the last hours away from regular life.
Time this week has been stretched and compressed like an accordion, at times expansive and then whoosh over in an exhalation. I stood at the base of a Sitka spruce towering 53-metres tall trying to wrap my mind around what the world was like 800 or 900 years ago, when the tree was just a seedling. I watched the Gwaii Haanas Legacy Pole get dragged ashore at Lyell Island a few weeks prior to its raising ceremony. The first pole to go up in the area in over 130 years, it is a testament to the perseverance of the Haida culture. I marvelled at the depressions and moss-blanketed ruins of T'aanu Llnagaay (Tanu) where Emily Carr found inspiration for her art and master artist Bill Reid was laid to rest, and at the handful of poles still stubbornly standing at the village site of K'uuna Llnagaay (Skedans). I crossed a boot-sucking bog that smelled like lime candy to wade at the base of a waterfall, watched a flock of trilling eagles—as plentiful here as pigeons in the city—feed on a fawn carcass, and gawked at sea creatures I've only seen before in books.
There's so much more that I will not see. Gwaii Haanas covers such a vast area, both horizontally and vertically—from the peaks of the San Christoval Range to the sea floor—that it's not possible for a visitor to get more than a glimpse during a week here. That only adds to its mystique. Besides, as privileged as I feel to have seen this land of impossibly fresh air and larger-than-life scenery in person, it matters more to me that this place exists, largely unharnessed. A Parks Canada document eloquently points out that "Humanity has a need for places . . . to expand beyond the dimensions of the day to day grind and to fortify the body, mind and spirit—places for our ancestors and those that follow us. Gwaii Haanas provides people with such a touchstone, whether they visit the area or not."
Clearcuts and overpasses and rows of glinting vehicles may expand along the coastline elsewhere in the province, but here raw wilderness should prevail, and there's comfort in that. With that thought I join new friends resting against the rocks under a crimson sky with a glass of wine and chunk of jam-smeared bannock, ready to recount the day's stories.
To Know If You Go
Gwaii Haanas park reserve protects 1,500 sq. km of land and 3,400 sq. km of surrounding waters in southern Haida Gwaii, an archipelago off the northern mainland coast. From May to October when seas are calm, the park reserve receives up to 2,000 visitors. Travel by kayak, floatplane, sailboat, or motorized vessel independently or with a licensed tour operator. Independent travellers must make a reservation, attend an orientation, and pay a fee (adults $19.60/day or $117.70/season).
Ocean Light II Adventures (604- 328-5339; oceanlight2.bc.ca) the longest running operator in Gwaii Haanas. Offers six week-long trips each summer on a 20-metre ketchrigged sailboat for up to nine guests, $3,699 per person. For a list of additional tour operators see the Parks Canada website (pc.gc.ca/eng/pn-np/bc/gwaiihaanas/visit/visit7/Visit7A.aspx).
Getting There
Haida Gwaii can be accessed only by sea or by sky. Sandspit is the closest community to Gwaii Haanas.
BC Ferries (bcferries.com) provides service from Prince Rupert.
Air Canada (aircanada.com) flies daily to Sandspit from Vancouver.
Info