British Columbia has a long history of resource extraction that has provided the province with careers, financial relief and increased trade for decades—but it has always come with a cost, be it environmental, social or economic. In recent years the intersection of these consequences has created conflict between industry and local communities, often spilling out into the public realm.
The feeling of helplessness as their home or their environment is being threatened is a challenge some residents experience when an industry project opens up in their backyard. Yet, these companies are trying to make the most out of the province's natural resources, while also providing financial opportunities for nearby inhabitants.
Do the benefits outweigh the consequences? Here are five of the most recent controversies in B.C., involving industry versus community, that have made it into the international spotlight.
1. Sheridan Hill Gravel Pit
Local residents of Pitt Meadows, along with Katzie First Nations and the local city government are opposing a new rock quarry proposal, which would remove the southern peak of Sheridan Hill (reducing its elevation to about 30 metres), in addition to removing 1,400 cubic metres of trees and disturbing residents with blasting, drilling and crushing aggregate on the site six days per week, year round. The proposed site is located on the south side of Sheridan Hill with an existing quarry on the north side, and within the jurisdiction of the provincial government. The application for the project was filed by a landowner on the opposite side of Sheridan Hill.
If the quarry proceeds, the city will receive 38 cents per ton in road levy, offering about $90,000 per year into Pitt Meadows coffers (with an expected five years of operation). More than 2,500 people have signed the online petition and hundreds of others have signed paper copies, and they have until April 18 to provide feedback to the province.
Pitt Meadows Resident Initiative, online petition and opposition information: http://www.savesheridanhill.com/
Global news coverage of the early stages of the application and opposition: http://globalnews.ca/news/1870641/pitt-meadows-residents-plan-protest-of-proposed-quarry-near-sheridan-hill/
Maple Ridge News coverage, mostly on the local government's actions and involvement: http://www.mapleridgenews.com/news/295237741.html
2. Site C Clean Energy Project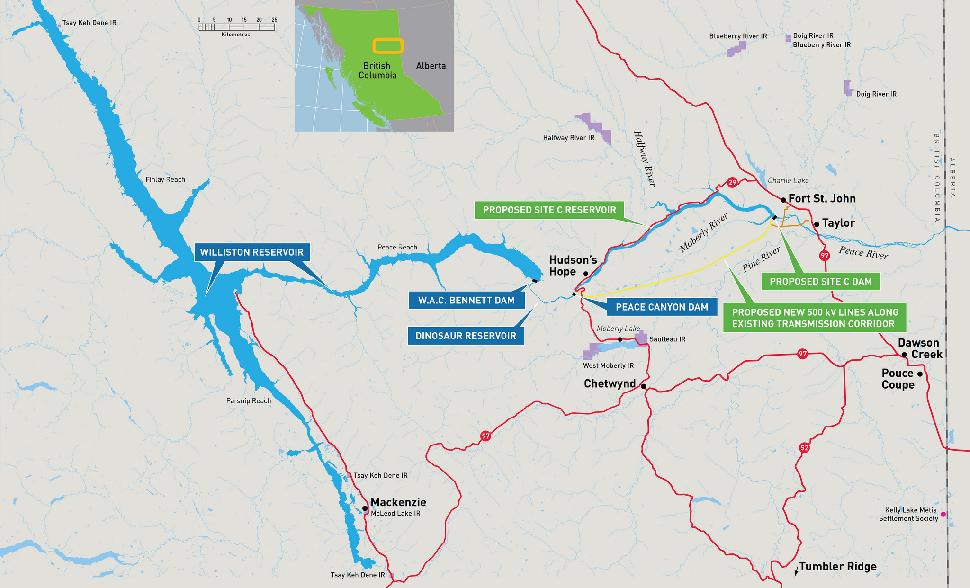 The Site C dam, an $8.8 billion project by the British Columbia Hydro and Power Authority, is a large-scale hydroelectric dam on the Peace River expected to provide more than 100 years of affordable and reliable clean power, with the least cost to taxpayers. However, this third dam is creating extreme conflict with Treaty 8 First Nations and environmentalists, because the project will dramatically alter a large area, flooding more than 5,500 hectares of land over an 83-kilometre stretch of valley. The land is within traditional territories of Treaty 8 First Nations, which they say also contains some of their sacred sites.
Despite five court cases currently opposing the site, which will cost the government millions of dollars in legal fees and years in courts, construction of the project is expected to begin this summer.
CBC story explaining the benefits and consequences of Site C, as well as an interesting display of reactions on social media: http://www.cbc.ca/news/canada/british-columbia/site-c-dam-approved-by-b-c-government-1.2874433
Site C website, which shows the benefits of the project in depth, in addition to any relevant information: https://www.sitecproject.com/
Opposition website clarifying negative causes of another dam in Peace River Valley: https://www.wildernesscommittee.org/sitec
Information, upcoming events and an online petition to raise funds and awareness of the community opposing Site C: http://www.stopsitec.org/
3. Twinning of the Kinder Morgan Pipeline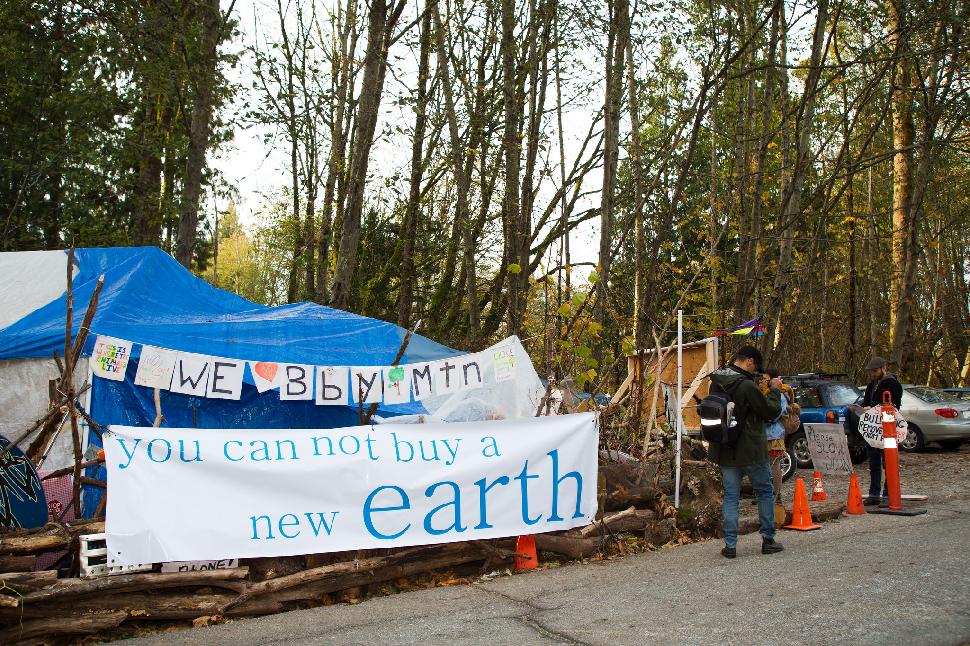 U.S. oil giant Kinder Morgan plans to triple the capacity of its Trans Mountain pipeline, which carries crude oil from Alberta oilsands to tankers in Vancouver, listing the benefits on their website as new jobs in the short and long term, and increases in taxes collected through all three levels of government. However, economic and consulting experts are saying the company may be overstating the employment and financial benefits to Canada. Furthermore, environmentalists and First Nations are against the twinning of the pipeline because it will increase oil tanker traffic and the risk of pipeline ruptures or oil spills.
The long-serving Mayor of Burnaby, Derek Corrigan, has been a very vocal opponent of the Kinder Morgan pipeline ever since the very public pipeline rupture of June 2007—still fresh in Burnaby residents' minds—when more than 250,000 litres of oil spilled into a Burnaby neighbourhood and 70,000 litres into nearby Burrard Inlet. An estimated 250 residents had to be evacuated with the cleanup costing $15 million.
In-depth explanation of the effects the pipeline has on the environment: https://www.wildernesscommittee.org/
Vancouver Observer's information page with background facts and history of the pipeline: http://www.vancouverobserver.com/kinder-morgan-pipeline
Open letter by economist Robyn Allan, highlighting the discrepancies in numbers in the Trans Mountain application and how their claim of large tax revenues for Canada are false: http://www.vancouverobserver.com/opinion/kinder-morgan-s-pipeline-expansion-wont-bring-fair-share-revenues-bc-open-letter
Further explanation on the pipeline's benefits being overstated by the company: http://www.cbc.ca/news/canada/edmonton/kinder-morgan-s-trans-mountain-pipeline-benefits-questioned-1.2829911
Trans Mountain website which lists the benefits of twinning the pipeline: http://www.transmountain.com/benefits
4. Northern Gateway Pipeline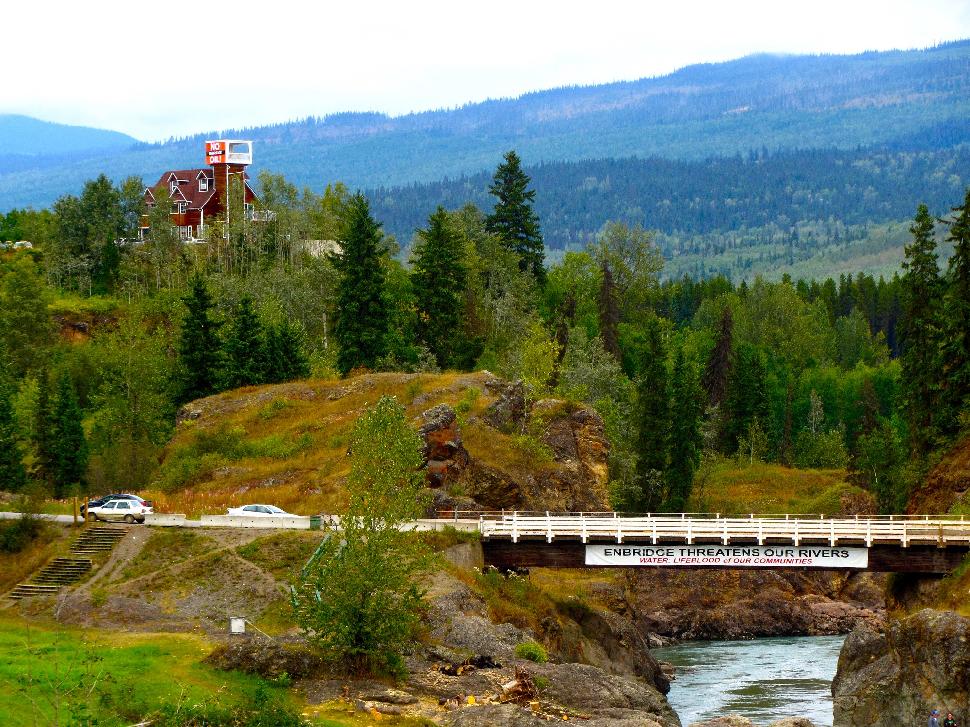 The Northern Gateway pipeline project was approved last year by the federal government, subject to 209 conditions. Although fewer than 30 have been fully completed, the company expects the earliest operation to be in 2019. In the meantime, they have nine court challenges against them (merged into one) from B.C. First Nations, expected to go to hearing in fall 2015.
The president of Northern Gateway, John Carruthers, said the company is working on a new ownership structure, offering more control and rights to the First Nations along the route. Although many aboriginal groups oppose the pipeline proposal, according to Enbridge more than half have signed agreements supporting it. The Dogwood Initiative, among other environmentalist groups, continue to actively campaign against the pipeline, as well as a group of local volunteers based in Kitimat, the Douglas Channel Watch, who spread the word about the risks of super tankers and crude oil pipelines.
Updated information on the pipeline and the parties involved: http://www.cbc.ca/news/business/is-northern-gateway-quietly-being-shelved-1.2965355
Campaign blog about the opposition's involvement, by First Nations and local volunteers: http://pipeupagainstenbridge.ca/
Benefits listed by the pipeline's website: http://www.gatewayfacts.ca/Benefits/First-Nations.aspx
More information about the pipeline and the players involved: http://www.ctvnews.ca/canada/pipeline-primer-what-you-need-to-know-about-northern-gateway-1.1872482
5. Bert Flinn Park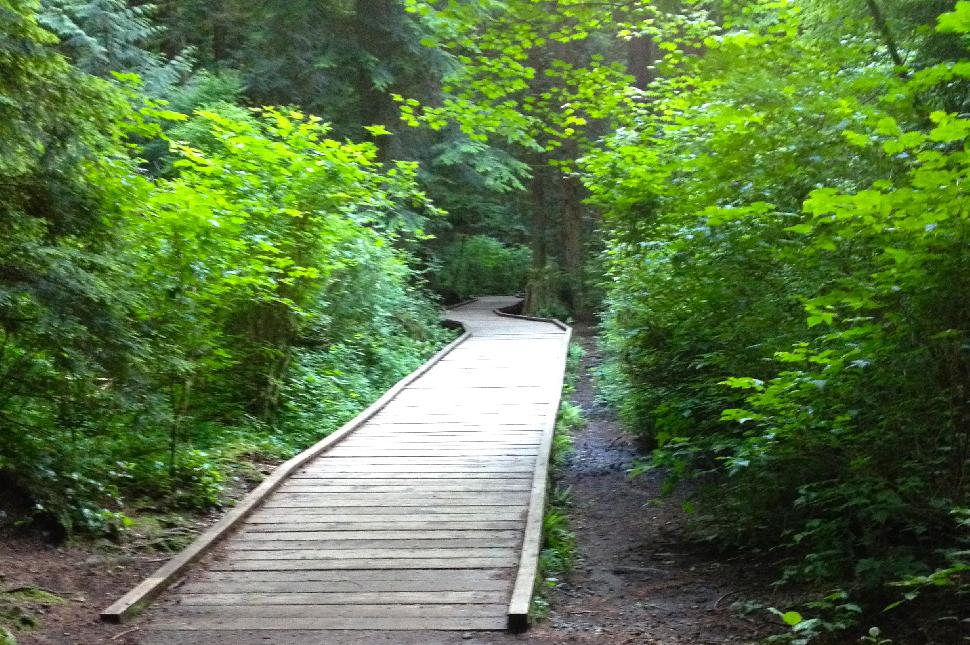 For more than 20 years, Port Moody's Bert Flinn Park has been a popular destination for locals to hike, dog-walk, mountain bike and generally enjoy a respite within the city's largest urban greenspace. The park, and associated natural area, occupies a 125-hectare plot on the north side of Burrard Inlet, extending upslope into the Anmore Hills. It's a coherent ecosystem, with rich temperate rainforest and robust wetlands providing vital habitat for large mammals, such as bears, dear and cougar, as well as a variety of insect, avian and amphibian life. Residents lobbied hard for its official designation during the early 1990s.
However, following the sale of an adjacent land plot, a new plan is in the works to pave a roadway through the park, cutting the natural habitat and recreation area in half. Proponents of the plan claim it will ease congestion on local roadways, particularly routes into the neighbouring towns of Anmore and Belcarra—plans they claim have been on the books for more than 30 years—and it will allow for a new housing development to be built in the region. (Hong Kong-based developer Brilliant Circle Group is a major force behind the road construction.)
Those against are staunchly opposing what they claim is the "destruction" of valuable natural habitat and the division of popular recreational areas simply to appease a developer. They also claim the new route would not have a significant affect on traffic congestion, and would irreparably damage a locally beloved greenspace.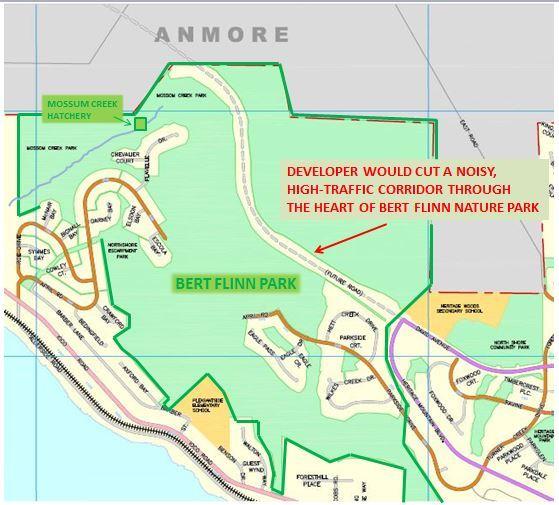 "Port Moody must and can find smarter ways to develop the gorgeous north shore without bringing hopeless traffic snarls to the area's very limited road grid," says Hunter Madsen, co-organizer of Save Bert Flinn Park. "We have identified possible alternate routes that would connect existing roads in the area to improve the traffic grid without needing to spoil the Bert Flinn nature reserve with a noisy new roadway."
He continues: "B.C.'s lower mainland is being overwhelmed by loose development money and rampant population growth, and we don't want that ruining life in Port Moody. Bert Flinn Park stands at the heart of local residents' commitment to maintaining a certain quality of life—that's why many have moved to this lovely place, now so genteel on the edges but still wild at heart, and we won't give it up without a fight."
Find more information about the efforts to save Bert Flinn Park: http://www.savebertflinnpark.ca
Read a recent article on CBC News about the controversy: http://www.cbc.ca/news/canada/british-columbia/bert-flinn-port-moody-park-reprieve-dog-walkers-1.3615945
A recent opinion article appeared in The Province newspaper: http://theprovince.com/opinion/columnists/if-plan-a-is-road-through-bert-flinn-park-we-need-plan-b