While there are many things that BC is famous for, none will make your sweet tooth ache quite like the Nanaimo bar.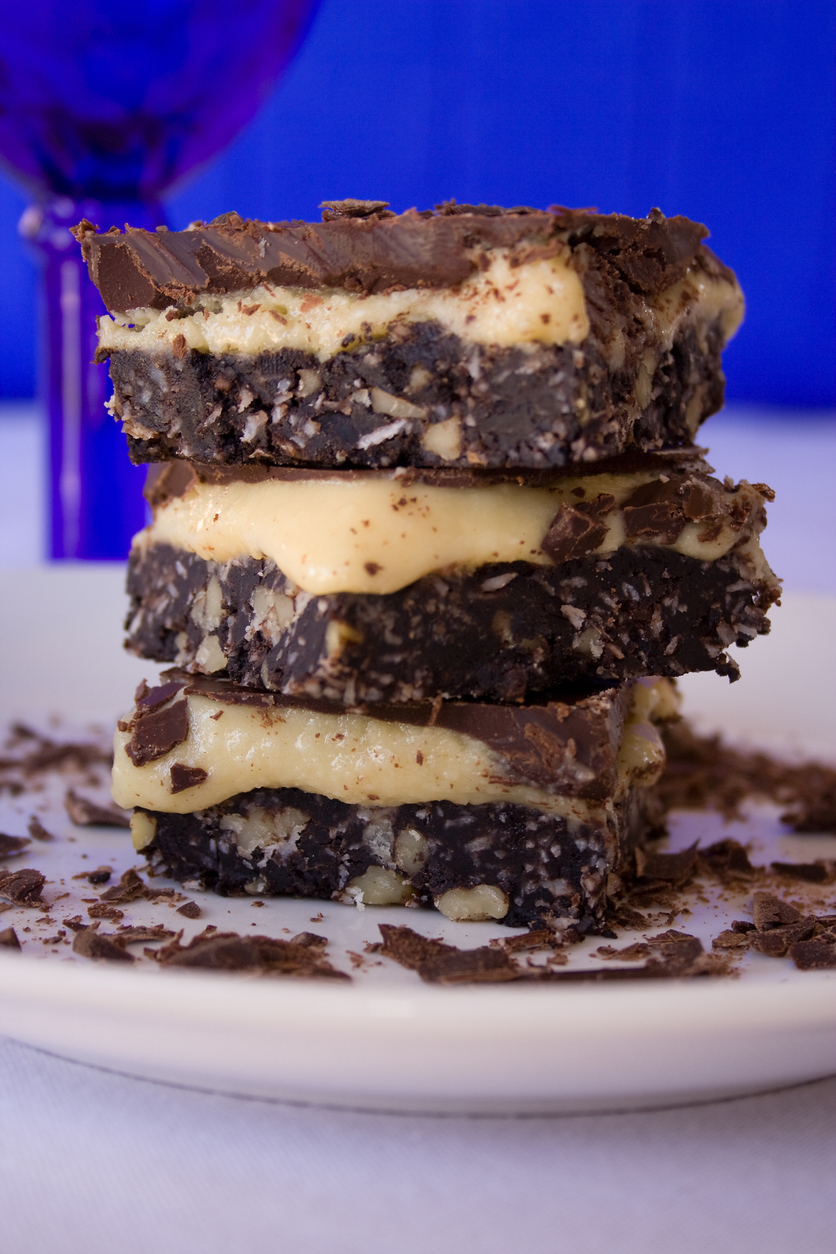 A traditional Nanaimo bar is a layer of coconut and graham crust on the bottom, a layer of soft, yellow custard in the middle, and on top is a layer of chocolate ganache. Rumours abound as to when and by whom the Nanaimo bar was first invented, but the first known recipe appeared in the 1952 edition of the Women's Auxiliary Nanaimo Hospital Cookbook, labelled as a chocolate square. In 1953, a similar recipe was published in the Edith Adams' Cookbook, and this is the first recording of the recipe labelled as a Nanaimo bar. You can see a clipping of this recipe in the Nanaimo Museum.
But as with any good recipe, locals in Nanaimo might tell you that their "Grandma made something similar," and the dessert was known by a different name. Through the years, the Nanaimo bar has been called a New York slice, a London fog bar, a chocolate square and a prayer bar. But the city has been instrumental in promoting this delicious dessert option as the Nanaimo bar, and sealing their place in Canadian food history.
In 1986, then-mayor of Nanaimo, Graeme Roberts, put on a contest to find the best Nanaimo bar recipe. The winner, Joyce Hardcastle, has been the face of the Nanaimo bar ever since – she has appeared in several newspaper articles, and she even starred in a Food Network segment of Pitchin' In with Lynn Crawford. Joyce told Food Network that her well-known secret to a delicious Nanaimo bar is to use unsalted butter.
But foodies are never satisfied with the original recipe. Today, you can find all kinds of variations on the traditional Nanaimo bar across the city and region. In fact, Tourism Nanaimo promotes the Nanaimo Bar Trail – a self-guided tour through the city and region to stop and taste various takes on this famous dessert. You can find the classic Nanaimo bar, specialty variations like maple bacon and peanut butter crunch, organic/gluten-free options, a Nanaimo bar spring roll, Nanaimo bar fudge, deep-fried Nanaimo bars, a Nanaimo bar waffle, ice creams or cheesecakes or cupcakes with a Nanaimo bar flare, and even cocktails or coffees with a Nanaimo bar twist. Visit https://www.tourismnanaimo.com/what-to-do/sip-and-savour/nanaimo-bar-trail/ to find out where your next stop will be!
Go to http://www.foodnetwork.ca/shows/great-canadian-cookbook/recipe/the-ultimate-nanaimo-bar/16810/ to find Joyce's ultimate Nanaimo bar recipe, and whip some up for your next get-together or special occasion.