Lately I've been endeavouring to explore the hiking trails in Vancouver's relative proximity. The motivation? Reclaiming a relationship with the great outdoors and adopting the identity of a Lower Mainland resident (I'm a transplant from Vancouver Island), compounded by some pretty epic social media inspiration. Just in case you weren't already aware, our province is a social media superstar; it's impossible not to gawk at B.C.'s alpine lakes, panoramic mountain top vistas and ethereal waterfalls. Inspired by Instagram pictures of opaque blue lakes, I put Joffre Lakes atop my hiking bucket list, which I was able to cross off last Saturday.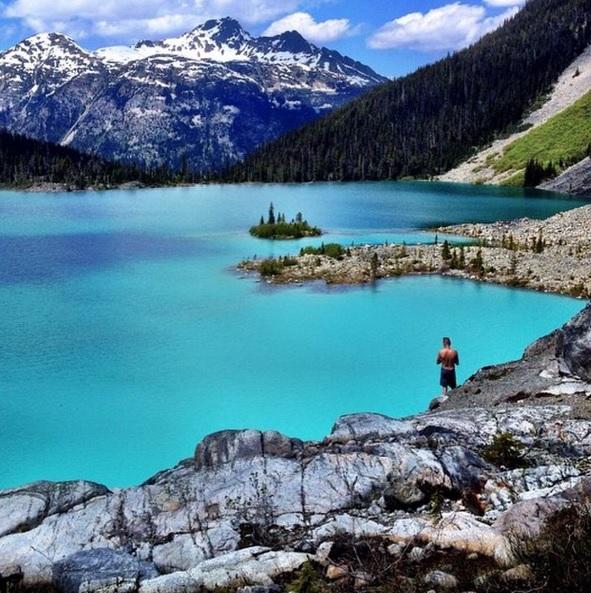 As fate would have it I needed to drive back to Vancouver from Smithers. Taking the Duffey Lake route would intersect with Joffre Lakes Provincial Park, not to mention it's one of my favourite stretches of driving in B.C. Arriving just before midday we didn't need road signs to suggest we were coming upon the park. Cars, trucks, vans and RVs lined the highway for 450 metres before we even reached the overflowing parking lot. It was the same case in the opposite direction. On the leanest of shoulders, cars sat at precarious angles; some parked obnoxiously angled out into the lane itself. (Someone had etched Noooo into the dusty canopy window of one such offender.) Families with small children, walking groups, tourists, rugged outdoor enthusiasts and joggers all streamed toward the trailhead. A long queue for the outhouses had formed. Couples walked a gaggle of lap dogs up the steep incline. Incredulously, I counted two dachshunds among the four-legged hikers. It seemed to me that this enthusiasm for hiking Joffre Lakes rivaled even that of Vancouver's popular Grouse Grind.
So what's the big deal about Joffre Lakes Provincial Park anyway? Why is everyone and their dog scrambling into sub-alpine? The park's three turquoise gems are Lower, Middle and Upper Joffre Lakes. Their brilliant, opaque colour is the result of glacial silt suspended in the water. When the sun reflects off the particles, the water appears vivid blue and green in colour. Furthermore, the impressive and imposing Matier Glacier hangs above Upper Joffre Lake. Water flows from it, creating cascading waterfalls. The campsite is set here among the boulder-strewn and sloping terrain, beneath the glacier's watchful eye. The scenery is simply awe inspiring.
Trip Details
Ready to explore Joffre Lakes? Here's what you need to know.
Driving directions
From Vancouver, travel north along the Sea-to-Sky Highway (99) in the direction of Whistler. Pass through Pemberton (your last stop to gas up or grab trail snacks) and continue driving for 30 kilometres along Duffey Lake Road. Look for blue signs indicating Joffre Lakes Provincial Park…or the crowds.
Distance from Vancouver: 182 km
Approximate driving time (one way): 2-2.5 hours
Trail info
Length: 11 kilometres (round trip)
Difficulty: Persons with a moderate level of fitness with have no problem hiking this trail in completion. The total gain is 400 metres over 5 kilometres, with the most strenuous section being the unrelenting uphill portion just before Middle Lake. The trail is both well-defined and maintained. No navigational skills are required as the trail is very easy to follow. If you want to explore Upper Joffre Lake beyond the look out point, some scrambling will be required. The trail leading to the north end is narrow and has many dips and roots to navigate.
If you're not in the physical condition to reach Middle or Upper Lake, Lower Lake is just a few paces from the parking lot.
Camping: There are 26 wilderness sites at the north end of Upper Joffre Lake.  Gravel campsites are located on the boulder strewn slope beneath Matier Glacier. There are no overflow sites, so be prepared to hike out if all of the spaces are full. (Park warden on site.) The only amenities are a food cache and an outhouse.
Official park website: gov.bc.ca/bcparks/explore/parkpgs/joffre_lks/
Trail map: Click here