With all the beautiful views and adventures to choose from, it's no wonder that we're starting to see more adventure cats out and about in BC. These brave felines accompany their owners on walks around the neighbourhood, hikes, bike races, overnight camping trips, kayaking excursions, paddleboarding adventures and even rides down the ski hill. There is an online community of adventure cats, mostly on Instagram, with tens of thousands of followers who are interested in watching house cats brave the outdoors.
Gary
Seven-year-old Gary and his owner James Eastham started taking to the outdoors on Gary's terms. One of Eastham's old apartments backed onto a courtyard, and their flimsy back door was no match for Gary, who was obviously eager to explore.
"We decided if he wanted to go outside, he had to do it on a leash, since we live near some busy streets. There were lots of coyotes in that area and Gary is too pretty to be a coyote snack," jokes Eastham.
Now Gary comes with Eastham everywhere outdoors. The duo spends their summers in the sunshine paddleboarding along peaceful lakes as Gary drifts in and out of a peaceful catnap. Gary's expression tells all when he's out on the water — he appears relaxed and perfectly content to drift along while Eastham does all the hard work.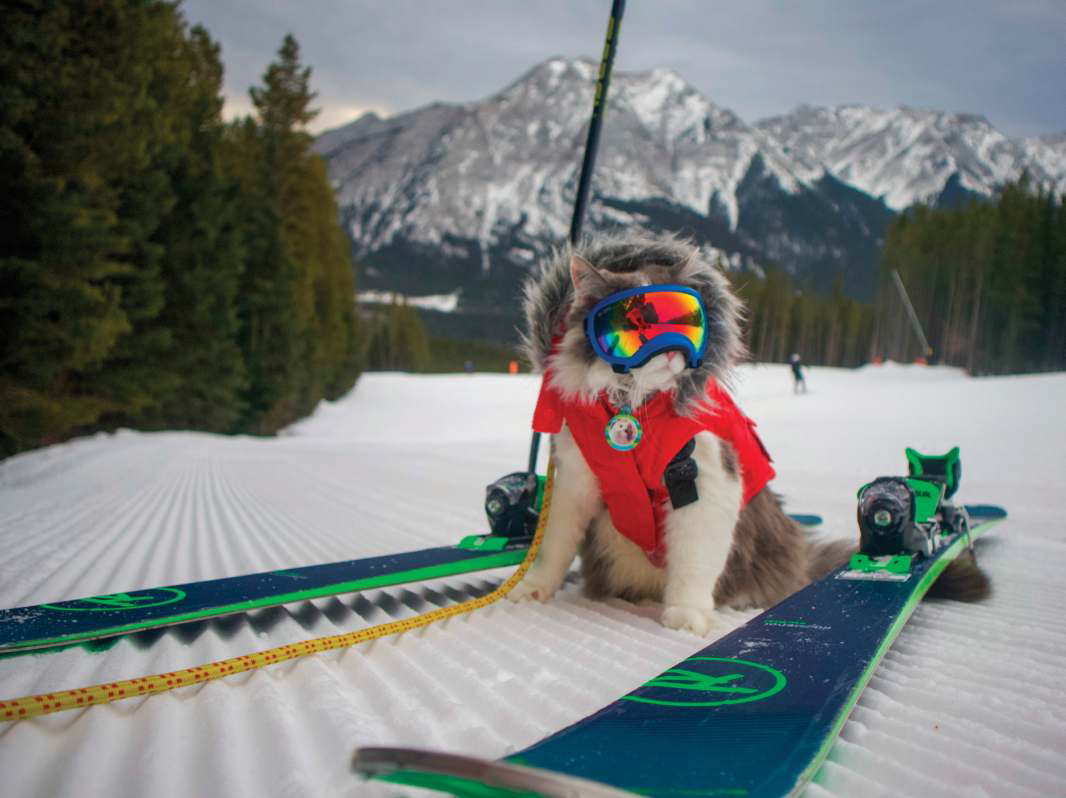 When he's not relaxing on the paddleboard, Gary can be found hitting the slopes, perched on Eastham's shoulder and decked out in his very own ski goggles. Gary nonchalantly glides down the mountain, practicing his best balancing act, making every move appear effortless. Gary has been spotted skiing in Fernie, Kimberley and the Kootenays, taking advantage of all the snowy peaks BC has to offer.
Reinhardt & Perseus
In Richmond, Hayley Vendiola takes her cats, Reinhardt and Perseus, out on more calm adventures, often wandering through Pacific Spirit Park in the early morning. After being inspired by a friend to take her cats outdoors, she began training them when they were three months old. "Walking cats is not like walking dogs," Vendiola laughs. "Sometimes you end up walking in a circle for two hours and you've just gotta roll with it."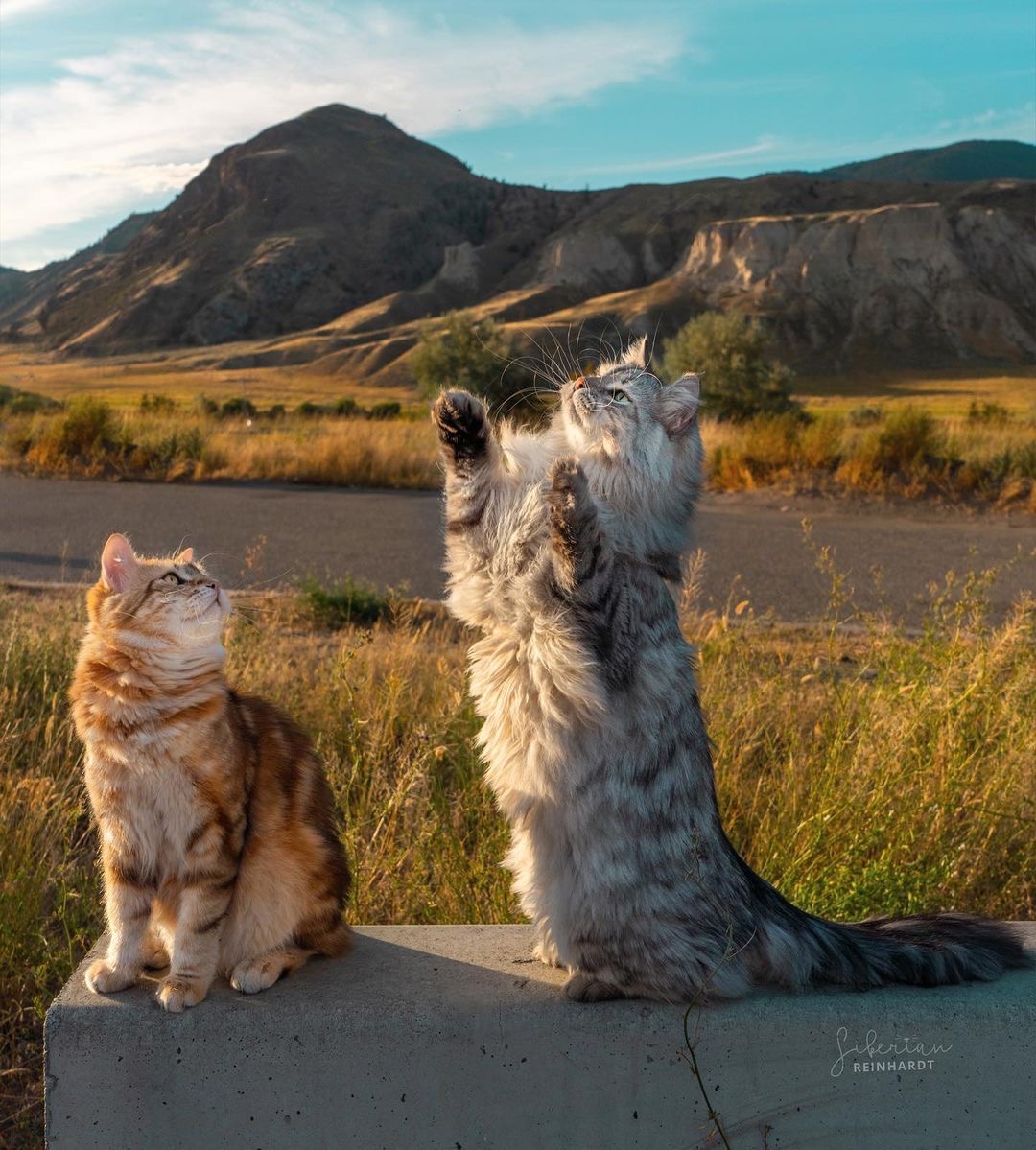 Going out in more popular areas with a cat needs different considerations than taking them on more remote adventures. Leash laws are especially important to individuals walking their cats, and curious canine passers-by can be less than polite seeing a cat on a leash.
"It would be nice if other people on the trails abided by the leash laws and took note of what areas are off-leash or on-leash," says Vendiola. No matter how friendly the dog, most animals aren't socialized to see a cat out and about.
Reinhardt and Perseus usually stick to relaxing, flat trails for their adventures, using the time outside to get plenty of mental enrichment. Hayley uses the cat's outdoor time to practice her photography skills and spend time with her family. The group has road tripped to Tofino, explored Stanley Park and spent countless early mornings hanging out on little trails in the Greater Vancouver Area.
Teddy
Teddy started exploring the outdoors at a young age—his owner Selvynna Tang began taking him out when he was just four or five months old. The two started their outdoor journey when Tang noticed Teddy getting bored of toys and other enrichment activities. "I just thought his life would be more interesting and enriching if he was able to come with me places and enjoy the outdoors by my side," says Tang.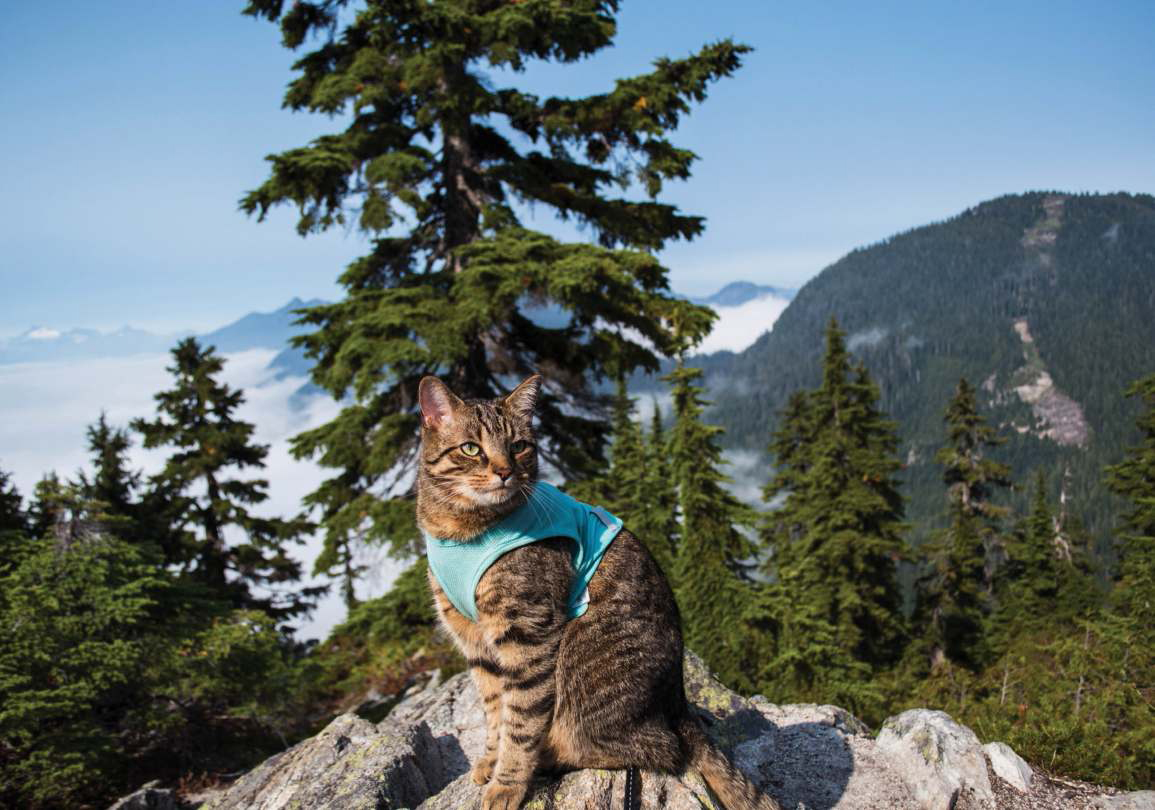 Nowadays, Teddy can be found wandering Vancouver with Tang, chasing sunsets and rolling around on the warm parking lot concrete at the beach. Teddy has visited spots along Vancouver Island, Whistler and Kelowna, as well as many locations within the Greater Vancouver Area. One of their favourite trips is to Iona Beach. "You can setup and hang out in your own area with no one else around, it's a wonderful place to explore with a cat," says Tang. When the two aren't travelling, they're scoping out the best sunsets they can find every night the weather is clear.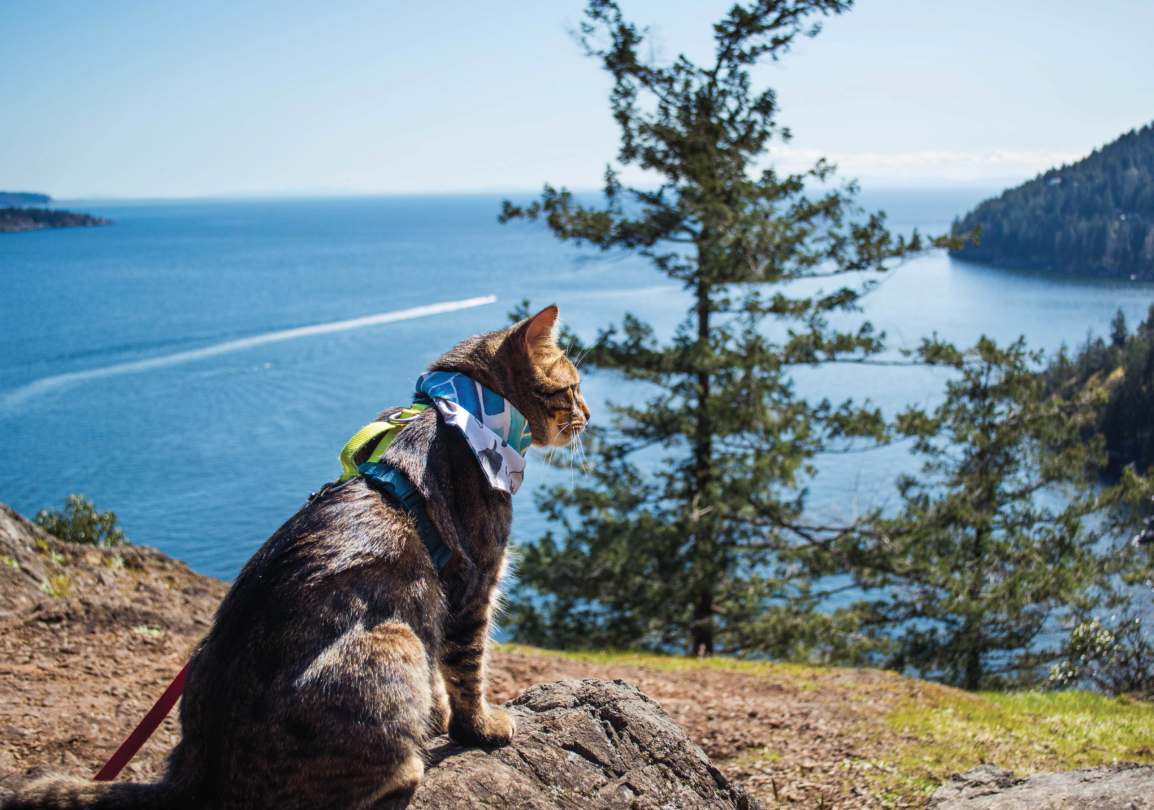 Bodhi
Michelle Gagnon and her three-year-old Maine coon, Bohdi, spend every season outdoors together in Nanaimo. Gagnon began training Bohdi to enjoy the outdoors when he was just four months old, bringing him out into the backyard to sniff at the grass and get acquainted with the world around him. One thing led to another, and soon enough they were off on their first quest outside of the back yard—getting Bohdi used to walking in the city.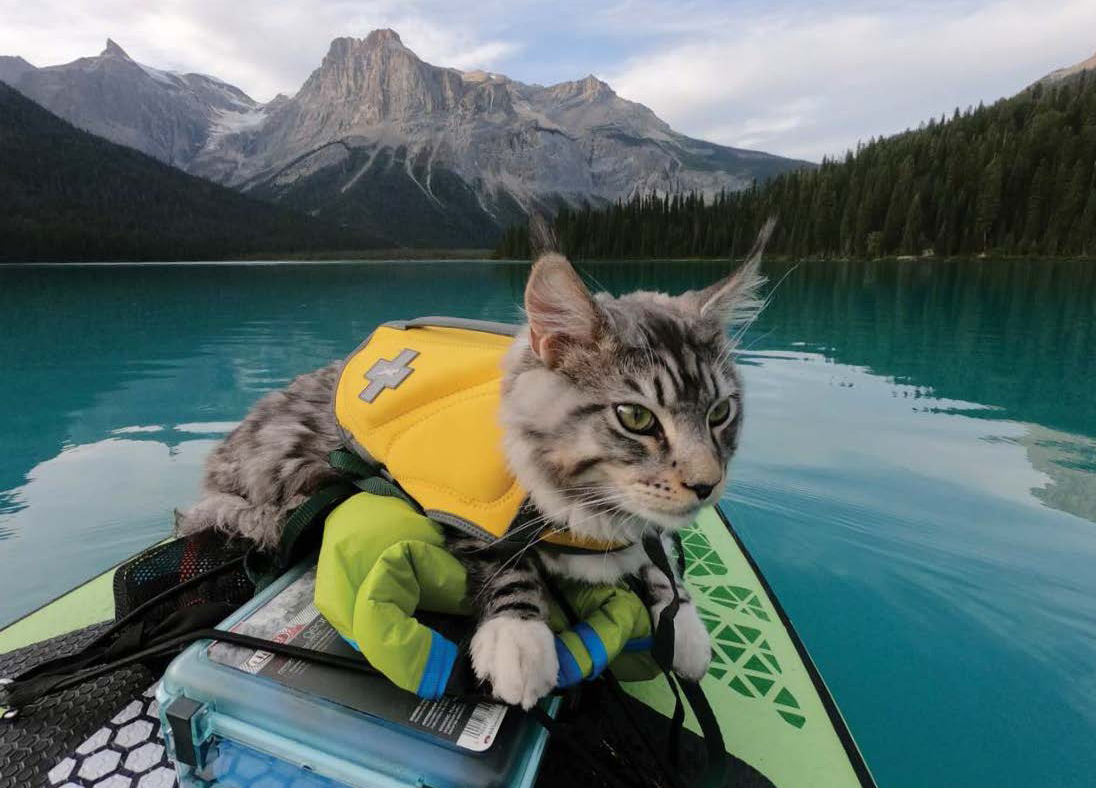 "I started on city streets because my previous adventure cat, Bugaboo, had the hardest time with them. We never really experienced the city together, so when I got Bohdi, I started there, hoping that by the time we mastered the city he'd be effortlessly comfortable on quiet trails," reflects Gagnon.
Getting Bohdi used to water was much easier than Gagnon expected. "The first time I took him to the lake, he just stared at the body of water as if he were in a trance, walking straight down to the shore. He sat on a rock that was surrounded by water, began pawing at it, and didn't seem phased by it at all," she explains, adding, "Bohdi got me into water sports. One day paddleboards were on sale, and after seeing how much he liked the water, I decided to get him one to try."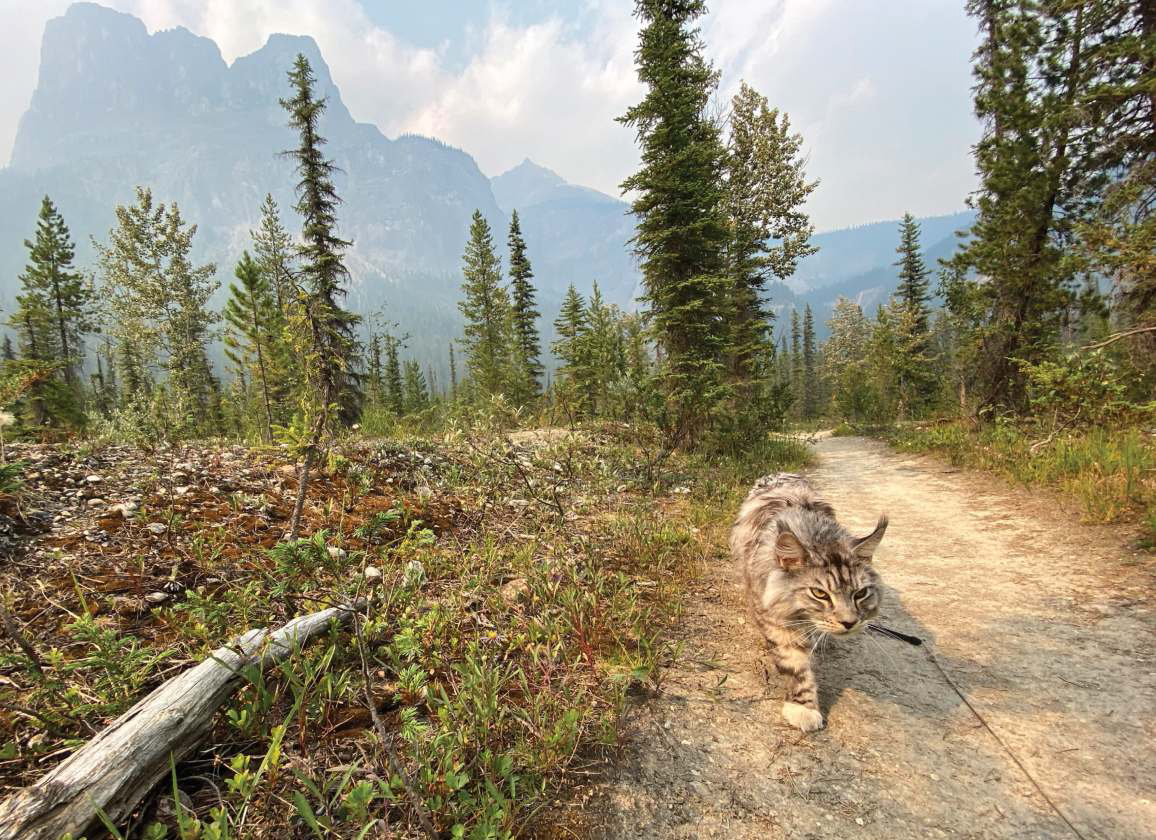 Some of the most memorable adventures Gagnon recalls from the past few years include the overnight kayaking trip the duo did in Desolation Sound and the BC Epic 1000 Bike Race. Both Gagnon and Bohdi enjoyed spending time out on the water, overnight camping on whatever island looked the best to Bohdi. The two spent their evenings walking the perimeter of the island, playing in the craggy rocks and catching some seriously amazing views. During the bike race, the two were hit by one of the many heat waves that BC had in the Summer of 2021. Armed with a shaded bike basket and some cooling dips in rivers along the way, the dynamic duo cycled through the trail, enjoying yet another adventure together.