New pole raised in Gwaii Haanas.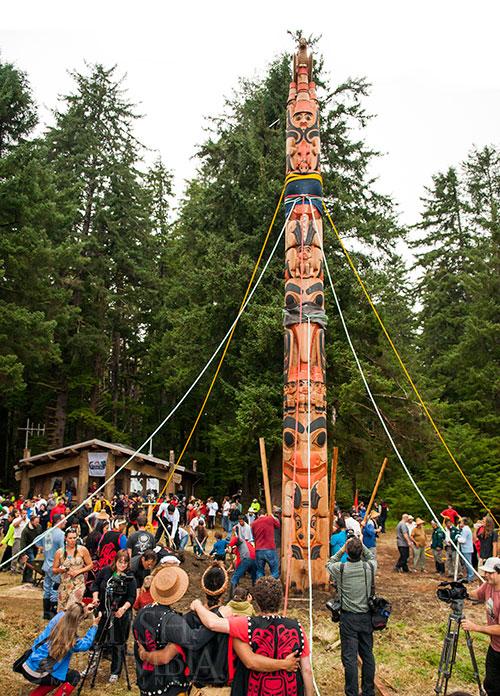 It took 6,000 hours of labour over a year by four Haida carvers, a dozen men and a mini-excavator to haul it ashore after it was towed by customized punt roughly 80 kilometres south from Skidegate, and 400 hands to help hoist it into place. But now the Gwaii Haanas Legacy Pole stands in its permanent home in a bay on remote Lyell Island.
Raised August 15, it is the first monumental pole to go up in the area in perhaps 130 years. The Legacy Pole, crafted from a portion of a 30-metre-tall red cedar, honours an agreement between the Haida Nation and the federal government that led to the creation of Gwaii Haanas national reserve.
The pole, designed by Jaalen Edenshaw of Masset, is topped by an eagle and has a sculpin at its base, 13 metres below, with 15 faces in between. A group of five figures near the bottom represents protestors and a small face peeking over a figure of a supernatural sea wolf, Wasgo, depicts the present-day visitor. A crouched figure of "Sacred One Standing and Moving" near the middle was a late addition, inspired by a 7.7-magnitude earthquake that shook Haida Gwaii in October 2012.
Click below to watch a video of the pole arriving at Lyell Island's Windy Bay.