A salty-dog charmer on the Sunshine Coast.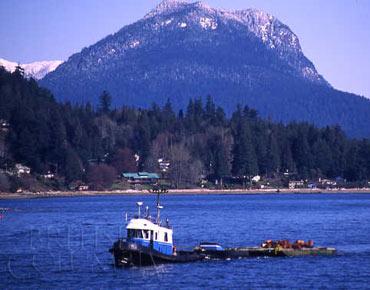 In real life, my bedroom window overlooks an off-ramp of Vancouver's Granville Street Bridge. But there'll be no horn honking or smog indexing for me this morning. Tucked into a big pine sleigh bed in Gibsons' Marina House B&B, I can see the east sun sparkling off the ocean without lifting my head from the pillow.
Sea of traffic: actual sea—hey, that's why they call this a getaway.
On the lower Sunshine Coast peninsula, Gibsons (pop. 3,906) is connected to the Lower Mainland by a 40-minute ferry passage. It's a pleasing balance of access and isolation that defines Gibsons' character: salty, small-town authenticity lightly peppered with urban sensibilities.
While many in Gibsons commute to work in Vancouver, the Sunshine Coast's fabled shores remain an undiscovered treasure for others. "People think they've somehow missed the turn along the highway between Vancouver and Whistler," chuckles Sue Bailey, gracious host of Marina House.
Bailey moved her North Vancouver family here six years ago, fashioning three homey guest rooms on the top floor of an historic, three-storey waterfront home. Sunshine floods through French doors in the high-ceilinged common lounge, gleaming on the antiques and maple hardwood floors; a small balcony overlooks Shoal Channel and nearby Keats Island. I pull up a chair in the guests' dining room to receive Bailey's bountiful breakfast plate: cheesy baked eggs with lox garnish, rye seed toast, and a medley of diced fresh fruit.
Marina House was built as an apartment block in 1931 by Dr. Frederick Inglis, Gibsons' first resident MD and travelling caregiver to the Sunshine Coast. He makes a fine candidate for the "imaginary dinner party" game. Inglis did an eight-year stint of doctoring/Christian evangelizing among the Tahltans in isolated Telegraph Creek before moving to Gibsons in 1914—where, with some zeal, he adopted the socialist ethic of the local Finnish community. As handy with a hammer as a scalpel, he built several of Gibsons' notable buildings, including Stonehurst, the wide-verandahed heritage house at the bottom of School Road (now a private residence). Here, Inglis nursed the sick and nurtured social democracy, housing the family of Methodist minister J.S. Woodsworth, a pacifist war objector who went on to found Canada's CCF party in 1932.
Elphinstone Pioneer Museum displays the good doctor's medical tools (including some dental antiquities that revived my vigour for flossing) alongside his well-spackled carpenter's apron. Studying an exhibit of period photographs (part of the museum's 4,000-image archives), I recognize Marina House, circa 1937, presiding over Gibsons Harbour.
The working harbour is the soul of this village. Facing the sea and Coast Mountains, homes are tiered into a slope that climbs from the shoreline. Happily, gentrification has not overtaken the waterfront here. Gibsons Landing, or lower Gibsons, retains its salty-dog charm thanks to the relegation of chain restaurants and retailers in nearby upper Gibsons. Weathered boathouses and fishermen's cottages line the Seawalk, an irresistible public path that traces the harbour's west shore from Armours Beach to the creosote-blackened government dock, linking sand and cobble beaches, a pub, marina, and waterfront park along its route. The newest element is an extension of the government wharf, completed in 2000; sea and salt air will soon temper the golden-yellow cedar logs of the new wharfinger's building, pedestrian pier, and gazebo overlooking the harbour.
Watching a little pitbull of a tugboat drag a cordwood-stacked barge into port, I feel part of a curiously familiar scene. From 1972 to 1991, CBC Television shot The Beachcombers series here, imprinting its weekly images of log booms and salvage boats on the collective Canadian cultural brainstem. At the head of Gibsons' government dock is Molly's Reach, fictional hangout for Nick, Relic, and the gang—come to life as a real restaurant in 1995. Painted daffodil yellow, the false-fronted 1930 landmark sits on the original homestead of town namesake George William Gibson, who settled here in 1886.
After a 10-year respite, locals are again weighing the pros and cons of celebrity (increased exposure, camera crews, traffics snarls) as the CBC prepares to import a fresh young cast to produce the New Beachcombers, a sequel. While some would prefer to keep a low profile, most admit that Gibsons' secret is already out.
A tide of entrepreneurs, artists, and retirees has washed ashore here, bringing their taste for music, arts, and culture, varied restaurants, and espresso-based beverages. The result is an unpretentious, untrammelled small town that supports a mix of bookstores and galleries, its own small theatre house, even a fine French restaurant.
If the perfect day in Gibsons begins with the east-facing Seawalk, it ends with a drive along Gower Point Road to west-facing Chaster Park. Time it right and you can follow a sunset beach walk with a stroll to Bonniebrook Lodge for a gourmet meal at Chez Philippe. I guarantee, it beats anything "real life" has to offer.
To Know If You Go: Exploring Gibsons
Where
From Vancouver, it's 30 kilometres west on Hwy 1 to Horseshoe Bay terminal, BC Ferries (604-886-2242; www.bcferries.com); 40-minute sailing to Langdale on the Sunshine Coast. From Langdale terminal, turn left at the first traffic light onto Marine Drive; five kilometres to downtown Gibsons Landing. City buses connect upper and lower Gibsons. Floatplanes link Vancouver and Gibsons harbours.
What To Do There
Stroll the Seawalk; steps lead down from Molly's Reach at the government dock.
Kayak the inlets and small islands around Gibsons; rentals available.
Shop for books, antiques, art, and fashions along Marine Drive and Gover Point Road; don't miss Gibsons Landing Gallery, the local artists' co-operative at 436 Marine Drive.
Offer up your sole to custom bootmaker Norman E. Bashor, Trident Boots (604-886-4622), Molly's Lane.
Delve into local history at Elphinstone Pioneer Museum (604-886-8232), 716 Winn Road, and Maritime Museum (604-886-4114) in Molly's Lane.
Hike nature's little stairmaster, 253-metre Knob Hill in Soames Hill Regional Park, two kilometres beyond the Langdale ferry terminal, for fine views of Keats Island, Gibsons Harbour, and the Strait of Georgia.
Windsurf off Soames Point beach at the foot of Knob Hill.
Catch live music and theatre at the Heritage Playhouse (604-886-4278).
Charter a fishing boat.
Bounce along 14 kilometres of trails at Sprockids Mountain Bike Park (604-886-0772), off Stewart Road northwest of Gibsons.
Explore nearby Mount Elphinstone Forest; trail maps available locally.
See a film at Gibsons Cinema (604-883-6843).
Board the Dogwood Princess passenger ferry from Langdale for a delightful daytrip to Gambier or Keats islands.
Tour Howe Sound Pulp and Paper Mill (604-884-2575), major local employer at nearby Port Mellon.
Good Eats
Something for every taste and budget, from tex-mex to sushi to pubs, bistros, and bakeries.
Chez Philippe, Bonniebrook Lodge (see below); deliriously good French cuisine with West Coast flair; note: no strictly vegetarian entrees.
Jack's Lane Bistro and Bakery, 546 Gibsons Way, for desserts with a view.
Molly's Reach for Beachcombers ambience and creamy seafood chowder; best booths go to smokers.
The Flying Cow on Marine Drive for a divine Americano and the best community bulletin board.
Sweet Sleeps
Loads of variety: check Sunshine Coast B&B Association online (www.bbsunshinecoast.com) and British Columbia Accommodation Guide (800-435-5622).
Marina House B&B (604-886-7888; www.marinahouse.net), 546 Marine Drive. Close but charming quarters atop 1931 seaside home; best views from Molly's Room.
Bonniebrook Lodge B&B and Campground (604-886-2887; www.bonniebrook.com), 1532 Ocean Beach Esplanade. Oceanfront renovated 1920s inn has deluxe suites, fireplaces, double Jacuzzis; also, pretty treed campsites along Chaster River.
More Information
Gibsons & District Chamber of Commerce (604-886-2325; www.gibsonschamber.com).
Town of Gibsons(604-886-2274; www.town.gibsons.bc.ca).
Big Pacific (www.bigpacific.com).