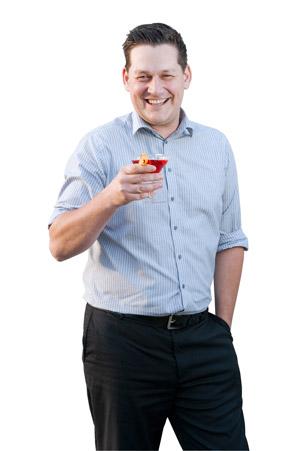 Executive barkeep of Clive's Classic Lounge in the Chateau Victoria Hotel. First Canadian nominated for International Bartender of the Year. Co-author of an upcoming book on Vancouver Island cocktail culture. All-around "drinks nerd."
Home base: Victoria.
Favourite place: Galiano Island, one of the southern Gulf Islands.
What keeps you coming back?
"The absolute desertion and serenity. Going to a place that doesn't have an abundance of bars and restaurants might not suit other people. But the bar trade is my working life, so it's perfect for me."
Where do you stay? What do you eat?
"My mother-in-law has a friend with a little cabin out there. Before we had our little girl, my wife and I went away for the weekend, and it was heavenly. These days, we head to the small corner store or bring some nice cheese and charcuterie with us, and then cook some steak or duck on the open fire. I usually just drink whisky or G&Ts when I go away and of course some nice wine—preferably big reds or a B.C. rosé."
Who or what are you likely to meet?
"Lots of wildlife: starfish as big as your head on the shoreline, along with deer, rabbits, and birds. I grew up in the bush in Australia, so I just love these things. I socialize at work. When I go away, I prefer not to socialize too much, just spend some time with my ladies."
What do you do there?
"Sleep in, hike along the shoreline taking in some of the great architecture of the houses there, and just relax."
When I go, I never forget my…
"Reading material. My only flaw on my vacays is that I still bring food and drink culture related books written by Anthony Bourdain and the sort. I like hearing those stories."
When is the best time to go?
"All year-round; the surroundings are constantly changing with the seasons. And in that setting, it's amazing."
Travel tips
"Don't rush. Relax from the moment you hop on the ferry to the moment you get back to the big island."
Good to know
Galiano offers good opportunities for hiking. Consult Hiking The Gulf Islands: An Outdoor Guide to BC's Enchanted Isles by Charles Kahn (Harbour Publishing, 2004) for trails and tips. There are also places to feast, such as La Berengerie, a prix-fixe French restaurant nestled in the woods (laberengerie.ca).
Info
Galiano Chamber of Commerce (galianoisland.com).
Tourism Vancouver Island (vancouverisland.travel).