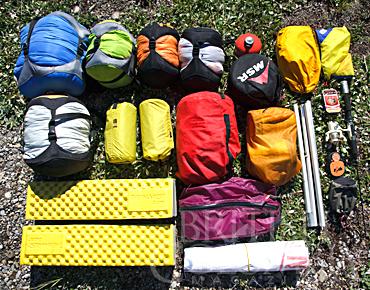 Pack ruthlessly light. There are two kinds of comfort on a bike trip—comfort on the bike and comfort in camp. Comfort in camp is nice, but it means bringing more of the heavier stuff. Comfort on the bike, on the other hand, is essential, as you'll learn if you bring too much gear. You want to have a fun trip and enjoy your ride.
Be able to fix your bike. You don't need to know how to fix headsets, bottom brackets, or build a wheel, but you do need to know how to fix the most common mechanical breakdowns, which are flat tires and broken chains. Bring a small pump, a couple patch kits, tire levers, and two spare tubes per bike. Carry a small chain tool and know to fix your chain if it breaks; a few extra chain links aren't a bad idea, either. You will also want a lightweight multi-tool with all of the wrench sizes you need to tighten every bolt on your bike. Lastly, it's a good idea to carry extra cleat bolts if you're riding clipless pedals, an extra nipple for your hydration bladder, and a Fiber Fix Spoke, which makes it easy for anyone to temporarily fix a broken spoke.
Make sure your bicycle is in perfect working order before you set out. I always bring my bike to the shop and have them give it a thorough inspection before any wilderness bike trip. Anything that needs fixing or is getting worn out (brakes, cables, tires, etc.) gets fixed or replaced. You don't want things breaking in places where there are more grizzly bears than bike shops. Bears don't know how to fix anything on a bike.
Go for a shakedown ride. Even if it's just a single, overnight trip from your home, a trial run before riding into the back of beyond is a prerequisite for any first-time wilderness bike-packers. It gives you a chance to fine tune your gear, your gear-carrying systems, and learn all of the things you can actually do without. Once you pedal your loaded bike for a few miles you may find that you can do without all kinds of "necessary" things. The dry run also gives you a chance to test your fitness level and set realistic mileage plans for your trip.
Plan, plan, plan—but don't over-plan. To ensure a great trip, plan your gear carefully, pack the best maps you can find, and try to be in peak physical condition. That said: Don't plan every detail of your trip in advance, with ambitious daily mileage goals and a regimented schedule. You'll be on vacation, and you'll want to have fun. This means leaving time to explore all of the beautiful and wonderful things you're bound to find out there. The map won't show the perfect swimming hole, the trailside cave, the goats on the mountainside, or the morning you just felt like lounging around the campfire. Give yourself plenty of time to enjoy the wilderness. That's the whole point of the trip, right?
Here's what I packed for my family ride through the Flathead Valley, featured in the Summer 2011 issue of British Columbia Magazine:
A BOB Trailer and panniers to carry cargo, both of which work well. We also used the GoLite Shangri-La 5 tent, MontBell down sleeping bags and jackets, and a MSR Pocket Rocket fuel-canister stove. Keep clothes to the bare minimum—wool resists odor almost supernaturally well, and down is lighter and packs smaller than fleece.
For more wilderness cycling tips and trips, visit Aaron Teasdale's blog at http://aaronteasdale.blogspot.ca/