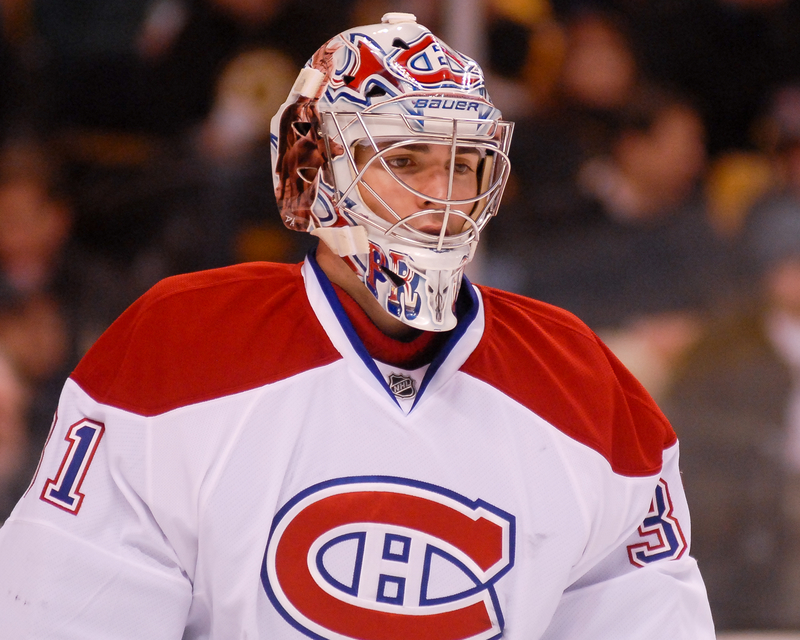 Early days
Carey Price was born Aug. 16, 1987, in Vancouver. His parents are Lynda and Jerry Price – Lynda served as chief of the Ulkatcho First Nation, and Jerry is a hockey star in his own right, having played goalie for four seasons on professional teams. He never made it to the big stage of the NHL.
When Carey was just three years old, the Price family moved to Anahim Lake, in northern BC. Carey and his father spent many, many hours over the winters there, honing Carey's skills in the net. Carey played organized hockey in Williams Lake, over five hours away. Since practices and games meant travelling to Williams Lake three times a week (at 10 hours per trip), Carey's father bought a plane to fly him back and forth.
The big stage
Carey's first steps towards stardom started when he made the Tri-City Americans hockey team in the Western Hockey League. He played one game in the 2002/2003 season. He made the team again the next season (2003/2004), and played in 28 games as the backup goaltender. In the following season (2004/2005), Carey was moved up to starting goaltender and proved his worth with a 2.32 goals against average and a .920 save percentage. He earned his team eight shutouts.
That season, Carey was named the Best North American Goaltender by NHL Central Scouting, and he was drafted fifth overall by the Montreal Canadiens. He continued to play for the Tri-City Americans for the 2005/2006 and 2006/2007 seasons, before joining the Canadiens' farm team, the Hamilton Bulldogs, just before the start of the 2—7 Calder Cup playoffs.
Carey made his debut with the Montreal Canadiens on Oct. 10, 2007, against the Pittsburgh Penguins. He made 26 saves that game, and helped his team to a 3-2 win.
International play
Carey is no stranger to playing on the international stage. He played for Canada at the 2005 IIHF World U18 Championships in the Czech Republic, and he was named to Team Canada for the 2007 World Junior Championships in Sweden.
In 2014, Carey made the Canadian Olympic Hockey Team and played in Sochi. He ended the Games undefeated in five matches with a 0.59 GAA and a 0.971 save percentage. This earned him the title of the tournament's best goaltender by the IIHF.
Awards
Molson Cup for Montreal Canadiens: 2009, 2011, 2012, 2013, 2014, 2015
NHL All-Star Game: 2009, 2011, 2012, 2015, 2017
2007
IIHF World U20 Championships Gold Medal
Tournament MVP (2007 World Junior Ice Hockey Championships)
WHL West First All-Star Team for 2006/2007 WHL season
Del Wilson Trophy for WHL top goaltender
CHL Goaltender of the Year Award
Calder Cup with the Hamilton Bulldogs
Jack A. Butterfield Trophy (Calder Cup MVP)
2008
NHL Rookie of the Month, March 2008
NHL All-Rookie Team for 2007/2008 NHL season
2009
NHL YoungStars Game at 2009 NHL All-Star Game
2010
Named honorary co-chair of the 2010 National Aboriginal Hockey Championships held in Ottawa, May 2010
2014
Olympic Gold Medal in Men's Hockey at 2014 Sochi Olympics
Best Goaltender at 2014 Sochi Olympics, voted by the IIHF
2015
William M. Jennings Trophy (fewest goals allowed)
Vezina Trophy (best goaltender)
Ted Lindsay Award (most valuable player, voted by NHL Players Association)
Hart Trophy (most valuable player, voted by the Professional Hockey Writer's Association)
NHL First All-Star Team (voted by the Professional Hockey Writer's Association)
Lou Marsh Trophy (Canada's Top Athlete, voted by a panel of journalists)
Lionel Conacher Award (selected by sports writers of the Canadian Press)
2016
Indspire Award (sports)
2016 World Cup of Hockey, gold medal