If ever there was a year when having a quiet stretch of West Coast beach all to myself was appealing—this is the one. As Covid-19 has continued, I've found myself craving time in nature more and more. A walk in any bit of wilderness is nice, but there's something about the wildness of the Pacific; the muted hues of the coastal forests, the sound of waves hitting the shore and the scent of the misty sea air that just feels healing.
So (before the current travel restrictions set in) when the invitation came to visit Tofino for a long weekend—I jumped at the chance.
Even better—this would be my daughter Maia's first visit to the little west coast town. As a newly minted 19-year-old, it seemed like a mother-daughter getaway would be the perfect way to make her pandemic birthday special: We'd stay at the cool new Hotel Zed; check out a couple of fun restaurants (and sample their cocktail menus); and do some of the activities Tofino is famous for, while still maintaining a safe social distance.
Tofino is located a pretty 200-kilometre/three-hour drive from the Departure Bay ferry terminal in Nanaimo. If you're not in a rush, there's more than enough to do on the drive to make a day trip of the journey (though be aware the ongoing road construction along Kennedy Lake can add as much as an hour to your trip).
I had hoped to stop at Cathedral Grove for a walk through the giant old-growth Douglas firs—but the park is currently closed because of Covid-19 restrictions. Instead, we carried on and opted to stop at the spacious Taylor River Rest Stop. Found on a pretty bend of Taylor Arm (which just happens to be named for an ancestor) it was the perfect place for a picnic and short walk to stretch our legs.
The town of Tofino has grown dramatically since I used to visit during my university years. With the great year-round surfing no longer a secret it draws people from across Canada and (normally) from around the world. To meet the demand, a wide variety of restaurants, hotels and shops have moved in. At points during the pandemic, the town even became overcrowded—but locals are working hard to manage visitors in a safe way.
With days that quickly filled up with long walks, a surf lesson, a wildlife tour and simply enjoying the town's fun atmosphere, our mini-getaway felt like a too-short holiday. My only regret is that we didn't stay longer than two nights. I guess this means we'll need to go back.
Where to Stay: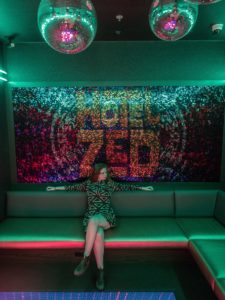 The newly opened Hotel Zed lives up to its fun reputation. The retro atmosphere includes a fun private disco, which was a big hit with the teen.
Access to the lagoon trail for early morning bird watching was a lovely bonus. Keep in mind the hotel is located on the road into Tofino—not right in the town itself. It's a short drive or longish bike ride into town—so you'll want some sort of transportation.
Upscale waterfront alternatives include the Long Beach Lodge Resort and the Wickaninnish Inn.
If you are looking for an option right in town, check out Tofino Resort + Marina.
What to Do:
I could spend hours just walking the beaches (and I did) but a visit to Tofino isn't complete without some sort of in-water adventure (honestly—it's not as cold as you think). I was voting for standup paddle boards—but Maia wanted to surf, and it was her birthday…
The thing that amazes me every time I take a surfing class is not how bad I am (that's a given)—but how fun trying to surf is. Even if, like me, you never get out of the froth and never quite stand up; it's invigorating and joyful all at once. We opted for a private lesson with Swell Paddle and Surf. The instructors quickly matched their tips to our differing skill levels and we had a blast.
Not every activity in Tofino requires a dive into the sea—some of them happen on top of the water. While whale watching is a favourite, though Maia and I opted for a bear-viewing tour with Ocean Outfitters with the hope of seeing a few chubby black bears before they headed into their dens for the winter.
Our tour looped its way through the channels around Meares Island. Along with stunning coastal landscapes we were rewarded with the sight of several burly bears, which we learned are an older subspecies of black bear that are larger and blacker than mainland bears.
Next time we go to Tofino—bringing our bikes will be a must. Not only does Hotel Zed have a bike-through lobby but the already excellent trail system just got a major addition with the construction of ʔapsčiik t̓ašii: (pronounced ups-cheek ta-shee), a new multi-use trail extending 25 kilometres through the Pacific Rim National Park Reserve.
Where to Eat:
The food scene in Tofino deserves all the accolades it gets. The ingredients are fresh (and often local), the portions are generous (they take serving hungry surfers seriously), the chefs are creative and the settings themselves are all unique and lovely. During our stay we alternated between DIY picnics, coffee-shop donuts (Rhino Coffee has delish gluten-free options) casual meals and one extra-special evening out.
For our celebratory dinner we hit the Wolf in the Fog. The menu includes a mix of comfort food and local specialties that go well with the cocktail list. The bartending staff was helpful with assisting the 19-year-old in choosing her first official cocktail (she went with the cedar sour) as well as with matching it to the dinner menu. We also visited Shelter and Shed, which share a chef and both boast menus filled with hearty favourites.
For more information visit tourismtofino.com.