Mid-way up Plum Line I start questioning the name. Is it because the climbing route follows a straight line up the cliff above Skaha Lake? Or is it that it's the juiciest pick on the crag near Penticton? With each move I'm more and more convinced it's both.
After a short traverse at the bottom, I launch skyward following little edges. Hands and feet flow through sequences that are interesting, challenging and positive. The higher I get the better the atmosphere, too. With each step, more of Skaha Lake appears below a hillside dotted in Ponderosa pine and streaked green with wineries.
Like a lot of rock climbers in Western Canada, I've made the spring pilgrimage to Skaha Bluffs Provincial Park. The climbing area hidden in the hills above the Okanagan city of Penticton brags one of Canada's longest seasons. But the reasons to go extend well beyond dusting off the technique after a long winter.
Few understand this better than Russ Turner. He first climbed here in 1993 with his now wife. "After a nine-week climbing road trip through the US we stopped in Skaha for six or seven days," says the veteran mountain guide. "At the end we decided to move to Penticton. We saw the potential."
Turner started a climbing school, Skaha Rock Adventures. It was a risk. At the time there were just 120 climbs and only a handful in beginner grades. With a "build it and they will come" philosophy, Turner invested sweat equity, establishing many of the easy climbs that seem to be everywhere now—both to teach on, and to play to, Skaha's strengths.
The cliffs are gneiss, a type of rock formed under intense pressure and temperatures. It's hard and grippy and, in Skaha, mountain building forces uplifted and tilted the rock, exposing east facing cliffs. "It created beautiful in-cut edges that make nice positive holds," explains Turner. "It's like a ladder. Climbing here is straightforward and easy for beginners to pick up."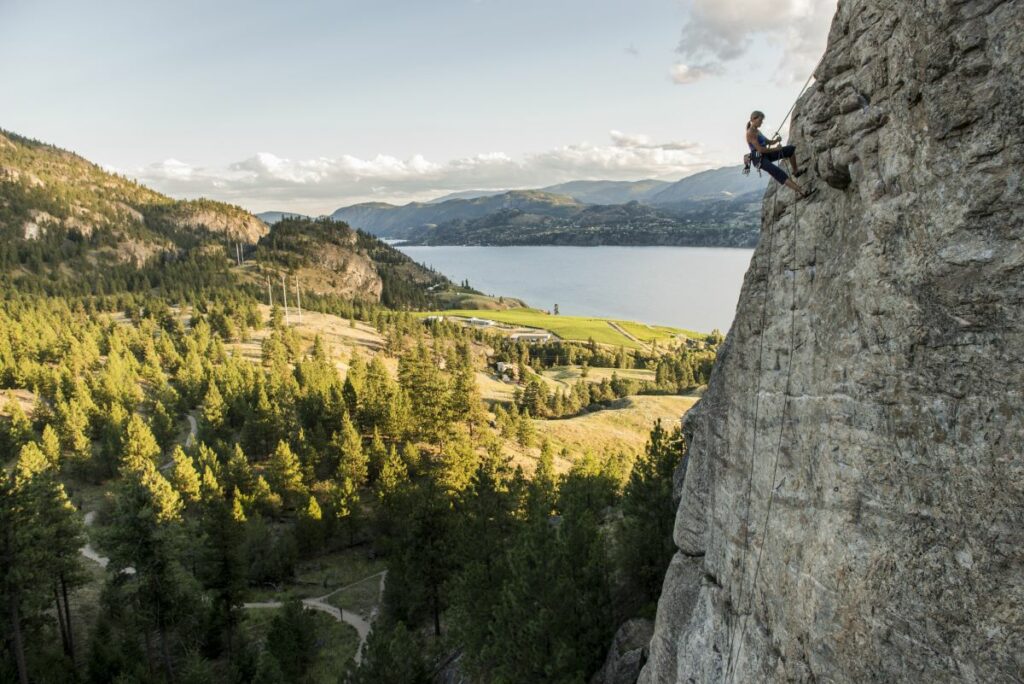 The rock is one of the reasons I love Skaha. Even when the holds are small they feel trustworthy and sticky, instilling confidence, which is especially valuable on the first shaky climbs of the year. It also helps that the routes are well protected. On a lot of climbs route setters drilled permanent bolts into the rock every few feet to provide protection against a fall. It's also possible to get to the top of some climbs to set up a top-rope, so there's no chance of falling. And thanks to Turner, who figures he's invested 3,500 hours into establishing new routes, there are now at least 100 easy climbs.
"It's a great place to transition from indoor to outdoor climbing," says Turner.
The area now contains more than 1,200 climbs and the dry and warm Okanagan weather means it's possible to climb here when it's still rainy on the coast or snowy in the mountains. Dedicated climbers start showing up in April and don't give up until November. Summers are quieter because the other areas are in prime condition. And there's the Okanagan's notorious heat.
I've climbed in Skaha in all three seasons: dodging spring showers, sweating in the summer and blowing warmth into my hands in the fall. During one particularly wet start to summer on the coast we ditched a mountaineering trip to crag-climb in Skaha. I still remember basking in the sun, washing off the dust and grime at the beach, mountain biking on a trail network to the north and buying wine right from the vineyard.
"Penticton really is a great recreation gem that people are just starting to discover," Tuner says. "There's everything here: mountain biking, hiking, swimming in the lake, wineries and so many great campgrounds."
Indeed, Skaha isn't just for climbers. The trails through the bluffs are interesting hiking, wandering through canyons and meadows and onto lofty perches. The park protects rare grassland and pine ecosystems and the endangered species that rely on them, including bighorn sheep, rattlesnakes and western screech owl. And there's a mountain bike trail right in the park.
Back on Plum Line, I'm high enough to see some of the trails now. One last sequence takes me to the top where I clip into the anchor. I'm a bit disappointed it's over, but also relieved. The first outdoor climb of the year is out of the way. From this perch I can see across the park, over all the climbing bluffs. Now that I'm all warmed up, I stop wondering about plum lines and start asking, where to next?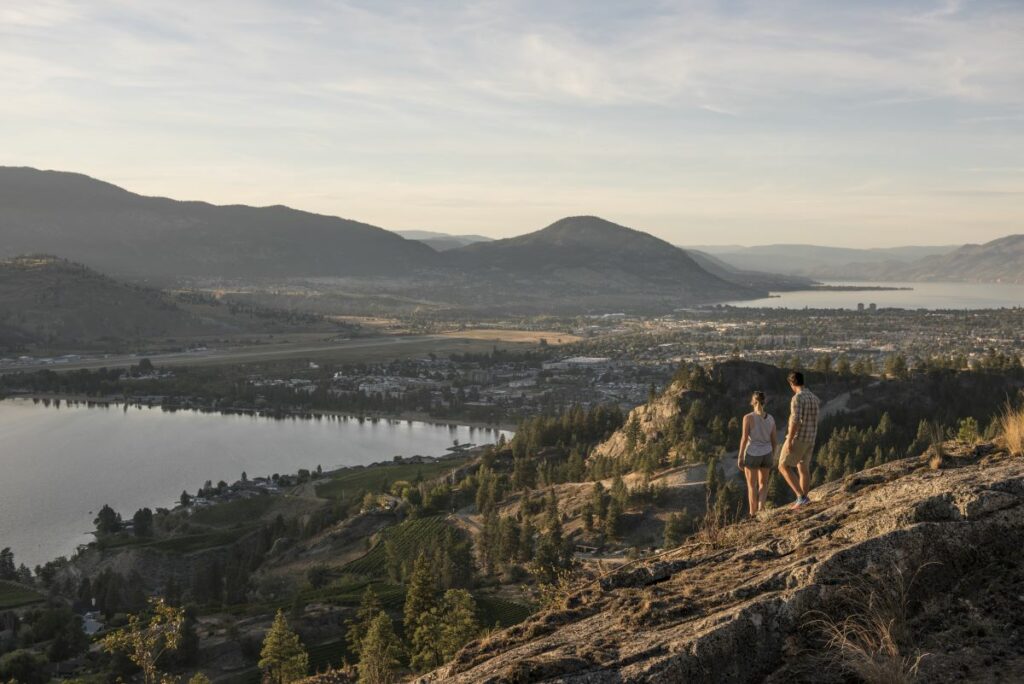 Guidebook: Two guidebooks cover the climbs, Skaha Climbing, by Marc Bourdon, and Skaha Rockclimbs: A User's Manual, by local climber Howie Richardson.
Shop: Gear up and get local advice at Eskala Mountain Sports in downtown Penticton. eskalamountainsports.com
Guiding and more: Skaha Rock Climbing, Russ Turner's company, is the oldest guiding and rock school in the area. The company website is full of beta on accommodation, eating and more. skaharockclimbing.com