As I'm sure most families with small children can appreciate, the COVID-19 lockdowns and stay-at-home orders have meant a lot more movie nights around our house. In fact, a few movies are on what seems to be a constant repeat – Descendants 1, 2 and 3 from Disney. And while watching these movies, a few locations seemed very familiar. It turns out Disney took a trip to BC for the filming of these three movies!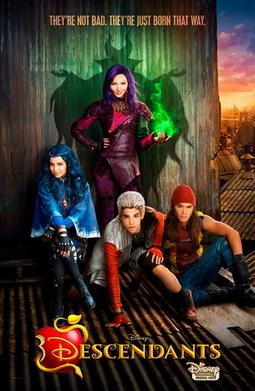 The Movies
The movies are based on the children of Disney's classic heroes and villains: Mal (played by Dove Cameron) is Maleficent's daughter; Evie (played by Sofia Carson) is the daughter of Evil Queen; Carlos (played by Cameron Boyce) is Cruella de Vil's son; and Jay (played by Booboo Stewart) is Jafar's son. These four come from the Isle Of The Lost, where Belle and Beast – now the king and queen – banished all of the villains. Ben (played by Mitchell Hope) is the son of Belle and Beast, and the future king of Auradon, where all of the Disney heroes live.
The first Descendants movie begins with the four villain kids being given a chance to leave their island prison for a life in Auradon, and the movies follow their adventures to create their own paths, instead of becoming who their parents want them to be.
Familiar Landscapes
In Descendants, which was released in 2015, you may recognize Vancouver, the Provincial Legislature building in Victoria, the suspension bridge at Lynn Canyon Park, Hatley Castle and Royal Roads University, and 30 Foot Pool at Lynn Canyon Park.
Descendants 2 and 3 were also filmed around Vancouver and Victoria. In Descendants 3, viewers might recognize the entrance to Hades' lair as the Britannia Mine Museum. Minaty Bay is featured when the villain kids leave Auradon on their motorbikes to head across the water to the Isle Of The Lost. Lynn Canyon Park and 30 Foot Pool make another appearance in the third movie, as well. The University Of British Columbia can be spotted when the movie turns to Auradon Prep, where the kids all attend school together, and Rogers Sugar Refinery is a main filming location for the Isle Of The Lost. You may also recognize Woodwinds Estate in Qualicum Beach as the set for Evie's starter castle and fashion business.
If you want to visit some of these locations yourself, Tourism Vancouver offers some self-guided tour information: https://www.tourismvancouver.com/vancouver/filmed-in-vancouver/suggested-vancouver-itineraries-and-maps/descendants-3-self-guided-itinerary/.