As flocks of construction cranes sway over Victoria, building new complexes or reviving old ones, some say British Columbia's capital city is in transition. And they're right. But the city has ebbed and flowed since the Hudson's Bay Company planted a fort near the harbour in 1843, taking over the territories of the Songhees and Esquimalt Nations who'd used the area as their winter home for millennia.
Victoria's harbour served as a gathering place for First Nations. Today, these traditions continue. Mammoth cruise ships and big ferries arrive from Seattle and Port Angeles, in Washington State, while tiny ferries dart around, pleasure craft seek moorage and a lively floatplane airport still bring people together here. Artists and buskers enliven the causeway bordering the harbour. Flower baskets swing from the heritage lampposts.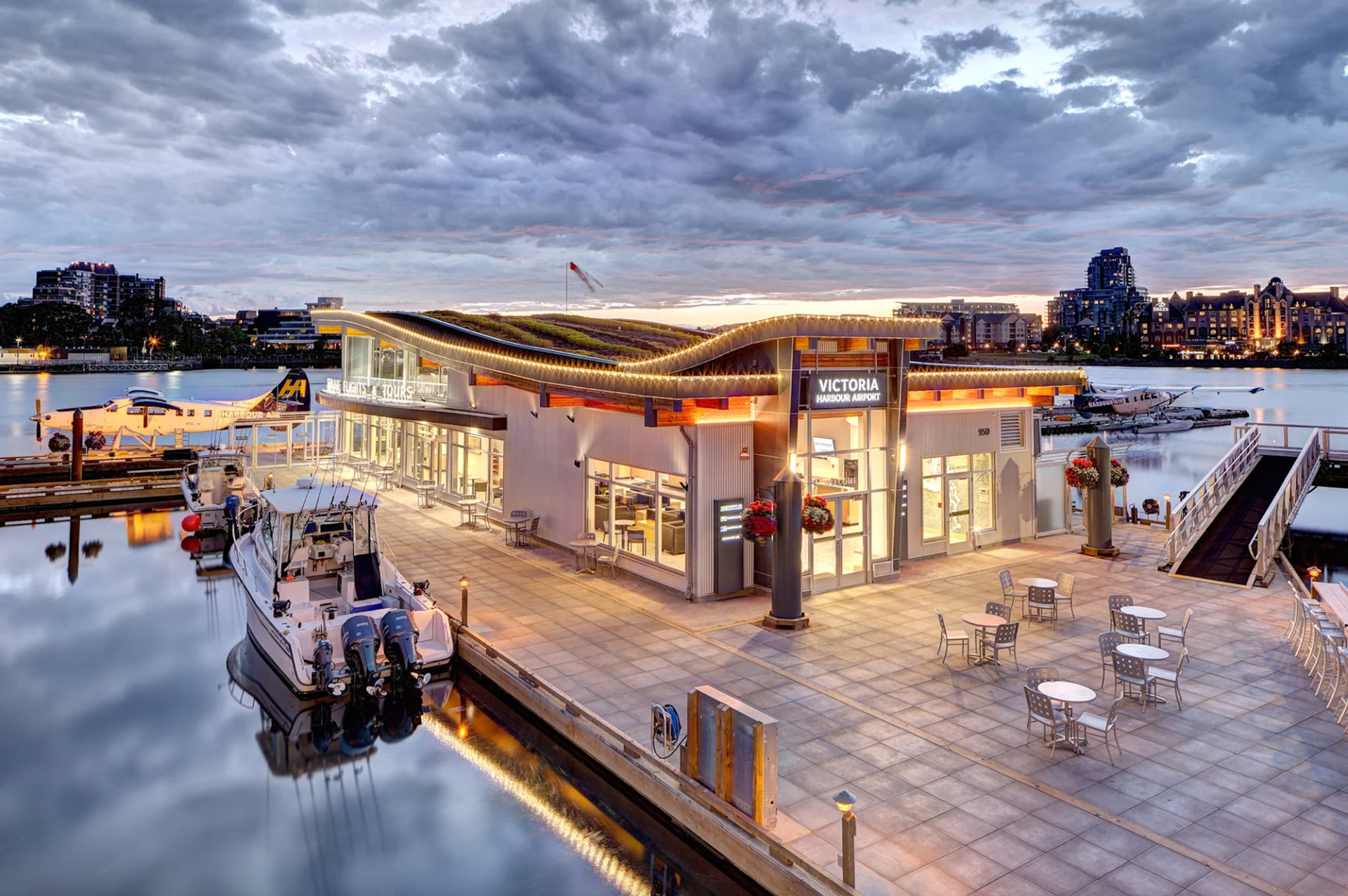 On the corner of Humboldt and Wharf streets, you'll find the Victoria Visitor Centre. Located in an art deco tower, it's a great first stop to gather information and maps that'll enrich your time in the city.
Victoria's old town is easily walkable; visitors can spend days without exhausting all there is to see. Victoria is the oldest city on Canada's West Coast and home to the provincial Parliament Buildings—crowned by 33 copper domes. Opened in 1898, and designed by famous (and notorious) architect Francis Rattenbury, they cost a scandalous $923,882.30 to build, including the usual huge overruns (I smile at the 30 cents). Every evening, as it has for 121 years, Parliament illuminates its contours with about 3,300 light bulbs. Today, these lights are energy efficient.
Across the street, the Royal BC Museum beckons. It's famous for its special exhibitions and also houses a marvelous permanent collection of Indigenous artefacts and totems. Children enjoy the Ice Age animal dioramas, especially the woolly mammoth. An lMAX theatre usually features some family-friendly films. Next to the museum, Thunderbird Park contains the Mungo Martin "Big House," with 11 totems introducing viewers to more outdoor Indigenous art.
The "châteauesque" Fairmont Empress Hotel is a destination even if you don't lodge there. The Grande Dame is 111 years old, and was recently modernized. The popular (but pricey) Afternoon Tea at the Empress includes savoury bits, tiny sandwiches and sweet bonbons. I particularly enjoy the arcade that leads to the Victoria Conference Centre with its Romanesque arches and colourful indigenous carvings.
Without question, whale-watching tours are always a favourite pursuit. It's easy to imagine the thrill for visitors from Saskatchewan or Kansas when seeing spyhopping orcas, seals or sea lions, with the occasional eagle flying overhead. More than a dozen whale watching companies, most located at the harbour, run tours through regional waters.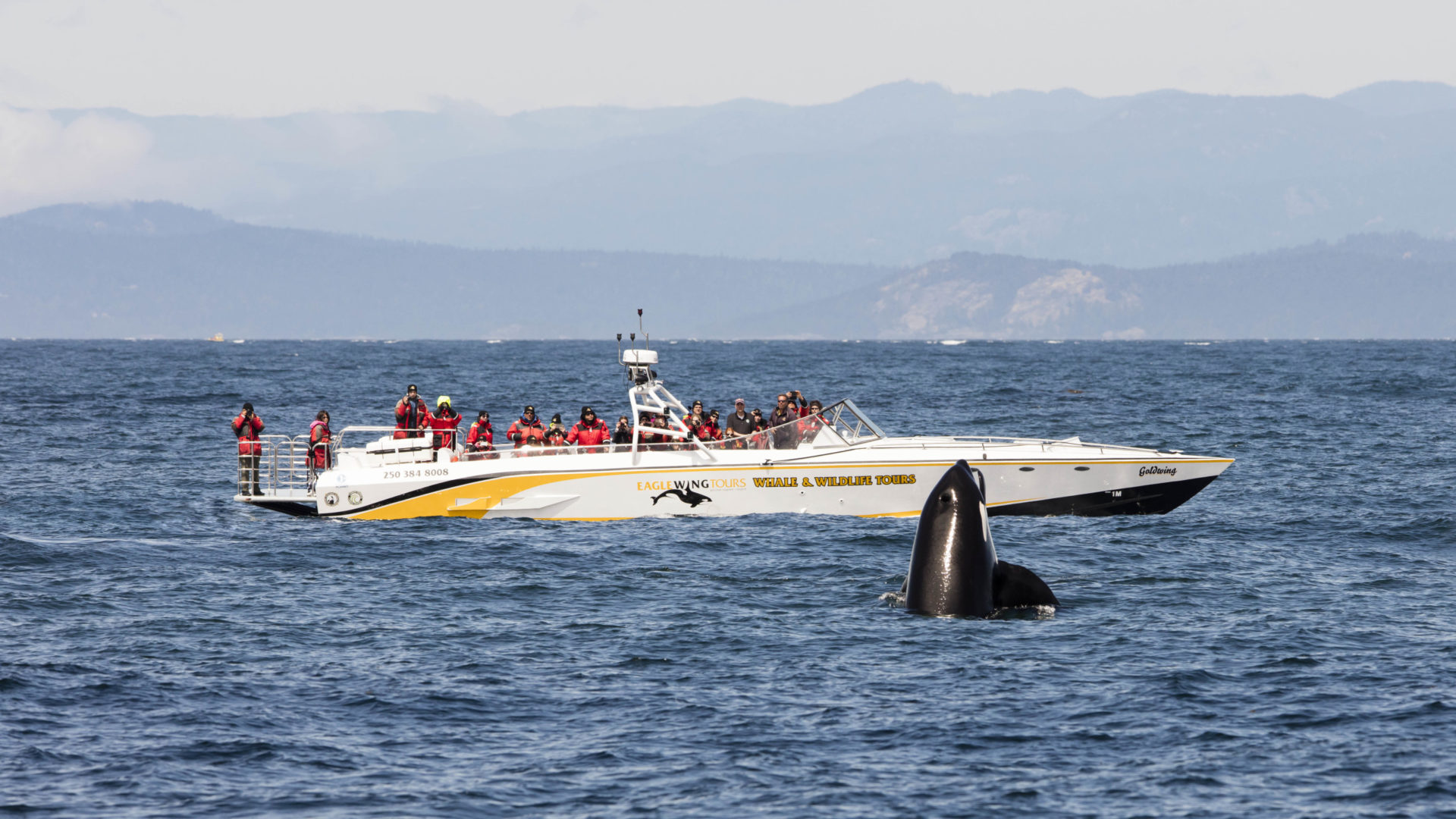 In the 1850s, when gold was discovered on the Fraser River and in the Cariboo, then-Governor James Douglas compelled all miners going to BC's mainland to obtain prospector licenses in Victoria. Overnight, a sleepy enclave grew into a tent city with 30,000 speculators, gold miners and gold diggers. Hotels, saloons, bazaars, mining equipment suppliers and bawdy houses sprouted on downtown streets.
Many of these historic buildings still exist—some have been reborn as trendy lofts. But not all survived—in the mid-20th century, older structures were thought unfashionable. Some grew derelict and were torn down, their footprint converted into parking lots. Fortunately, in the 1980s, some prescient Victorians began saving and revamping the surviving properties. Today, the parking lots are being infilled with new shops and "small-living" lifestyle apartments.
Walking north on Government Street, you'll find period buildings with scores of specialty shops, galleries, clothing emporiums, coffee shops, restaurants and the Bay Centre. Rogers' Chocolates has occupied the same location since 1891, and besides selling flawless fair-trade cocoa chocolates, the store itself is an attraction.
Munro's Books is justly famous for its huge selection of books and homey atmosphere. I think it feels like a bookstore should. Housed in a former bank, its lofty walls are decorated with elegant, handwoven tapestries. After browsing books, I like stopping next door at Murchie's Fine Tea and Coffee, which also serves tasty sandwiches and the best meringues in the world.
Enticing east-west walks include Yates Street, Johnson Street and Pandora Avenue with their many emporiums. Fort Street is known for its rows of antique stores. On Johnson, Market Square has incorporated eight heritage buildings where visitors can shop for art, outdoor gear, beads and vegan cuisine.
Victoria's Chinatown is a National Historic Site and the second oldest Chinatown in North America, after San Francisco's. The Gate of Harmonious Interest, with its glazed tiles and gilded dragons, is framed by two hand-carved stone lions and is the formal entrance. The Fisgard Street gate commemorates the thousands of Chinese who immigrated during the Gold Rush and toiled on the Canadian Pacific Railway during the 19th century.
By 1900, 3,000 Chinese lived in this part of town operating schools, theatres, opium factories and gambling dens. Opium production, sale and export were legal. Many vintage buildings remain, highlighted with imperial gold-and-mandarin-red enamel. Former warrens have been transformed into fashionable studios. Dim sum and every other type of Chinese sustenance can be found. I like the veggies displayed in boxes on the sidewalks. Fan Tan Alley—the narrowest street in Canada—runs between Pandora and Fisgard and once accommodated gambling dens, but now hosts cool shops.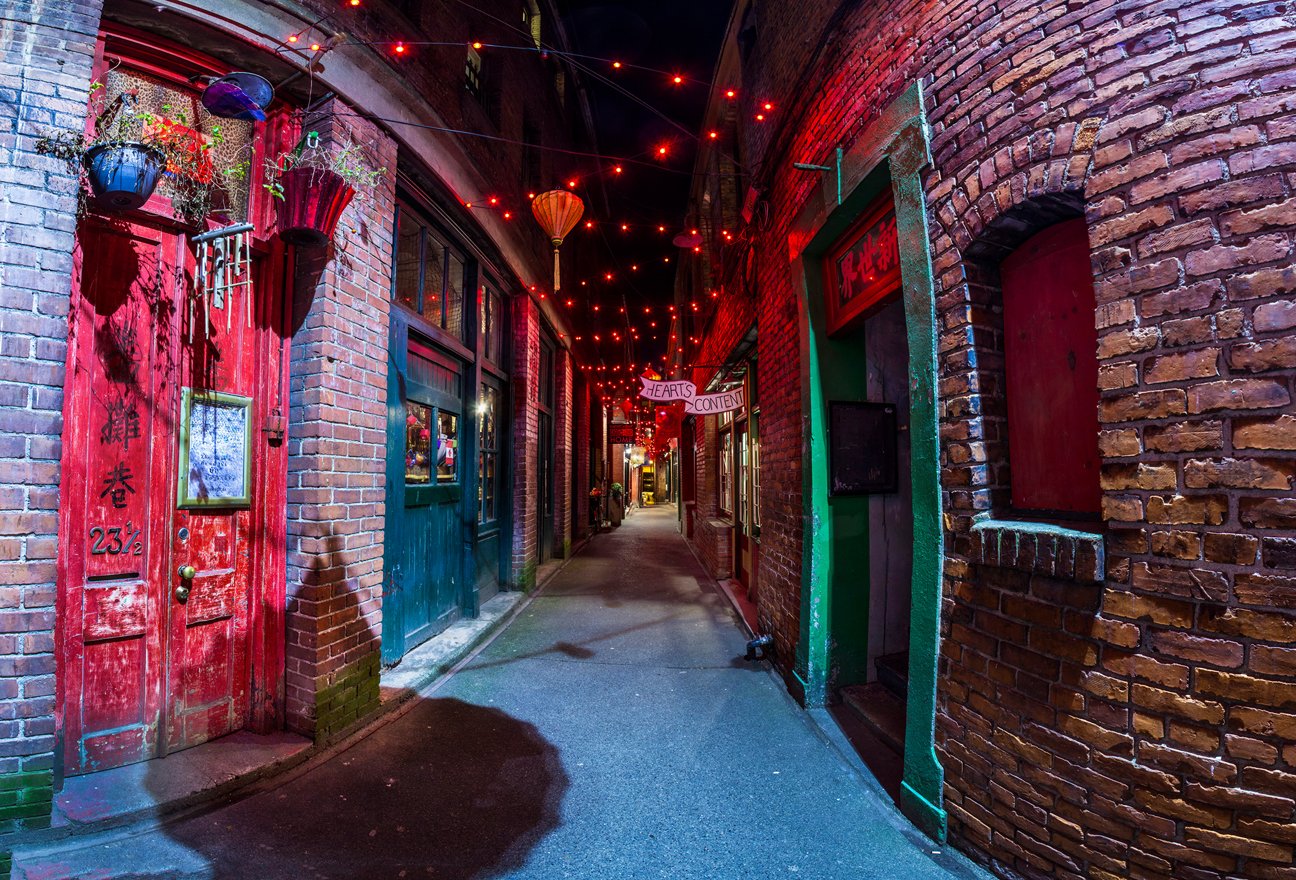 If your feet are aching after strolling through town, Victoria offers various forms of other transportation. Pedicabs range from two-seaters to larger vehicles, pedalled by young persons with strong leg muscles. It's a leisurely, emissions-free way to travel.
You can also pedal yourself. Bicycles and e-bikes that can give you a mighty assist going uphill are available for rent. A couple and two kids can fit into a "pedal coach." Scooter rentals encourage explorations beyond the downtown.
For a yesteryear experience, Victoria Carriage Tours offer horse-drawn carriage rides, whose drivers double as guides. It's an emission-free ride, although the horse may drop some biodegradable road apples.
The harbour ferries give visitors a fun and practical ride. The small gold or green ferries, carrying up to 12 passengers, dart across the harbour serving as water taxi. They can zip you to Fisherman's Wharf with its delectable Barb's Fish and Chips and other food kiosks, eye-catching float homes and visiting seals. Or whisk you to Spinnakers, one of my favourite watering holes with its own craft brewery and a wide-ranging menu.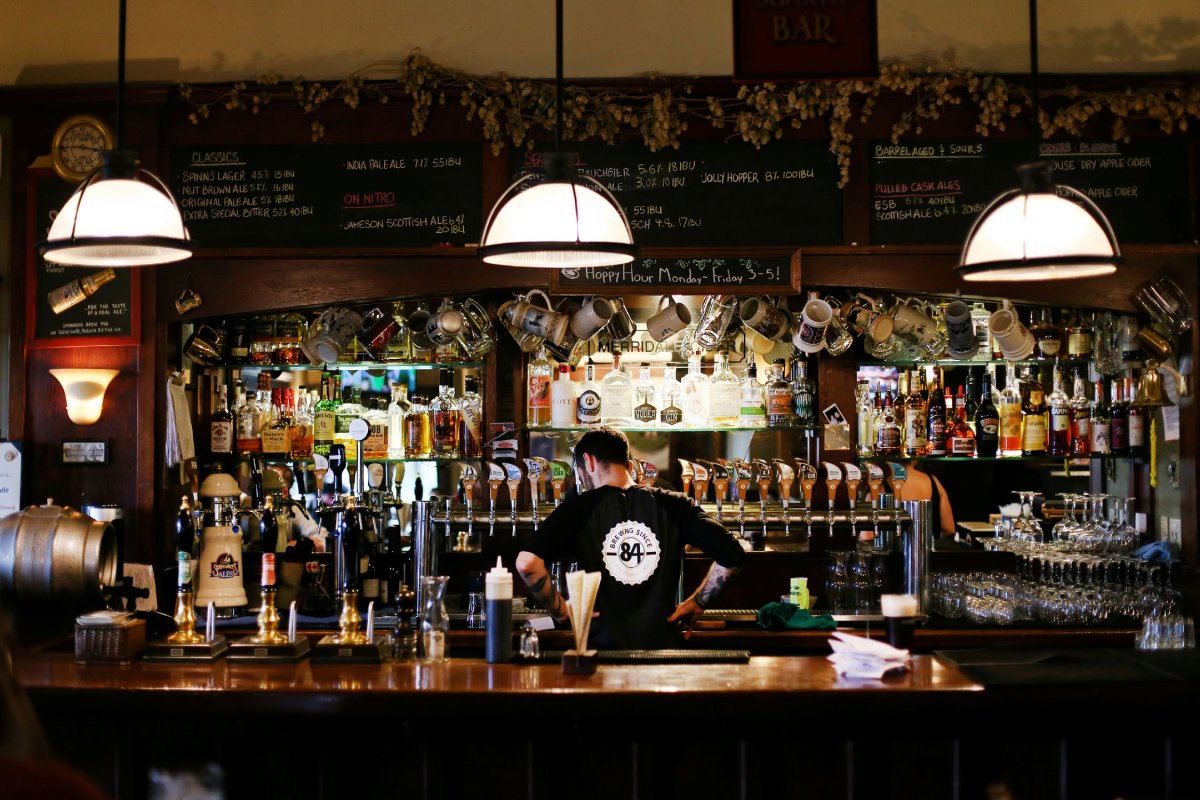 Hop-on hop-off buses provide yet another opportunity to get around. CitySights has double-decker buses and you can board when you want, disembark, look around and catch the next one. Craigdarroch Castle is but one delightful stop: it was the massive Victorian-style home of coal baron Robert Dunsmuir, a Scottish immigrant, who built it in 1890.
Three blocks from the harbour, the 81-hectare (200 acres) Beacon Hill Park's greenery gives a break from brick and concrete. Established in the 1880s, the park features formal gardens, mature trees, wildflower meadows and a popular children's petting zoo. A giant sequoia planted in 1913 has low, curved branches inviting kids to climb. The park also contains the world's tallest freestanding "story pole" at 39 metres.
The Butchart Gardens are famous worldwide. The more than 100-year-old, 22-hectare (55 acres) gardens are located on the Saanich Inlet 30 kilometres north of downtown; public and private tour busses drive round-trip to the gardens throughout the day.
The gardens were built upon an exhausted limestone quarry. When Jennie Butchart, the quarry owner's wife, saw the moonscape, she brought in tons of topsoil and began landscaping the former mine. Today, the gardens employ 50 full-time gardeners and plant 900 different species.
Victoria is proud of its outstanding variety of restaurants: all 885 of them. In North America, only San Francisco has a higher per capita number of restaurants. Just about every type of cuisine—in all price ranges—can be found strolling from the Inner Harbour, beginning right at the harbour with Red Fish, Blue Fish and the Flying Otter Grill. Among the upscale, Q at the Empress features such gourmet items as octopus, pork hocks and wild boar with a wine list that'll impress any oenophile.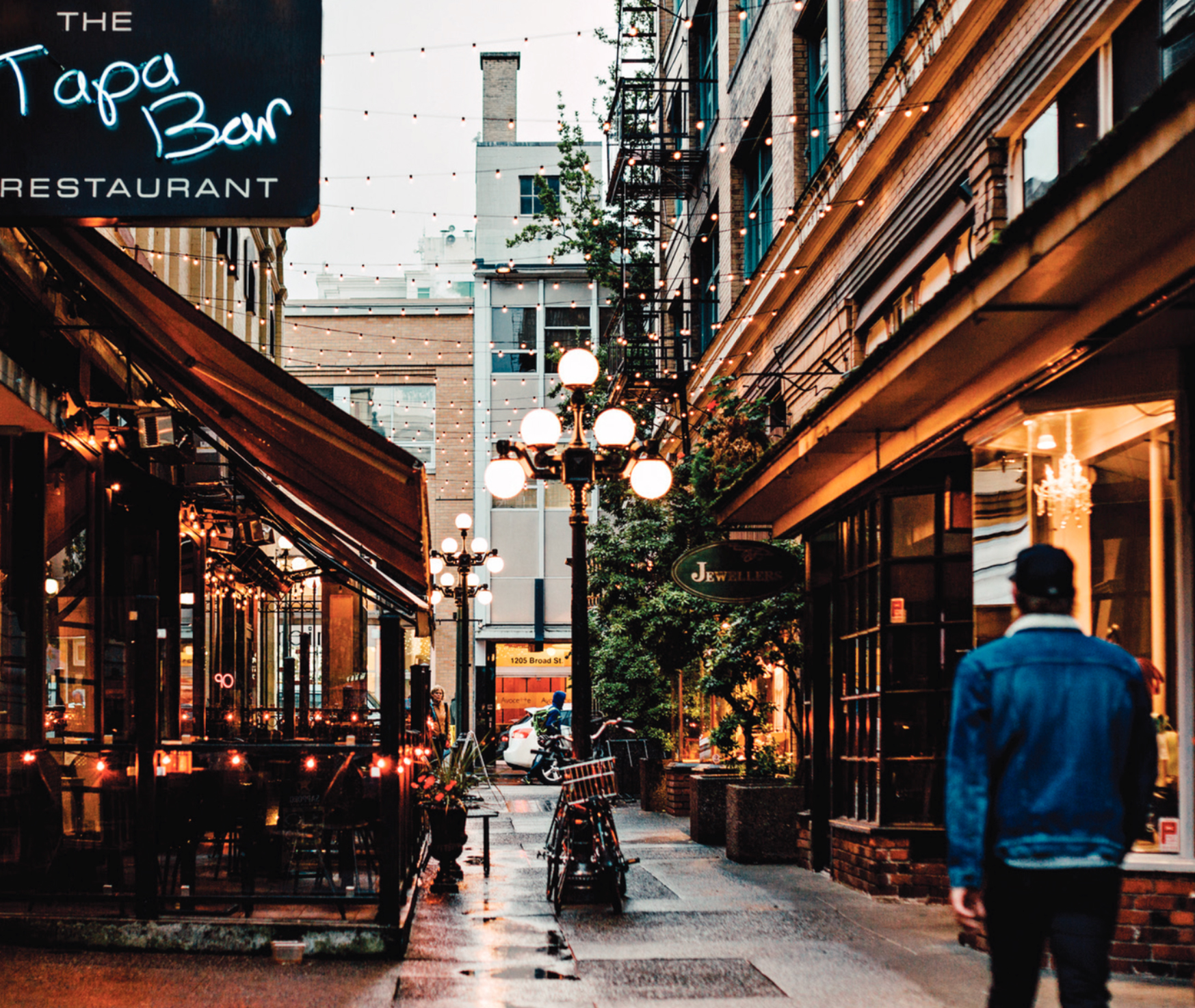 If your tastes run to Italian, Il Terrazzo and Zambri prepare classic Apennine Peninsula fare. So many Japanese restaurants have burgeoned, you can find one on just about any block. A great place to gobble dim sum is Don Mee. If you like outstanding vegetarian/vegan cuisine, you can't go wrong at Rebar. Swan's Hotel and Brewpub is a good place to quaff a craft beer and eat a burger, while the Dutch Bakery is renowned for its pastry and croquettes. And two pubs, the Irish Times and the Bard and Banker are located in former banks and their venues are as enticing as the food.
Victoria is an alluring city. Not too big, with an interesting history, modern restaurants devoted to local and healthy fare, indigenous art everywhere, activities for kids and adults, all of them easily enjoyed on foot, by bus, biking or riding a scooter. Stay a while!
If You Go
Things To Do
The Visitor Centre at the top of the Inner Harbour walkway, 812 Wharf Street, has information on everything there is to do, see and eat in Victoria. A free app, Victoria Vacation Guide, Is available for IOS devices.
The Parliament Buildings, which is open and free, offers tours to the public. You can meet the government players and enjoy an interactive program for families with children. A self-guided outdoor walking tour leads to many attractions on the grounds. leg.bc.ca
Descriptions of the Royal British Columbia Museum's collections, special exhibitions and hours of operation can be found at royalbcmuseum.bc.ca. The IMAX Theatre schedule is at imaxvictoria.com.
The Fairmont Empress Hotel's interior and lovely gardens should be visited. fairmont.com/empress-victoria/dining/tea-at-the-empress
The three emporiums no one should miss while walking north on Government Street are Rogers' Chocolates, 913 Government Street (rogerschocolates.com); Munro's Books, 1108 Government Street (munrobooks.com); Murchie's Fine Tea and Coffee, 1110 Government Street (murchies.com).
Chinatown is a mix of streets and narrow alleys, many restaurants, shops with Asian goods and foods. A fun place to wander and eat. 500 Fisgard Street. hellobc.com/stories/exploring-victorias-chinatown
Whale watching is so popular at least a dozen tour operators are available. The best way to select a tour based on vessel type, eco-footprint and distances covered, is to visit tourismvictoria.com/see-do/whale-watching.
Sleep
There's a plethora of places to stay ranging from historic to modern hotels, and charming B&Bs at every price range. The best place to reserve one is at tourismvictoria.com/stay.
Eat
Tourism Victoria lists 173 restaurants at tourismvictoria.com/eat-drink/restaurants-cafes. Here are a few favourites:
Zambri's calls its cuisine "Italian Soul Food." 820 Yates Street; 250-360-1171: zambris.ca
Il Terrazzo prepares North Italian dishes with some Pacific coast thrown in. Waddington Alley at 537 Johnson S1reet; 250-361-0028; ilterrazzo.com
Don Mee is one of the best-known Chinese restaurants for its seafood and dim sum. 538 Fisgard Street. 250-383· 1032; donmee.com
Fishhooks is known for, yes fish, in chowders and soups among other French and Indian dishes. 805 Fort Street; 250-477-0470; fishhookvic.com
Rebar Vegetarian fare. 50 Bastion Square; 250-361-9223; rebarmodernfood.com
Swan's Hotel and Brewpub brews beer and has great art. 506 Pandora Ave; 250-361-3310; swansbrewery.com/brewery
Irish Times and the Bard and Banker at 1200 and 1022 Government Street respectively. irishtimespub.ca; 250-383-7775; bardandbanker.com; 250-953-9993
Getting Around
Victoria Pedicab Company, offers several tours taking from two to 50 passengers. 250-884-0121; victoriapedicabs.com
The Pedaler rents bikes. 321 Belleville Street; 778-265-7433; thepedaler.ca
Cycle BC rents motorcycles, scooters and bicycles. 685 Humboldt Street; 250-380-2453; cyclebc.ca
Ride the Glide rents electric bicycles and pedal-coaches. 1-888-809-4285; #307-1208 Wharf Street; ridetheglide.ca
Victoria Carriage Tours, located on the corner of Belleville and Menzies streets next to the Parliament Buildings. 1-877-663-2207; victoriacarriage.com
Victoria Harbour Ferries. Water taxi service in the harbour, with a choreographed water ballet on Saturday and Sunday mornings during the summer. Tours and a pub-crawl are other activities. 250-708-0201 (ext 100); victoriaharbourferry.com
Butchart Gardens. You can take a public or private bus to the gardens, located at 800 Benvenuto Avenue, Brentwood Bay. The Visitor Information Centre has bus and tour schedules. 1-866-652-4422 or 250-652-4422; butchartgardens.com
Grayline CitySights Hop-on Hop-off offers double-deckers with 15 stops. Tickets in front of the Empress. 1-855-385-6553 or 250-385-6553; sightseeingvictoria.com/tour/victoria-hop-on-hop-off
Big Bus Victoria has one-and two-day passes with 21 stops and includes some combo deals. 1-888-434-2229 or 250-389-2229; bigbusvictoria.com
COVID-19 Protocols
Most businesses are open at time of press, but are operating under COVID-19 regulations, including reduced services and reduced capacities. Check before you visit.