If you read a travel article about northern British Columbia over the past six years, chances are Blaine Estby had a hand in it. Estby, a tall man with one of those voices that just carries, was a mainstay in the Canadian writing community as a media relations representative for Tourism Northern British Columbia. From cuisine in Prince George to surfing in Haida Gwaii, he helped content creators get what they needed.
So it was quite a shock among travel media when, in early 2019, Blaine sent out his goodbye emails and departed a dream job. However, his new gig seemed even sweeter: co-owning a brewery in the northern mountain town of Smithers, BC.
"Smithers is a very entrepreneurial place—this is what attracted me back to the place," explains Estby, who is originally from Smithers, but having also lived for a while in Prince George and numerous other BC towns, as well as abroad. "We have six blocks on Main Street full of independent small business."
And there's the ticket—or a piece of it, anyway. BC is rife with mountain towns seeing waves of lifestyle migration; city-dwelling refugees who outgrow the rat race in favour of prioritizing recreational pleasures. We saw it in Squamish in the 1990s and throughout the Kootenay Rockies in the early 21st century. Lately, Cumberland, on Vancouver island, has made the leap from end-of-the-road pass-by to a craft-beer and coffee-house mountain bike mecca.
So what makes Smithers different from the classic gentrified mountain town? It starts with something as simple as latitude.
You won't arrive in Smithers by accident. It's set on Highway 16, just past 54 degrees north, about halfway between Prince George—northern BC's commerce centre—and Prince Rupert—the province's northern port—and on the way to Yukon. But not even the main thoroughfare north. Passing Smithers means you're likely headed up the lonely Stewart-Cassiar Highway rather than the more-well-­travelled Alaska Highway. As such, the town enjoys modest tourism, as part of a circle for travellers looping the twin northern routes, as well as the BC Ferries circle route that takes you through the Inside Passage by boat, then back by car.
Perched along the Bulkley River, Smithers is home to fewer than 6,000 people and services about 14,000 more in the rural region. It's a picturesque place, in a valley betwixt the Hudson Bay and Babine mountain ranges. To embrace its alpine surroundings, 41 years ago the town standardized much of the architecture on Main Street: red brick sidewalks, exposed wood and alpine-style roofs adorning eateries and storefronts.
Historically, settlers showed up in the 1860s and the town was raised in 1913 in response to the Grand Trunk Railway's western expansion. Of course, the Witsuwit'en predate all of this by millennia. "The people of the lower hills" hold traditional lands from New Hazelton in the west to Burns Lake in the east; Moricetown in the north to Ootsa Lake in the south.
Smithers shares much on paper in ­­similarity to towns like Fernie, Golden and Nelson in BC's Kootenays—fly fishing in town, a local ski hill a few minutes off, hiking and biking trail networks, independent business. However, one must consider that a Kootenay town of similar size, like Golden, for example, is three hours from a million people via the high­-trafficked Trans-Canada while Smithers is 13 hours from the same, except via a much lonelier road. This setting crafts a unique vibe, a lower cost of living and a cooperative community steadfast in The North.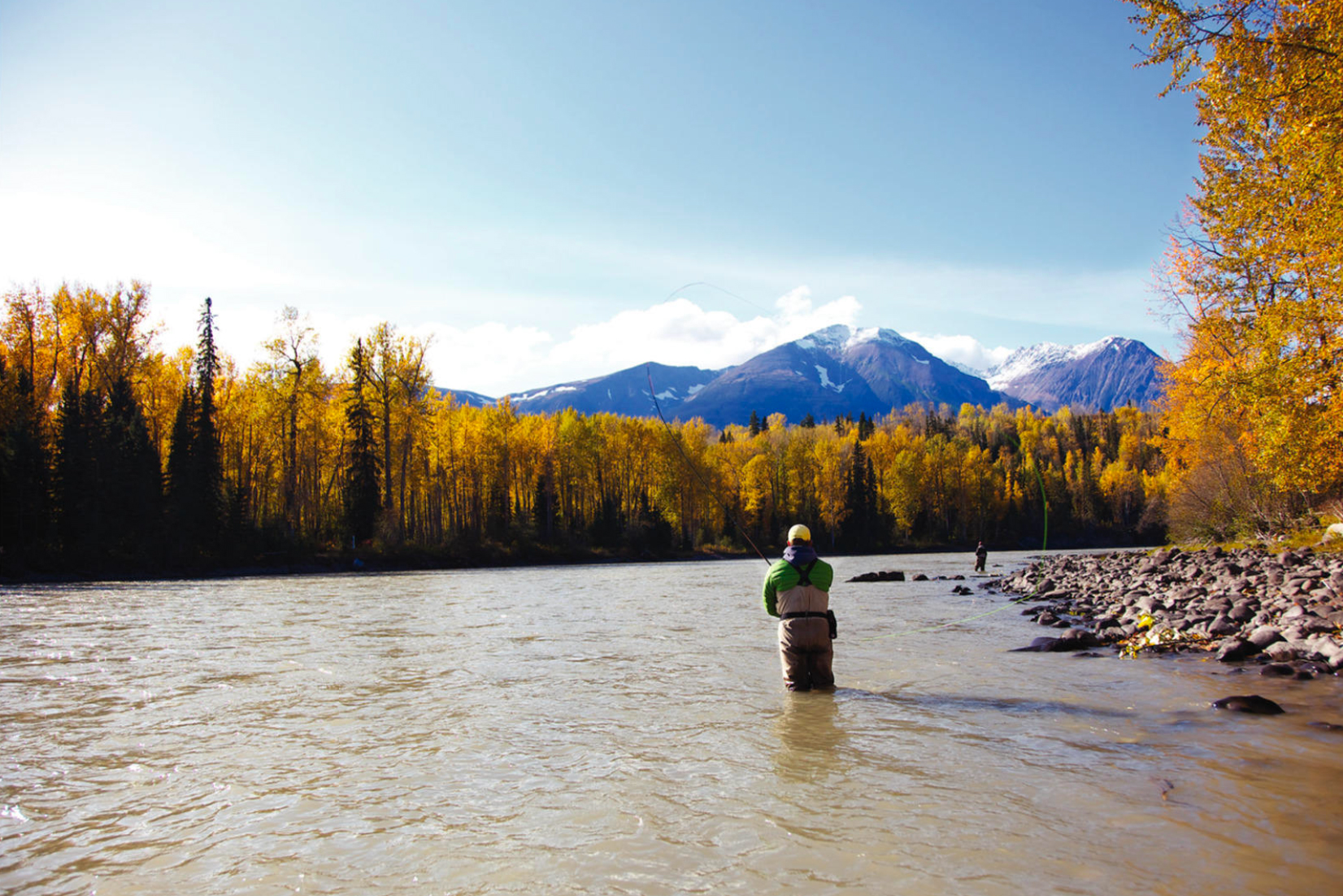 While working at Tourism Northern British Columbia, Estby was based in Prince George—the hub of the region—but the call to Smithers led him to begin working remotely from his hometown, four hours west of the tourism offices. The lifestyle of "swinging a fly before work," or riding a mountain bike trail network through town was too attractive. Inch by inch, he separated from government work.
"We're a crazy outdoor recreation community—and we needed a brewery," explains Estby of he and his partners' decision to make beer for a living. Smithers had a craft brewery that ran from the early 2000s until just into the teens, but its closure scared off new brewers just as the province's craft beer revolution took hold in so many small towns. "Why was nobody doing this in Smithers?" Estby and his friend, Adin Bennett, asked, in the mid-twenty-teens. "We have amazing coffee shops… our ex-mayor, now MP, said something like "the key thing to a small community is good coffee, a great brewery and a bunch of outdoor recreation to do when you're not at work."
It was a natural fit. Estby had previous experience within the booze industry, as well as having worked with breweries in Prince George and other northern towns during his tourism days. When Estby and Bennett finally decided to truly develop Smithers Brewing Co., they did it with a cooperative vibe: "We had a ton of help from businesses in town."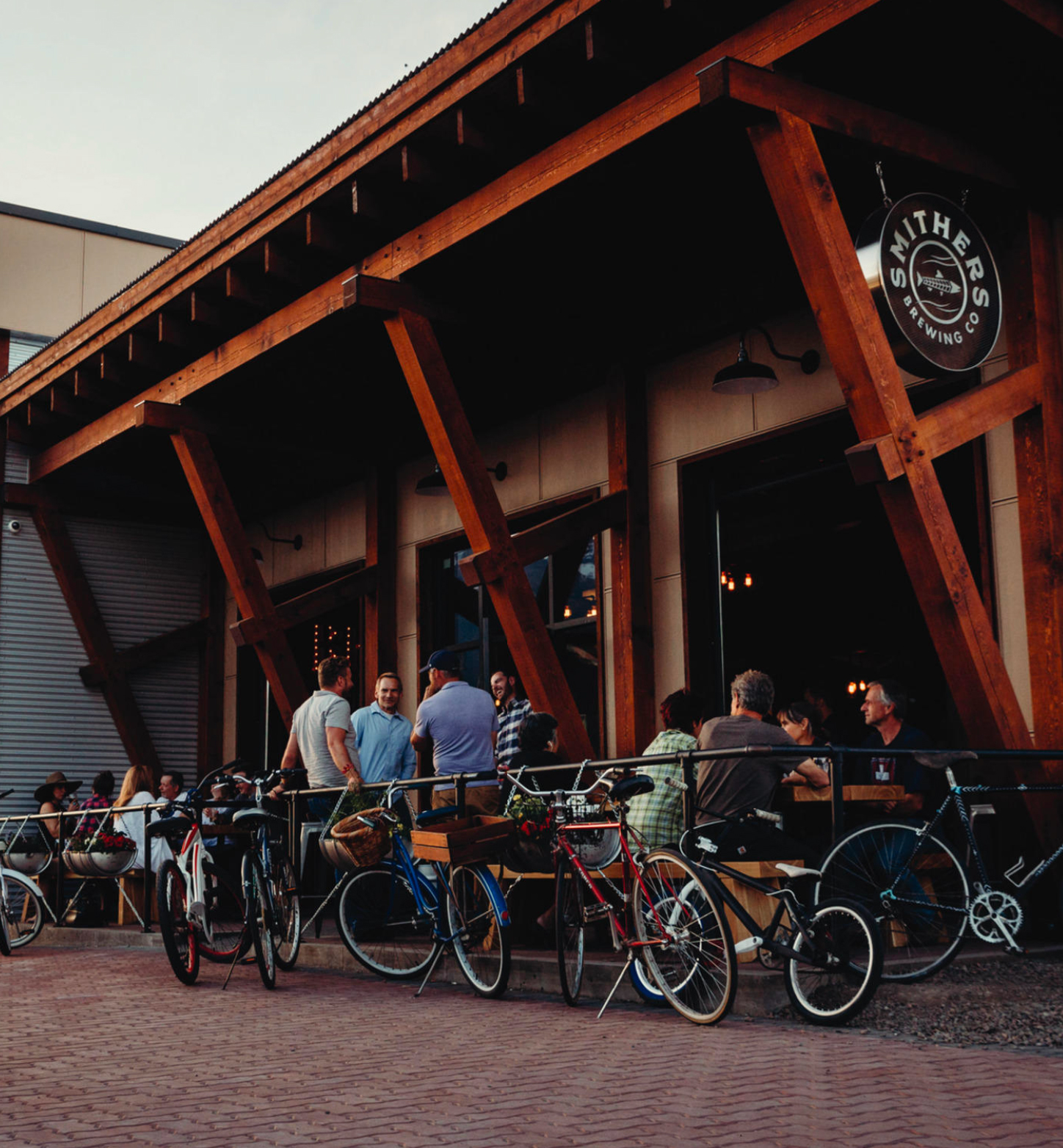 For the land, they partnered with Sascha Hillebrand and Jeremy Rott, owners of one of the eateries in town—the Alpenhorn Bistro & Bar. For brewing the actual beer, they hired a relative newcomer, Cameron McKeigan, who came from Wheelhouse Brewing in Prince George, offering him the chance to leapfrog ahead in the industry at the helm of a new brewery.
"We didn't want to do food service. We had a ton of amazing restaurants and we didn't want to compete," says Estby. "We work with the restaurants in town. People can bring food in."
For the custom timber-frame taproom—all beams were milled within 50 kilometres of town, all contractors were local. To combat the high costs of distribution from their northern locale, they partner with other northern brewers to deliver their cans around the region in one collective wagon.
Smithers Brewing Company opened in June of 2018 and Estby left his government cheques in January of the following year. And they were on trend—a block away, Bulkley Valley Brewery, a taproom and growlerly, opened at just about the same time. Smithers finally had all the pieces in place.
"l don't want to be the fact that we're living in the north to be an excuse to be any worse than anyone else anywhere in the province," continues Estby. "A lot of people in Smithers have that same feeling—ensuring quality despite the northerness."
Estby and Bennett's experience is the rule, not the exception. Take sisters Moe and Michaela Kafer, who brought the Roadhouse Restaurant to Smithers a year before SBC opened its doors. Originally from the UK, Michaela had a tree-planting business in the area—but dreamed of being a restaurateur—and constantly lured her sister across the pond to visit their mountain paradise. Finally, it was time to make the dream a reality.
"We had a lot of people to draw from… It's a good tight-knit community," says Moe. "Everybody was very eager for a good restaurant to open up."
She seconds Estby's statement about a desire for quality in the north—and a refusal to let their remote locale be an excuse for anything less-than: "It's small-town but also a culturall­y rich town. And it's quite entrepreneurial."
The sisters broke ground in 2017 after seven months of planning, "but a lifetime of dreaming." And like Estby, they struck while the iron was hot. Moe explains that in a short amount of time, Smithers Brewing Company opened, Bulkley Valley Brewing opened, then Roadhouse and a couple other restaurants all opened. Smithers made the leap from the town where everybody went to dinner parties, to a northern 'burg with upscale dining options and lively after-hours hangouts.
And also like Estby, the business community and local support is just one piece to the Smithers pie.
"World class backcountry skiing. Amazing fishing. Lakes all over. Cottage industries all over. All sorts of cool stuff going on up here," Moe says as she lists the reasons she chose to make this her "forever home," summing it up in seven words: "People choose to live in this town."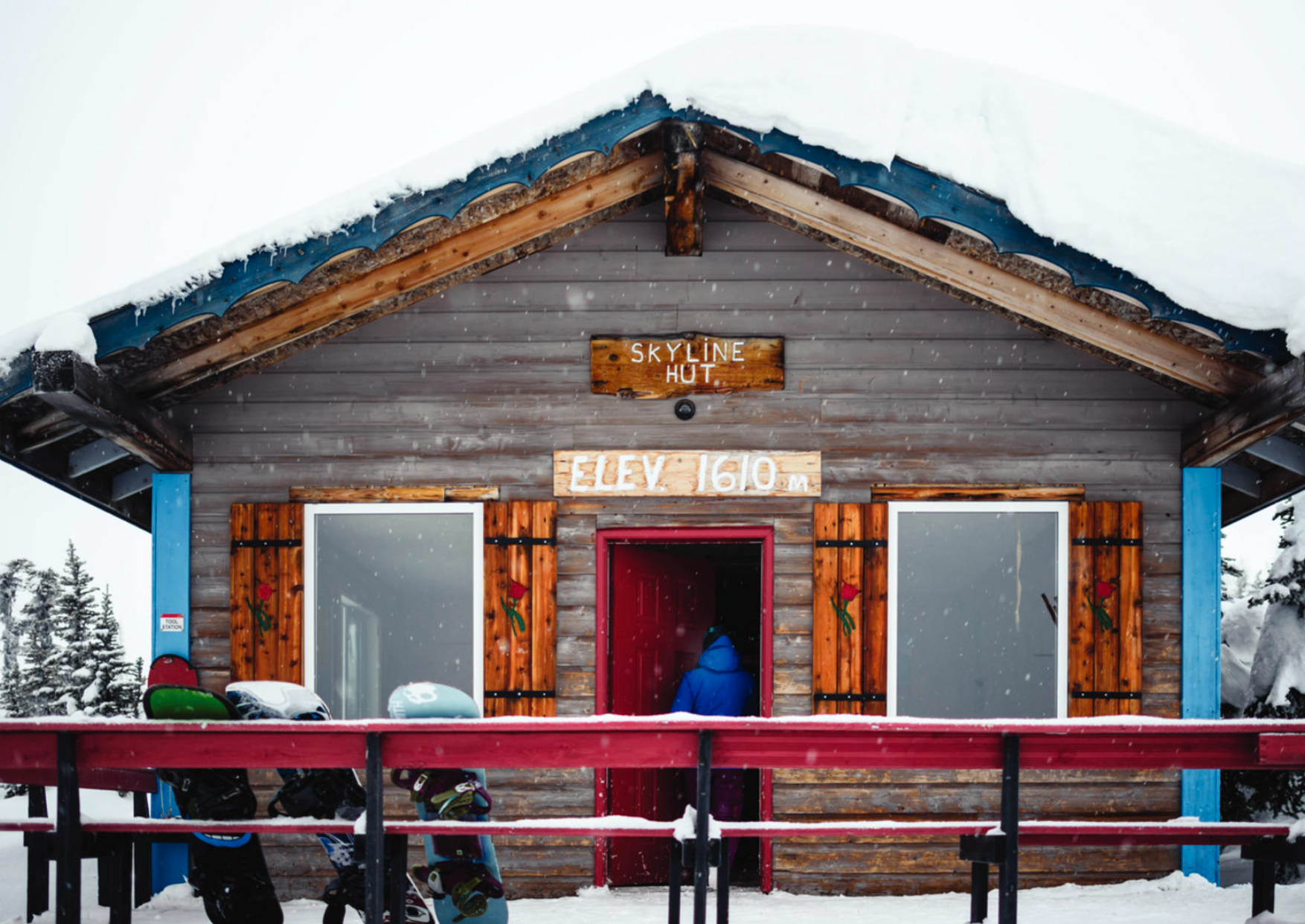 Sheena Miller, manager of the Smithers District Chamber of Commerce, echoes many of the sentiments put forth by Estby and Kafer.
"This community is very loyal to small business. This is a community that stopped Walmart," Miller explains. "We support local at all costs. If someone isn't doing something locally, we'll find a way to make that a business… When there is a need—we want to find a solution locally. We want to keep the money in town before we'd ever outsource."
Miller explains that being in business in Smithers requires more than just opening your doors—owners are expected to support community events and programs. In turn, community members support local operators rather than shopping on Amazon. "I've never seen a deep-rooted connection where businesses support community and community supports business," she says. And when local businesses have seen hard times, Miller explains that other owners often rally support.
Plus, the community at-large, as well as the Chamber of Commerce and local politicians, understand that the pillars of housing and food-security and childcare prop up economic development—and these are ongoing priorities.
The results? During COVID-19 alone, this small town saw eight new independent businesses open. "We're very solution-driven," says Miller. "It's all about being a resilient 'Smithereen."'
The more things change, the more things stay the same. Over the course of 35 years, the population of Smithers proper has increased by only about 1,000 people. While Kootenay Region and Vancouver Island towns have seen skyrocketing property values in the past 20 years, "l think Smithers is geographically so far from any major centres that we won't be concerned about 'bad' growth," explains Estby.
The town's "northerness" can cut both ways. Tourism, for example, is still fledgling. Estby, who keeps one toe in the tourism pond via seats on a couple of boards, explains they have a devil of a time trying to explain to potential travellers from Prince George—population 100,000—that Smithers is the same distance away as Jasper National Park, offering similar mountain recreation with a fraction of the crowds and half the price-tag. As such, businesses look inward. And while these small businesses thrive in the spirit of co­operation, it's far from the only reason to live there.
"We can have Hudson Bay Mountain—22 minutes from my driveway to the bottom of the T-bar. We have Bulkley River, a world-class steelhead fishery. Mountain bike trails lead right into town. We're the type of community that when it snows two feet on the mountain, half the businesses are closed," says Estby. "It's the best place in the world, if you ask me."
If You Go
Eat
The Roadhouse, on Alfred Avenue, serves upscale comfort food and classy cocktails.
facebook.com/RoadhouseSmithers
Blue Water Sushi, on Main Street, serves up nigiri, sashimi, nori, udon and more—take-out only during COVID-19 protocols.
Alpenhorn Bistro and Bar is a Smithers staple and historical site—offering an urban chic dining experience with a northern flare.
Drink
Smithers Brewing Company offers four mainstays and four rotating taps as well as cider and kombucha.
Bugwood Coffee roasts its own beans right in town and serves up cups of goodness on their Main Street café or Fulton Street lab and roastery.
Bulkley Valley Brewery is another lively spot in town, serving a selection of proprietary brews in their taproom on First Avenue.
Stay
Sleep on Main Street, above the Alpenhorn, at The Bulkley Suites—queens, doubles and family rooms.
alpenhornbistro.com/bulkley-rental-suites
The Aspen Inn and Suites awaits on the Yellowhead Highway at the west end of town—rooms for singles up to a family.
Camp along the Bulkley River at Riverside Municipal Campground—but during COVID-19, only self-contained units (RV) are allowed.
Stay on the ski hill at Hudson Bay Mountain Chalet—sleeps 10-plus and offers access to year-round outdoor recreation.
Play
Sport fishing has long been a mainstay of Smithers—thanks to the legendary Bulkley River, home to chinook, coho, sockeye and pink salmon, as well as steelhead. Local lakes also produce.
tourismsmithers.com/explore/fish
Hudson Bay Mountain is a rustic ski hill, with just four lifts, but has earned its reputation for big dumps of dry powder and a welcoming vibe. For something wilder, try Skeena Heliskiing or Skeena Cat Skiing.
tourismsmithers.com/explore/ski-snowboard
Hike the gentle walking of the 13-kilometre linear park around town, or the snow-free summer trails of Hudson Bay Mountain, or the 31,645-hectare Babine Mountains Provincial Park, which offers marked day-hikes ranging from 1.5 to 15 kilometres (day-use only during COVID-19).
tourismsmithers.com/explore/hike/
Info
Find out more about Smithers, and the current COVID-19 information, at tourismsmithers.com.
COVID-19 Protocols
Most businesses are open at time of press, but are operating under COVID-19 regulations, including reduced services and reduced capacities. Check before you visit.