It's a lively tasting room. A bachelorette party filters in while a group of friends forms an impromptu wine club, laughing and clinking glasses in front of a wall of bottles. Outside, a small vineyard of chardonnay grapes is showing the first signs of summer foliage. Inside, I'm chatting about gewurtztraminer and gamay as one of the experts at Township 7 Vineyards & Winery refills my glass for yet another swirl-and-sip.
I could be in British Columbia's Okanagan. Rather, my wife and I are on 16th Avenue in the Township of Langley, a suburb of Metro Vancouver set in the lush Fraser Valley, about 40 kilometres from the Big Smoke's downtown core.
As a destination, the Township of Langley's proximity to Vancouver presents a bit of a mouse-and-elephant scenario. Vancouver is world-renowned, whereas Langley is a bit of a mystery even to many regional residents. And quite a few Vancouverites, like myself, often perceive the Fraser River bridges as leading over the edge of the world rather than as pathways to a charming day-trip.
My first stop already yielded some of the best wine in the province—and I didn't have to drive 400 kilometres to reach the tasting room. What more secrets lie south of the Fraser?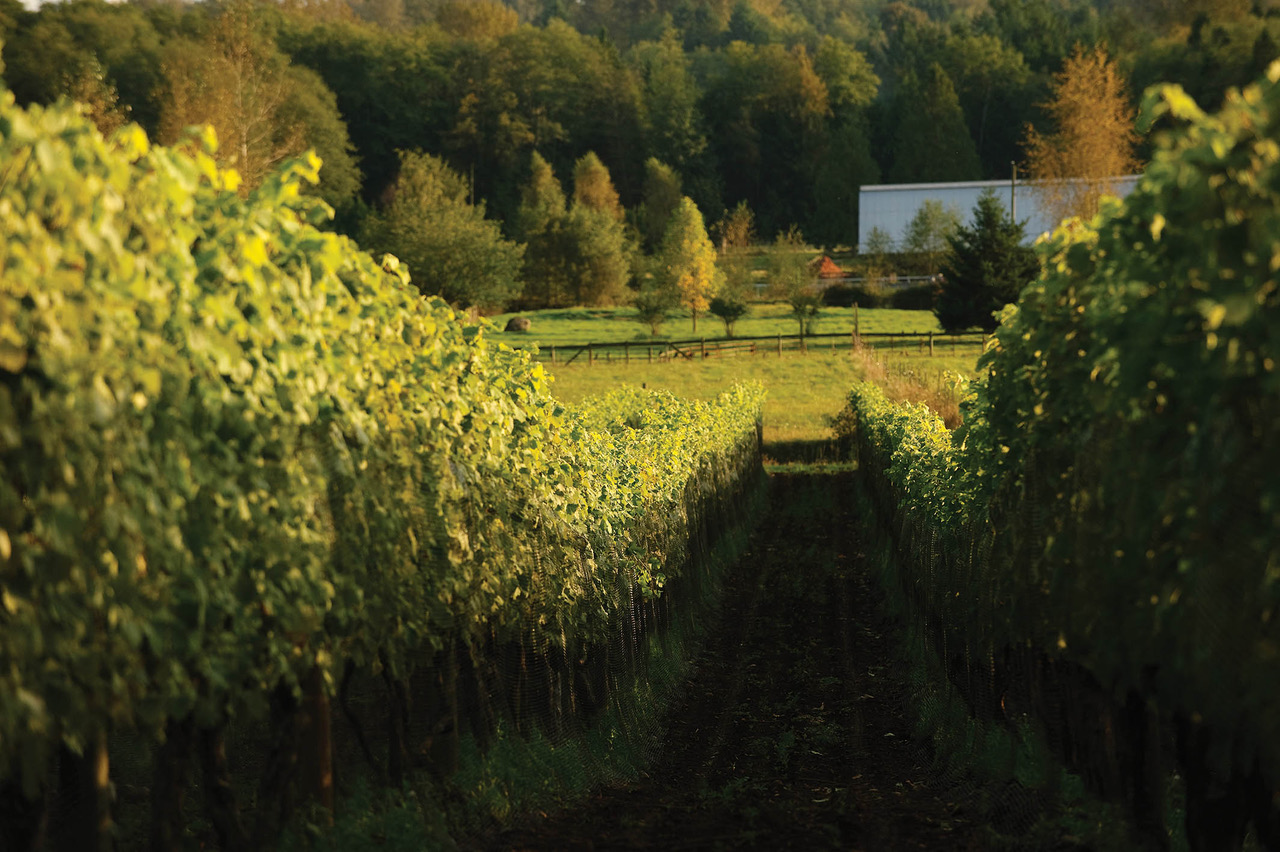 The Langley Winery Trail
LANGLEY IS A broad term. There's the City of Langley, a suburban service centre and home to about 26,000 people. Then there's Fort Langley, a richly historic townsite with a plethora of cute boutiques and a Parks Canada National Historic Site by the same name. And there's the Township of Langley, an area that wraps around the politically distinct City of Langley and encompasses the fort as well as other suburban locales like Aldergrove and Willoughby, and is home to some 100,000 residents. To the visitor, it's semantics. Just turn off the Trans Canada at 200th Street, follow the signs to the Campbell Valley Wine Route and let Langley lead you forward from there.
Township 7 pays homage to the multifaceted place names of which Langley is comprised. The area was originally divided into seven townships; this popular vineyard sits in lucky number seven. It's also a common first-stop on Langley's Campbell Valley Wine Route, a taste of the Okanagan within an easy daytrip from anywhere in the Lower Mainland.
"We have a similar climate to Champagne, France," my host explains as she fills my glass for the first of six samples. Because of that, she continues, the grapes grown onsite are generally used for their sparkling varietals. Their summery-sweet 7 Blanc—a blend of gewürztraminer, pinot gris, viognier, riesling and muscat—is a winner right out of the gate and would become one of the three bottles I purchase that day. While the climate and terroir in Langley is conducive to a lot of agriculture (berries in particular), I learn that most of the grapes used by Township 7 come from their vineyard in Naramata—classic Okanagan wine country. The lack of absolute locality matters less and less as we move into the fantastic reds—a rich merlot and a spicy Reserve 7 blend—both of which join the 7 Blanc in my wine bag.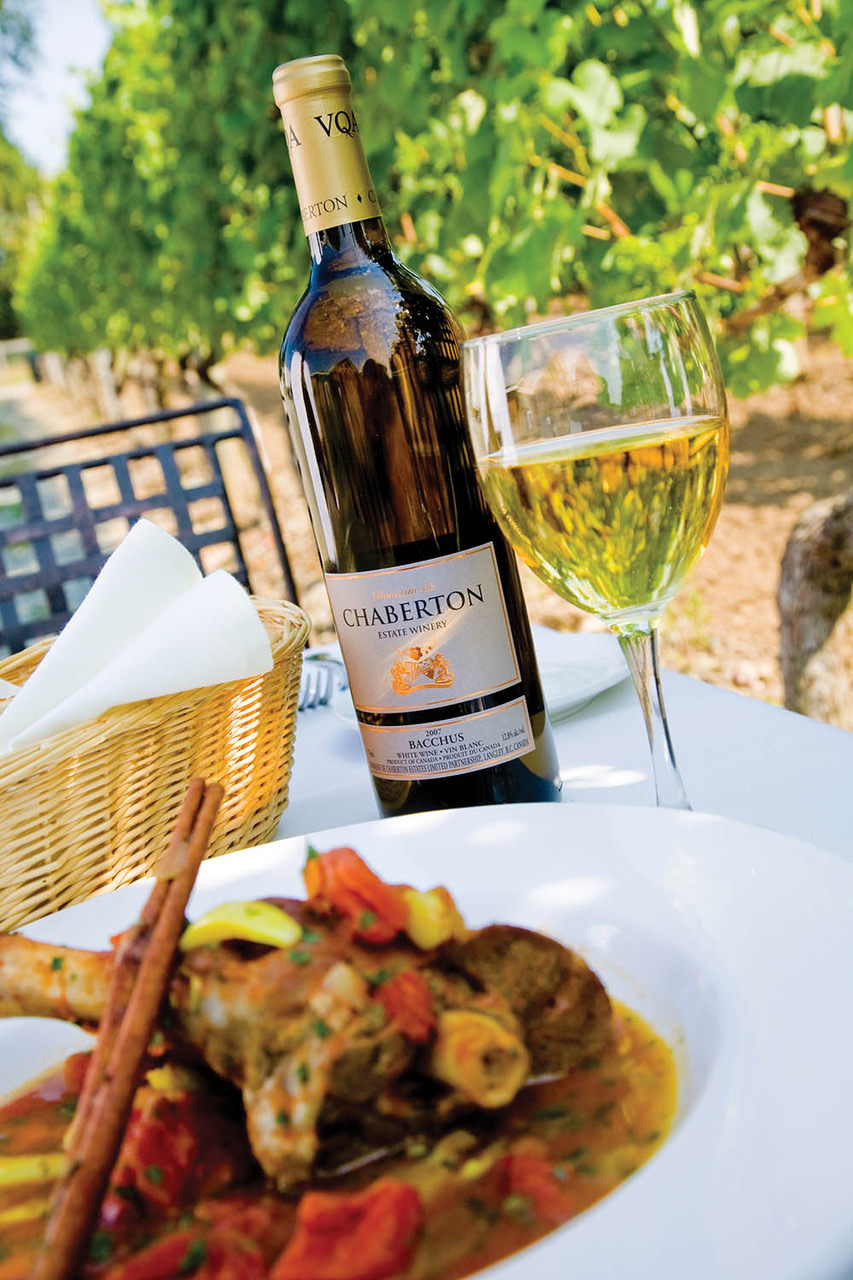 Further along the route, Chaberton Estate Winery ups the drink-local game with vino like their estate-grown 2017 gamay noir and siegerrebe. The original owners of this boutique winery, a couple from the north of France, were told grapes couldn't grow in the Fraser Valley when they planted vines 30 years ago. They proved naysayers wrong before passing the reigns to the current owners in the 1990s. Next up is Vista d'Oro Farms and Winery, which proves you can produce quality grapes in an area better known for blueberries and dairy cows; look for their Murphy's Law labels for some of their best vintages. The final stop on the Campbell Valley Wine Route is Backyard Vineyards, where we find winemaker James Cambridge. He spent years learning the craft at top Canadian wineries in Ontario's Niagara Peninsula and BC's Okanagan before coming to the Fraser Valley. The concept of this winery? Show Vancouverites that quality vino can be made right in their, of course, backyard.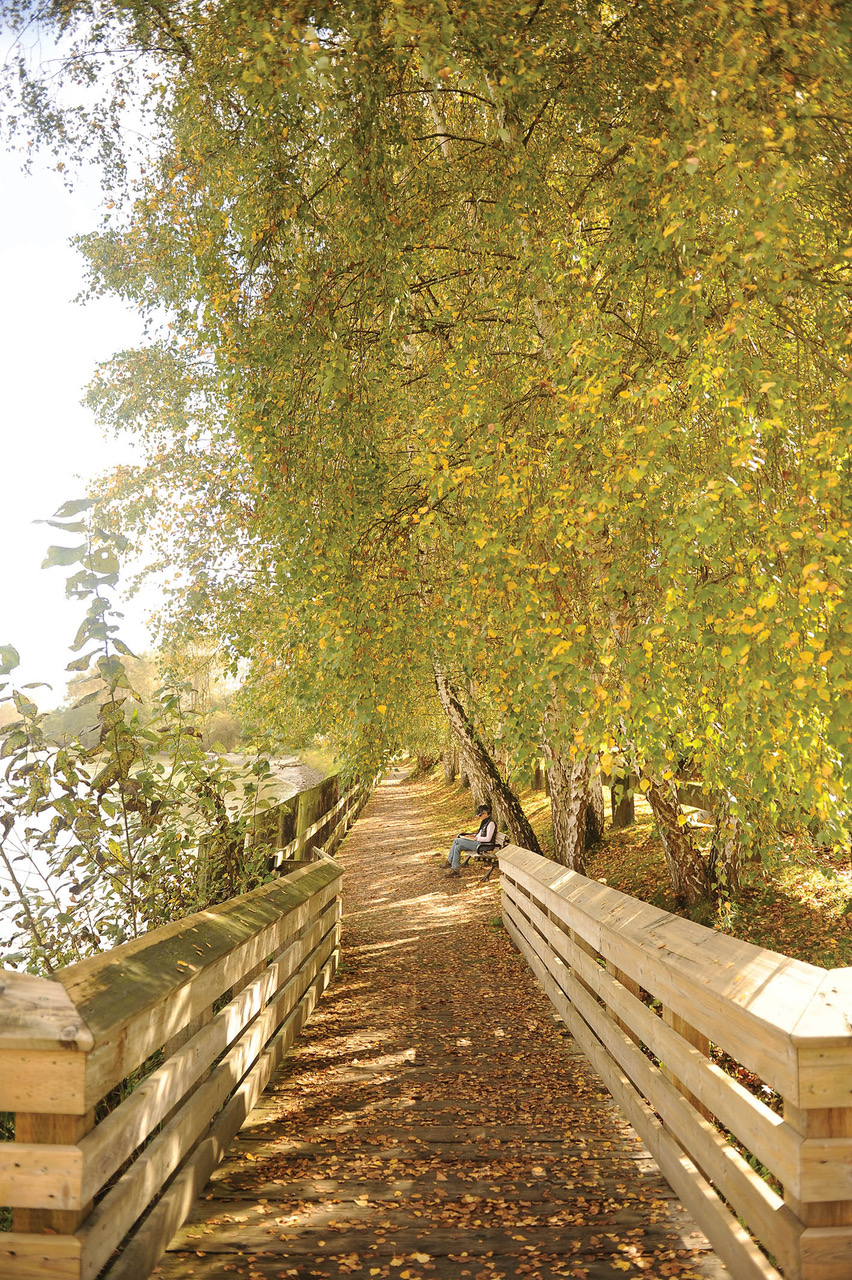 The Fraser Valley's Agri-Tourism Hotspot
OTTER TRAIL, or the Township of Langley's 248th Street, is not a place to find otters. Running from 0 Avenue (the Canada/US border) to just north of Highway 1, it's named after a colonel who commanded during Canada's North-West Rebellion of the late 1800s. As such, don't expect aquatic mammals on display at the Otter Co-Op—it's just a local grocery store—though there may be one hiding in woodsy Otter Park. What Otter Trail does harbour is a collection of shops and farms that extends our tour from the wine route into the Township of Langley's farm country.
Breathe deep that pungent dairy-air; it's a sure sign we're in amidst agriculture—and in the Township of Langley's case, agri-tourism. The scent is a specific mix of mud, grass and cow manure that's both unpleasant yet somehow not, and for some, like my Albertan wife, downright nostalgic.
Kensington Prairie Farm, on Otter Trail, features a less-common four-legged mammal. Set on 18 hectares with a view of the snowcapped Coast Range beyond, this farm and storefront is home to some 40 alpacas (plus healthy hens, a handful of Polled Hereford cattle and a collection of honey-producing beehives). Shortly after wandering into their woolly mercantile, I learn that many of these alpacas are rescues from around the province, where they were discovered being poorly cared for due to naivety or negligence. Some of Kensington's animals are raised for their fibres—the store has a display of cozy wool socks made from animals shorn on their property, as well as a large selection of imported woolly wares. Some for meat—alpaca sirloin, anyone? And some just live out their lives here, destined for neither socks nor supper; posing for Instagrams while chewing-and-spitting in the Fraser Valley sun.
Further, JD Farms Specialty Turkey Store & Bistro appears as if summoned by our rumbling tummies. Founded more than 30 years ago by Jack and Debbie Froese, and currently managed by their son, Jason, they raise quality birds onsite and work with several local farms to craft products ranging from gourmet sausage (the turkey breakfast sausage is a must) to raw dog food—plus casual breakfasts and lunches at their bistro. We order two turkey pot pies; smothered in gravy and served with a side of cranberry sauce, it's like Thanksgiving dinner come early.
We pass Krause Berry Farms & Estate Winery—which beams out with its baby-blue buildings—Aldor Acres Farm, where you can learn to milk a cow, make a left on River Road, trace the mighty Fraser and find ourselves at Fort Langley National Historic Site and the cutesy namesake 'burg.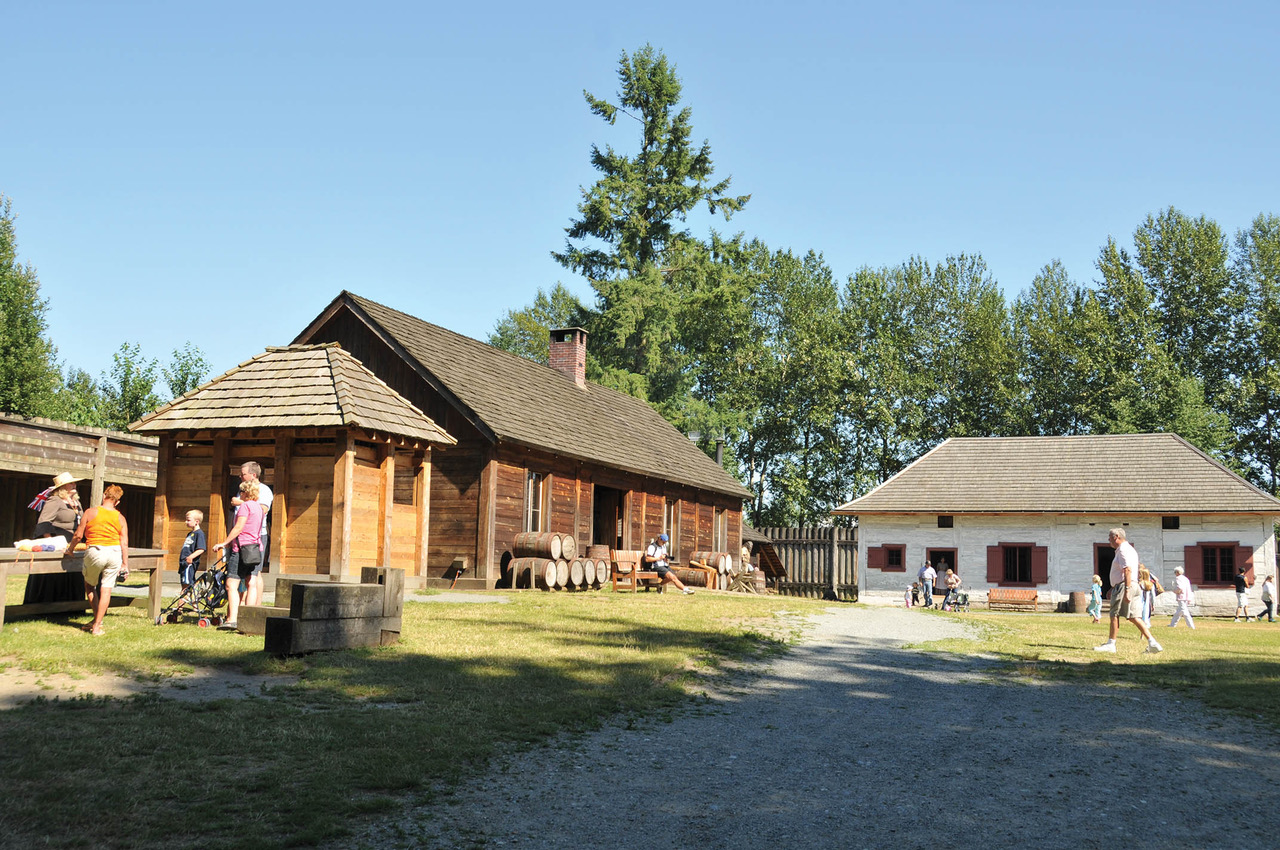 Fort Langley: History Made Fun
THE ONLY FORT in Greater Vancouver was originally built here in 1827 as a Hudson's Bay Company fur trading post. It was forged through trade with indigenous people and played a role in a small Gold Rush and the occasional trade war and border dispute with the US before becoming a National Historic Site in 1923. Today, as Fort Langley National Historic Site promotions officer Andrea Mitchell explains, the 1800s are brought to life in one of the prime attractions to the region.
"We have a lot of school groups coming throughout the year—but a large part of our demographics is locals on a day-trip," she says. The fort offers guided tours, led by an interpreter in period costume every day at 11:00 am and 3:00 pm. "In between those times, we have the blacksmith shop open, gold panning… at 2:00 pm you can sample traditional foods. In summer we have a large bake-oven open out back and historic gardens showcase some of the things that were grown at the time."
Along with the day-tours, the fort is a popular staycation spot thanks to their five oTENTiks—canvas-walled cabins available for rent at Parks Canada sites across the country. Fort Langley's are unique as their oTENTiks are themed to reflect the traditional cultures of the people who would have worked there—from gold prospectors, to local First Nations and even Hawaiians. There are also Learn to Camp weekends, where outdoors-newbies are shown the ropes—tent pitching, campfire building—in a comfortable environment.
Special events run throughout the year. This summer, Canada Day (free admission), Brigades Day ("re-enactors all day long… tents upon tents of them") and National Indigenous Peoples Day are not to be missed. There's even a Zombie Apocalypse Night planned for the end of September—a whimsical look at how the fort could play a role in a dystopian future.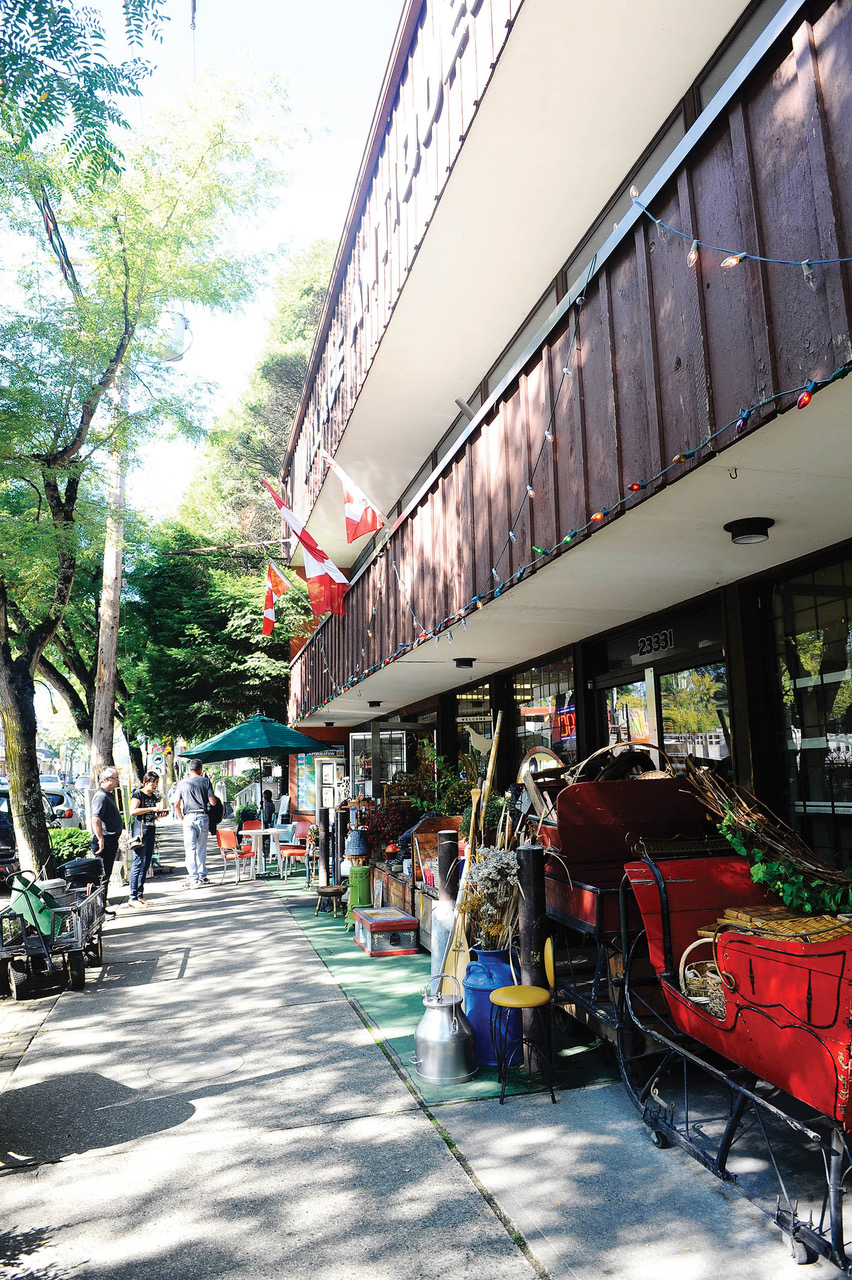 The surrounding town of Fort Langley is equally as engaging as the National Historic Site. Storefronts are picture-perfect with matching facades. Antique shops, cafes, restaurants, boutiques—this is browsers' paradise.
On the main drag of Glover Road, Country Lane Antiques displays dutifully restored and repurposed antiques with a healthy amount of petroliana. Village Antiques Mall, around the corner on Mavis Avenue, offers a menagerie of curio from around the globe. Livingroom Home Décor & Accessories is worth the trip to satiate your inner designer. And Blacksmith Bakery makes coffee and baked goods to rival the best of Vancouver's downtown cafes.
"We are becoming part of the complementary experience that comes with Vancouver. [Visitors are] extending their stays in Vancouver because of the easy access to Langley… with the wine country, breweries, agritourism. And people don't mind the lower hotel rates out here."
The Township of Langley has long had its staple attractions—from the wineries, to classic agri-tourism like Krause Berry Farms, the Greater Vancouver Regional Zoo and one of the two last remaining drive-in movie theatres in the province. Today, with the new craft breweries, distilleries and restaurants—many of which are being developed by Vancouverites moving east for more affordable housing—the region is growing from a daytrip destination to an area in which visitors are finding reasons to stay a weekend.
As it so often does these days, our discussion turns to urban Millennials. This time, though, the kids aren't killing an industry. They're helping one.
"For them, time is more important than money, rather than driving to the Okanagan and spending a few nights, as older people might, they rent a Car2Go and drive to Langley's wine country for a day—and still get the selfies they need."
A Perfect Weekend Getaway
PERCEPTION IS EVERYTHING. As a Vancouverite, I've often viewed Langley as a place I practically need a passport to get to—despite the fact that, timed right, it's only about 30 minutes from my house. That same 30 minutes could be spent grinding through traffic simply getting from the far east to the far west side of Vancouver; neighbourhoods I view as next door to one another. And perceptions of a suburb municipality as a "boring bedroom community" are shattered with a day at the Township's chic wine tasting rooms or by browsing the character boutique stores of Fort Langley.
At the same time, the Township of Langley is still the Horse Capital of BC, home to multigenerational family farms and lonely country roads where the distances between intersections are measured in minutes, not metres. But maybe that's the ultimate south Fraser secret: you  have it all. Just look to Langley.
DRINK
Township 7 Vineyards & Winery has a chic yet casual tasting room on 16th Avenue in Langley. township7.com
Chaberton Estate Winery serves quality BC vino as well as tasty fare in Bacchus Bistro, located just south of Township 7.
chabertonwinery.com
Enjoy the "Golden View" at Vista D'oro Farms & Winery while you sample fine reds and whites and tour the working farm. vistadoro.com
Backyard Winery is producing VQA wine right in Vancouver's "backyard." Stroll the grounds and sip the reds, whites and bubbles crafted onsite. backyardvineyards.ca
Dead Frog Brewery was the first craft brewery to open in Langley. Ten years in, they're producing well-loved ales and lagers that can be found all over the Lower Mainland. deadfrog.ca
Whether you stop by the taphouse in the City of Langley or the eatery in Fort Langley, you'll enjoy the suds from Trading Post Brewery, Langley's newest brewer. tradingpostbrewing.com
Roots & Wings Distillery is the first of its kind in Langley. They produce artisanal spirits from ingredients grown onsite. Stop by the tasting room on 240th Street to see for yourself.
rootsandwingsdistillery.ca
EAT
Blacksmith Bakery in Fort Langley is known for croissants, Americanos and sumptuous brownies. blacksmithbakery.ca
Where did Fort Langley's Little Donkey restaurant get its name? It's translated from the Spanish "burrito." So you can guess what they serve. littledonkey.ca
Into Chocolate Candy & Confections, in Fort Langley, is where you head to load up on sugary treats from the local area and around the world. intochocolate.ca
JD Farms Specialty Turkey is not simply a place to grab sausage, whole birds, legs, drums and other turkey delights. The bistro serves casual fare like local eggs, sandwiches and pot pies every day. jdfarms.ca
PLAY
No trip to Langley is complete without a tour of Fort Langley National Historic Site. See the Birthplace of BC as it looked 200 years ago. pc.gc.ca/Langley
Campbell Valley Regional Park offers a serene four-kilometre stroll through forest and wetland. Accessible year-round. tol.ca
Watch some of North America's top equestrian athletes and their steeds at Thunderbird Show Park, at the intersection of 72nd Avenue and 248th Street (Otter Trail). tbird.ca
The brand-new Aldergrove Credit Union Community Centre has a 500-seat arena, NHL sized ice rink, outdoor pool, waterpark, lazy river, playground and more. Opens in June. tol.ca
Keep an eye out for the bright blue buildings of Krause Berry Farms & Estate Winery, home to u-pick berries, berry wine, gourmet pies and family-friendly events.
krauseberryfarms.com
The Twilight Drive-In is one of BC's two remaining drive-in movie theatres. Head there for the newest releases viewed in old-fashioned style.
twilightdrivein.net
STAY
Stay in the heart of Fort Langley National Historic Site by booking a night in an oTENTik, Parks Canada's unique cross between an A-Frame cabin and a prospector tent. pc.gc.ca/langley
Track down a plethora of hotels, B&Bs and campsites and more visitor info at tourism-langley.ca.