Mount Nelson stabs up from across the valley like a mini-Matterhorn, although ascribing "mini" to a 3,300-metre peak may be stretching the definition. This massif creates its own weather; the pyramidal spire seems to catch passing clouds like cotton balls snagged on a hook. Alpenglow dyes the scene pink; cotton balls become cotton candy.
I'm leaning on a wood railing outside Panorama Mountain Resort's Elkhorn Cabin, airing out from the decadent smells of a post-ski Swiss raclette dinner: cheese, potatoes, grilled meats and pickled condiments. Sundown is 30 minutes away—I refuse to waste a second of this vista as that sinking orb casts the mountains in pink and gold, leading finally to grey. After dark, we'll carve down from midmountain by moonlight, making swooping turns on corduroy as we return to the glowing village.
If I'd ever wondered why they called this resort "Panorama," the vista from this wood-frame cabin has officially put my query to bed.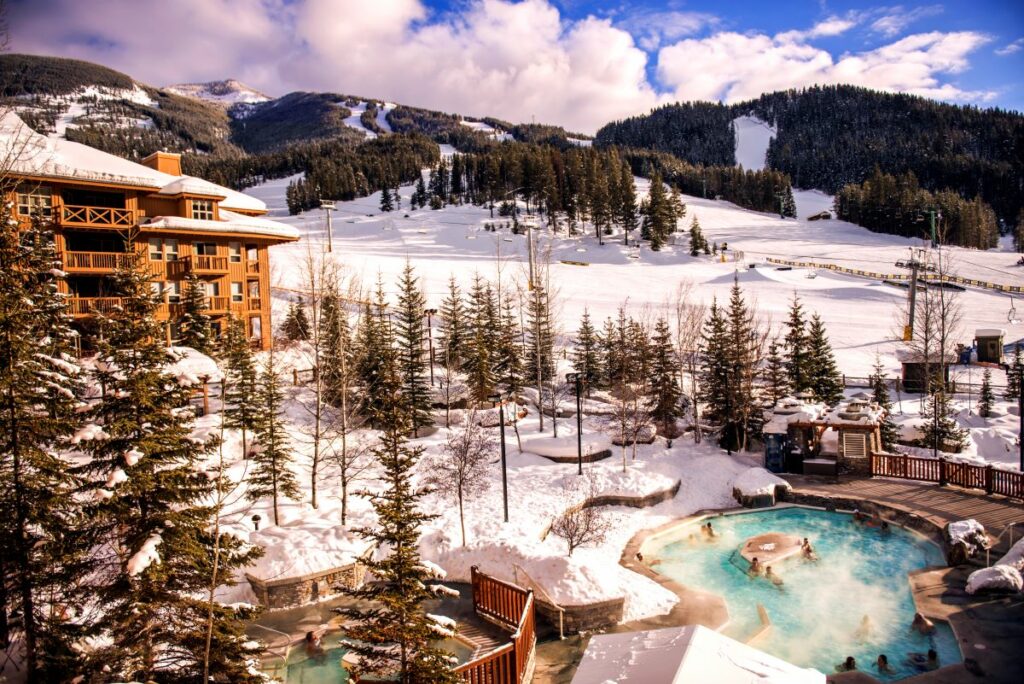 Set in British Columbia's Kootenay Rockies, the Powder Highway also earns its name. In a circular drive of about 1,100 kilometres, you'll find eight ski resorts, plus 25 backcountry lodges, 12 cat-skiing operations and 10 for heli-skiing. It's a place where real skiers and boarders come to play—Revelstoke Mountain Resort boasts the longest lift-accessed vertical in North America, Whitewater brags 12 metres of annual snowfall, Kicking Horse has a ridiculous 87 in-bounds chutes… and the stats roll on.
Plus, there's the villages—Nelson is the unofficial cultural capital of the Kootenay Rockies. Kimberley has charming Bavarian heritage. Revelstoke is rife with nation-building history… like the mountains, on it goes.
Funny thing—when folks chat about southeastern BC, Invermere and Panorama are often relegated to also-ran status. Where do these twin destinations sit on the list? I'd travelled from Vancouver to find out.
Panorama Mountain Resort immediately separates itself from the herd via proximity alone. At Powder Highway towns like Fernie, Rossland, Revelstoke, Kimberley and Golden, the local ski hill looms overhead like watchman. They're minutes from downtown; virtually a part of town. Panorama, by comparison, is located 20 kilometres through the mountains from Invermere. Rather than being serviced by a next-door townsite, it's home to a small and self-sufficient resort community. Because of this, it feels lost in the wilderness—a point related to me by Clarissa Amaro, media, marketing and customer relations at the resort. Originally from Australia, she picked out Panorama from the plethora of BC resorts because she wanted somewhere "truly Canadian."
I'm suspicious. "Pure Canada" is the hill's slogan. At first I thought I was being led into a practised schpeel. As Amaro explained, though, Panorama's location deep in the Purcell Range—without a visible highway or town beyond the charming base village—expounds a "Canadian wilderness" feel lacking at other locales. Marketing or not, she's right.
The hill itself simply looks different. Despite being 2,450 metres tall, it's also treed right to the top—owing to a local climactic anomaly. It ascends gradually, not aggressively, from the base. For comparison, Kicking Horse, another Purcell mountain just 55 metres taller, leaves most trees behind at mid-mountain and offloads into intimidating jagged-spire alpine at its summit.
Then there's the snow. I'd left Golden for Panorama the day before; the owner of a local restaurant scoffed as I'd told him my plans. "Sharpen your edges," he'd remarked, the Kicking Horse die-hard that he is. It's true—Pano isn't known for the massive dumps of billowy powder other regional resorts tout. In fact, award-winning grooming is a selling-point for this hill—so much so that it operates only for private race training during the month of November. Teams from around the globe come to carve rolling groomers, edged into perfect corduroy by skilled cat-drivers.
So why should this hill lure you away from other big players on the Powder Highway? Two words: Taynton Bowl. Two more: Monster X.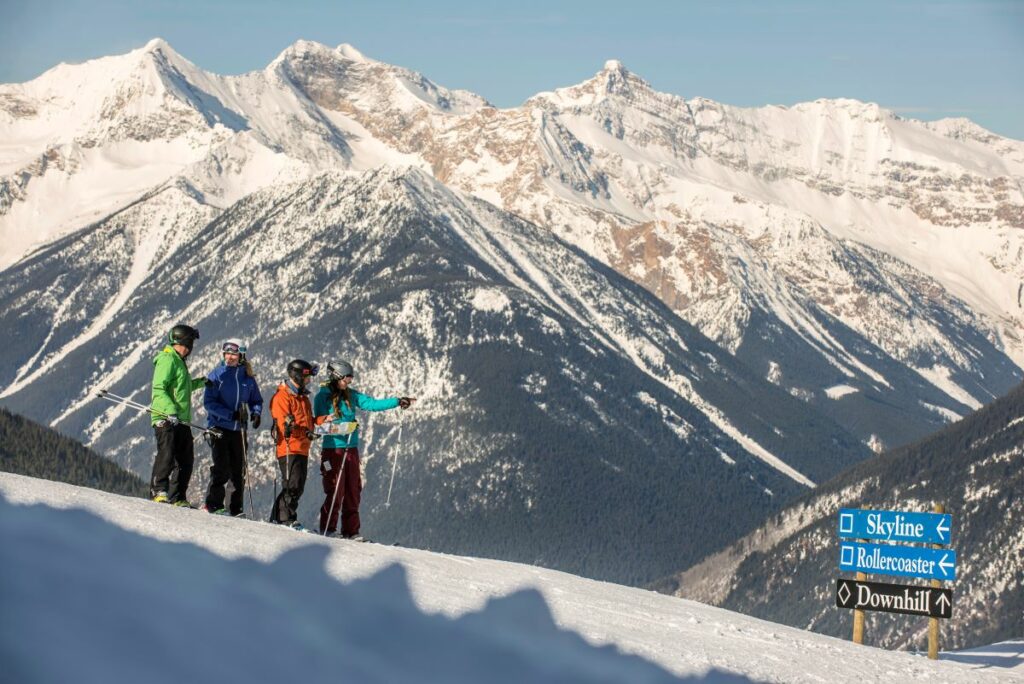 I'm traversing from Panorama's Summit Hut—a cozy wood-heated lunch-spot perched just shy of 2,400 metres high—to the edge of a 300-hectare basin that up until recent years was the tenure of RK Heli Ski. I'd already had a taste of the quality groomers Pano offers families and racers alike, but Amaro is promising to show me how this hill earns its spot on the Powder Highway.
From the hut, we skate a cat-track to a point where it heads decidedly upslope. This is the start of Taynton Bowl and the pickup for Monster X. Launched just last year, Monster X is cat-skiing lite; it's a 13-person snowcat, that, for $15 per ride, will shuttle you into a slackcountry mecca—no sweat.
Offloading after a short haul, we're now at the very edge of the treeline. With the cat gone, the 11 other passengers all shredding their own fall-lines and ragged waves of Purcell peaks surrounding us 360-degrees, my partner and I may as well be alone in the backcountry.
There is no grooming here. Even though it's been a week since the last significant dump we still find a football field of untracked, if a little wind-packed, powder to lead us into one of the four designated runs. (Taynton Bowl has since been expanded an additional 85 hectares with four new runs for 2019/20. For steep-and-deep seekers, it comprises enough territory to occupy your entire Panorama visit.)
It's a whopping 700 vertical metres from the top of Taynton Bowl to the start of the ski-out and my quads are scorched as we hit the Taynton Tour, an easy track leading toward the mountain's base. With more than 1,200 hectares of total patrolled terrain, Panorama is about mid-pack in size-relation to other Powder Highway hills—which, in the face of such tough competition, really means it's huge (just not the hugest).
Taking a break near the base of the Summit Quad, I see that Monster X isn't the only snowcat on-slope during ski hours. The Snowlicious Mobile Kitchen is the first (and only) snowcat food truck in Canada. As we sip hot chocolate in the outdoor seating area, Amaro explains the challenges in getting this groomer certified.
"We needed to fit in a new sink—Canadian regulations require three," she laughs, explaining that while the cat came from Italy ready to cook—manufactured under the eye of an Italian chef—it took months to get the stricter Canuck authorities to sign-off. Ready and rocking now, it moves to different locations on the hill day-to-day, selling drinks and casual fare with lively music and attracting a vibrant social scene.
This is perfect for Panorama. Yes, the hill has a massive powder bowl. Yup, the season is five generous months long. Yes, stats like 1,300 metres of vertical drop cause ski bums to salivate. But several hills in this region boast stats that compare (or beat). Here at Panorama, it's the full package—and general vibe—that appeals.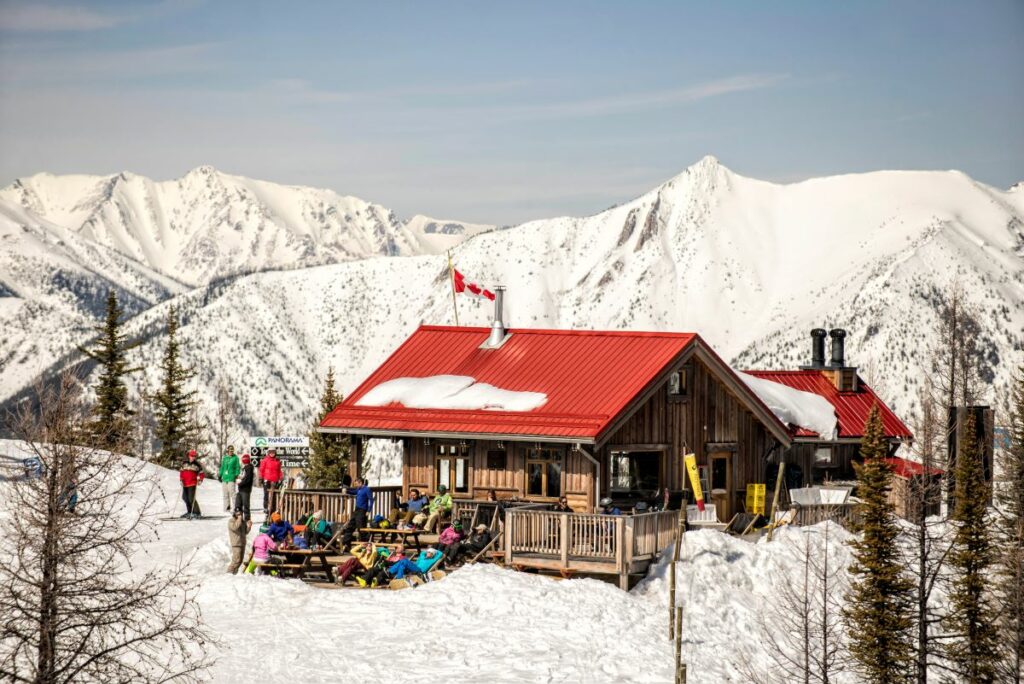 It's a hill that caters to both slackcountry shredders and groomer-loving families. There's a ski-to candy shop for kids and a raucous pub for parents. There's fine dining and a cafeteria side-by-side. Night skiing for those who can't carve enough, and slopeside heated swimming pools for those who've had their fill. Heck—half your family can sign up for a glass-bead making workshop in the village, the other half can go tandem paragliding from the mountain summit.
Days before I arrived, Heidi Korven, regional media specialist for the Kootenay-Rockies, dubbed Panorama her "all-time favourite" for a family vacation. And she lives in Kimberley, home to another hill with attractive all-ages terrain. One weekend here and I see it through fog-free goggle lenses. Pure Canada; family-friendly—they may be marketing slogans, but Panorama has me believing the hype.
Twenty kilometres east along Toby Creek Road leads me back to Invermere, on the shores of Lake Windermere. Unlike historic Revelstoke, funky Nelson or kitschy Kimberly, Invermere has a reputation as a hardscrabble hockey town. And rather than a full-on ski-bum vibe, most kids here are vying for a spot on the Columbia Valley Rockies KIJHL team.
The permanent population of 3,400 balloons three-fold in summer, as cottagers swarm the lakeside to sail and swim. In winter, it's sleepy. There are still reasons to stop, though. Arrowhead Brewing Company offers some of the region's best craft beer (sip a pint or fill a growler) right across the street from Kicking Horse Coffee Company, a fair-trade roastery that has saturated the entire province with its snob-worthy beans. But I'm not hitting the road to a regional hot springs yet—Radium Hot Springs is just 15 minutes north—Invermere has one record-setting winter attraction I have to see for myself.
The Lake Windermere Whiteway is the key reason to include downtown Invermere on your Powder Highway itinerary. Maintained by the Toby Creek Ski Club and accessed by a day use fee ($5), this is the lengthiest skating trail on Earth. At 34 kilometres long, it loops along the lake from Invermere south to Windermere. There are three access points and a variety of options, so you don't have to commit to the whole distance.
On a sunny day, it's a postcard. Hockey kids in full gear practice their puck-handling on the endless loops (no wonder the Rockies have four championships). Fitness buffs speed-skate with winter-hardy dogs galloping by their blades. And newbie couples stagger like Bambi on the maintained ice, which is smooth to smooth-ish, depending on the weather. Plus, a cross-country ski track runs alongside and fat-bikers have even taken to the scene, pedalling through the picturesque environs on their moon-lander-like beasts. (Fun fact about the lake—although it's a sizable 18 kilometres long and covers about 15 square-kilometres, it averages only about four metres in depth.) The sound of steel cutting ice is interrupted only by a loaded freight train rumbling through town, a hint of the Kootenay region's rich resource history and economic base.
Invermere and Panorama are two sides of a coin. Invermere comes alive in summer, Panorama is first and foremost a winter playground. Though in all seasons, they complement each other perfectly. Something for everyone is a hard sell. So when it's true—and the spot isn't overrun by travellers—make the trip. Places like this don't come around often.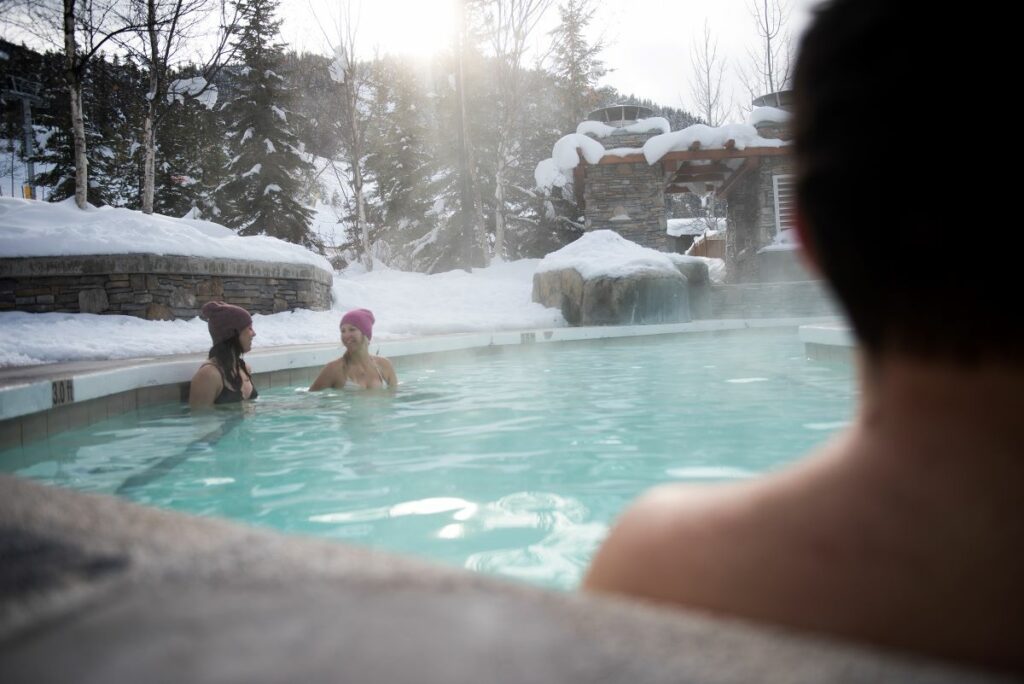 If You Go
Learn more about Panorama Mountain Resort at panoramaresort.com; tourism information on both Panorama and Invermere can be found at invermerepanorama.com.
Scout your Powder Highway itinerary by visiting powderhighway.com. And uncover more secrets in the Kootenay Rockies region at kootenayrockies.com.
Stay
The best place to stay is right in Panorama Village—book a variety of accommodation, including many ski-in options, at panoramaresort.com/planning/lodging-at-panorama.
Dine
Savour Italian fare at the brand-new Alto Kitchen & Bar, located in Panorama Village.
Also new for 2019/20, the Fireside Café & Lounge serves locally-roasted coffee and sumptuous baked goods all day, as well as wine and beer into the evening. Located in Panorama Village.
Pop into the Elkhorn Cabin, on-slope at Panorama, for a light Swiss Raclette lunch, or reserve the group dinner experience—complete with a guided moonlight ski when dinner is done.
In Invermere, stop into The Station Pub (thenewstationpub.com), which overlooks scenic Lake Windermere—also the location of Taynton Bay Spirits (tayntonbayspirits.com) craft distillery.
Make sure to stop by Kicking Horse Coffee before you leave town to fill your to-go cup and snag a pound of fresh-roasted beans. kickinghorsecoffee.com
Across the street from Kicking Horse Coffee, Arrowhead Brewing Company doles out pints and fills growlers—try the Blonde Bombshell ale or Black Jack stout. arrowheadbrewingcompany.ca
Play
Launch from the slopes of Panorama via tandem paraglider and sail on thermals to a soft landing at Greywolf Golf Course, near the village. panoramaresort.com/while-you-are-here/things-to-do/tandem-paragliding
Discover more information about the epic Lake Windermere Whiteway at invermerepanorama.com/nordic-skiing-lake-windermere-whiteway.
If Taynton Bowl has you warmed up, book a bucket-list heli-skiing trip with RK Heli Ski—located just outside the village on Panorama. They're known for some of the fewest down-days of any operator in the province. rkheliski.com
Head 17 kilometres north of Invermere to Radium Hot Springs, where you'll turnoff into Kootenay National Park for a soak in the namesake springs. Day-soakers don't require a parks pass to rejuvenate. radiumhotsprings.com