The Tot Lot at Mundy Park is a playground manifested from a seven-year-old's fantasy. Snaking around evergreens and swarming with kids—tots to tweens—this new addition to a mainstay Coquitlam park astounds even adults. Raised walkways, metres in the air; a tubular slide so long it has a window; spiderwebs of climbing ropes; a spinning carousel feature; a roller slide; and au naturel architecture that compliments the forest and radiates a "gigantic treehouse" feel. Letting my kids loose, I can't help but wonder if adults can play here too.
It's my first time at Mundy Park, and with a wonderland play-centre, plus more than five kilometres of trails, open sports fields, a couple lakes and more—this 178-acre municipal greenspace impresses. As a friend would later say to me, "Coquitlam has its parks dialled-in." Locals of the city know this; Vancouverites like me are finding it out, but the first question on the mind of a tourist might be—where is Coquitlam, anyway?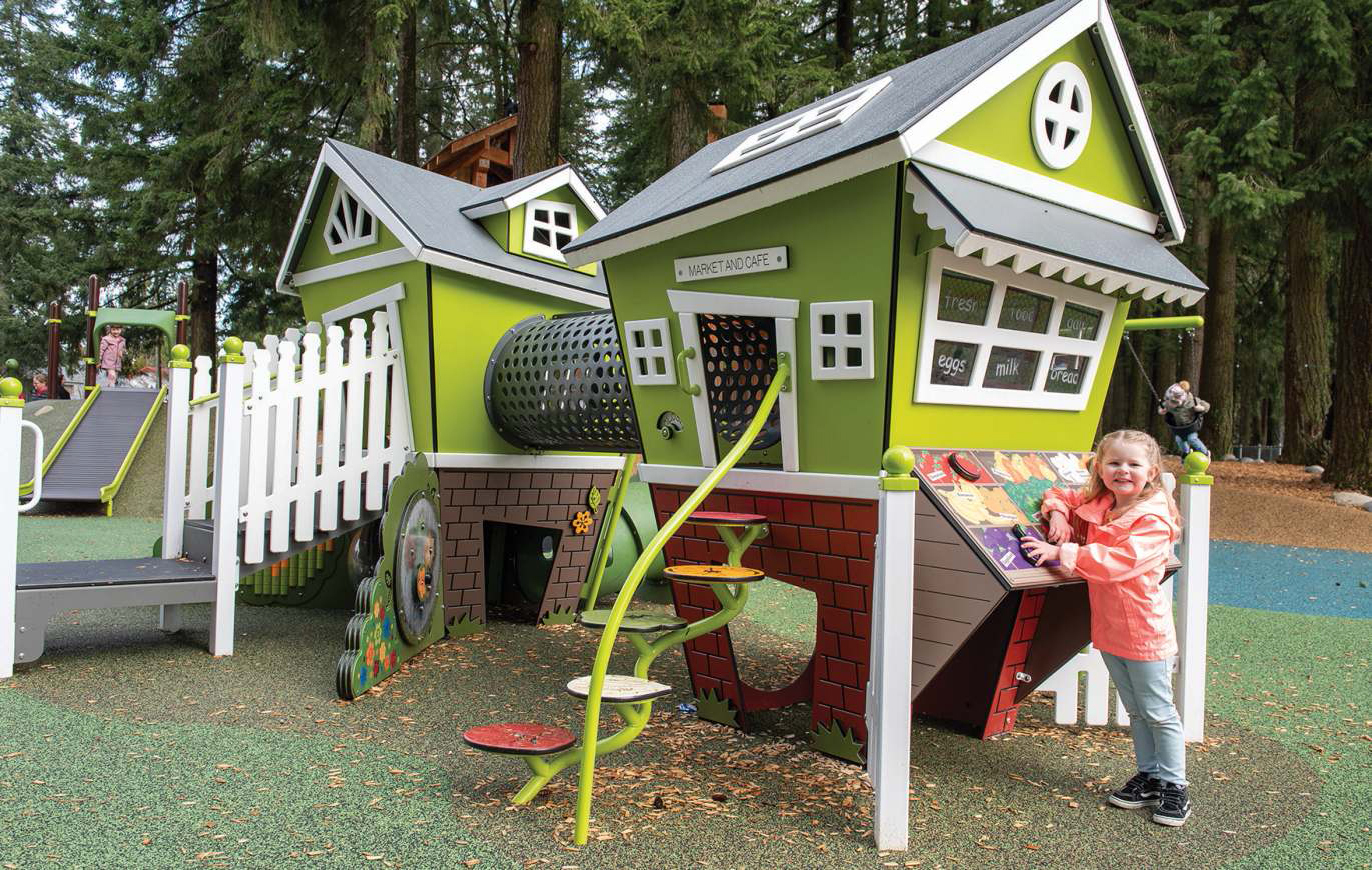 Coquitlam is a suburban city of Metro Vancouver. Home to about 140,000 residents, it occupies a sort of S-shape, edging the Pitt and Fraser rivers, and touching Burnaby, New Westminster, Port Moody, Port Coquitlam (yes, that's somewhere else) and Anmore. It's bisected by the Coquitlam River, which flows south from the mountains to its connection with the Fraser River.
The city derives its name from the kʷikʷəƛ̓əm (Kwikwetlem) First Nation; Coast Salish people who have occupied this territory for more than 10,000 years, from around the time the glaciers receded from the most recent Ice Age. Archeological finds in and around Coquitlam Lake have uncovered artifacts and traces of human settlements illuminating a rich and consistent peoples' history. For the kʷikʷəƛ̓əm people, the area long provided a bounty—their name translates into English as "red fish up the river," referencing the once-great sockeye salmon run of the Coquitlam River and indicating a deep connection with this watershed.
Simon Fraser showed up in 1808 and ushered in the era of colonization. Village sites were turned into tiny reserves, and though the land around was not ceded nor surrendered, it would be occupied and developed during the age of settlement and confederation to follow.
The city of Coquitlam was incorporated in 1908. Today, it occupies a slice of the metro region about a dozen kilometres east of Vancouver proper and 122 square-kilometres in size, running from bustling urban areas and industry in the southern reaches right into the 38,000-hectare Pinecone Burke Provincial Park to the north. Then come the Coast Mountains, and a swath of wilderness leading from this forested backdrop to Garibaldi Provincial Park and beyond.
Back at the Tot Lot at Mundy Park, my wife and I watch our twin-toddlers run wildly through a sea of children and clamour on every bouncy, spinning, sliding, climbing, winding feature they can find and share a glance. This is the best playground we've ever seen. And it's not in world-class Vancouver; the lush North Shore; massive Surrey—but Coquitlam? What gives?
Kathleen Reinheimer is the city's parks manager, with 18 years of experience working for the Parks, Recreation, Culture and Facilities Department.
"We want people who use the parks to feel they are 'theirs,'" she says with an enthusiasm uncharacteristic in city employees. "What makes our parks different? It isn't about the money spent—we're about middle of the pack in terms of budget. It's about people feeling proud of the parks."
To illustrate the community's adoption and pride of their parks, Reinheimer tells me they actually have tracked a declining incidence of vandalism and graffiti in their parks, and, illuminating their organizational support, she notes that virtually every section of their trail system is adopted and maintained by at least one community group.
"The other thing that makes Coquitlam parks remarkable is that we have really strong political support," she continues. "Council looked at the old parks and said—what can you do if we gave you money to replace and upgrade the parks? We [upgraded] 12 neighbourhood parks in three years!"
Reinheimer's enthusiasm is clearly contagious—her team sounds like it might be the most motivated parks crew in Metro Vancouver. The fantasyland of Mundy Park's Tot Lot, for example, was actually—and unusually—built by parks staff.
When the playground at Mundy Park was due for replacement, a small team of parks staff rethought what a playground could be—envisioning a "treehouse" concept, working with arborists to ensure the construction was in-tune with nature and put the shovels to ground themselves with wide support from the community. The result? A kid's adventure destination that cost, "Conservatively half as much as we went through contractor," Reinheimer boasts of her team's sweat equity. "We're so proud of that."
Mundy is a marquee park in Coquitlam—but it's one of 80 designated municipal parks in the city. Town Centre Park is another lovely attraction, set near city hall and wrapped around man-made Lafarge Lake. Donated as a gravel pit just a few decades ago, it's now a premier urban greenspace, replete with a fishing pier (stocked with rainbow trout from March to November), sports fields, amphitheatre, beach volleyball, roller hockey and more. It's particularly popular around Christmas, when Lights at Lafarge turn the park into a free-access holiday light show. Again, Reinheimer explains how involved the community gets with this event.
"We find ways for people to have their 'fingers' on it. More than 800 people were involved at Town Centre Park's light show [this year]," she says. "The light show is essentially undefended, and it doesn't get vandalized. It's wide open and the community feels like it's theirs."
About eight kilometres southwest, you'll find Como Lake Park—a verdant lakeside park, with a one-kilometre walking loop and waters similarly stocked with catchable rainbow trout. For tot-parents, its fully fenced-in playground is a godsend.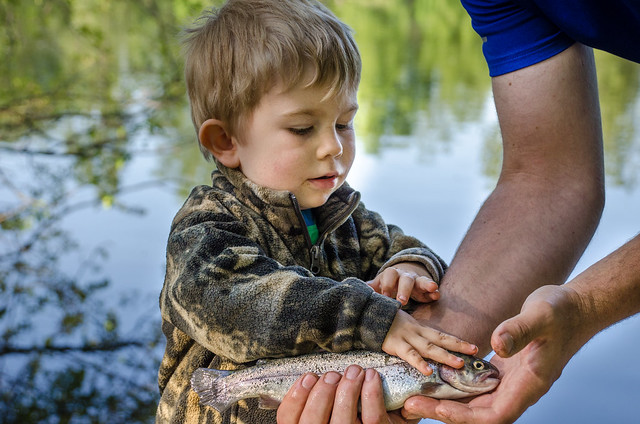 But for the ultimate wilderness-in-the-city feel, Coquitlam River Park takes the trophy. This 66-hectare park has nearly 10 kilometres of forested trails around the rushing Coquitlam River, which tumbles over freestones with strength from November to March, before trickling to its lower flow for Summer. Oral traditions from the kʷikʷəƛ̓əm tell of a waterway that once ran thick with sockeye each Fall; migration that was annihilated by the hydro-electric damming of the river in 1908, which prevented the fish from reaching their natal grounds.
Over the past several years, members of the kʷikʷəƛ̓əm Nation, about one-third of whom still live by or near the riverside, have worked with stakeholders to help restore some sockeye to the waterway. In 2017, some 5,000 sockeye smolts were released into the river. At first, returns could be counted on one hand. But more recently, dozens of sockeye smolts, and coho too, have been counted in the river, payoff from cooperative efforts toward biodiversity restoration.
There are more natural restorative efforts underway, right in the centre of the city. "Hoy-Scott [watershed] has a hatchery half-a-block behind city hall," Reinheimer says. To paint a picture of nature-meets-city, this active fish hatchery is set in Hoy Creek Linear Park—less than a kilometre from Coquitlam Centre Mall, a 925,000-square-foot shopping centre that boasts nearly 200 stores and 12 million annual visitors.
Here, you'll find Hoy and Scott creeks, home to five species of salmonid: pink salmon, coho salmon, chum salmon, steelhead (rainbow) trout and cutthroat trout (and according to the hatchery website, the occasional chinook loses its way during Autumn's high water and ends up waddling through the creek as a welcome interloper).
"A trail runs north-south along that corridor. This trail is used by kids going to school every day," Reinheimer says, further demonstrating the daily connectivity, and value, Coquitlam residents have and hold for their parks.
"Fish," one of my toddlers says to me, pointing at the sky. I raise an eyebrow, wondering what is running through his imagination. "Fish!" he repeats, gesturing again upwards.
We're standing on the empty stage of TD Community Plaza, an amphitheatre backed by Lafarge Lake in Town Centre Park. As an artistic backdrop to the stage, large arching trellis abstractly resembling leaping salmon curves over-head. Fish, indeed.
Once dubbed Town Centre Park Plaza, the corporate name came about four years ago due to an influx of upgrade cash to the tune of a quarter-million bucks from the namesake bank. It's a beautiful space, and should we ever push through this infernal pandemic, it'll again be home to concerts and events for more than 1,000 spectators.
We stroll under the metallic fish and gaze at some funky swinging sculptures—platforms on chains built, Reinheimer would later tell me, by an on-staff welder in her department as part of "pop-up parks" implemented around town the year previous as an effort to ease the mental stress of pandemic life. Thanks to staff skills, the program went from concept to execution so quickly, Reinheimer says, "other cities wanted to know how we did it!"
I'll admit to having looked at Coquitlam in the past as little more than "A SkyTrain Runs Through It," but with little kids in tow, it's getting more and more attractive for me to drive 20 minutes east and spend some time at toddler-friendly suburban parks like Mundy, Como Lake and Town Centre. I had felt there was something special here, and after further exploration and a chat with Kathleen Reinheimer—perhaps the living embodiment of Leslie Knope, that indefatigable character from the NBC sitcom Parks & Recreation—now I see it with five senses. Coquitlam's parks are no accident—nor are they simply a product of funding or politics. It's the people and their passions.
"I love my job, can you tell?" the parks manager laughs. Yes, it's all about community spirit, connectiveness and pride in the "City of Parks"—Coquitlam.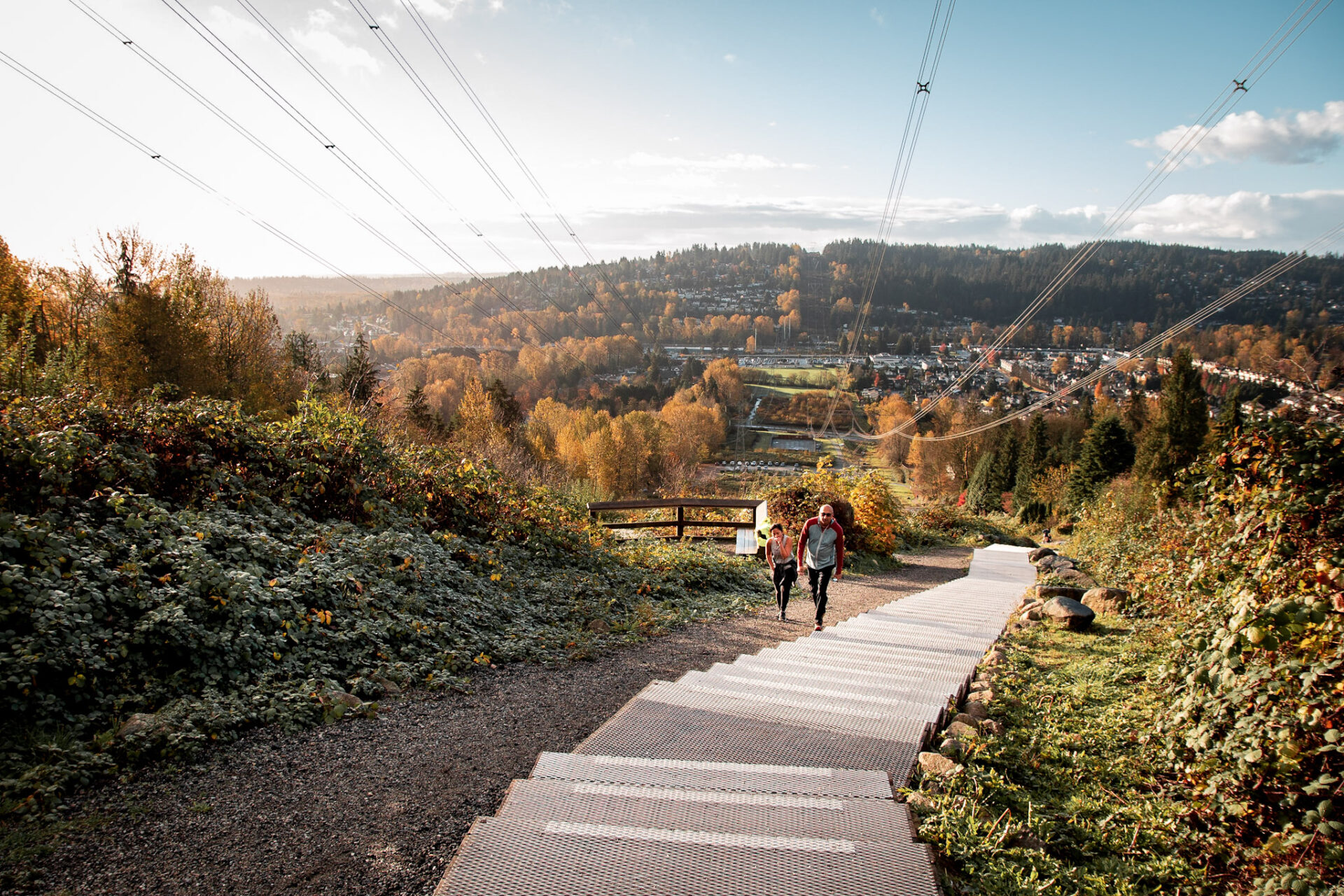 If You Go
Eat & Drink
Whether you're in the mood for a sandwich, pizza or just some sumptuous coffee, Beanery Coffeehouse & Eatery has you covered.
Who says Coquitlam doesn't have a craft beer scene? Head to Mariner Brewing for quality beer and tasty pub fare.
With 44 years of history behind it, John B. Pub is a Coquitlam staple—with 86 beers on tap, 465 spirits and a lively atmosphere.
Head to trendy and chic Nubo Grill & Tapas for delicious Asian fusion and craft cocktails.
Play
Mundy Park, home to the Tot Lot and many other facilities, can be found at 641 Hillcrest Street. (Ride the 151 bus east from Burquitlam Skytrain Station.)
Como Lake Park, has a lakeside walking trail and fenced-in playground, is at 700 Gatensbury Street. (Ride the 156 bus east from Burquitlam SkyTrain Station.)
Town Centre Park, home of the TD Community Plaza, Lafarge Lake and more, is at 1299 Pinetree Way. (Also accessible by SkyTrain.)
Explore the 9.8 kilometres of riverside trails in Coquitlam River Park by heading to 1190 Shaughnessy Street. (Less than a two kilometre walk from the Lafarge Lake/Douglas SkyTrain Station.)
The wild and rugged Pinecone Burke Provincial Park extends for 380 square-kilometres. Facilities are minimal; nature is at its maximum.
Learn more about salmon enhancement and habitat restoration within the Hoy-Scott Watershed at hoyscottcreeks.org.
Stay
As part of the dynamic Hard Rock Casino Vancouver complex, the Executive Plaza Hotel & Conference Centre, Metro Vancouver, offers a lively place to stay in Coquitlam.
For More Info
Learn more about all 80 of Coquitlam's municipal parks—and the city as a whole—at coquitlam.ca.
Discover restaurants, parks, shopping, heritage destinations and more at visitcoquitlam.ca.
Learn about the rich past and bright future of the Kwikwetlem First Nation at kwikwetlem.com.