Vancouver's Denman Arena was Canada's first introduction to an artificial ice rink.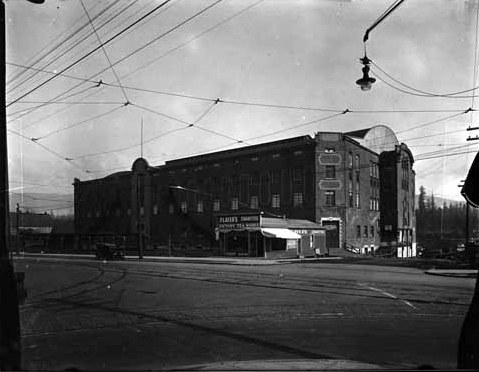 Under construction
Situated at 1805 West Georgia St., along the northwest corner of Denman Street, the arena opened in 1911.
In January 1911, Joe Patrick sold his lumber business and decided to use the proceeds from the sale to get into the hockey business. His sons, Frank and Lester, had previously been professional hockey players in eastern Canada and the plan was for them to run the arena after it was complete. The Patrick family built the Denman Arena to support the Pacific Coast Hockey Association professional ice hockey league. At the same time, the family also built the Patrick Arena in Victoria.
With BC's warm climate, the Patricks brought in mechanical ice freezing equipment, similar to the technology Frank and Lester had seen while playing hockey in New York.
The arena officially opened on Dec. 20, 1911, and about 1,500 people came out to go skating on the new rink. With a seating capacity of 10,500, the Denman Arena was the largest indoor arena in Canada and second largest in North America.
Uses
While also available for concerts, public assemblies and other sports, the Denman Arena was a major draw for hockey and served as the permanent home for the Vancouver Millionaires professional hockey team until they disbanded in 1926. Four Stanley Cup championships were also held in the arena and in 1924 a telephone line was installed and used for the first radio broadcast of a hockey game in BC.
In 1921, the Denman Arena was the first to host an international women's ice hockey championship. With four curling rinks in the basement, the arena was also the home of the Vancouver Curling Club.
Over the years, many, many clubs and organizations utilized the Denman Arena.
The fire
Around 1:30 a.m. on Aug. 20, 1936, a fire broke out in the Coal Harbour area. The fire spread to the arena and there was nothing firefighters could do to save the building. Two people were killed in the fire, and three firemen were injured.
Today, the site of the Denman Arena is part of the Devonian Harbour Park. There's a historical marker at the foot of Denman Street, telling information about the arena, the adjacent Georgia Auditorium and Coal Harbour.