Haida Gwaii Three Berry Pie, Pickled Sea Asparagus, and more.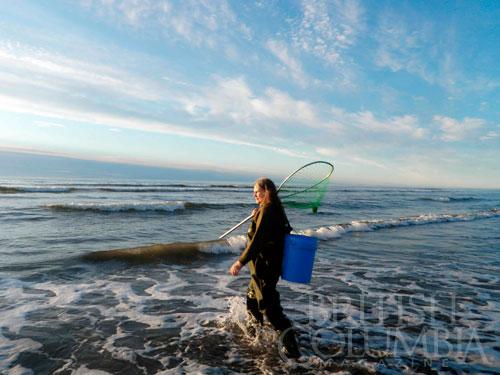 Acclaimed poet Susan Musgrave has two new titles to add to her CV: B&B proprietor and cookbook author. In 2010 she took over the infamous Copper Beech Guest House in Haida Gwaii's Masset. The guest house has a rich culinary history and Musgrave is keeping the tradition alive. Her first cookbook, Haida Gwaii: Foraging and Feasting at the Edge of the World, will be released next year by Whitecap Books.
To whet your appetite, Musgrave has generously shared the following excerpts.
For more on Musgrave and the Copper Beech Guest House see "Island character" in the Summer 2013 issue of British Columbia Magazine.
Pickled Sea Asparagus
"I am giving out tastes from my wee jar, to the chosen few I think worthy and as we stand by the fridge with our chopsticks and the jar, it's like a religious experience."

Ilona Beiks, treasured guest, and recipient of jarred Pickled Sea Asparagus, Copper Beech House 2012
Ingredients
2 quarts sea asparagus
3 cups apple cider vinegar
3 cups water
1 cup sugar
Garlic cloves, peeled and sliced long ways (one clove for each jar)
Bay Leaves (one for each jar)
Black Peppercorns
1 red pepper cut into heart-shaped pieces (or use dried red chili peppers)
1 tbsp mixed pickling spice (or use whole coriander seeds, whole yellow     mustard seeds)
Sprinkling of dill seed
What You Do
Trim sea asparagus into 3-4? lengths, then soak in cold water for about 1 hour to remove some of the salty taste.
In the bottom of each sterilized 1/2 pint jar place a bay leaf, a few peppercorns, the pickling spice (or the coriander and mustard seeds) and a tiny sprinkle of dill seed. Add 1 red pepper heart or 1 dried chili to each jar.
Drain sea asparagus and pack tightly into jars. Then manouever the red pepper hearts or chili peppers and garlic slices into the jars alongside the glass, so they show.
Bring vinegar, sugar and 1 cup water to boil and simmer 15 minutes. Pour hot solution over sea asparagus, leaving 1/2" headroom.
Seal jars and process in hot water bath for 15 minutes. Makes 8 1/2 pint jars.