At the end of a narrow winding road, on the western edge of Vancouver Island, sits the remote coastal town of Tofino. Once a fishing, logging and industry-based village, this unceded territory of the Tla-o-qui-aht First Nation is home to no more than 2,000 residents. Some are born and raised, others are simply seeking a summer getaway, but most are there to enjoy the long, sandy beaches, the old-growth forests and the playful surf.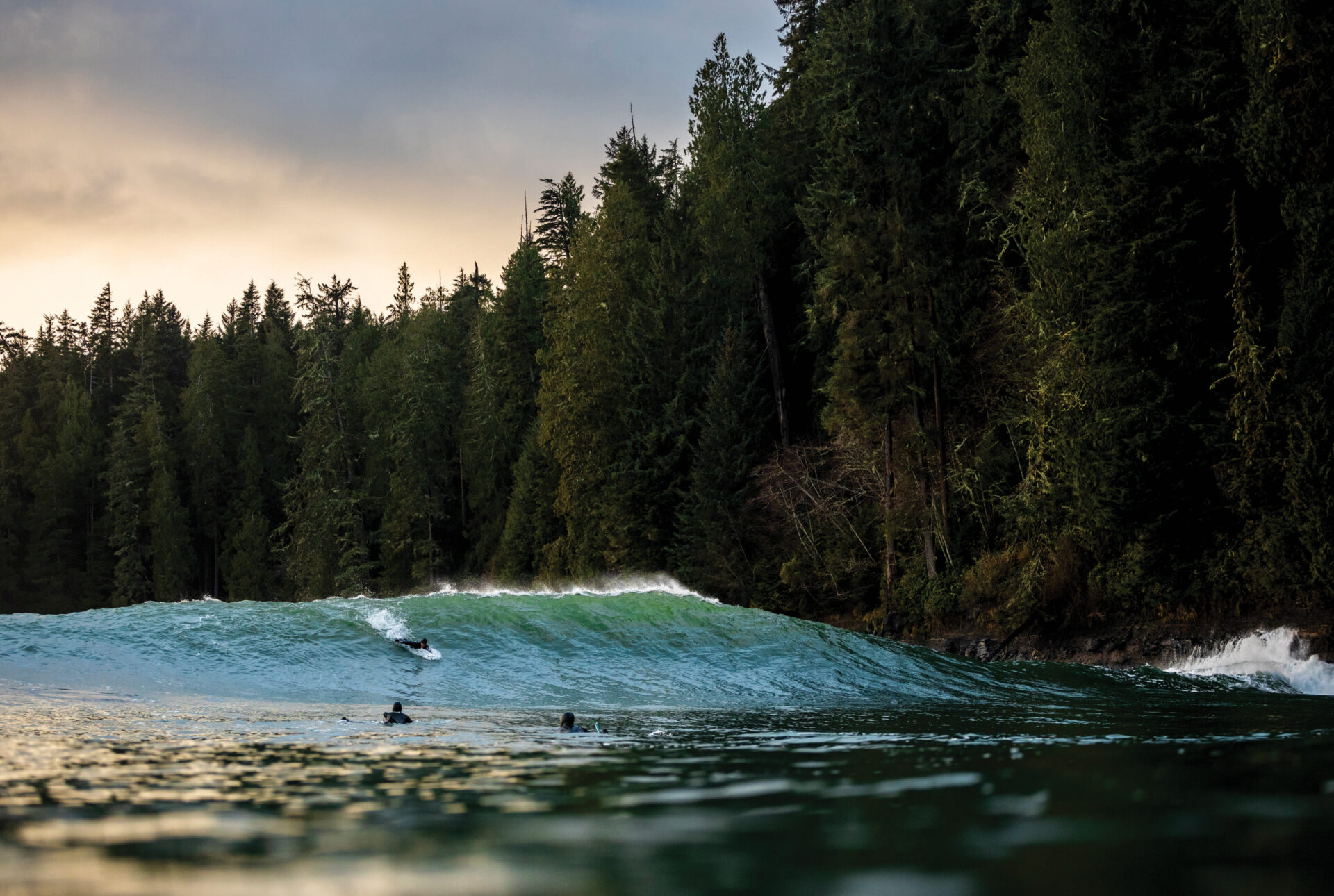 As this Vancouver Island surf town becomes increasingly well known, so do some of Canada's best surfers. For many people in Tofino, surfing is a 365-days-per-year lifestyle.
There is just one catch… the water is freezing.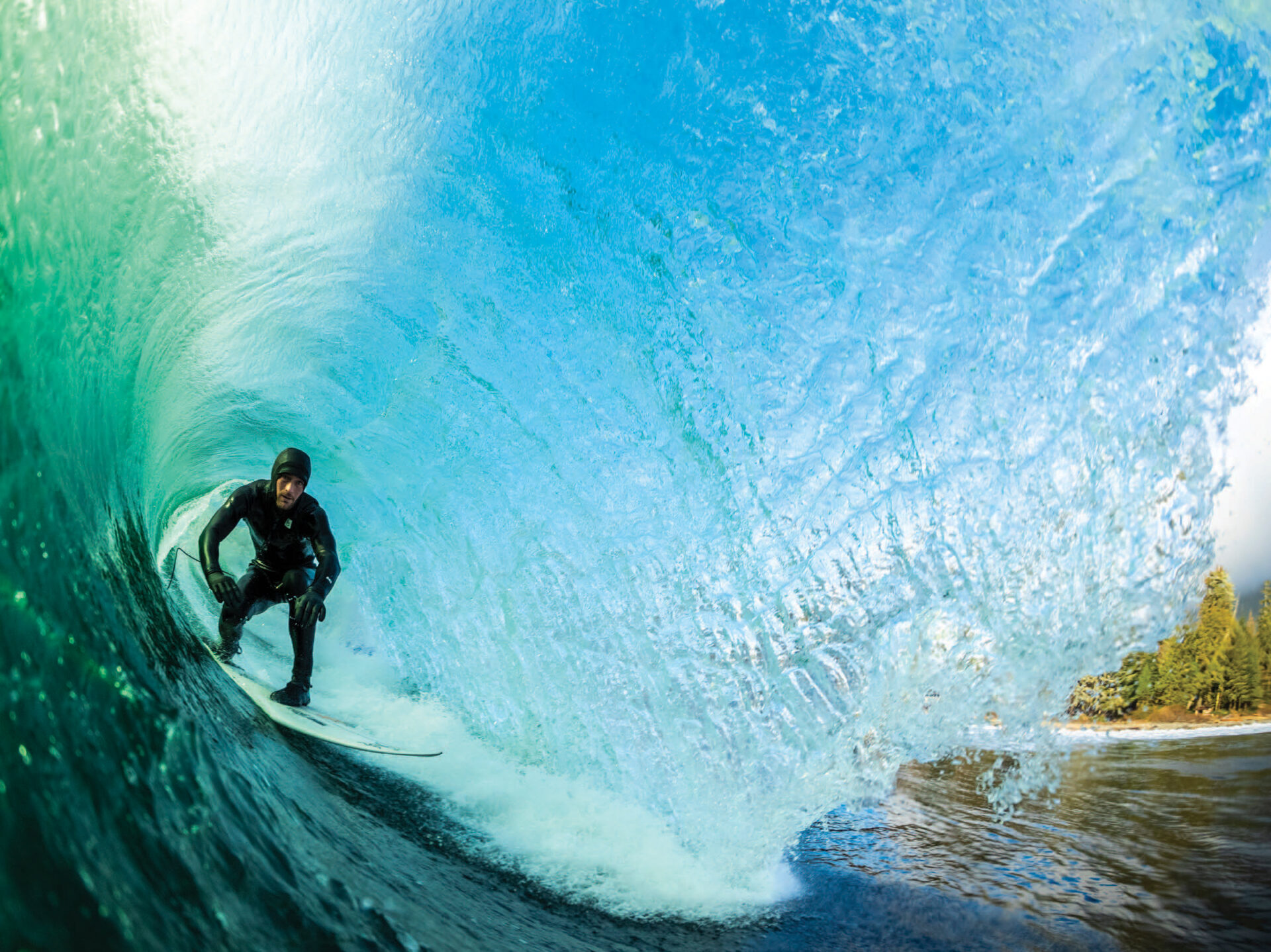 The good news is that today's wetsuit technology is so advanced that the cold water is hardly a deterrent anymore. And for many, neither are the dark and rainy winter months or the heavy Pacific storm systems they produce, which bring powerful waves crashing into the western coastline. In fact, this is how the brave few prefer it; this is when their hearts beat the hardest.
Despite its recent popularity, surfing in British Columbia is nothing new. "In the early days of surfing in Tofino, there were a small handful of people who were introduced to the sport by travellers from California," explains professional surfer and Tofino local Peter Devries. "Wetsuits and surfboards were very hard to find in the region so they would often wear dive suits and experiment with making their own equipment. Jim Sadler, Robin Fells and my dad, Ralph Devries, were some of the first surfers living and surfing out here."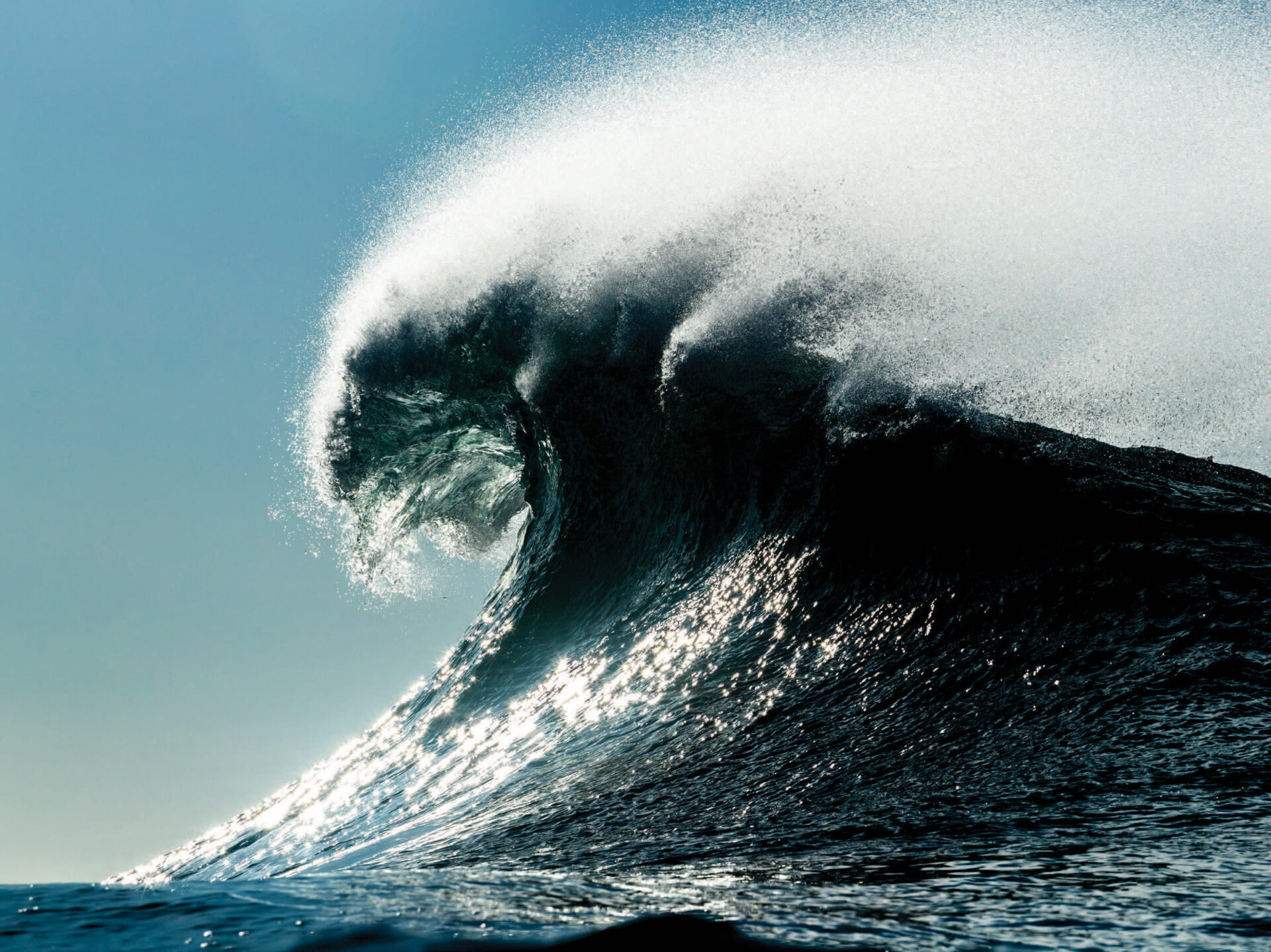 In the 1960s Jim "The Paddler" Sadler would spend summers at Pachena Bay, to the south, near Bamfield, building cabins and bodyboarding on scrap plywood in the shore break. It wasn't until he happened upon a rare surf magazine in a local shop that he realized he could stand up on waves. He spent the following winter building his own surfboard and came out to Tofino, where the Sadler family still resides today. Once the road out of town was finally paved, he was one of the few surfers out at Long Beach trying to catch as many waves as he could before he lost feeling in his extremities; a mere 30 minutes in the frigid temperatures.
The water temperature hovers under 10ºC mid-winter, so without a wetsuit hypothermia will set in quickly. "The suits back then were terrible!" claims Jim's son, Harold Sadler. "Even in the '80s I would wear a full-length Stanfield underneath my wetsuit. It was so itchy and stiff but it would help me last at least another 45 minutes."
This early crew of Canadian surf pioneers helped set the standard for American draft dodgers, visitors and locals alike, all looking for a pastime during the dark and rainy winter months.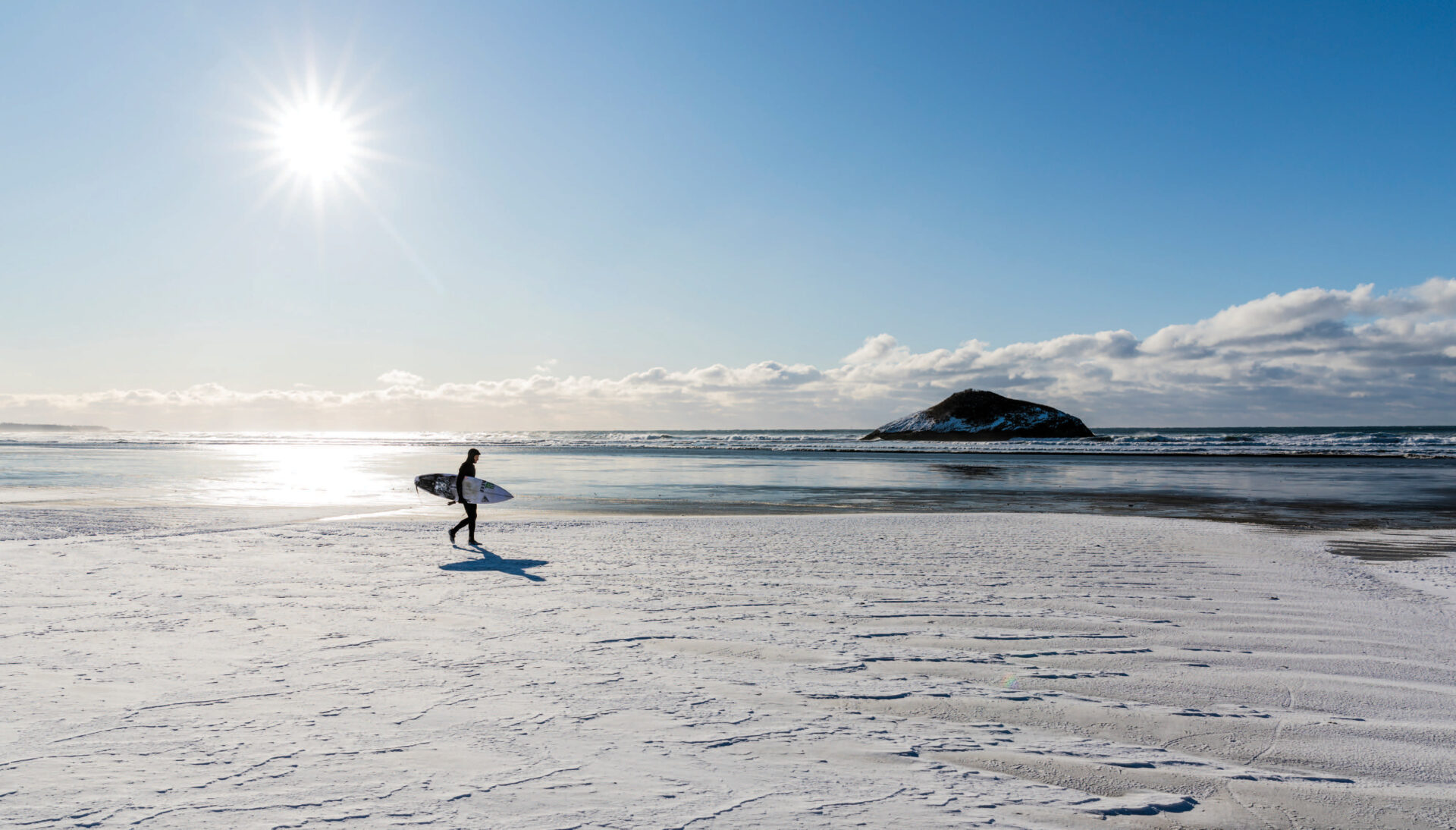 Pioneers like Bruce Atke ventured all around the coast of Vancouver Island, beyond the local beaches looking for new waves to surf with the correct conditions. He looked at swell size, direction, tide and wind, which all play a very important role in how and if waves break. (Keep in mind, this was back when forecasting was as simple as watching which boulders would get splashed to determine the swell direction and intervals between waves.)
Unknowingly at the time, he inspired an entire subculture based on a respect for the environment, and a life dedicated to becoming in tune with nature's rhythms. At that time, surfers weren't accepted in most regions internationally, especially in the tiny blue-collar town of Tofino. It was loggers vs. hippies for decades, and to this day, though much has changed, Tofino's social culture still reflects that tension between industry and environmentalists.
Fast forward to the late 1990s and early 2000s, and the sport of surfing had taken off in the mainstream media thanks to superstar athletes like Kelly Slater, who not only won several consecutive world titles, but also played Jimmy Slade on the hit TV show Baywatch.
Here on the West Coast, Peter Devries and the Bruhwiler brothers were the first few Canadian surfers known at an international level. Surf movies, media and sponsorship support helped their individual roads to success, but it was Devries victory at the 2009 Cold Water Classic on his home turf in Tofino that solidified his place as not only Canada's best surfer, but one of the best surfers in the world.
With surfing gaining popularity as a competitive sport around the world, perhaps Tofino's veteran and up-and-coming surfers will finally prove that Canada doesn't just breed skiers and hockey players. And with surfing now introduced as an Olympic sport, Canada has the chance to show the international surfing world that we're not just a novelty surf video or a wetsuit advertisement. Surfing here is as important as the community of Tofino itself.
If You Go
Tofino's Best Surf Beaches
Cox Bay, North and South Chesterman Beach, Long Beach,  Wickaninnish Beach
Other Beaches (to Enjoy)
Tonquin Beach, Mackenzie Beach, Middle Beach, Florencia Bay
Rentals/Lessons
Pacific Surf Co.
pacificsurfschool.com
Surf Sister
surfsister.com
Tofino Surf School 
livetosurf.com
Surf Shops
Storm
stormcanada.ca
Long Beach Surf Shop 
longbeachsurfshop.com
Live To Surf
livetosurf.com
Surf Seasons
Beginners to intermediate: Spring, Summer.
Intermediate to advanced: Fall, Winter.
Gear
8-foot-plus soft top longboard for learning Fibreglass and epoxy  surfboards for advanced.
4/3-millimetre wetsuit for the summer.
5/4-millimetre wetsuit, plus hood, gloves and boots for the winter.